Highest-Rated ATS + CRM for Recruitment Agencies
A single solution to manage, automate and generate a higher ROI while recruiting.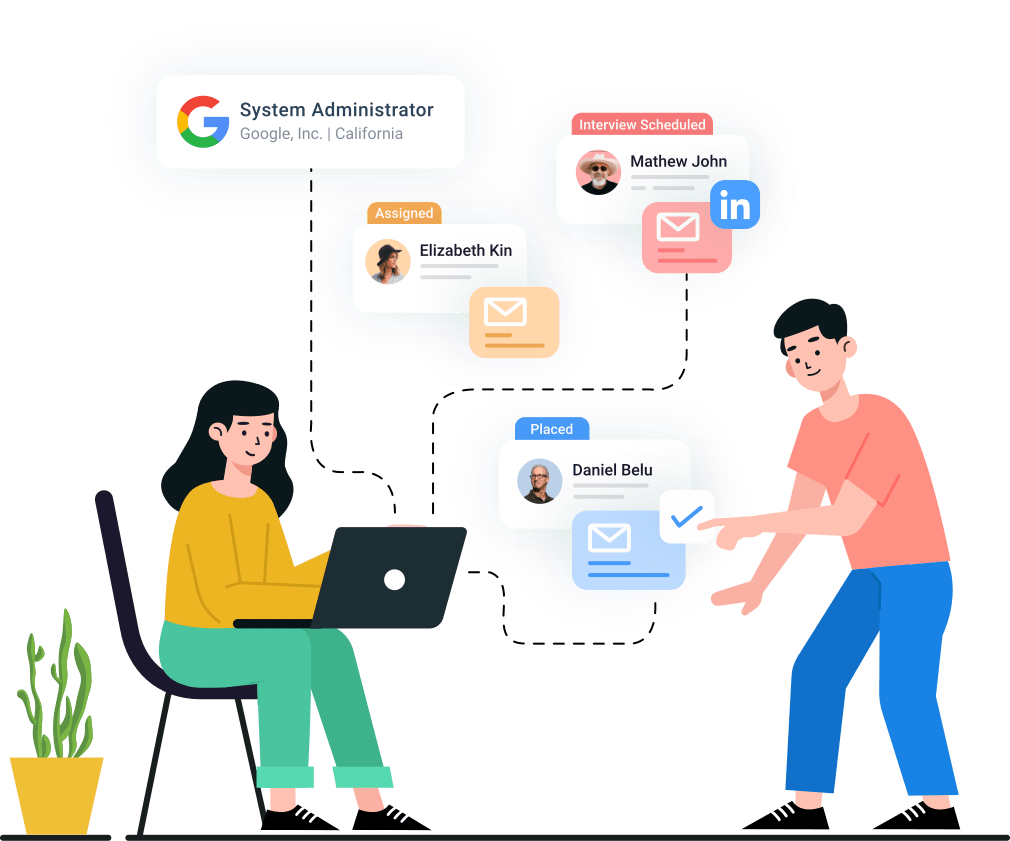 Trusted by Recruitment Firms Across 100+ Countries

Applicant Tracking System
Change the game by never having to do data entry while adding or updating candidates.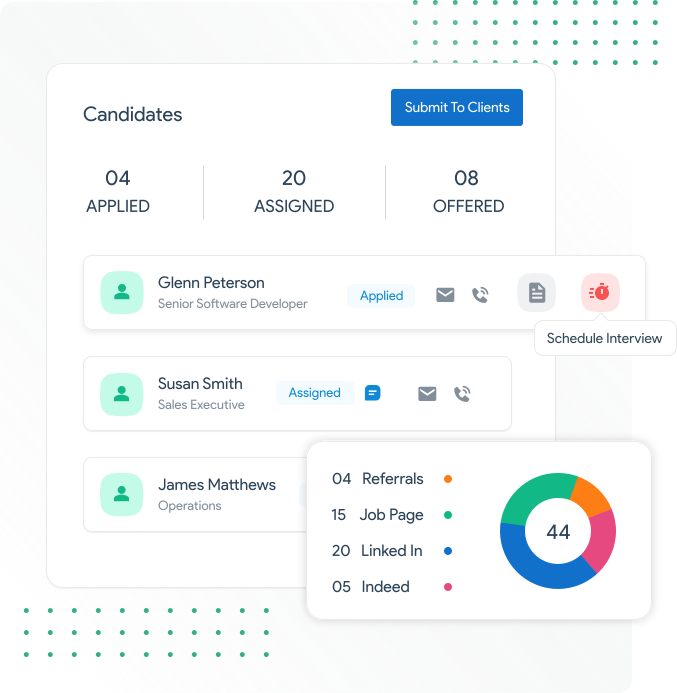 Customer Relationship Management
Recruit CRM will help you manage clients, opportunities & follow-ups.

Gain insights into every aspect of your business and make informed, data driven decisions.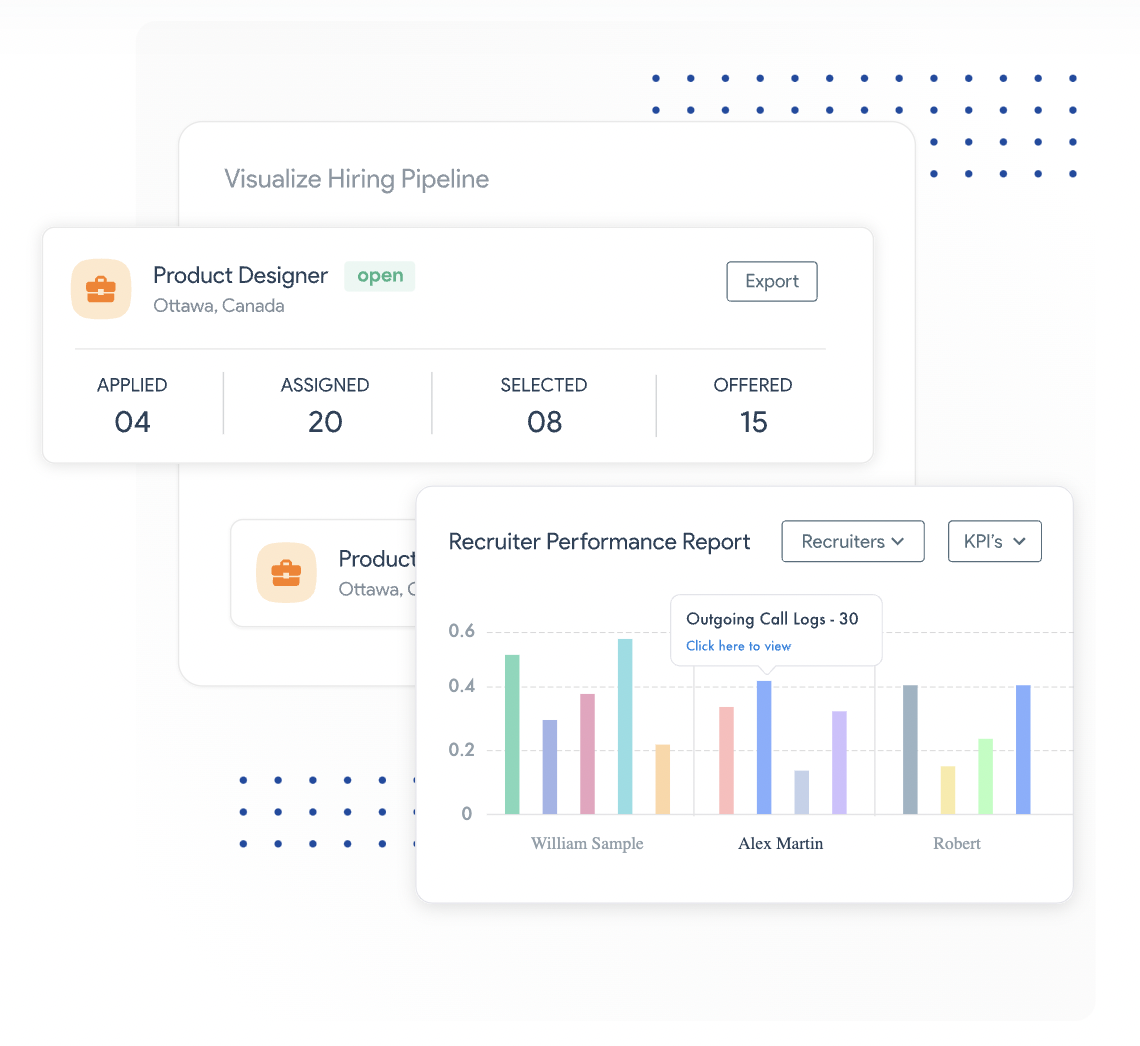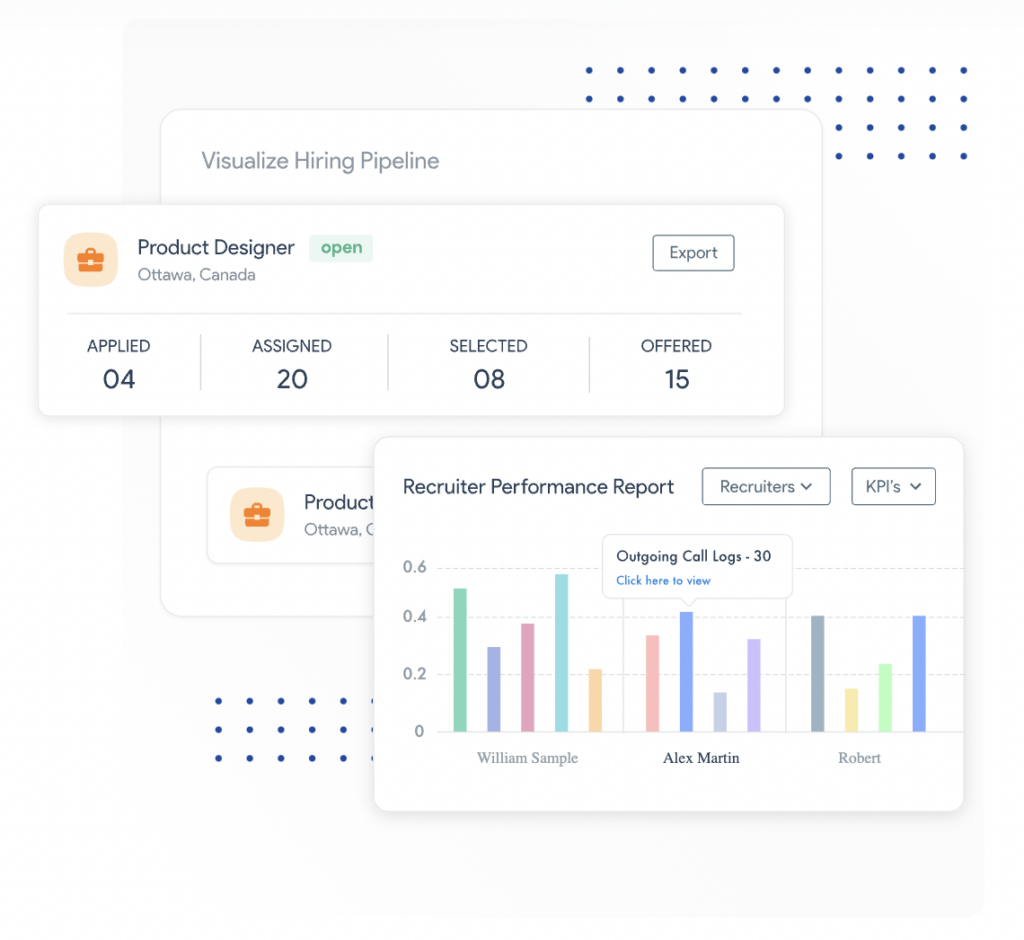 All the things you ever wanted. Automated.
Automate your workflow with Recruit CRM and save time for better things in life
Get Professional & Organised With Kanban Boards
Our powerful Kanban boards allow you to visualise both your revenue & hiring pipelines to help you quickly understand where you stand.
Deeply Integrated with Your Recruitment Life Cycle
Recruit CRM's Kanban boards are deeply integrated with our other powerful features like Hotlists, Interview Scheduling & Candidate Profile Request Forms.
Re-imagine Your Financial Projections
Our Deal Pipeline Kanban board lets you see which stage each potential deal is in, along with expected revenue figures for any month or quarter.
Automatic Emails
As you drag and drop across the kanban board, you have the option to send tracked emails to your candidates.

Keep Your Entire Team On The Same Page
Automatically sync every teammates emails with Recruit CRM every minute. We sync with Google G Suite, Office365 or any other mailbox 🙂
☁️
Automation
Send emails right from Recruit CRM and also setup automations to automatically fire email templates when candidates move to a specific stage or apply to a Job.
☁️
Email Open Tracking
See if your recipient has actually opened your email with our Email Tracking system.
☁️
Keep Everyone On The Same Page
If a teammate views a candidates or clients profile within Recruit CRM, They will immediately see all emails sent to them or received from them across your entire team.
Get Profiles From LinkedIn In One Click
The Recruit CRM Chrome Sourcing Extension lets you create candidates & clients from websites like LinkedIn in one Click!
☁️ 
Deep Integration
Recruit CRM's chrome extension works flawlessly with our app. Get data from the web right into your CRM with one click.
☁️
Works Across LinkedIn Products
Recruit CRM works seamlessly on LinkedIn Basic, LinkedIn Premium, LinkedIn RecruiterLite, RPS & LinkedIn Recruiter.
☁️
Work on your records instantly
Assign candidates to Jobs & Hotlists or add notes & reminders right from LinkedIn.
Job Board Multi-Posting In Seconds
Recruit CRM partners with over 2000+ Premium Paid Job Boards across the world and lets you buy & post Ads to a bunch of them together in seconds.
☁️
Automatically Post Jobs To Free Job Boards
We automatically add your public jobs to our organic feed which we submit to half a dozen free Job Boards like: ZipRecruiter, Neuvoo, CareerJet & JobRapido. We also index these jobs for Google for Jobs.
☁️
Receive Candidates Directly Into Recruit CRM or Your Email
Get Candidates from Job Boards straight into your database automatically
☁️
Save Money
Recruit CRM works hard to get you rates below the market list price for a large number of the Job Boards we offer on our platform.
Integrations
Integrate with over 3000 applications across the world without writing a single line of code with our powerful Zapier Integration, By far the most comprehensive in our category.
☁️
Powerful Triggers
We have over 15 triggers you can use to create powerful automations like sending your entire team an email, SMS or Slack Notification when you Receive a new Job, Get client feedback Or Make a placement.
☁️
Time Saving Actions
Our handy Zapier actions let you automatically add data to Recruit CRM when something happens. Like you can automatically create a potential client in Recruit CRM when someone fills a google form on your website.
☁️
Pre-Built Templates
We have created dozens of templates of "Zaps" between Recruit CRM & Commonly used apps to help you save time and get powerful automations setup in a few clicks.

Get Work Done On The Go
Our handy mobile apps let you get the data you need on they fly
☁️
Save Time
Get all the data you need in seconds on your phone without having to open your computer.
☁️
Get Work Done
See all your To-do's/Tasks on the fly & "tick" them in no time
☁️
Add Data
Quickly add new clients & candidates to your database on the go.
Rated the Best Recruitment Agency Software
We are the highest rated system across all major review websites like Gartner's Capterra, GetApp, G2 Crowd & Software Advice.
It's Easy to Get Started​
You can immediately start a zero-commitment free trial or book an online demo with us