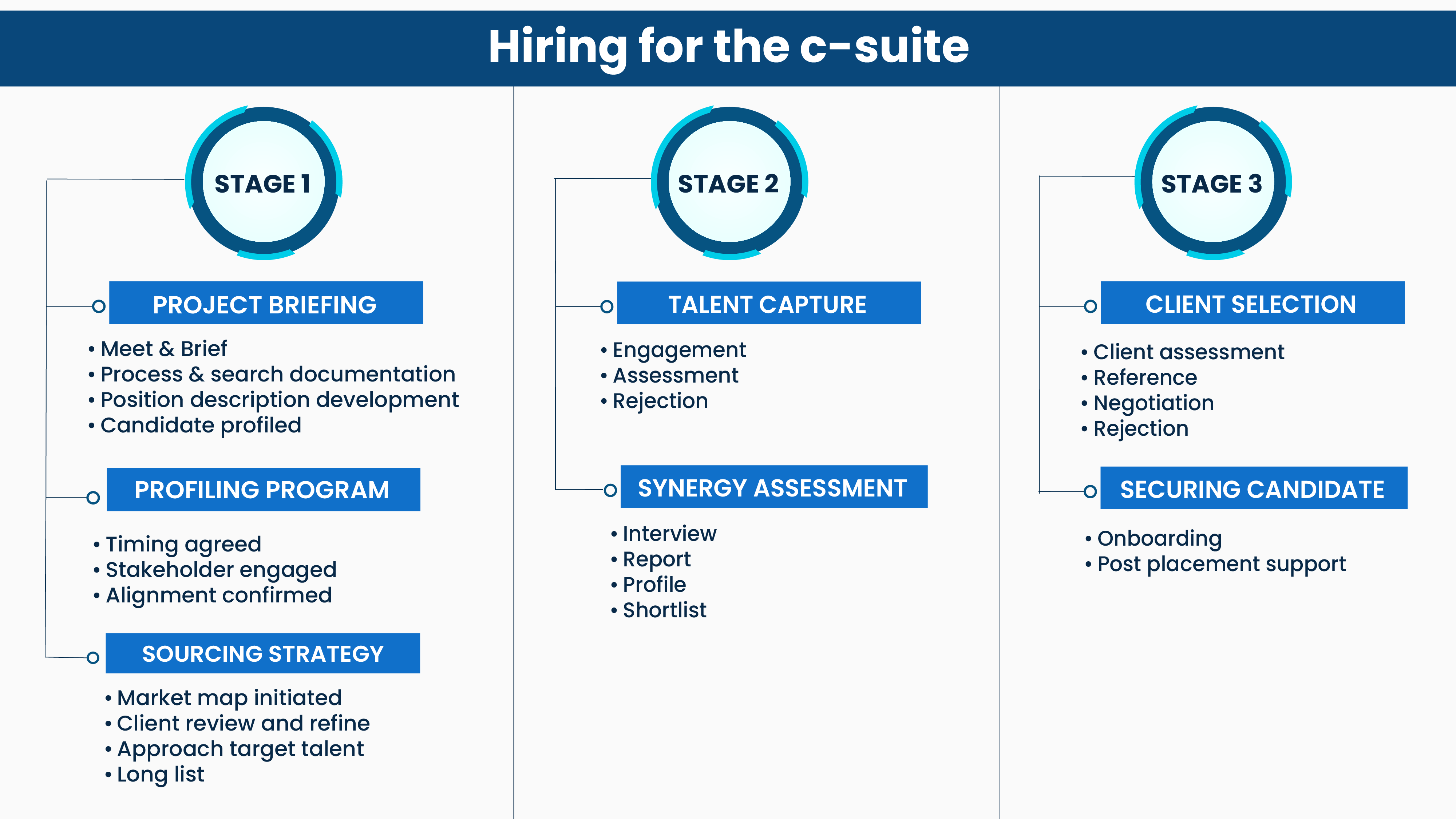 "A potential candidate + Connected Recruiting Strategies + Search Timeline = Successful Executive Hiring"
This simple equation may seem to sum up the perfect recruitment plan, but where's the magic bullet for executive hiring?
Scarcity of talents, consumerization, the candidate-centric job market – with all these factors influencing how businesses hire new talents, the magic bullet lies in recognizing where and how to start. 
The same goes with "Executive Hiring." By definition, we know it's all about recruiting the top guys, the CEO, CTO, COO, etc., for the company. But where to start? And How? Read on to know the top secrets of successful executive hiring.
Executive Search [The Sourcing Stage]
Executive Search is a specialized hiring service where companies often commission third-party agencies or simply Executive Search firms to hire a qualified candidate for senior-level or C-suite positions. These positions include President, Vice president, directors, CEOs, etc.
Executive search firms are often intermediaries between the candidate and client as they carry out sourcing, screening, negotiations, and onboarding of the most suitable candidate from the marketplace.
Companies that lack internal research resources, skills, professional networks, or time to devote to recruiting highly-qualified candidates generally partner with executive search firms on a contractual basis. These contractual relationships can be of two types: Retained and Contingent.
Retained Search

: Retained search firms get an upfront fee from their client, typically in three stages. This fee is for the time and expertise of the firm and is non-refundable.

If a hired candidate fails to pass the expectation or leaves the company before the contract ends, these firms guarantee to do their task over from scratch within the next 1-3 years.
Contingent Search

: These search firms are reimbursed only after successfully recruiting the desired candidate. They are not responsible for the retention of candidates whatsoever.
7 Key Steps of the Executive Search Process
As a relationship-driven process, executive search involves working closely with clients to understand their requirements and suggest practical strategies to deliver qualified candidates. 
Here are the seven fundamental steps to the executive search process: 
Pay Attention to Your Client's Demands
The foremost step of executive hiring is to be thorough with your client's needs and market trends. Next, you must create a list of what your clients expect the candidate to be like and start with your sourcing based on the requirements.
Research your competitors and determine how they prioritize candidate experience or compensate their executives. Then, use those strategies to plan your search.
Know your competition clearly, along with your position in the marketplace. Then, enhance your employer brand to attract more qualified talents.
Learn what opportunities your client can provide these candidates other than lucrative compensation and monetary benefits.
Create a list of everything you have to provide and everything you expect from the candidate. Then, strategize your executive search around these factors for better hiring outcomes.
Build an Ideal Candidate Persona and Craft Your Message Accordingly
After you are thorough with your client's needs, prepare a candidate persona. A candidate persona is a blueprint of all the personal and professional qualifications you expect from your hired candidate.
It includes work experience and competency in soft skills like negotiation abilities, communication skills, etc. In addition, creating a candidate persona will help you evaluate the candidates better.
Then, craft a perfect outreach message. Your message must define who you are, your values, and your intention of reaching out to them. Also, include why they should give your offer a try. How can your offer help them grow? And why they might be the perfect fit.
Conduct Research
It is crucial to start sourcing and organizing your talent pool as soon as you are ready with your candidate persona and outreach message. Reach out on multiple online channels, attend networking events, go through your ATS database, and leverage your employee referral program.
Ensure that every attribute is included, and you only look for candidates who fulfill your basic requirements; otherwise, it could lead to a loss of money and time.
Interact with candidates to help you know them personally. Send your crafted message and let them know they are needed.
Check for Validity of Information
After you have sourced a prospective candidate, it is essential to cross-check and verify all their information before proceeding to the next step.
There are always some chances of coming across fake documents. Proper reference or background checks will help you remove such discrepancies.
There are many AI tools available in the marketplace for background checks. Leverage them to quicken your hiring process.
Assess the Candidate
Another critical step to hiring an executive is constantly engaging with the candidate and assessing them multiple times to ensure only the right candidate is hired.
Schedule regular interactive sessions with the candidate and involve multiple panels in the interview to avoid any room for unwanted bias.
These sessions will give you better insight into the candidates' thought processes and help you quickly prepare them for the position. Remember to assign multiple tasks or mini-projects to these candidates to evaluate them based on their skills.
Set Up an Appealing Profile
Building a profile of the shortlisted candidates makes it easier for recruiters to sell the candidates to the company.
Highlight all the essential pointers like the required skills and qualifications that could give your client an idea about the candidates' work experience and achievements in a particular field.
Remember to build a portfolio that could speak for the candidate but avoid sharing inaccurate information.
Prepare Your Candidate
After completing all the stages of executive hiring, you will be left with a few but the most suitable candidates. Arrange an interview session of these candidates with your clients so the final decision is in their hands.
It will help you receive their opinions before settling on the final candidate. You must prepare your candidates thoroughly for this interview, so your client knows your expertise in the field. It will help you build a long-term relationship with them and boost your recruitment branding.
4 Common Challenges of Executive Search
-The market is full of candidates, but you will need to find the perfect candidate who could easily fit your client's requirements and the company's culture. The candidate pool for these job roles is relatively tiny and exhaustive. The best solution to this is targeting "global candidates." By using social media, you can increase your organic reach and, thus, widen your pipeline. 
-Even if you find a list of potential candidates, not getting responses to the outreach messages is another familiar challenge recruiters face. In such cases, recruiters must look for other ways to reach out to these candidates. Personally visiting them, asking your client to contact them, or changing your outreach method may help.
-Once you visit your desired candidate, they are already employed somewhere. (Maybe at your competitors!) Luring them will be challenging until you have something worth offering.
By closely studying the current work environment of the candidate, you can figure out what needs to be added. Offering something that fills the gap and helps the candidate grow can give you an edge. 
-Another common challenge is "Loyal candidates are impossible to poach." Some candidates, no matter what they are offered, are happy with their current work environment. (You must strive to become a company like that!) The only thing you can expect from such candidates is a referral. 
Ace the Sourcing Stage: Mitigating the Challenges
Executive search is often considered the most challenging type of recruitment practice. The best way to ace it is to use proper recruitment software and tools to streamline the entire process. 
But before anything, remember to dive into your executive search with a solid plan. Not only will it save you valuable time, but also dramatically decreases your chances of missing out on most potential candidates. 
Look beyond the traditional sources and cast a wider net. You can even poach top performers from other industries. No matter what route you choose, make sure you start your search now. The best candidates will only be available for a while, and you don't wish to lose the perfect candidate only because you didn't start your search early enough.
Yes, the process will be lengthy, but patience and diligence are crucial to success.
Defining the Ideal Candidate
An ineffective leader can cost you company growth, money, and time; thus, recruiters can not afford to take risks with their executive hire. Make sure your ideal candidate is-
A Communication Master
Effective communication is one skill that separates a leader from the crowd. If a candidate can express their opinions or knows the art of listening, they can lead a team. Therefore, when interviewing candidates for C-suite positions, recruiters must ensure that they test the candidate's presentation and communication skills. 
Able to Understand Your Company's Vision
People can only predict what the future holds. A company's goals and visions generally change with time, but a good leader can ensure growth regardless of these changes. By asking relevant questions and analyzing the candidate's approach, recruiters can quickly understand how proactive the candidate is. 
An Influencer
An ideal leader can influence team members for better outputs, convince everyone of their decisions, and help others meet their long-term and short-term goals. If your desired candidate can't do this, they are not your ideal candidate. Therefore, before hiring talent, recruiters must ensure that the candidate is culturally fit with the team members. 
Highly Decisive 
Your ideal candidate must portray their swift decision-making skills. You must encourage your candidate to share their past experiences where they had to make difficult decisions. You can quickly identify potential candidates by discussing their methods of coming to a conclusion and dealing with consequences.
Adaptable
The more adaptable the leader is, the more likable and trustworthy they are to their team. For instance, considering the recent pandemic, businesses with influential leaders thrived since they quickly adapted their working model to meet the market needs and trends.
In contrast, others were forced to shut down. Any recruiter who fails to recognize the presence or absence of this skill in their desired candidate ends up hiring mediocre executives. 
Set Process Expectations Clear
Before starting the executive search, you and your recruitment team must have a proper plan to follow. Everything must be prepared in advance, from the tentative timeline of the hiring process to the list of questions to be asked in an interview.
Defining the expectations clearly and building strategies around them can reduce the delay in the hiring process and enhance candidates' experience, which is of utmost significance in recruitment.
Making swift decisions, engaging with candidates regularly, guiding them through their application status, etc., will positively impact their decision to join the company.
Craft a Perfect Job Description
When finding the perfect candidate for an executive role, crafting the perfect job description is essential. It's the first step to attracting active job seekers.
Your job description should be clear, concise, and accurate. It should highlight the role's responsibilities and the skills and experience required.
And most importantly, it should communicate the company's values and culture. Mention the exact priorities, skills, and experiences you are looking for in the candidate.
Your ideal candidate will want to know if they share your values and will be a good fit for your team. They'll also want to know if they have the skills and experience required for the job. So make sure that your job description showcases all of that!
A detailed specification will help you avoid unqualified applicants. In addition, AI tools like Resume Parser can help smoothen your resume screening process and quicken your entire recruitment process.
Here are a few pointers to follow while writing a job description for an executive search:
Be specific with the title. The more accurate your title is, the more effective it will attract qualified job seekers.

Write a captivating summary at the start. Give an overview of the role and the company.

Write about responsibilities, hard and soft skills, or other requirements to explain how the position fits into your company.

Highlight your company's culture and values

Give a follow link at the end. It may be your website's link or other social media profiles, so if the candidate is interested, they have everything served already.
Also, use sponsored jobs to stand out among thousands of jobs posted on various job boards. Sponsored job listings appear more often in the relevant search results, increasing application volume from high-quality active candidates.
Check out a few job description templates for executive positions here. 
Be Proactive, Not Reactive
In Executive Search, it is rare to find potential talent in the job market directly. Thus, recruiters can utilize passive candidate sourcing strategies to source the right fit for the position.
To captivate the candidates, you must have an exceptional sales pitch ready that conveys your identity and authority as a recruitment agency in the marketplace. In addition, your pitch must showcase the culture and values of the company you are hiring for.
The primary goal is to reach the candidate before your competitor does. Remember that an ideal candidate is most likely employed and working successfully in another company or even with your competitor.
Thus, you must be prepared to source and hire the best possible candidate.
Utilizing Social Media
"I suggest that the best way to find leaders, or anyone in the top 25%, is by getting prequalified referrals of people who have had success doing comparable work regardless of their mix of skills and experiences."
Founder & CEO, Performance-based Hiring Learning Systems
Social Media has recently become one of the most popular channels for talent identification. It allows you to verify the candidates quickly and perform background checks on them. It also helps develop companies' brands and networks. If used strategically, it can give you an edge over your competitors.
An SEO-optimized website can help your agency's page rank higher in the google search engine, which means more leads land on your page every time a specific keyword is googled. In addition, an updated career page will ensure that candidates will keep coming to your page for information.
Keep the blog content, social media content, profile bios, etc., updated regularly. It will increase your brand's authority and credibility in the marketplace.
Here are seven ways in which you must leverage social media to hire top talents: 
Always skim through your desired candidate's past posts to better understand their attributes and thoughts about various topics. 

Promote your job openings on social media to attract a wider audience.

LinkedIn is the best platform to hunt senior professionals. Take every possible advantage of this social behemoth as you can.

Promote Employee Advocacy. Ask your employees/clients to share their opinions about the company and their experience online. 

Different social media platforms serve different purposes. Twitter is used to educate, Facebook for culture, and Instagram for personal branding. Ensure that you use each channel appropriately.

Keep your eye on the insight section. Check out if candidates are engaging actively with your content. 

Leverage FOMO. 
'Networking' for Sourcing Ideal Candidates
Networking is one of the essential tools for successful executive hiring. Your network can connect you with potential candidates and give you insight into the latest industry trends and news.
While networking, it's essential to focus on quality rather than quantity. You should focus on building relationships with people having the skills and experience you need. It could include people in your industry, alums of your alma mater, or the local community.
Attend industry events, such as conferences and trade shows. These events are great opportunities to meet potential candidates as well as to get a better understanding of the industry.
Finally, use social media to your advantage. Connect with global talents and build a diversified pool. Leverage LinkedIn, Twitter, and Facebook to make your presence known to your desired candidates. 
Conduct a Targeted Email Campaign
Emails will never get old. It still retains the same significance as it held in the past and can be a great source of executive talent-hiring if appropriately used.
You can access the potential candidate's emails through their LinkedIn, social media profiles, and data of applicants from previous hiring cycles stored in the Applicant Tracking System or by the subscription list of your website.
If you come across a candidate who is a right fit for the company, send them a targeted email to explain why they should give a shot at the particular position. Since these people are already in your network, they are highly likely to consider the job offer, which can be a plus point when looking to fill executive roles.
Also, sending emails to your talent pipeline periodically keeps them informed and interested in your agency which will be of great advantage while approaching them for any position.
Lure Working Professionals
It's safe to say that most people in the workforce are always aiming for that promotion. It's very rare to find an individual who is 100% content with their current job position and isn't looking to further their career in some way. So why not take advantage of it?
Offer your potential candidate a job with more pay and a better experience. 
The most suitable candidate for your client is working with another company and is well-fitted with a company's work culture; hence it is easy for them to adjust to a new company.
Hunting for these professionals may seem complicated, but recruiters can create a perfect pitch to lure these talents by answering questions like, "Why would someone leave their job to work at this company?", "What makes the company better in the marketplace?" etc. Target their pain point and turn it into your opportunity.
Executive Hiring: The Evaluation and Onboarding Stage
You are not hiring just "any" candidate; here, we are talking about the "chiefs" of the company, so there is no doubt you will have to go the extra mile in evaluating and perfecting your talent onboarding strategies. 
Executive-level professionals have a significant impact on the success or failure of the company. Ensure that your hired candidate sets the company's traditional culture and performance, communication, and overall direction. 
Determining the Ideal Executive Interview Process
Interviewing future managers is critical because any missed red flag can prove costly for a company. Not only do you have to find the right candidate, but you also need to ensure that the process is fair and meets all legal requirements.
By putting open-ended statements or questions, recruiters can analyze the reaction of candidates, which can work as a pillar to decide if they are the right fit for the company.
Besides the interview questionnaire, recruiters must pay attention to the candidate's approach to problems, their reaction to thought-provoking questions, and how their opinions can elevate the company to the next level.
Here are the top 12 tips for creating a successful interview process:
Define the job responsibilities and requirements.

Determine the qualifications and experience required for the position.

Develop an interview kit to help you better assess candidates' skills and knowledge.

Establish a timeline for the interview process.

Send out job invitations to qualified candidates and make sure to follow up before and after the interview.

Do not rely on a one-time interview. Interview your candidate many times.

Ask open-ended questions.

Include multiple panels to avoid unconscious bias.

Make sure you give your candidate a chance to ask relevant questions. 

Besides the regular interview, employ cognitive and psychometric tests to get better insight into the candidate's personality. 

Do an exhaustive background check on the candidate. Utilize career history forms to eliminate exaggerations or false information found in resumes.

Use behavioral interview tactics. 
Conducting Competency Assessment
As the U.S. Labor Department's Office of Disability Employment Policy (ODEP) celebrated the 32nd anniversary of the Americans with Disabilities Act (ADA), businesses across the country are looking for ways to better inclusion for people with disabilities in their companies. 
One area of focus is on conducting competency assessments for individuals with disabilities who are seeking executive-level positions.
There are several things to remember when conducting a competence assessment for an individual with a disability. 
First, ensuring that the assessment is job-related and consistent with business necessity is essential. 
Second, you must make any accommodations for the individual to participate in the assessment in advance. 
Finally, you must evaluate the individual's performance on the assessment using the same criteria you would use for all other candidates.
When done correctly, conducting a competence assessment can be a valuable way to identify qualified individuals with disabilities for executive-level positions within your organization.
Establishing Expectations for Successful Candidates
The job market has changed drastically recently, and so have employers' expectations for their executive candidates.
You can no longer depend on degrees when determining what you expect from potential candidates. As LQ becomes more vital for evaluating candidates, it is essential to narrow down your list of expectations to what is needed. 
Defining the expected qualifications of your candidates can also keep you from making a bad hire—nobody wants to spend resources training someone who's not a good fit or setting them up for failure right away. 
Be sure to communicate these expectations throughout the recruitment process—it will help create clarity around what you need and save everyone time and money.
Don't Play "Hurry Up and Wait" on Candidates
Delays are not appreciated in any field, let alone recruitment. A proactive candidate will never reveal on how many companies they are giving interviews for simultaneously and you would not want to lose a potential candidate to your competitor.
Thus, it is essential to engage with candidates frequently. Don't let them feel that the process is just being dragged along and you have no interest in hiring them.
To successfully hire a passive candidate, keep the hiring process moving swiftly. Keep the candidate updated about the status of the process, respond to them quickly, keep assigning quality tasks that may even be paid, engage them in minor projects, etc., to keep them interested.
What to Consider When Making a Job Offer?
You must consider compensation, health benefits, relocation packages, and more when making a job offer. You must also clearly outline expectations and the roles of each member of the C-suite to create a successful team.
As executive positions require higher decision-making skills and responsibilities, you should look for candidates with proven track records in problem-solving and soft skills such as communication and collaboration.
Emphasize these qualities during the interview to ensure your new executive is up for the challenge.
Finally, don't forget the importance of creating a culture of inclusion within your C-suite pool—a diverse team gives companies an edge in tapping into different perspectives. 
Ask questions about how your potential executives handle challenges from different backgrounds and orientations throughout the interview process. Consider bringing an experienced executive coach to get insight into a candidate's performance style.
Onboarding New Executive Team Members?
Knowing which candidates to bring on board is vital, but the journey isn't over. You'll want to ensure that your executive team members remain satisfied and engaged throughout their tenure with your company.
Start by creating a comprehensive onboarding plan that covers everything from salary negotiation and job expectations to skills training and professional development. 
Taking the time to cultivate an environment of trust and respect will go a long way toward helping new executives transition into their roles more quickly and achieving tremendous success in the long run.
You must also provide them with growth opportunities—internally and externally—so that they stay up-to-date on the latest industry trends, network with essential contacts from other top companies, attend conferences or seminars related to their expertise, and participate in team-building initiatives.
By investing in your executive team's success now, you'll be able to position yourself for greater returns in the future.
Executive Management: The Retention Stage
When it comes to managing the managers, your responsibilities are bound to double.
First, you will have to ensure that the executives are delivering the desired results and, second, that they are supporting other team members to deliver their desired results. Confusing? That's precisely what it was meant to be. (Just kidding!) 
Managing executives is the same as managing any other employee, given that you are clear with your and their expectations. 
Promoting Leadership Exploration
The ever-changing landscape of the business world means that companies must continuously adapt their management strategies to stay ahead of the curve. One such strategy is identifying and developing future leaders within the ranks of employees.
There are many benefits to promoting leadership exploration within a company. First, it helps to identify potential leaders early on, which allows for more targeted development and mentorship programs. 
Second, encouraging employees to explore their leadership potential helps build a culture of innovation and excellence. 
Finally, prioritizing leadership exploration can help attract top talent to your company.
Promoting leadership exploration should be at the top of your list if you're looking to supercharge your executive search strategies. Here are some tips for getting started:
Clearly define what leadership means for your organization.

Identify top-performing employees and provide them with opportunities to assume more responsibility.

Encourage all employees to explore their leadership potential through training and development programs.

Foster a culture of innovation and excellence by publicly recognizing and rewarding successful leaders.

Use social media and other digital platforms to reach prospective leaders and promote your organization as a great place to develop one's career.
Creating a Success Plan and Anticipating Mentorship
As the job market becomes more competitive, employers feel pressure to attract and retain top talent.
This is especially true for executive-level positions. Companies must clearly understand what today's executives are looking for in a new opportunity to stay competitive.
To create a success plan and anticipate mentorship needs, start by asking yourself the following questions:
What are the objectives of the executive search? Assemble a list of non-negotiable qualifications.

What is the company culture like?

Is there an existing C-suite or another leadership team in place?

Do you have a solid understanding of your target executives' motivators?

Are you prepared to offer attractive compensation and benefits packages?

Do you have a process for onboarding and integrating new executives into the company?
These are just a few factors that need to be considered when creating a success plan for securing executive talent. By taking the time to ask these critical questions, you can give your company the best possible chance at landing top talent. 
Once you've identified the right candidate, it's important to anticipate their mentorship needs. New executives commonly need additional guidance and support as they adjust to their new roles and responsibilities. 
To best help them succeed, consider connecting them with a mentor—someone with experience in the industry who can provide advice and insight. Finding an appropriate mentor is essential in creating a successful plan for executive recruitment.
Unlocking the Secrets of Successful Executive Hiring
An effective executive search strategy is essential to ensuring your company secures the top talent it needs to compete in a rapidly changing business landscape.
But with so many variables and stakeholders involved, an executive search can be complex and time-consuming.
To wrap up, here are a few tips to streamline your executive search strategy and make it more successful:
Define the role and its requirements clearly from the start. It will help you attract suitable candidates and avoid wasting time on those who are not a good fit.

Utilize technology to your advantage. Online tools like LinkedIn can be great resources for finding and vetting potential candidates.

Be flexible in your approach. The best candidate might not come through traditional channels, so it is best to be open to new sourcing methods.

Leverage referrals. Include anyone, and everyone relevant to the role in your executive search pool, be they your current employees, alumnus, board members, investors, etc. 

Maintain confidentiality to showcase your professionalism when contacting candidates for executive roles. Reach out to them through emails rather than direct phone calls. 

Check out our

connected recruiting

guide to know exactly how to keep your talents engaged throughout the hiring process. 
These tips will help you streamline your executive search process and increase your chances of success in securing the perfect candidate for your open role.
If you liked the above content, remember to share it with your team members! We will meet you soon with more exciting topics. Till then, adios~