A pool of unattended resumes is already a hell lot of work, and sometimes candidates just go overboard by submitting their "never- seen- before- and- never- want- to see- again"  type of CVs. Yes, you can definitely go on rejecting all candidate resumes, but can you really do that?
Nope! Instead, you gotta learn how to access them without trying to smash your computers. And that is precisely why we are here with this absolute guide on identifying candidates' skills based on resumes. So stick around till the end!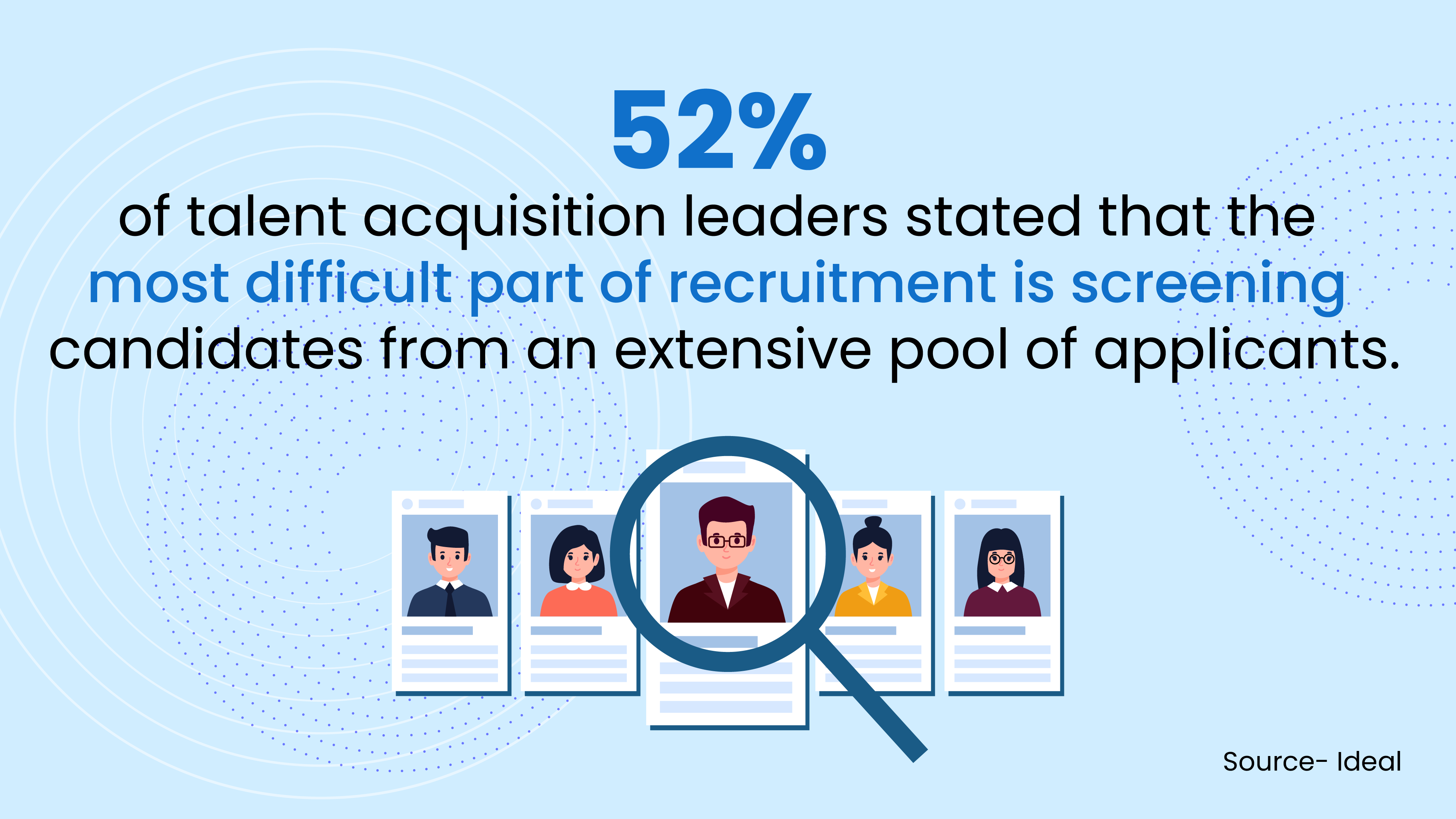 Statistics show that 46% of candidates' resumes contain at least one misleading piece of information; shockingly, 29% never get caught. 
Considering how a lousy hire hinders the company's growth and disrupts its work culture, recruiters must rule out any chances of missing a potential red flag while assessing resumes, especially during high-volume recruiting.
The most feasible way is to teach yourself and your team members the right resume screening tactics.
But would that be the best investment if another pandemic hits and the recruiting team starts shrinking once again?
In any case, one thing that will obviously help is technology!
After all, Sherlock Holmes believed that "A man should keep his little brain attic stocked with all the furniture that he is likely to use."
So, keeping the right tools handy won't hurt. Leveraging technology will only work as a "lifesaver" at times of economic crisis and will help you get going with your everyday recruiting process, even with a small team.
Along with technology, there are some key filtering metrics that recruiters need to be trained on so that they can pick the right resumes like a pro. 
So here's our mission turning recruiters into hawks! (So your eyes can filter what's necessary at first glance). Let's begin!
Target These 7 Elements in a Candidate's Resume First!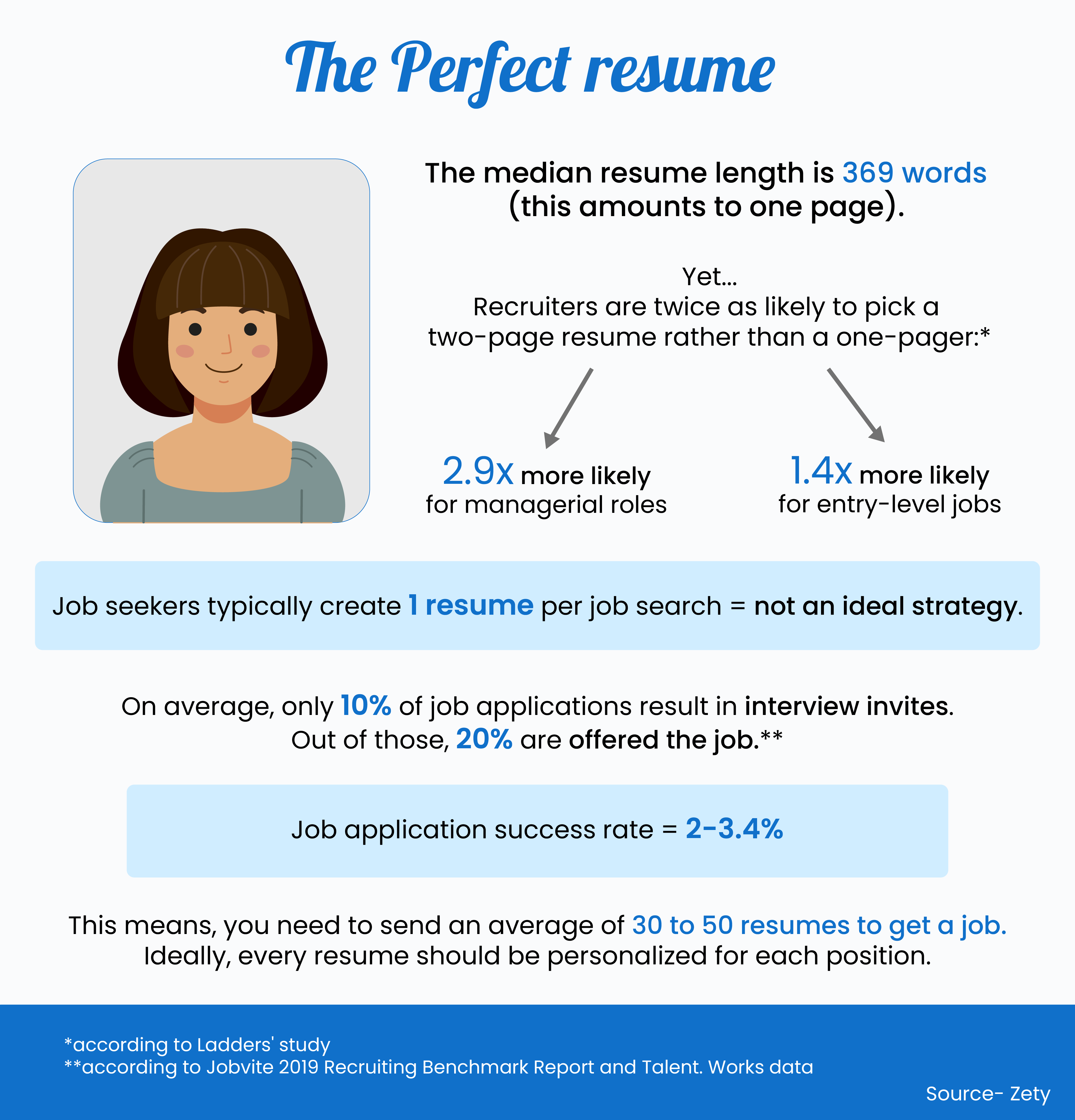 Here are seven key elements (priority-wise) to look for in a candidate's resume.
1. Work History
Work experience is the first section you must see in candidates' resumes. For candidates without a relevant work history (or stable work tenure), you can look for related volunteer experience. 
Also, look for consistency. You might want them to explain why they have considerable employment gaps. Finally, consider if they have been making progress in their previous role. Have they been promoted or held different positions?

2. Educational Qualification
If you mentioned the bachelor's degree as the minimum qualification for the job role in the description, you could expect candidates to have at least that. If not, they don't even care to read the job ad carefully before applying.
You can overlook this section if you are hiring for a role solely based on the candidate's skills, like photography, animation, etc. Otherwise, educational background is crucial.
3. Contact Information
What if you like a candidate's profile and want to connect with them, but they have either given you the wrong contact information or nothing at all?
It's an instant turn-off. 
Before proceeding with any resume, you must check if it has updated personal info. For reference,  you can ask candidates to mention their LinkedIn accounts or maybe an alternative Email ID so at least you will not be living completely under a rock.
Otherwise, no matter how good a resume is, it's a waste. You don't want to get in touch with such candidates.
4. Skills and Competencies
Skills and competencies are crucial as they help you analyze whether the candidate is suitable for the job. For instance, if you are hiring a web developer, you would expect your ideal candidate to have coding skills. 
Apart from hard skills, you must also look for the candidate's attributes and soft skills like communication, problem-solving, teamwork, etc. These skills make candidates more attractive to their employers.
5. References
If you come across a top-notch candidate with a great resume, double-check if they are actually that good or just fooling around. 
In such cases, references can help. But if the candidate has not mentioned any reference or even if they did, but they are irrelevant, it's a clear no-no. 
6. Work Sample
Work samples are especially vital when hiring a candidate for specific skills. For instance, content writers must have a collection of writing samples for you to access their skills.
If the candidate still needs to attach a work sample, you may reach out to them, asking for the same. Also, if they don't have a portfolio, consider giving them a pre-assessment test. 
7. Social Profiles
It's no secret that you should look beyond your candidate's work experience and qualifications. Social media is a great source to see what kind of person your applicant is, how active they are, and what influence they have online.
It would help if you started looking at their LinkedIn profile. But don't stop there! Ask for their Twitter, personal blog, etc., to get a deeper insight into their beliefs and opinions.
What does a Candidate Resume Reveal About their Skills?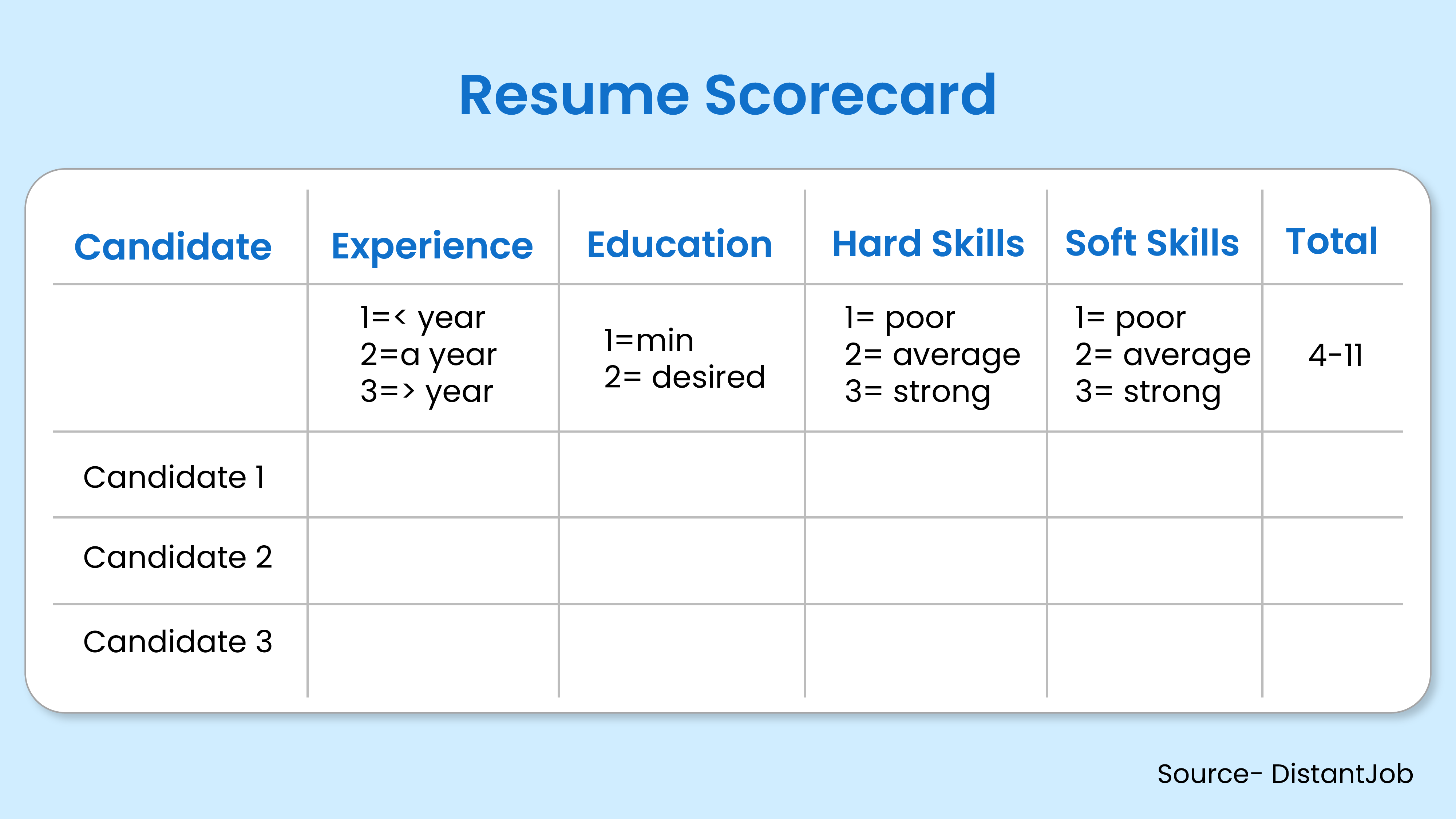 From writing skills to the ability to present information in an organized way, there's a lot you can draw from the candidate's resume. However, you need to take a closer look. 
Here are a few things you may infer from the candidate's resume: 
1. Correct Formatting = Detail Oriented?
When a resume is correctly formatted, it shows that the candidate has taken care to present themselves professionally and has paid attention to the details of their qualifications. 
This first step in presenting themselves professionally can indicate the level of care and attention the candidate would bring to any position.
2. Reliable References = Loyal?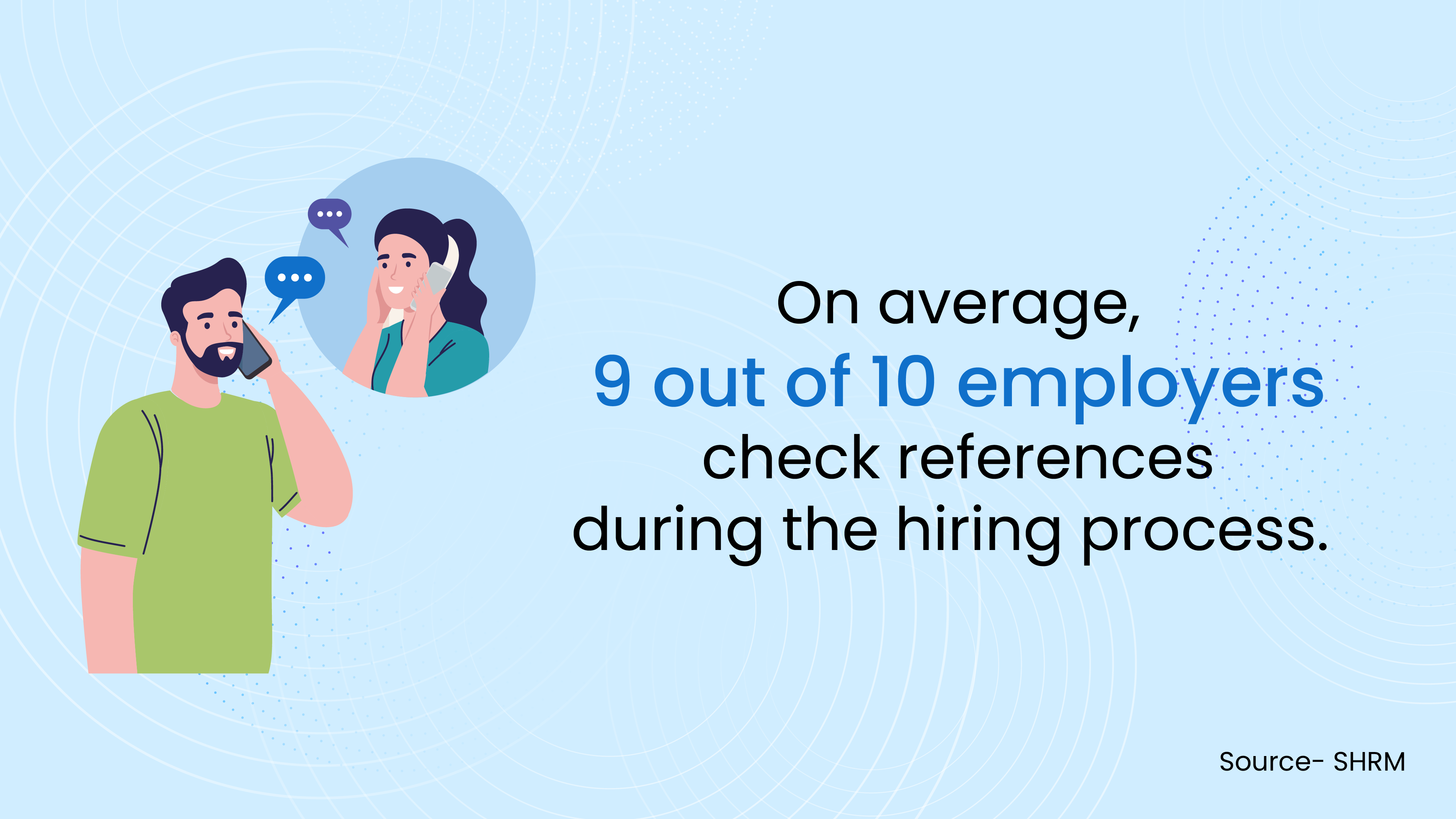 A candidate's resume can reveal a lot about their skills, including whether they are reliable.
A reliable reference is someone who can vouch for a candidate's skills and abilities and is usually someone who has worked with the candidate in the past. A loyal reference is willing to make extra efforts to help candidates get the job they want.
When reviewing a candidate's resume, pay attention to the references they list. Are they people who are likely to be loyal to the candidate? If not, it may be worth reconsidering your opinion of the candidate.
3. Spelling and Punctuation Errors = Unreliable?
While a resume with spelling and punctuation errors might not be a big deal for you, it says a lot about the candidate. These errors show that the candidate is not detail-oriented, which may show off during work if hired.
Most employers want candidates who can do the tasks right the first time and will pay attention to details. A resume with spelling and punctuation errors will likely turn off potential employers, making the candidate seem unreliable.
4. Pages Long Essays = Incoherent?
There is a common misconception that longer resumes are better since they contain more information about candidates. However, it is not always the case.
Sometimes four page long resumes can be incoherent and difficult to follow. Also, it shows that candidates have not planned and organized their thoughts before writing. As a result, their resume ended up being all over the place and did not flow well.
Mind that neither too short nor too long resumes are good. An ideal resume is preferably 2 pages long and contains no more than 600 words. (of course, exceptions do exist).
5. Without a Cover Letter = Rejection at First Glance?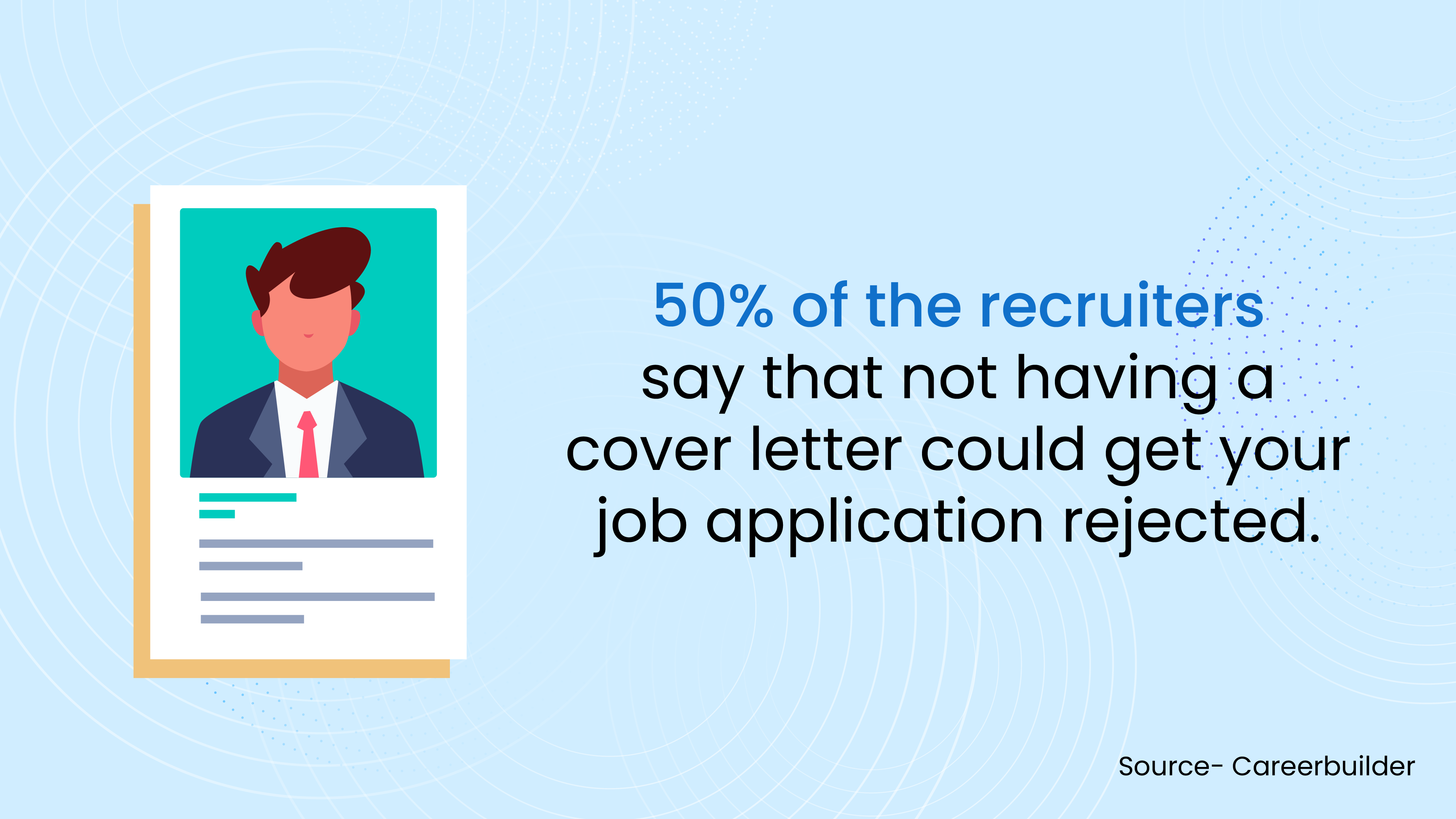 In most cases, a recruiter will likely reject the candidate outright if their resume is poorly written or does not include a cover letter.
A cover letter allows recruiters to learn more about candidates and their qualifications. In addition, it gives them a sense of the candidate's personality and if they would fit into the company culture. Without a cover letter, recruiters are much less likely to consider a candidate for a position.
6. Everything Perfect = Interview Time?
Candidates who have flawless resumes may not always be the best. In fact, most qualified candidates might just have mediocre resumes. So, there is always a possibility that a candidate with a not-so-perfect resume might turn out to be the candidate you always wanted!
Why? Because not all candidates may have the apt communication skills to present their resumes in the best way. While they may be experts at their native skills, it may be a bit unfair to create a perception of their basis on a typo in their resume. 
On the other hand, candidates with perfect resumes could be hiding something, or they might have hired a professional to fool the ATS. 
So how do recruiters know what really lies beyond the resume?
A resume is a great way to get a sense of an applicant's skills and experience, but it's important to remember that it's only a starting point. It's your responsibility to go beyond the surface and get to know the applicant as a person. That way, you can better assess whether they're a good fit for the job.
How Can Technology Help You Assess Resumes Better and Faster?
Still stuck with paper resumes. Are you? Especially when your competitors have been leveraging artificial intelligence to get through the resume screening stage efficiently. 
Thanks to the number of recruiting tools that have taken the marketplace by storm in the last few years, resume screening has now become more data-driven than intuition-based, and the main credit goes to resume parsing software.
Resume parsing software can handle multiple resumes in just a single click. This software uses AI to break down the job description and learn what your ideal candidate must look like.
With the help of AI, it eliminates the chances of wrong matchmaking by applying an algorithm that sorts candidates at each level and narrows them down to the most suitable one. Before shortlisting applicants for interviews, it parses resumes and CVs based on specific keywords, giving the best result in less time and budget.
It also analyzes the candidates from your existing talent pool; if they match the requirements, they are instantly added to your pipeline. So, you don't have to source new candidates from scratch; a little mining can help you rediscover hidden gems from within your database.
Recruiters, after every hiring cycle, can use the data stored during the recruitment process to get a better picture of what worked out and what needs to be incorporated further for better hiring decisions.
Interesting, right? Maybe RecruitCRM's Resume Parser is what you need the most right now. Learn its features here.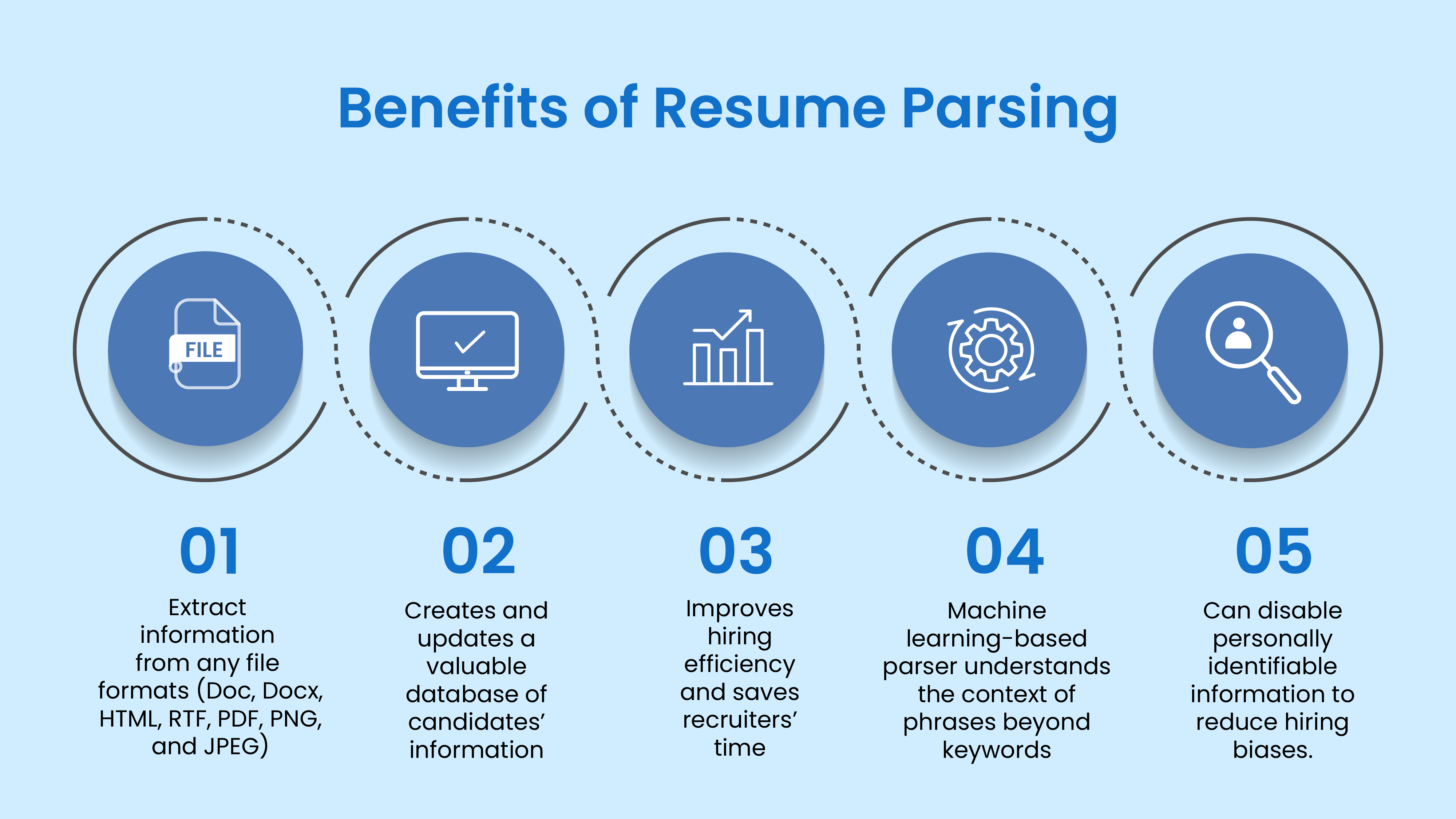 Words of Caution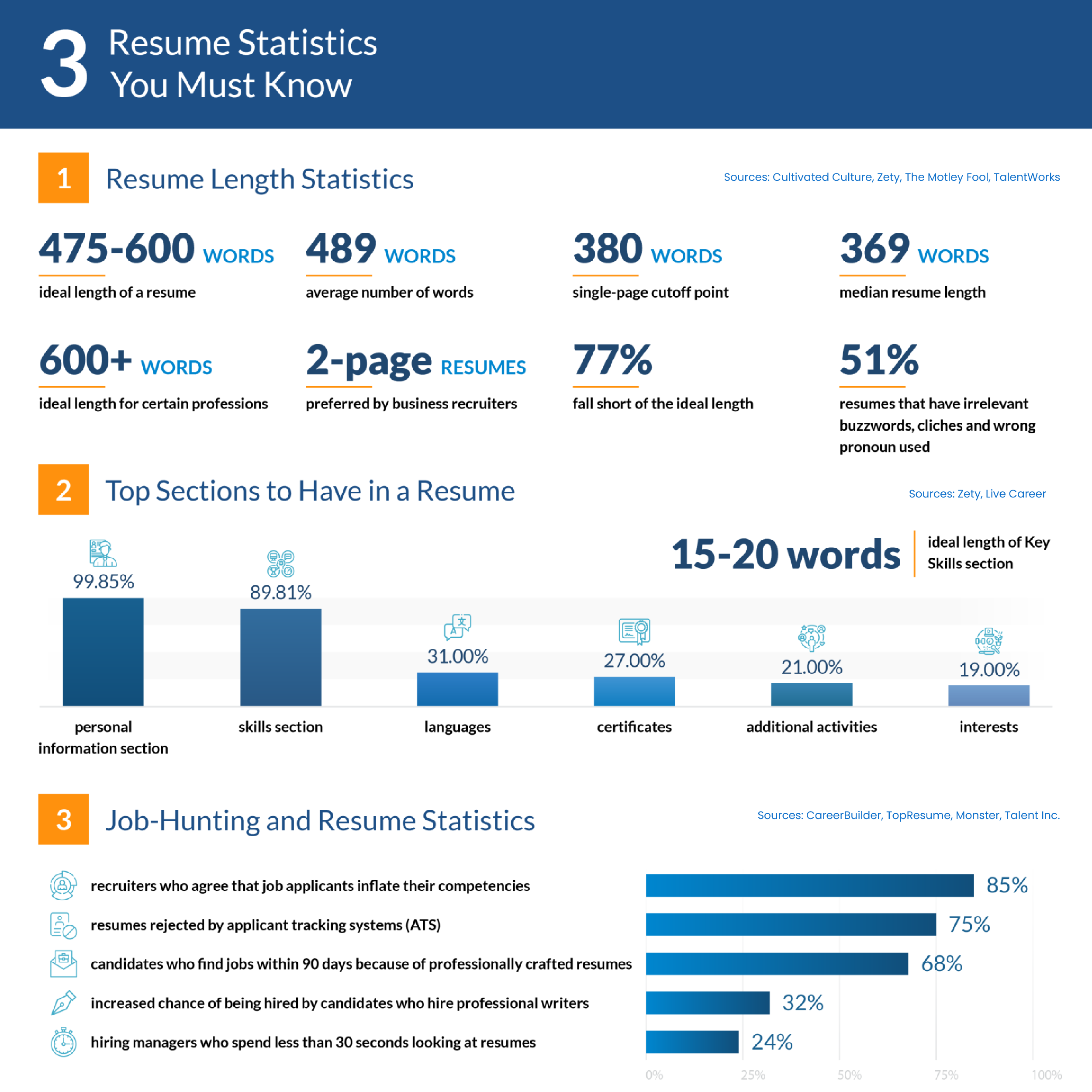 No matter how many advancements have been made in the recruitment industry, most people still don't understand how online job search works, which is why AI tools like resume parsers have been dubbed the "Black Hole of Resumes" by candidates.
After all, we can't ignore that while resume parsers put a ton of burden off the recruiter's shoulders, there is always a doubt of good candidates slipping out of a crack or incompetent ones getting accepted by playing with specific "keywords."
No doubt, these tools are rapidly evolving, but we are still far from finding a once-and-all solution for these limitations: 
As of now, there is no way recruiters can audit resume parsers to determine why a particular resume is ranked higher than the other, meaning you can't control the outcome, whether good or bad.
A survey shows that 45% of candidates feel that lack of feedback from the recruiter is the most frustrating aspect of the application process. Since resume parsers don't define the set of criteria against which output can be analyzed, candidates are often left in the dark.
Smart Candidates (or maybe Not-so-smart ATS):
Nowadays, candidates customize their job applications for resume parsers and not for job postings. Most of them have already discovered numerous ways, like keyword stuffing, etc., to fool the ATS into picking their resumes. So, more tech-inclined candidates pass the mark easily even if they don't fit the job requirement.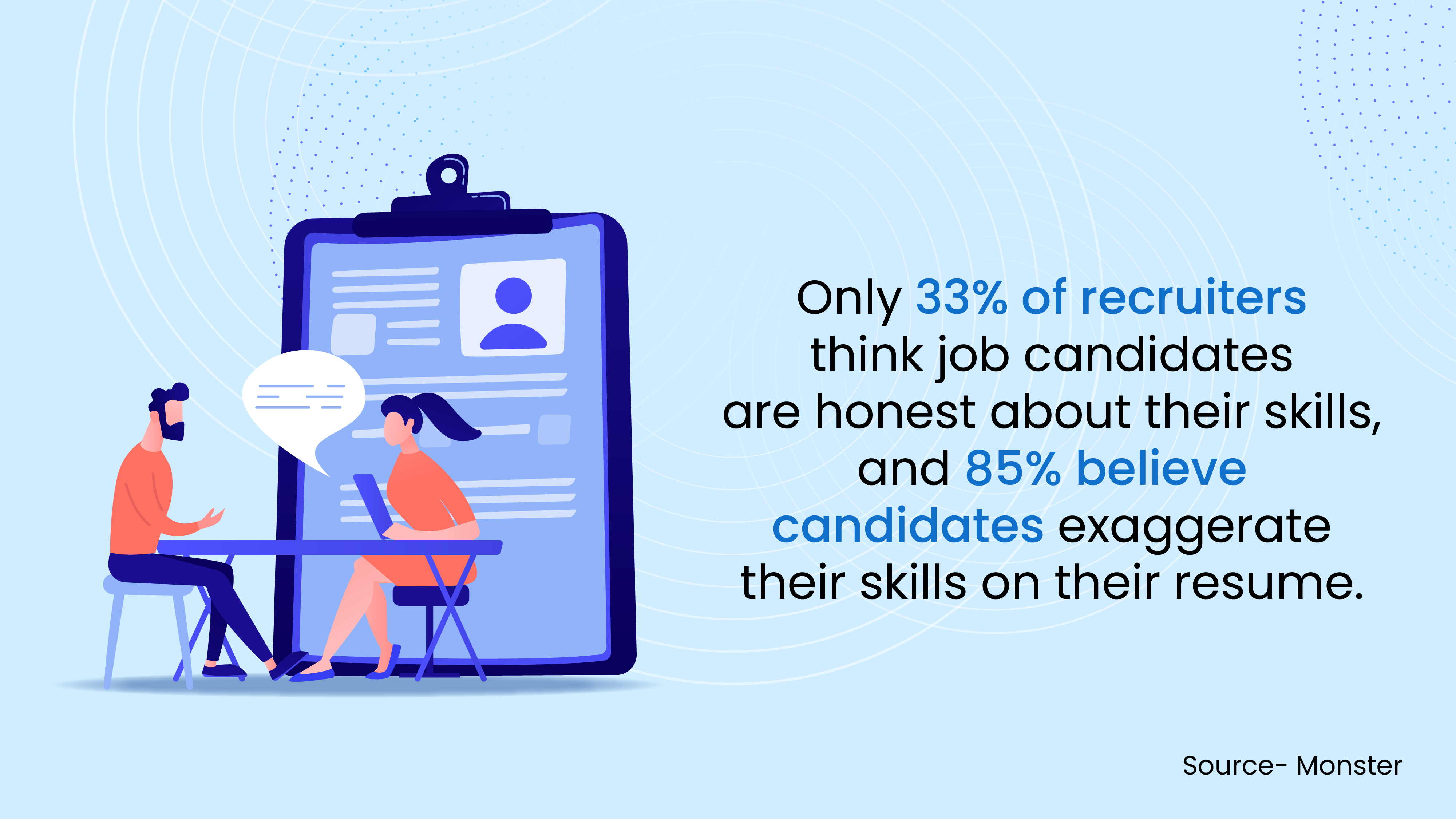 Till someone comes up with a new resume parser (or maybe an update) that could mitigate these issues, here is what you can do:
Choose better resume parsers. Although not 100%, top-tier resume parsing software that harnesses features like AI, Machine learning, text mining, etc., can give up to 95% of accuracy.

Feed a variety of relevant keywords to your parser. For instance, digital marketing is also called online marketing. Make sure your ATS knows such abbreviations.

Add drop-down menus in your application form. It will limit the data-entering options, giving you much-refined output.

Another logical solution to avoid unstructured information in resumes is not asking for resumes. It might sound funny, but it works almost 100% of the time. 
Wrapping Up!
Hiring an ideal candidate is challenging, and unfortunately, there is nothing such as a one-size-fits-all solution to do so. 
But over the years of rummaging through hundreds of resumes, we know one thing for sure- You need to keep your mind open when reviewing the applications. Before accepting or rejecting any resume, you must know how to read between the lines.
Not all "good" resumes are good. In fact, we have hired a few great candidates with their "not-so-cool" CVs. 
We know giving a chance to talents with poor resumes isn't a common practice, and it may seem like a time waste, but why don't you try to break free from this rule for once? Who knows what hidden gem is waiting to be discovered?
So, the next time you are accessing resumes, ensure that you are not making these mistakes:
Judging a resume by its cover letter

Making assumptions that all employment gaps are bad.

Quickly dismissing candidates with short tenure in the previous role.

Not considering transferable skills.

Not reading resumes that are either too short or too long.
We hope this article was a delight for you. Let's catch up soon on another exciting topic. Until then… Keep Reading, Keep screening!