We recently were in conversation with Brennen Jackson, Chief Vision Officer at MMI Industries, who's been a Recruit CRM user since January 2022. 
Like most recruiters, Brennen was fed up with the trial and error of different recruiting software until we came into the picture. 
Based in Denver, Colorado, Brennen and his team at MMI Industries provide a unique model of psychographic recruitment services. Instead of focusing on technical skills, their model assesses candidates' soft skills to make objective hiring decisions. 
To scale their third-generation recruitment model, MMI Industries wanted an innovative recruiting software that empowered their team and aligned with their mission. 
Challenges Faced by MMI Industries & What They Were Looking for in a Recruiting Software
Coming from a big box recruiting background, Brennen wasn't new to ATS' and CRMs. His team experimented with providers like Zoho Recruit and Bullhorn before discovering Recruit CRM three months into their business.
With an old-school recruiting tech stack, the team knew they wanted a modern solution that could–
Replace Excel with automated recruitment technology 

Function as an all-rounder software without unnecessary flashy tools

Adapt to the scalability of their business
Ultimately, they didn't just want a tool to log data. They wanted a modern tool that addressed real issues and tracked their progress.
Why Did MMI Industries Choose Recruit CRM?
Brennen and his team were impressed with the Kanban deal boards and the candidate pitch tool. Apart from this, they loved Recruit CRM's–
User-friendly UI

Responsiveness to customer queries in less than 2 minutes!

Features designed specifically for recruiters
Recruit CRM Features That Really Spoke to Them
Brennen was onboard with Recruit CRM within 10 minutes of his product demo with us! 
Though the Kanban board did steal his heart, what he raves about the most is the email read receipt feature, email resume parsing, and visual candidate pipelines. 
When comparing Recruit CRM's features to other systems, he spoke about how customer queries and requests are handled instantly, and new feature requests are always being rolled out to optimize the product. 
The user interface is very user-friendly since many recruiters aren't the most tech-savvy people. The different functions of the product are geared towards helping us get our job done; none of them are flashy things that are just there to look cool. It's all very practical and usable; we use 95% of the features daily.
The Outcome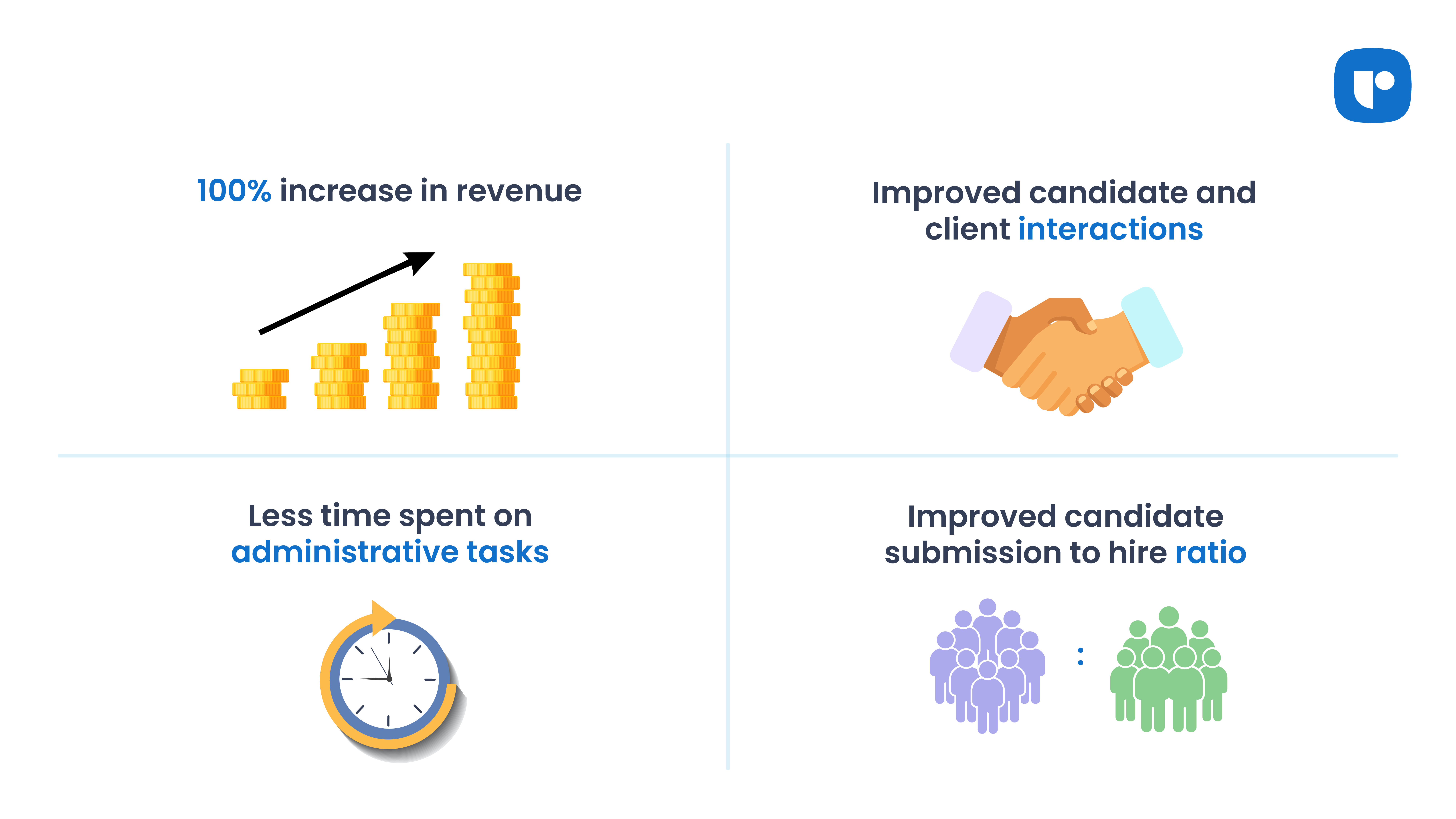 MMI Industries saw instant results using our ATS + CRM system. They were able to scale and track their business operations efficiently. 
With Recruit CRM, they achieved–
100% increase in revenue 

Improved candidate and client interactions

Less time spent on administrative tasks

Improved candidate submission to hire ratio
I have seen what using a CRM is like, especially as someone who's now seen all three sides of it–not using one, using a mediocre one, and using Recruit CRM. I mean, it speaks volumes!
Future with Recruit CRM
Besides a massive sales improvement, MMI Industries continues to grow its candidate relations. With Recruit CRM, they drastically brought down their candidate submission rate. Where most agencies take eight submissions to get one hire, MMI Industries do it with just three! 
As their sales continue to skyrocket, one thing will always remain consistent: their love for our software. 
I'd give you an 11 out of 10. I constantly rave about your product. I love your product and can't speak highly enough of it!
Ready to get started with us?