You've finally sourced a great list of candidates from LinkedIn that your hiring manager is interested in. 
Now, it's time to reach out to this candidate pool, get them excited about the opportunity and persuade them to connect with you to learn more. 
But how can you be sure that your message will resonate with the candidates and get them to say yes to a conversation? 
It's the quality of your outreach message that can make or break any future connections. 
Let me share 5 important things to keep in mind while crafting your recruiting outreach messages. Read on. 
1. Keep it short and focused
According to a study by Linkedin, InMails that had 400 or fewer words had the highest open rate at 22% higher than the average, while messages with 1,200 and over-performed 11% lower than the average.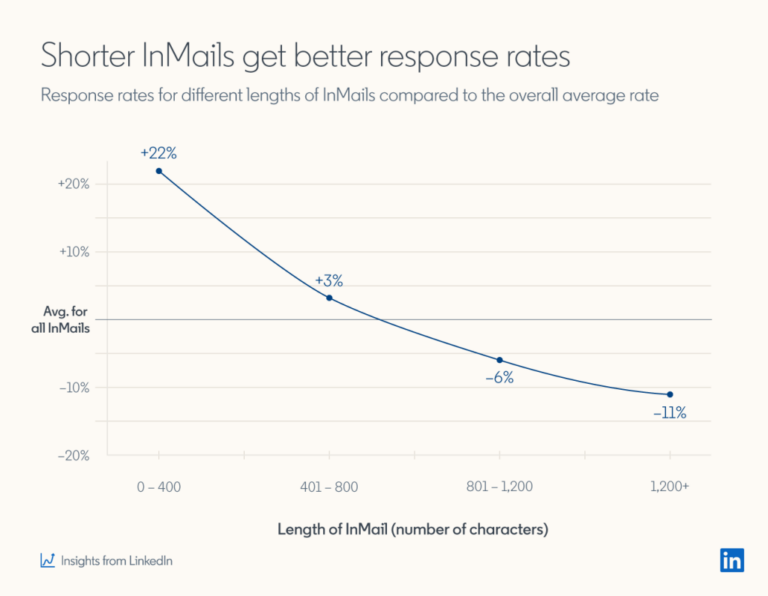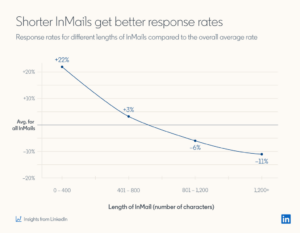 You have about 2 small paragraphs or 6-8 sentences to convince a prospect to speak with you. 
So, focus on the specifics of the role, avoid industry jargon, and take a sentence to highlight the employee value proposition.  
2. Personalize your message
If you want your recruiting outreach message to stand out, you have to do your homework.
Taking the time to research a bit about the individual you are messaging and then crafting your message to highlight their background will increase your chances of getting a response. 
Here are two such outreach examples : 
Example 1:
Hi Jennifer, 
You have an impressive background. Let's talk about a role here at Company ABC. 
Best,
Recruiter
Example 2: 
Hi Jennifer,
I hope that you are doing well! I wanted to reach out about a VP of People role for a rapidly growing startup based in the Boston area (Hybrid work model). This is a critical role that partners with the CEO and other members of the leadership team to help them scale their recruiting operations and people function as they go from 40 to 100 people over the next year. 
With your extensive experience scaling startups in the past, I thought that you would be a great person to speak with about the role. Let's schedule some time to chat this week. How does Tuesday, 2pm look like for you?
Best,
Recruiter
Example 1 is short but it doesn't give any information about the role or provide any context to why they are specifically reaching out.
Recruiters often use the first example because it is easy to copy and paste, and forward to multiple candidates at once.  
There are also automation tools that are used to send generic messages like this. The spray and pray technique can work but doesn't leave the best candidate experience and will not help you in the long run.
3. Provide fresh and relevant content
Always include new and interesting content about your company in your message. 
This could be specific milestones that you have hit, recent press releases, new customer acquisitions, product announcements, awards achieved, or specific PeopleOps initiatives that you have taken.
Doing so will help the candidate develop a deeper connection to your brand. 
Warm up the message by sharing names of connections you have in common to build credibility and trust. 
Candidates want to know that you are not going to waste their time or spam them. 
5. Always mention a specific time to speak
No matter how intriguing your content may be, if you do not ask for a follow up your message is likely to get ignored. 
Busy people like deadlines as this helps them have a sense of your timetable and prioritize their response accordingly. So, the best practice is to always include a specific day and time to speak or follow up in your recruiting outreach message. 
In final words
While automation may seem tempting due to the challenging nature of candidate sourcing, it often fails to yield meaningful conversations. 
That is why you must personalize your approach to enhance response rates and enrich the candidate experience. 
This way, you'll not only capture the prospects' interest but also pave the way for fruitful professional relationships.