Ask any HR expert, and they'll tell you no matter how much you struggle to spot, entice, and hire qualified talents, a 100% closing rate is no guarantee- especially in today's candidate-centric market where one in every six of them will just say, "thanks, but no thanks" to your offer and move on.
Still, rejections sting, don't they? You exhausted your days and budget sourcing and interviewing your ideal candidate just for them to turn you down.
It's a tough blow, no doubt. But the best part is you can still improve your odds and quickly find better replacements post-offer declinations.
How? Read on to find out.
Why are candidates declining your job offer, and how can you avoid it?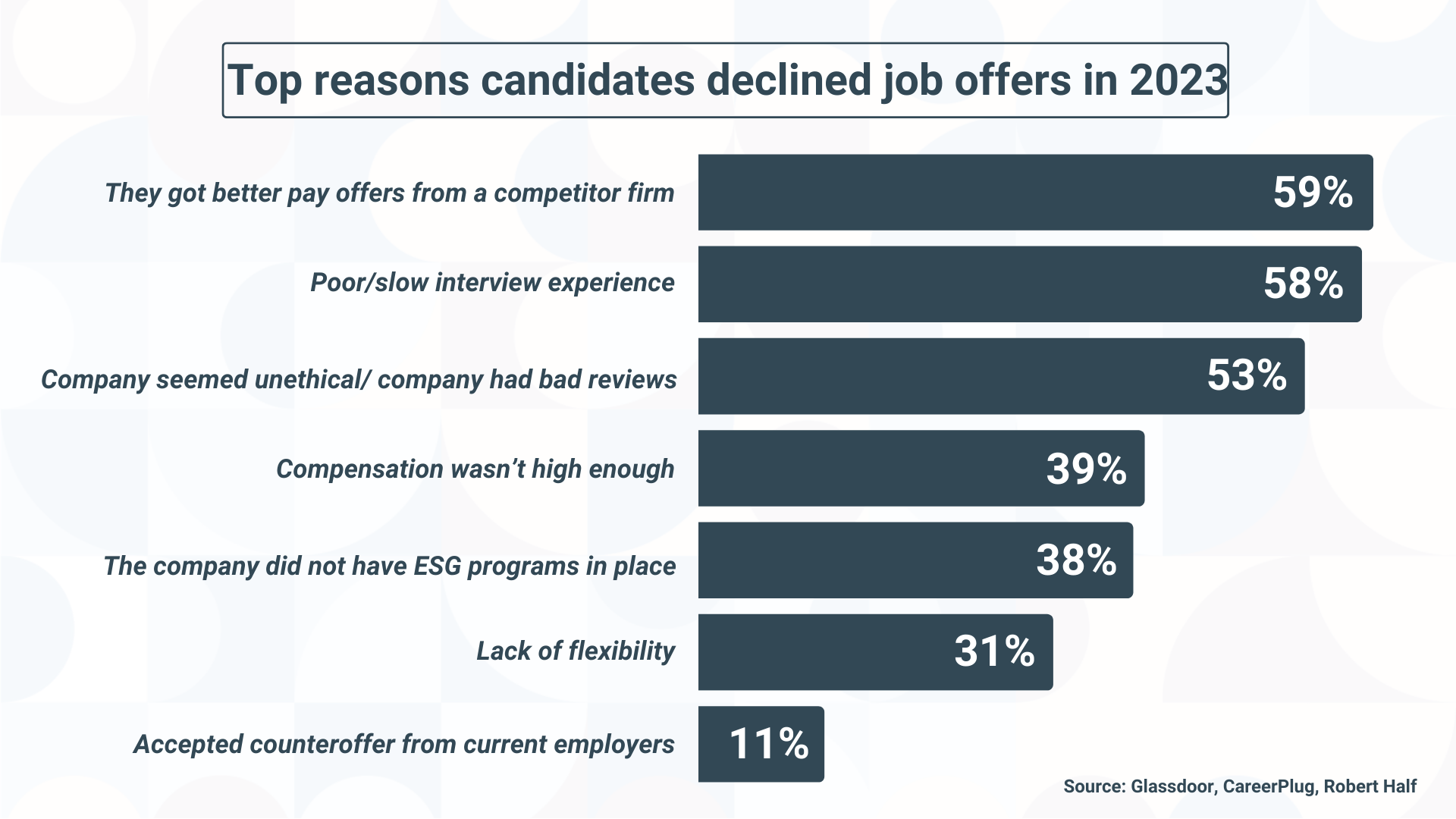 For a second, forget about the candidates. Will you work at a company that fails to meet your expectations? Or worse, makes grand promises but delivers none? Probably not!
And you know the most shocking part? Half of the time, it will not even be about the salary. 
The same goes for job seekers. They want and expect the "best." But if you can't provide them with that "best," all you are left with is a declined offer. 
Now some will ask, if compensation isn't the problem, why exactly do these sought-after candidates turn down job offers?
There may be several reasons (most of the time, more than one). For example:
A 'meh' company culture

No work-life balance

Negative online reviews

Too easy evaluation criteria (Studies found that difficult interviews motivate candidates to accept the offer as they give a sense of accomplishment and a signal for high competition at the workplace)

Limited room for career advancements

A slow and complicated hiring process

A better/more competitive offer from another company

Little to no engagement throughout the hiring process

A shady

job description

(the reality of the job being different from what was conveyed)

No additional benefits or whatever is offered is not good enough (Yes, different from monetary gains)

No remote options (Especially when even the location of the company is not ideal)

 Unprepared/Rude/Biased interviewers

 Lack of diversity in the hiring process (Maybe every interviewer/recruiter candidate is interacting with is either predominantly male or female), etc.
Whatever is the reason for the offer declination, make sure you are gracious with your response. Stay calm and positive. Don't take it personally.
Yes, you may try to make counteroffers if you think you can solve your candidate's issues. But, if not, move on and strive to achieve a higher offer-acceptance rate in the next hiring cycle. 
That's all you can and should do!
What can you do to avoid these offer declinations?
First off, stop believing offer declinations are normal. They are costly to your business, and you should not accept them just like that. 
So, are we asking you to go fight with candidates? No, not at all. 
Instead, strive to understand where and why those refusals are coming from, analyze your weak areas, work on them, build trust between you and your candidates, and develop a contract of mutual benefit.
Mind that active candidates are more likely to decline a job offer. Why? Because most of them fill multiple job positions simultaneously. 
And if you don't respond to them quickly or accelerate your entire hiring process, they will be scooped in by your competitor. 
In short, the faster you move, the faster you hire. 
This holds true even if you aim for passive candidates – once you have shown interest in a candidate, go lightning-speed! (But don't compromise on quality!)
Second, learn how to craft a personalized job offer letter candidates can't resist. The Internet has a whole lot of templates and blogs to help you out with this. Just research and customize. 
Or better cut the slack, use these –
Next, be proactive. Transform your company culture into one that values employee diversity, well-being, and engagement. Be transparent about what your company stands for, the job role, expectations, and growth opportunities.
Emphasize your commitment to work-life balance/integration. Highlight flexible work arrangements, remote options, and any initiatives that support employees' personal lives.
The point is: Put your best self forward but don't fake it. Tell your candidates about your unique value proposition and let them decide whether they want to stay or leave. 
No, don't let them leave. Try again! Offer them a competitive salary, benefits, and perks. Tell them what sets you apart from your competitors.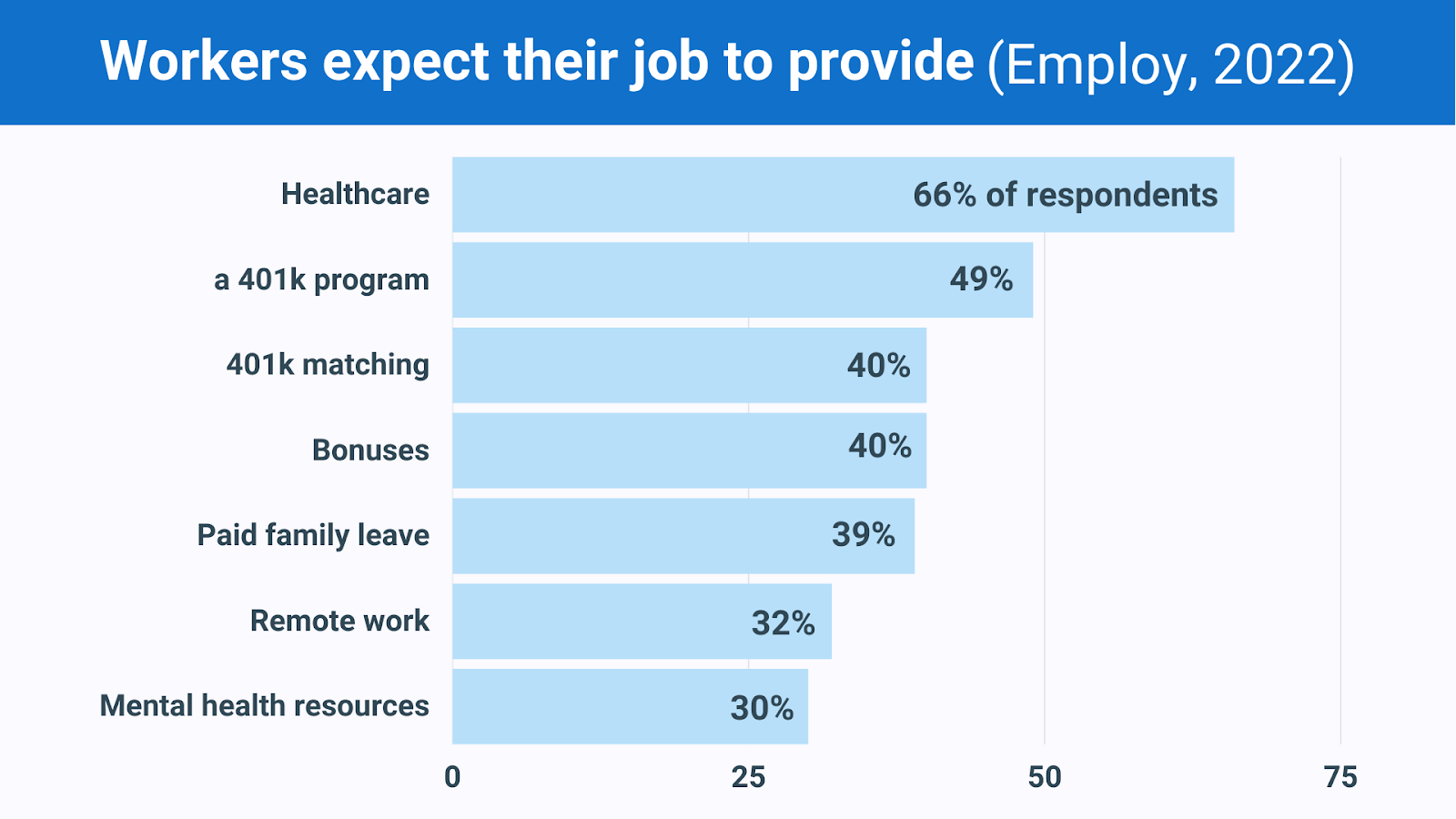 Encourage applicants to voice their concerns and questions openly from the beginning. And answer them promptly. 
Remember, when candidates feel heard and understood, they're more likely to trust your offer.
The way you handle the offer, the negotiations, and the follow-up adds to the candidate experience. Even if a candidate ultimately declines, this experience should be positive enough to consider your company in the future or recommend it to others. 
💡Tip: Never move forward with only one candidate. Have at least three more backups in your pipeline. Do your best to keep them engaged throughout. And keep searching for more until the deal is done. 
Now, the most important question:
Let's say you tried your best to write a perfect job offer letter, present it, and negotiate terms and conditions to meet the candidate's preferences but still got rejected. What should you do?
Give up? After all, it will be easier than repeating the expensive and time-consuming hiring process. 
Well, the bad news is: You can't. Your client paid you to fill the vacancies at their company. They NEED you to find a good employee for them asap.
And that's exactly what you should do! Find a replacement.
5 best practices to find replacements in tough deadlines
Did you know in the U.S., 17.3% of job offers are rejected for XYZ reasons, with almost half of these rejections coming from candidates in high-demand and professional sectors?
That's too many replacements to aim for!
But worry not; we've got you covered. Here are some best practices you can rely on for a solid comeback:
Reevaluate your needs
When deadlines are looming and vacancies need to be filled urgently, impulsiveness might drive you to make rushed decisions. Don't do that. 
First, calm down and step back to reevaluate your hiring needs.
Determine if you're still looking for the exact same candidate or if certain aspects can be adjusted without compromising the role's overall impact.
Also, while it's important to remain fair and competitive, confirm with your client if they are open to adjusting their salary range to expedite the hiring process.
Finally, communicate these reevaluations (if any) with relevant stakeholders and your team members to ensure everyone is on the same page. 
Go for your backups
As we mentioned, keep at least three candidates for backup. (You must have, right?) Now is the time to reach out to them.
These candidates may also be the ones who couldn't make it through the final interview calls in the previous hiring cycles. Just check their availability in your ATS database, and you're good to go.
Mind that the success of this strategy hinges on the relationships you've built with these candidates over time.   
Ask for quick referrals
Your team members, your client, the employees in your client company, the candidate who just declined the offer, candidates you rejected before – literally, anyone and everyone can recommend you a qualified candidate. 
And the best part is these referrals will most likely come with pre-existing endorsements, making your evaluation process quicker and more reliable.
Thus, leveraging this expansive network will not only broaden your candidate pool but also strengthen your recruitment efforts by tapping into trusted sources that can vouch for the candidate's suitability.
Consider internal promotions
Sometimes, the ideal replacement is already within your company. 
And the best way to identify them is by announcing opportunities for urgent internal promotions or revisiting top-performing employees' records. 
This way, you not only encourage motivated individuals to step up and take on new responsibilities but also help your client brand themselves as an employer who recognizes and appreciates employee efforts. 
Mind that this strategy works even better if you have a reskilling and upskilling program in place. 
Leverage recruitment software
If you want to fill any job position quickly, good recruitment software is a must-have. 
And whether it is good or bad news, the market is full of them. Just search "recruitment software," and there will be thousands of ATS+CRMs popping up on your screen – each offering unique features such as automated candidate screening, communication templates, and centralized candidate databases. 
You just need to find a good one for yourself. And if you already have one (that you should have), you're just half a step away from finding a good candidate. 
By automating almost all your hiring stages, ATS will free up your schedule so you can focus on more priority tasks. (You needed that, right? Especially now that you have a tight deadline.)
For more such strategies, read this-
And finally, when you find a qualified candidate, clearly convey to them the deadline. Be prepared to offer them a signing bonus and other additional perks. 
Most importantly, don't give up. There are many skilled candidates out there looking for a job. With a little effort, you'll be able to find the right one quickly. 
Frequently asked questions
Q1- How can I leverage data to improve offer acceptance rates?
Use data to identify trends in candidate preferences and offer outcomes. Analyze factors like compensation, benefits, location, and role alignment to create personalized offers. Regularly review and adjust these offers based on data insights for continuous improvement.  
Q2- What impact can offer declinations have on my recruitment timelines?
Each offer decline necessitates restarting the candidate search, evaluations, and negotiations, resulting in extended time-to-fill, affecting project schedules and team performance, and potentially causing missed business opportunities.
Q3- What immediate steps should I take when an offer is declined?
Express appreciation for the candidate's time, inquire about reasons for declining, keep the door open for future opportunities, and swiftly reconnect with other potential hires. (Maybe consider a counteroffer if it works!)
Q4- How can I enhance my offer presentations to minimize declinations?
Highlight growth prospects, unique selling points, and company culture alignment to create enticing offers that align with candidates' aspirations and minimize declinations. Consider factors beyond compensation, such as work-life balance and career advancement opportunities, to establish yourself as the "employer of choice."