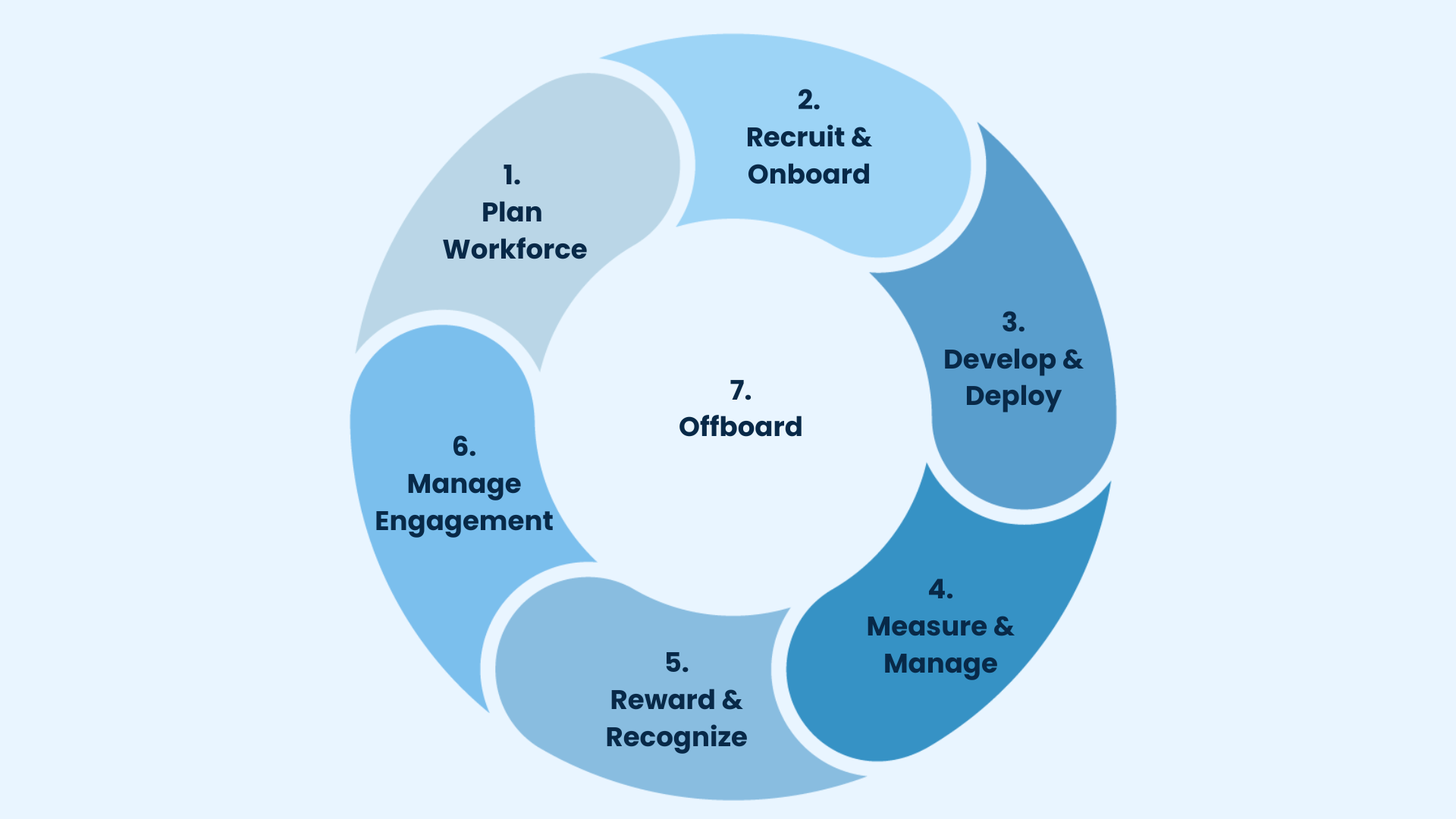 "Technology + Best Practices + Good Team = Connected Recruiting"
Attracting, hiring, and onboarding are the elemental stages of the Talent Lifecycle, from sourcing candidates and improving database engagement to successfully onboarding them and boosting the redeployment rate. 
Many staffing firms must acknowledge that their responsibilities go beyond filling vacancies for the client's company. Instead, those who are worth the salt appreciate the need to engage and nurture every step of their talent lifecycle. It is the only factor distinguishing them from recruiters without solid foundations.
Just so you won't fall into the former queue, we have broken down the talent journey into five key areas outlined below.
Attraction
It pays to invest in developing strong employer branding to attract a potential candidate. How the market perceives you and your company's culture can give you an edge.
This stage calls for striking storytelling and EVP. Presenting a clear goal and vision of your company is crucial to entice the cream of the crop.
Recruitment
To shine through this stage, having expertise in niche-specific topics and challenges of each industry ensures that you engage and hire suitable candidates. The more extensive your network is, the more effective your recruitment process will be.
Performance Management
If your idea of talent management is conducting a one-time interview, setting bland targets, and feeding them directly to clients, chances are you need to redesign your strategies. First, you must track and analyze a candidate's performance at each hiring stage to ensure the talent and client's satisfaction. 
Retention
While emphasizing company benefits can attract top talents, retaining them demands active engagement. Asking for feedback, offering career development opportunities, and making them feel valued are fundamentals of successful retention strategies.
Succession Planning
No matter how great your retention strategies are, there will be a point when your top performers pass the baton to the next generation. Therefore, identifying the next cycle of talents (i.e., keeping the pipeline warm) is essential.
With all this being said, you should not be surprised that technology and a good team can benefit you immensely at each stage mentioned above. Remember that every stage of the talent lifecycle complements each other, and formalizing flexible strategies is guaranteed to drive your business forward. 
But the question is – How can you reach that point? 
The solution is simple – "Connected recruiting"
What is Connected Recruiting?
Connected recruiting is a term used for the collection of best practices that recruiters can use to enhance their talent engagement strategies. These practices include more than just leveraging technology; it gives an understanding of the fundamentals it takes to build a robust and diverse talent pool.
The goal is to tap into a great talent pool, learn about their expectations, and take concrete steps to earn their affinity and advocacy to enhance your employer brand.
Connected recruiting strategies usually fall under the remit of three areas:
The people: Your team members and target audience are the key players in your recruitment process. Your strategies must ensure that both feel a vital part of the process. 
The process: You must be clear with how you intend to engage your candidates, including all the resources, talent pool, outreach strategies, etc. 
The technology: There is no shortage of recruiting tools in the market. You must know which suits you best to implement and track engagement strategies better.
Why do You Need to Implement Connected Recruiting Right Now?
In today's candidate-centric market, recruiters have to compete for the top talents, not the other way around. Winning the talent war means adopting strategies focusing on candidate engagement and experience.
Here are a few reasons you need to implement connected recruiting right now:
You are Not the Only One Recruiting
You are one of many recruiters in the market who is seeking top candidates. Mind that a proactive candidate applies for more than one job role simultaneously, so you can't guarantee how long they will stay available. Your responsibility is to be the "cheetah of the recruitment industry." Put yourself ahead of your competitors and ensure you present yourself as the company candidates would love to associate with.
It's About Building Relationships
Talent acquisition isn't a transactional process. Instead, it relies on building a genuine relationship with candidates. The best tactic is to maintain an active communication channel. You can no longer send blank or non-personalized emails, hoping candidates will stick around. Instead, you must make efforts by reaching out to them and keeping them informed throughout the hiring process.  
Your Reputation Matters
In the age of online sharing, 60% of candidates share their reviews and experiences with their acquaintances. They don't hesitate to share how they felt throughout their recruitment process, which eventually determines whether you will attract more candidates or repel them. Your brand matters; the best way to guard it is by implementing connected recruiting strategies. 
Candidate Insights
By implementing connected recruiting strategies, you can gain valuable insights into the current job market through pre-qualification assessments and discussions. These insights allow you to understand your candidate's expectations regarding preferred work environment, remuneration, location, etc. You can optimize your talent engagement strategies and boost your employer branding through these insights.
Lower Acquisition Cost
You can find and re-engage with talents from your ATS database and achieve more without starting with the hiring cycle every time from scratch. By keeping your talent pool in a constant communication loop, you can make up to 60% of placements from your existing database.
Higher Deployment Rates
When you focus on building a genuine relationship with candidates and improving their experience, you can enjoy a deployment rate of even 30%. (Signature Consultants have achieved this mark. You can too!)
More Engaged and Satisfied Talent Pool
You can create an impactful and stronger relationship with your talents by delivering consistent quality content and prioritizing the right candidates at the right time with the right outreach message and for the right opportunity.
Who Is Connected Recruiting For?
The beauty of connected recruiting is that anyone could use it; in fact, every staffing firm should implement it to improve their recruitment process.
Recruiters often need help with better resources, more time, and suitable candidate quality. By implementing the right strategies, you can put much burden off your shoulder and focus on more critical tasks.
Big Staffing firms with many clients to deal with and do bulk hiring can use this approach to build a strong relationship with candidates while ensuring no talent is left in the dark and at no point the quality of hires is compromised. 
Though we only talked about big agencies here, the reality is that any recruiting team can benefit from it and so should give "connected recruiting" a try.
Where to Start?
Rookie or experienced, here are some areas every recruiter must consider starting with connected recruiting implementation. Then, you can easily streamline all the below-mentioned tasks and enhance your talent engagement strategies.
Candidate Self-Service: By providing the option of mobile-friendly registration and project management to candidates, recruiters can empower them to self-serve most of the time-consuming recruitment tasks. Through automation, you can give the power to schedule interviews in your talent's hands which will ease you off the busy work.
Candidate Engagement: Your ATS can help you rediscover talents from your existing database and re-engage with them. It will save you from going through endless hiring cycles every time from scratch. AI also sends notifications for following up with your talents, ensuring that each one stays in the communication loop until otherwise desired.  
Application Confirmation and Status: Implementing Connected recruiting is a great way to improve your response rate and get in the candidate's good books. Technology can help trigger application confirmation emails to candidates who applied for the job and keep them informed about its status throughout the process. 
New Applicant Follow-up: The focal point of implementing connected recruiting is to keep candidates engaged from beginning to end. Through technology, you can engage with the talents the second they apply to reduce the chances of them slipping through the cracks. 
Update Candidate Resume: Your ATS can gather and load the candidate's information from their resumes into its database in an easily customizable and structured form. It can also ensure that all the data stored in it is fresh and up-to-date, saving you time. 
Data Hygiene: You can easily maintain, update and populate essential data in your ATS and CRM for top-notch hygiene and usability. Also, you can choose to share this data or password-protect it as per your need. 
Talent Onboarding: ATS allows candidates to upload and sign the necessary documents, enter credentials, etc., to streamline their onboarding experience. Since you can schedule all the documentation and email sharing in advance, recruiters can stay in contact with candidates even if their schedule is tightly-packed.
In short, if you know all the steps of your recruitment process and develop unique strategies to emphasize candidate engagement at each stage, you are good to go!
How to Get Started?
The integrity of your candidate's data should be the first thing you must consider before getting started with connected recruiting. Like before sourcing for any talent, you build an ideal candidate persona. Here also, you will have to start with a clean slate for implementing effective talent engagement strategies! 
Make sure your resources are rich and integrated and you have the process in place to avoid any chaos down the line. If you have everything ready, it's time to dive into the "How" of connected recruiting. 
Attract
What have you been doing? –  Creating job descriptions and posting them on multiple channels manually and in a way that seems relevant to you, hoping to attract candidates. 
What will you do after implementing connected recruiting? –  Use SEO tools to find relevant keywords to make your job posts more diverse and rank at the top to attract more candidates.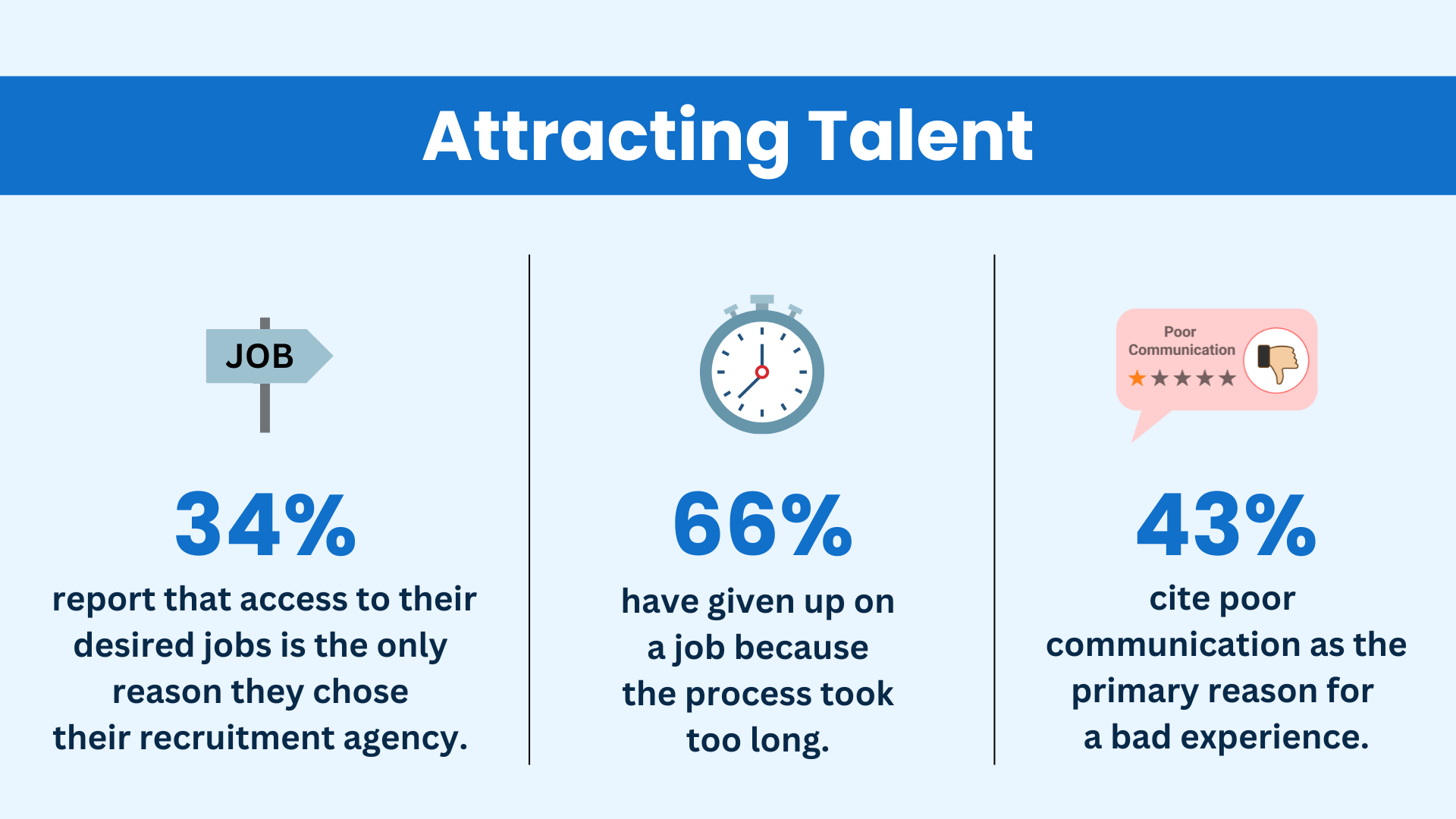 (Don't miss out on initial candidate outreach. Consider the experience from the candidate's perspective to ensure the application process is as seamless as possible. Use automation to streamline the engagement process during this crucial step, and watch as your team sees a higher engagement rate after the application. From there, develop a strategic plan and best practices around attracting new candidates, including optimizing your website with SEO traffic in mind.)
For attracting top talents, your thought process must revolve around the intent of active and passive candidates. Figure out how they will find you, the kind of information they will look for once they come across your job description or outreach message, and how to get passive candidates' attention. 
Make the application process easier and more fun. By putting yourself in your potential candidate's shoes, you can identify the gaps and fix them to enhance your talent attraction strategies. 
Also, ensure that you have a long-term plan but are still catching up on current trends that may ensure some easy wins at the start.
Engage
What have you been doing? –  Buying automation tools and software without any strategy in place.
What will you do after implementing connected recruiting? – Making more informed choices when it comes to buying automation tools and integrating them with best practices around contact segmentation, content nurturing, and data hygiene.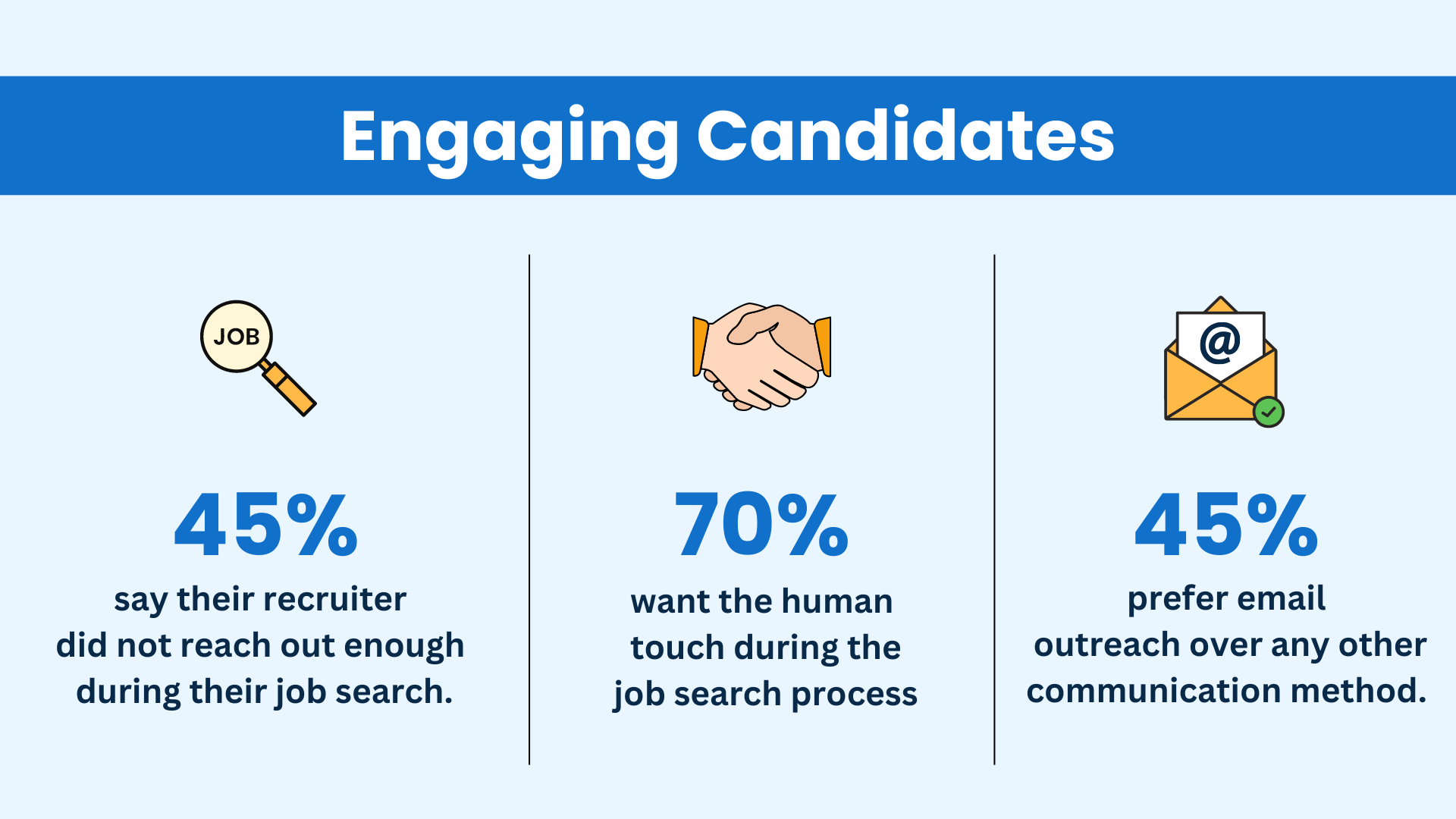 (Talent wants recruiters to be proactive and frequent with opportunity outreach and prefer email almost twice as much as the next communication option. Meet candidates where they are and engage with them at a frequency that will make them want to work with you again. Place a high importance on clean data to further assist in your job match process, ensuring you match the suitable candidates to the right roles at the right time.)
When discussing engagement, your priority must start with the talents in your existing database. You must personalize your interaction with them as much as possible. Since these candidates showed interest in your company once, if handled properly, they can be an excellent source for filling vacancies whenever required. 
Show these candidates that are important to you and keep their personal information secure and updated. 
Mind that there is a thin line between engaging and bombarding. Don't be too salesy that they will get annoyed and cut off from your pipeline. Instead, make sure whatever message you send them or the content you share is relevant to them and adds value to their professional lives. 
Onboard
What have you been doing? –  Disjointed or siloed communication and document sharing during the onboarding process. 
What will you do after implementing connected recruiting? – Making the onboarding process self-service and mobile-friendly to boost candidate satisfaction.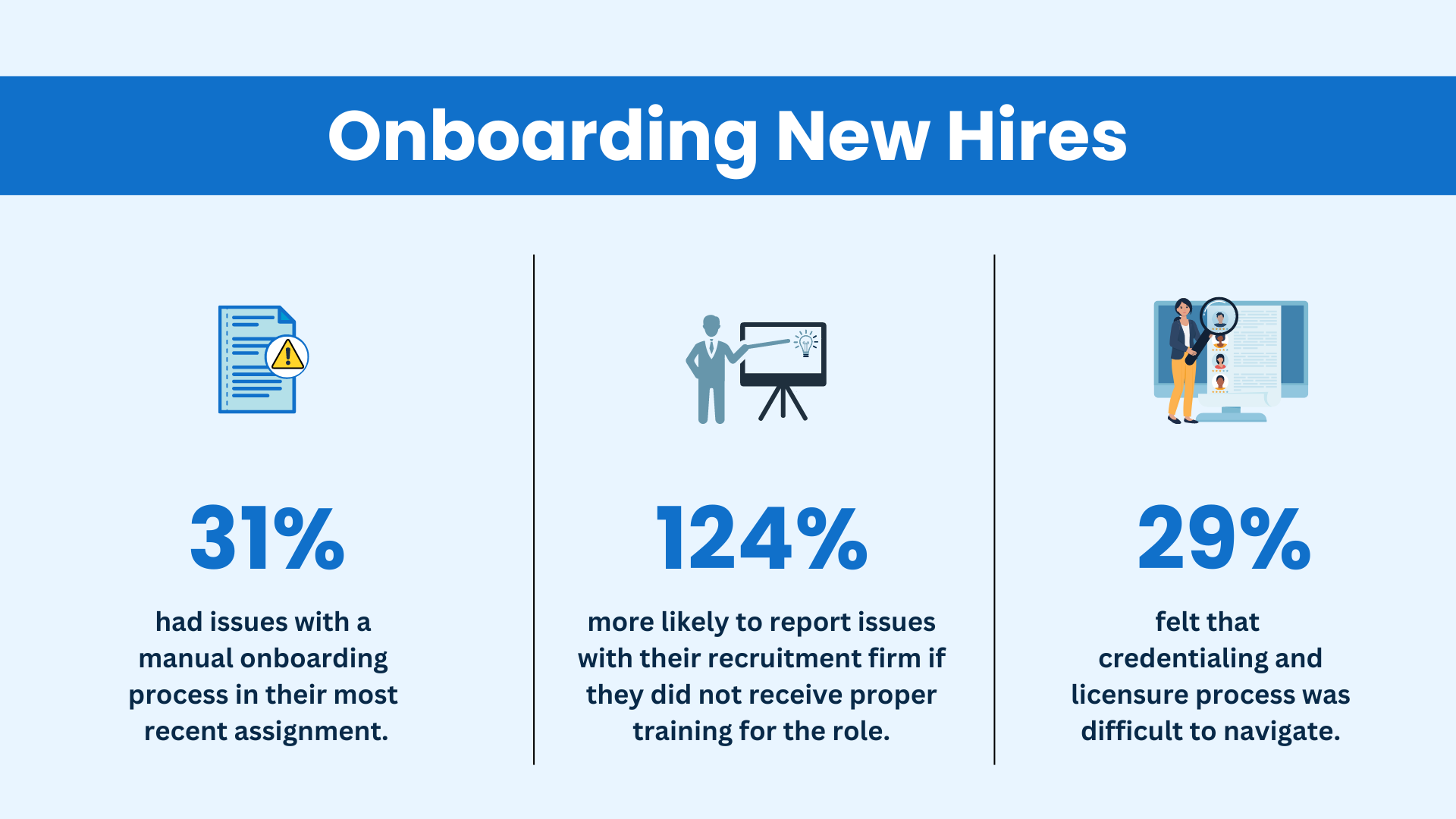 (Onboarding problems were among the most common negative experiences faced by talent and the most impactful, increasing the likelihood that a worker would rule out future redeployment with your firm. Don't let candidates slip through the cracks, and implement technology and strategies to expedite the onboarding princess, whether that's a self-service platform for document management or automated outreach to ensure they are prepared for their first day.)
If you have come to this stage, you must have aced your engagement strategies, but more is needed. Onboarding is about HR administration and setting expectations for further interaction and performance. 
You must know the preferred channel and form of communication for your talent and use it to follow up with them timely. 
Prioritize delivering exceptional onboarding experience to new hires by sharing relevant information via automated workflow, mobile apps, etc. Whatever tool you use, ensure you don't delay the communication at this stage.
Nurture
What have you been doing? –  Building a community through the opportunities you share. 
What will you do after implementing connected recruiting? – Employing redeployment programs, reskilling and upskilling opportunities, etc., to build a healthy and engaged talent community.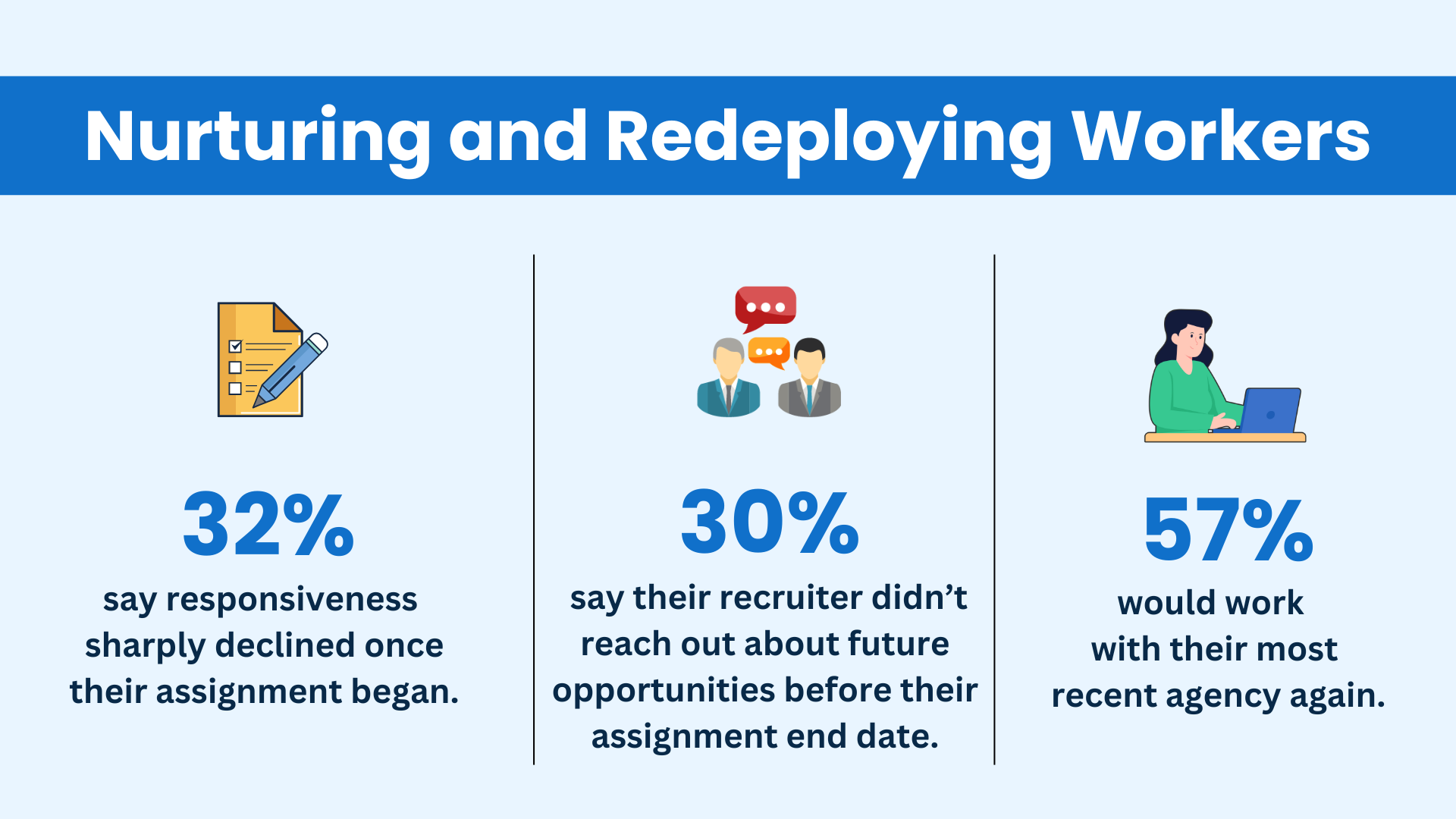 (Poor responsiveness on assignment is one of the talent's most frequently cited challenges. Talent who report responsive recruiters that meet their communication preferences are twice as likely to work with a firm in the future. Increase your chances of redeploying workers by consistently communicating with them throughout their assignments (on their preferred channels, of course). Make sure you're using clean data and automation to alert you when that work is ready for a new role.)
Nurturing improves candidate retention and redeployment, increases referrals, and boosts your employer branding. It is the key to maintaining a long-lasting relationship with candidates. 
This stage demands delivering a personalized experience and demonstrating value and consideration for all the talents in your ATS database. Mind that nurturing is not about the job but about people. 
Also, your first impression counts, so setting a good image through seamless workflows and your company's culture is essential.
Here are some more tips for getting started:
Start with Evaluating Your Existing Talent Lifecycle

: Analyze the results your current recruitment process yields and set a clear target. This will help you pinpoint what new strategies you need to implement.  

Ensure that everyone is on board

: To glide through each stage swiftly, you must ensure that your whole recruiting team is on the same page and understands the significance of consistent delivery of connected recruiting.

Perform A/B test

: One-size-fits-all strategies look good only on paper. That is why performing an A/B test and tracking the best practice for your company is vital. Ask for feedback from your clients and candidates and adjust accordingly.

Keep track

: Measuring your performance is more important than implementing new strategies. Always have assessment checkpoints and do regular tracking of your connected recruiting plan. This will keep you informed of the outcomes and loopholes in your ongoing efforts and take necessary steps.
And Full Stop?
No way you can stop after getting started. You will have to fuel yourself and your team up to go the extra mile to improve your talent engagement strategies. To conclude, here are our secret recipes you must follow-
Technology is the language of Talent Engagement Strategy. You can only go with leveraging it to its fullest. 

"Value + Trust = Talent Engagement." Let your social profile speak for itself while you keep improving. 

Engage your employees to engage your talents. Convert your employees into your brand advocates. 

Redesign your talent engagement toolkit. Fill it up with new trends like videos, engaging content, etc. 

Text recruiting practices can be your savior if appropriately utilized.

Engage with micro talent networks. Who knows what in store these mini-pools have for you?
We hope this article feeds you fresh and exciting content. Don't limit yourself; research to learn more about "connected recruiting" and put the strategies into action until we see you again. Annyeong~
Do let us know your view on connected recruiting in the comments below.