Today, in the face of constant uncertainties, when most businesses are transitioning online, and ROI has become the ultimate metric for success, what do you think can set you apart? 
Personal branding! Something that requires you to put yourself out there. 
And believe us; there is no better place to get started than Quora.
Designed more as a knowledge-sharing platform than a social recruiting site, Quora can be your go-to source to reach a broader audience, reinforce your agency's credibility, foster meaningful connections, and drive your business forward. 
The best part is: It's very easy to get started with. You just need to tailor your Quora marketing strategies to better represent your brand, and you are good to go. 
Don't know how? This article will address everything you need to know step by step. So, make sure you follow along!
Why should you use Quora for recruitment?
Quora, established in 2010, is a social Q&A platform where anyone can ask questions, answer the existing ones, and comment on others' answers publicly – on any topic possible. 
Yes, any topic! – There is an audience for almost everything here. And why not? After all, the site has an active base of over 300 million unique users and 116 million questions – diverse across 300k topics.
Apart from this huge amount of traffic, another factor that makes Quora valuable for businesses is its search engine friendliness.
Think of it this way: Google displays web pages that answer search queries. Quora is itself a question-answer platform. It makes sense why the answers from this platform appear on SERPs for most of the questions we type.
Impressively, Quora holds a global ranking of #63, a testament to its increasing popularity and Google's affinity for the platform.

Now, just imagine, once set up, what all benefits you can reap off this platform. To list some:
1. Skyrocket your inbound marketing efforts
Wanted to establish yourself as an HR expert? You can do it via Quora by consistently answering relevant questions on hiring procedures, career advice, industry trends, or anything related to your niche.
You can even add links to your existing blogs (only if you already have one related to the question) in your answers, further killing two birds at a time – providing value to users and directing organic traffic to your career site.
Remember: Approach self-promotion with caution and focus on providing value first. Simply dropping links without adding substance to your responses won't be well-received by the community.
Also, it's worth noting that links on Quora are considered 'no-follow,' meaning they don't directly impact SEO. However, consistently delivering valuable information, along with appropriate links, can enhance your brand authority.
2. Give insight into business trends and competition analysis
Who loves missing out on the latest? Noone, we bet. That's where Quora can come in handy. 
By following HR influencers and leaders on the platform or keeping tabs on what your competitors are doing, you stay ahead of the curve and establish your authority in the online market. 
Moreover, by paying attention to what most Quorans are asking, you can strategize your content marketing efforts or even stumble upon new opportunities for your product or services. 
Isn't it great?
3. Build active community
Creating a personal brand is of top-most priority for most HR experts (as it should be). And Quora undoubtedly has everything one needs to get started. 
One of its most popular features is 'Spaces,' which allows users to organize their answers under specific topics or themes. 
You just have to create a dedicated space for your company, and your target audience can easily find your content and follow your updates.
Within these Spaces, you can curate content by highlighting the best answers, featuring top contributors, and engaging in relevant discussions, eventually offering value to the community and encouraging active participation.
You can even take a step further and collaborate with other experts and professionals in your industry to host joint Q&A sessions on your space. 
Remember: Building a community involves fostering discussions and interactions among members. 
So, always respond to comments on your answers, ask follow-up questions, and encourage users to share their thoughts to keep the engagement at a peak.
4. Help you research content
Gone are the days when content was created just for the sake of it. Today, keeping your website fresh with new and latest content is the key to ranking higher on SERPs and capturing eyeballs. 
This is precisely where Quora comes into play. 
With its vast repository of questions and answers, Quora allows you to identify common concerns, trending topics, frequently asked questions, and prevailing sentiments among your target audience – all just by scrolling through the niche-based spaces and the platform's home page. (You can do it in your free time, no?)
Such observations can then help you in your content creation process – providing you with enough ideas for even a month-long planner. 
This way, by addressing your target audience's queries in your new blog and linking them to relevant answers, you can take a significant stride towards converting Quorans into loyal candidates or clients.
5. Improve your career page's search engine ranking
Quora's immense appeal lies in its strong search engine presence, meaning when someone searches for a query on platforms like Google and Bing, there are high chances Quora responses may show up either in the social side column or in the main search results.
(What if one of these responses is yours?) As users click on your answer, they might find your insights compelling and want to learn more about you. 
They might follow you on Quora or even click on the links you included in your answer. 
This means your content will reach a wider target audience without you having to pay for advertisements.
All you need to do is be consistent on the platform, and your career site's visibility will be 10x on SERPs.
In short, Quora is a great platform. And you must get onboard right away! How?
Open your browser (Google, Bing, etc.). Type

www.quora.com

. You will see this page: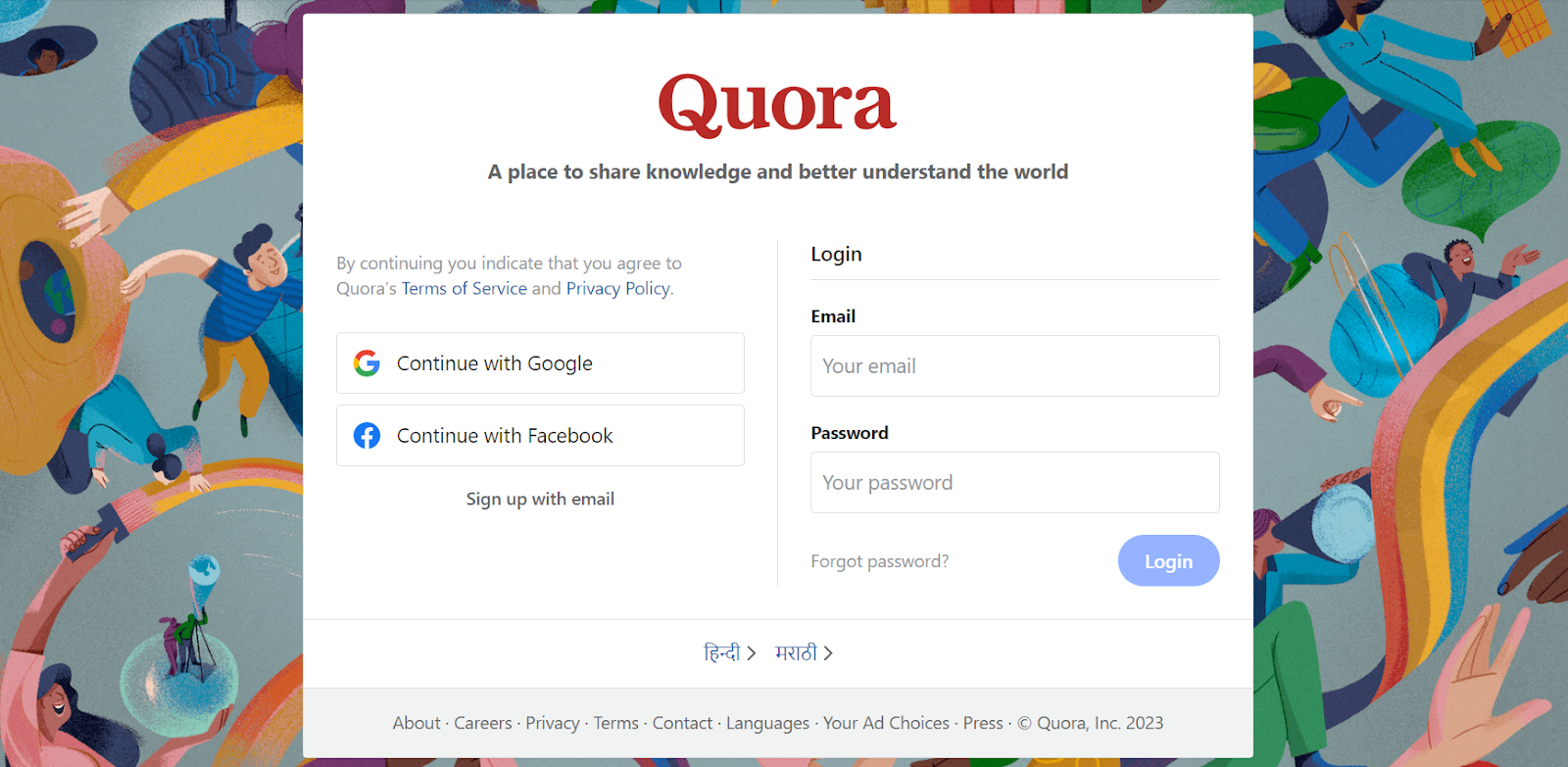 2. Log in if you already have an account and start exploring the platform or sign up. 
3. For signing up, you have three options – Continue with Google, Facebook, or Email. Once you select any of these options, you will be forwarded to either of the following:
a) In the case of Google and Facebook, you will be asked for permission to access the details of the account.
b) In the case of email, a tiny pop-up box will appear. Just fill in the relevant details. Then, click the "I'm not robot" checkbox and "Sign Up."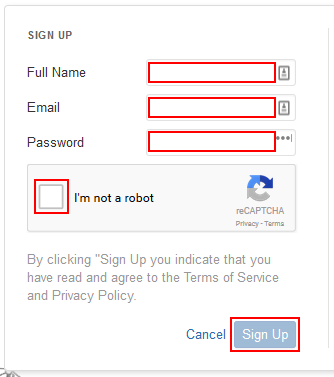 4. Next, Quora will ask for the topics you are interested in to organize your feed better. You can choose topics like "Business," "Human resources," etc.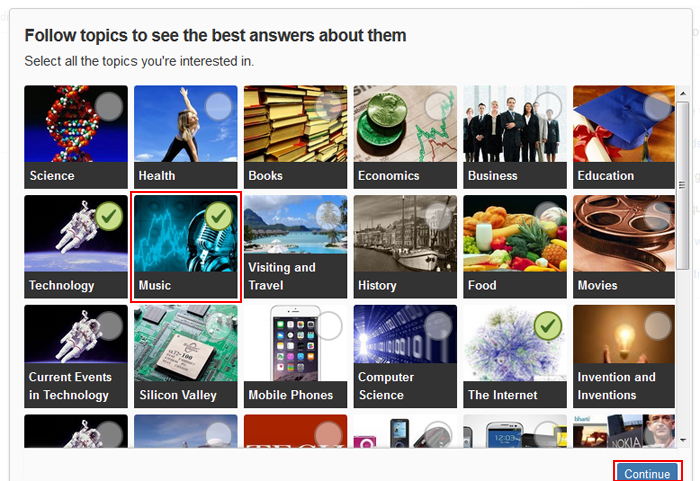 5. This is the most important step. Optimize your profile. Your aim is to showcase your expertise, so ensure you add all the relevant information. Don't leave blank spaces. Add a proper bio, image, expertise, etc. 
6. Finally, the last step is to confirm your Email address. Log in to your email account, and you will see a message with the subject line "Quora account confirmation."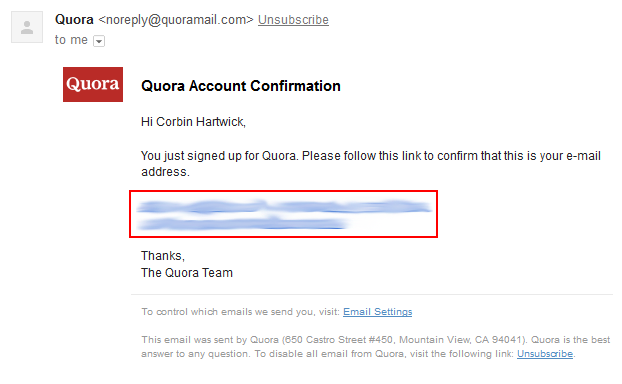 That's it! Now is the time to start using the platform the best way you can. And that's what we will discuss next. 
How can you make the best of your Quora marketing strategies?
1. Familiarize yourself with the platform and populate your profile
Once you have made your Quora account, it's essential to navigate its unique features, guidelines, and the type of audience it attracts. 
Start with familiarizing yourself with the different topics, popular threads, tone, and style of interactions. You can do so by reading some answers on your feed, joining a few spaces, following the experts, etc. 
This will help you tailor your content to align with Quora's culture, increasing the effectiveness of your recruiting strategies. 
After that, your next step is to optimize your profile! You have already browsed through some experts' profiles, right? Did you notice how they wrote about themselves? You have to do the same now.
Remember, your Quora profile should offer more than just your name, location, and qualifications. 
While those are crucial elements, you must go a step further and include details that may help others understand who you are, what you do, your likes, dislikes, area of expertise, etc.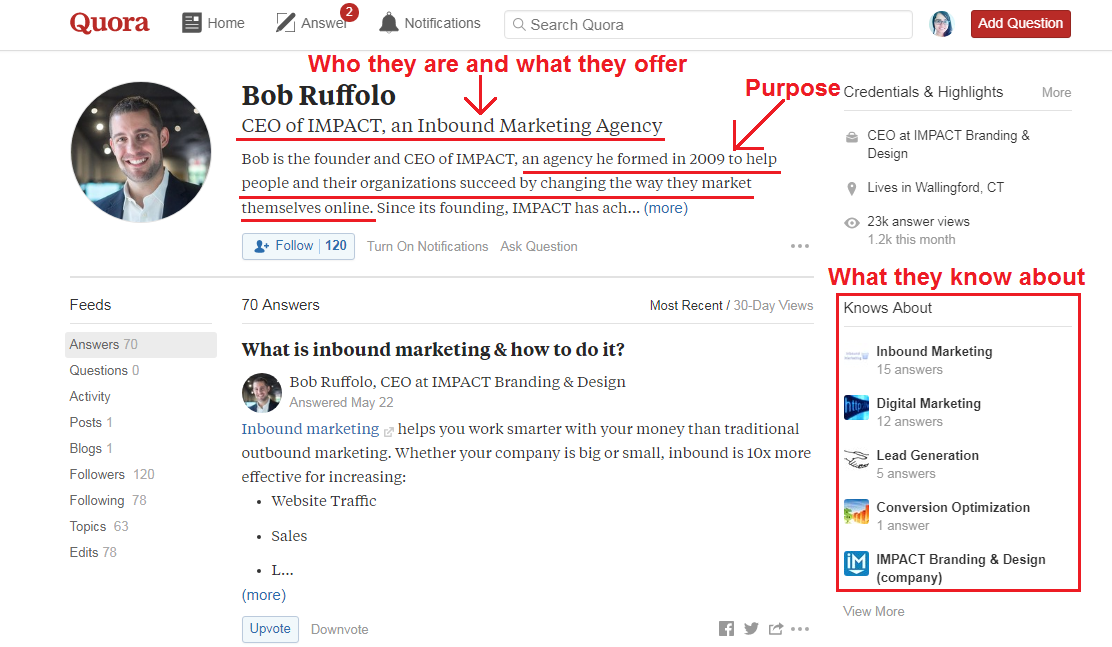 Including something that conveys your values, work ethic, and maybe a little about your personality won't hurt. (So, don't hesitate. Showcase all you have!)
Also, when we mentioned above not to leave blank spaces in your profile, it doesn't mean to write about just anything. Make sure you only provide authentic information. (Trust is foremost to hire and retain exceptional talents!)
Tip: As candidates will be using certain keywords to search for queries that may relate to your work, consider employing a little SEO in your profile so you are always on top of searches. 
2. Jump into the conversation and showcase your expertise
Quora is known as an information-sharing site, so do just that. Your goal must be to establish yourself as a recruiter who is knowledgeable and knows how to interact with others professionally. 
One way to do so is to imagine yourself having a face-to-face conversation with clients or candidates when participating in the conversation. 
Make sure you are genuine with your responses and provide beginner-friendly answers. (Beginner friendly doesn't mean eliminating necessary stuff but using a tone and vocabulary everyone can understand and appreciate.)
Also, if others have already answered a question, skim through them and add something new and useful in your answer, if possible.
Tip: Don't just participate in ongoing conversations; start one or two of your own. You may not receive enough responses at the start but keep going. 
As you gain traction, others will become more receptive to any content or job announcements you post.
3. Know who is viewing you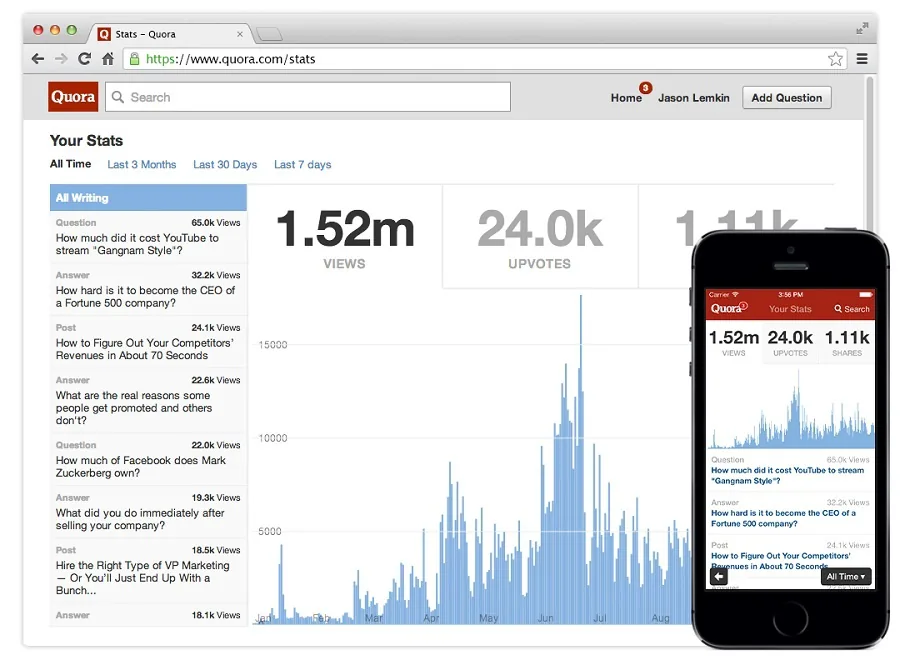 Let's say you have answered a bunch of questions, and now you want to see the number of times it's been viewed and by whom. 
You can do so by clicking on "# views," which will not only show your view count but help you identify how readers are discovering your content – whether through your profile, tagged topics, or random browsing.
In short, by visiting your personal views page, you can assess who's seen your answers and what topics you rank for or sought after the most.
This way, you can refine your inbound marketing approach to effectively influence and gain exposure for your agency or job roles. (Wasn't that your primary goal?)
4. Answer the right questions at the right time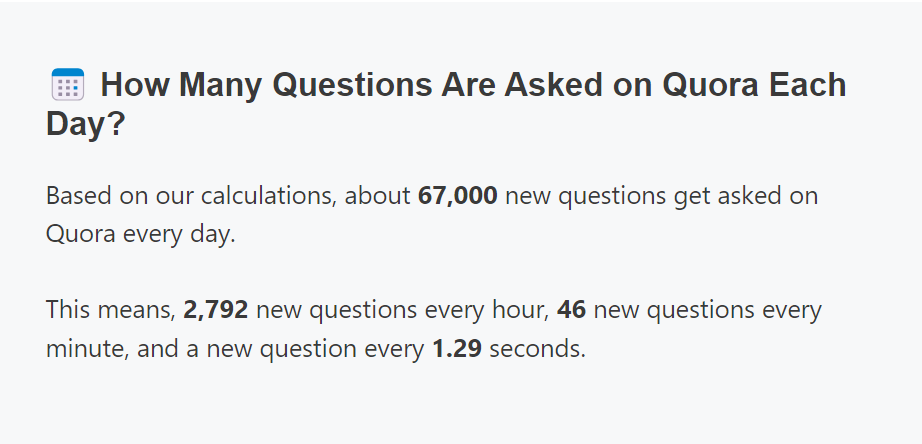 Needless to say, not all Quora questions hold the same value. Some are so outdated nobody looks at them anymore. 
And these questions should never be on your to-answer list. Of course, why would you intentionally waste time on something that garners no ROI?
So, now your priority should be to identify the right questions and answer them asap!
Here are a few simple rules you can follow:
Pick topics that align with your expertise and interests.

Prioritize recently added questions. Fresher content tends to capture more attention.

Keep an eye on questions that garnered high upvotes.

Be proactive in your search for trending topics

Opt to receive email notifications for the latest topics
Remember, Quora rewards those who provide meaningful and timely answers. You should strive to be the one.
5. Edit and format your answers professionally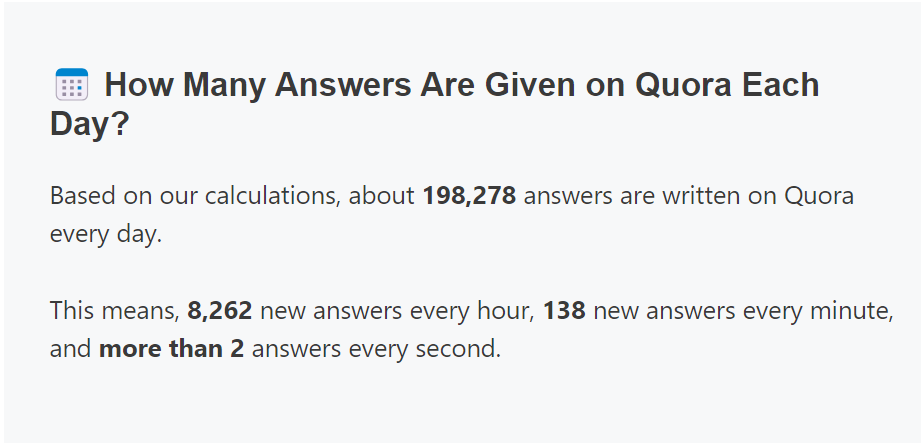 With these many options, who would want to waste time reading poorly worded, vague, or sometimes completely irrelevant answers? Not us, definitely! We would skip them at a beat. (Or maybe downvote?)
You will, too, right? Till it's your own response?
So, now the question is how can you write answers Quorans can't resist.
Just think of your Quora post as a website blog. Write bold headlines. Give proper spacing. Italicize wherever necessary. Add a relevant image. Include a link or two (relevant ones). Divide the long post into listicle format for easy readability. Follow Quora's guidelines. Add the latest statistics for credibility. And many more. 
Mind that the goal is to retain your audience and even entice them to follow you. (And maybe your website too!) So, if you aren't serious enough when answering on Quora, you better not answer at all. 
6. Beat your competitors through Quora
We do this a lot. And not only us, most businesses leverage their competitor's brand names to generate targeted traffic to their site. 
Why? The reason is simple – you both deal with the same target audience. And thus, the one who offers better products/services at an affordable price can reap the benefits. 
And the best part is that if any client is interested in one of your competitors, they are likely to be interested in you too. (Simple as that!)
So, what exactly can you do here? Search for the questions where users have asked for alternatives to your competitors. 
How? Let's say Recruit CRM (our company) is a competitor of Bullhorn.
With keywords like "Bullhorn alternative" in the Quora Search, we get a pretty good list of questions to answer. 
If we write answers to these questions, hopefully, more clients will want to try their hands on Recruit CRM.
Maybe Recruit CRM is everything you have been looking for in your ideal ATS+CRM. 
In conclusion, leveraging Quora for recruitment requires proactive engagement and genuine assistance. 
By showing your clients and candidates your commitment to their needs, you can stand out as a trustworthy recruiter, setting yourself apart from the competition.
Frequently asked questions
Q1- Can Quora really help my business find top-tier talent for recruitment?
Absolutely! Quora's vibrant community attracts professionals from diverse industries. By actively engaging with relevant questions and providing valuable insights, your brand can become a magnet for top-tier talent. 
Q2- How can Quora's marketing strategies lead to unprecedented business growth?
Start with delivering authentic, high-quality answers that address users' pain points. This way, you can establish your authority and nurture genuine connections, thus, organically attracting a loyal following and converting Quora users into loyal clients/candidates.
Q3- What's the secret to effectively using Quora marketing strategies for recruitment and business expansion?
The key is authenticity and genuine engagement. Avoid blatant self-promotion and focus on providing helpful, insightful answers that address users' concerns. By fostering meaningful connections, showcasing your expertise, and being a valuable resource, you can drive unparalleled recruitment success and overall business growth on Quora.