Believe it or not, recruiters too need some major inspiration every now and then and our folks at Recruit CRM makes it clear that you turn nowhere else but here. Our team has handpicked some of the best recruiting quotes from HR managers and staffing industry experts from all over the world. Here's everything on a silver platter just for you!
Quote #1
"Hiring tough can always help you manage easily."
—Sue Tetzlaff (Author of The Employee Experience)
Quote #2
"Somebody once said that in looking for people to hire, you look for three qualities: Integrity, Intelligence and Energy. And if you don't have the first, the other two will kill you."
— Warren Buffet (CEO of Berkshire Hathaway)
Quote #3
"No one can teach their employees how to smile. They should be smiling even before you hired them."
— Arte Nathan (President & COO at Strategic Development Worldwide)
Quote #4
"The applicant is the centre of our universe."
— Janice Bryant Howroyd (CEO of The ActOne Group)
Quote #5
"Sourcing & finding relevant & talented people for your organisation is one of the most important things these days."
— Glen Cathey (SVP Randstad)
Quote #6
"In technology, it's about people. Getting the best people, retaining them, nurturing a creative environment & helping to find a way to innovate."
— Marissa Mayer (Former President & CEO of Yahoo)
Quote #7
"At this stage, I am convinced that nothing we do is more important than hiring and developing people. At the end of the day, you bet on people and just not on strategies."
— Lawrence Bossidy (Former Chairman & CEO, Honeywell International Inc.)
Quote #8
"Human Resources isn't a thing we do. It's the thing that runs our business."
— Steve Wynn (CEO of Wynn Resorts Limited)
Quote #9
"Do not hire a man who does your work for money, but him who does it for the love of it."
— Henry David Thoreau (Author of Walden, Philosopher)
Quote #10
"An important rule of bias mitigation is to always assume and accept that we're biased, and hold ourselves accountable."
— Arthur Chan (Diversity, Equity & Inclusion Strategist)
Quote #11
"Hiring wrong people is the fastest way to undermine sustainable business."
— Kevin J. Donaldson (Entrepreneur & Business Coach)
Quote #12
"The greatest impact you can make is leaving your footprint in the sands of time that lives beyond yours will know you were here."
— Lolly Daskal (Author of The Leadership Gap)
Quote #13
"Recruiting talent is no different than any other challenge a startup faces. It's all about selling."
— Vivek Wadhwa (American Technology Entrepreneur)
Quote #14
"I am quite evangelistic about the retained model in recruitment. I worked for years on a contingent basis and I fell out of love with recruitment. It wasn't until then when I learned there was a different way of working that didn't need to be executive search that I fell back in love with it."
— Louise Archer (Founder of Retrained Search)
Quote #15
"Being willing to do something different will often help you rise to the top where others don't. Well behaved job seekers rarely land their dream job. Be willing to break the rules!"
— Harry Urschel (Managing Partner, Hansen Back)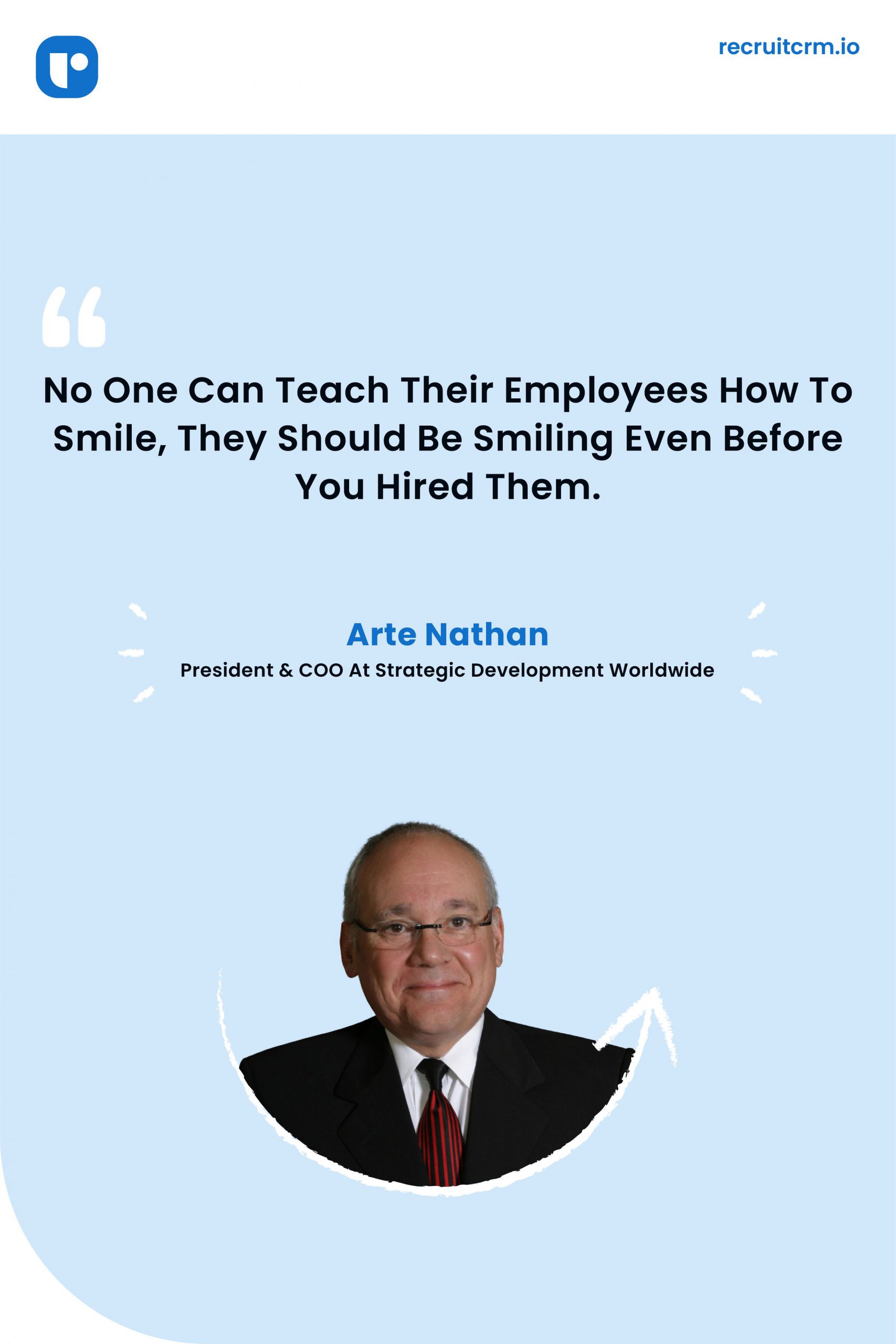 Quote #16
"As soon as an agency you're being 100% yourself, be genuinely caring that you want the best for your candidates and clients, the right people will start to come towards you anyway."
— Katrina Collier (Author of The Robot-Proof Recruiter, Founder of The Searchologist)
Quote #17
"Recruitment is marketing. If you're a recruiter nowadays and you don't see yourself as a marketer, you're in the wrong profession."
— Matthew Jeffrey (Global Head of Sourcing & Employment Brand at SAP)
Share these motivational recruiting quotes from industry leaders and share some major inspiration with your friends and colleagues! Do you have your own recruitment quotes? Send them our way and we will add them to our social media channels.