In my line of work, I get to speak with recruitment business owners almost every day of the week. I'm always hearing about how the market is unlike anything they've ever seen.
Despite a faltering economy, the candidate shortages out there are acute. 
Making hires, rather than failing to deliver, is a real challenge for in-house recruitment teams and agency recruiters alike. Against that backdrop, improving conversion rates is business-critical.
If you can excel in winning over candidates, which will easily translate into higher placements over a year, and also generate more client inquiries, you can be more selective about your roles and have the privilege of securing them at higher rates.
But what's the secret to winning over candidates and potential clients? 
By effectively leveraging LinkedIn to ensure a high conversion rate! 
So here are five things I suggest for higher client and candidate placements via LinkedIn.  
1. Stop Relying on Sending InMails
It's always best to reach out to candidates where they are most likely to respond. 
When it comes to LinkedIn, contacting existing connections rather than reaching out cold with InMails will probably get you a higher response rate. 
If you're serious about using LinkedIn to build up a talent pipeline, I recommend connecting with as many relevant candidates as possible. 
By building a list of LinkedIn connections from your target market, you'll have a talent pool you can dip into whenever a vacancy arises.
But don't just stop at connecting with people!
Use LinkedIn's messaging function to start engaging with them too. Get to know your prospects by asking how they find the market, what would make them consider a career move, etc. 
The more you nurture these relationships, the more likely individuals will engage with you. This way, you'll have an asset that allows you to outperform your peers and an easy way to approach candidates when an ideal role arises. 
2. Attract Candidates & Clients Using Video & Audio
In a candidate-centric job market, anything that appeals to your target audience should be embraced. 
Adding a 30-second intro video to your LinkedIn profile is an excellent way of getting candidates to warm up to you and be more inclined to engage with you. A quick video can convey both your personality and your professionalism! You can see how this looks on my profile.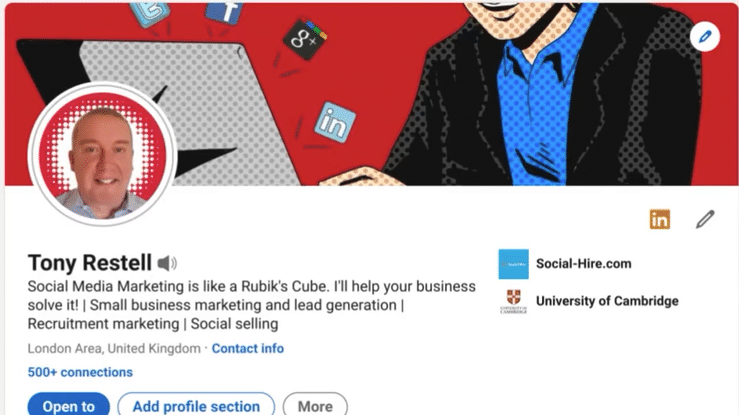 When candidates respond more to your profile, you'll have a significant edge against your competitors. 
Consequently, your LinkedIn profile should be about building trust and credibility with potential clients and candidates. Adding a short introductory video can immediately inject personality into your profile to build trust and rapport. 
Don't stop there, though. If you're not using video and audio messages via private messaging on LinkedIn, then you're not getting the most out of the platform! 
When you send private messages to your 1st-degree connections, they'll be far more intrigued (and likely to respond) since they can see and hear you too. 
Plus, they'll see how you've made an effort rather than just copying and pasting a text message.
So don't overlook this powerful feature of LinkedIn–it could make all the difference to your success!
3. Leverage Company Page LinkedIn Newsletters
If you're like many of the recruitment business owners I speak to, you probably have a common complaint of low visibility for your company's LinkedIn posts. 
This is incredibly annoying if you've spent years building up a strong following on your page!
My solution to this issue is to launch a company LinkedIn newsletter. This can be a great way of reaching the followers you've built up over the years by running job ads on the site. 
Typically, 15%-25% of your followers will subscribe when you launch a newsletter. 
So almost overnight, you'll have a newsletter with thousands of subscribers!
What's more, LinkedIn newsletters are far more powerful than regular email newsletters. 
Unlike regular emails, LinkedIn newsletters get delivered directly to users' email inboxes rather than ending up in the promotions or spam folders. Plus, subscribers are also notified on the LinkedIn platform each time you publish a new edition.
Don't be surprised to see a 50%+ read rate, far higher than you are likely to achieve with a regular email newsletter! 
So, if you're looking to step up your content marketing efforts this coming year, adding a LinkedIn newsletter to your mix could be a great way to achieve this.
4. Encourage Conversions from Your Profile
Ensuring your profile contains all the keywords relevant to your target audience is advice that has been done to death. 
If you lack keywords in your LinkedIn profiles, don't expect to see candidates and clients lined up at your door!
With a standard LinkedIn profile not in "Creator Mode," recruiters can include a call to action, increasing the likelihood of profile viewers engaging with you. 
It's also crucial that the first lines of your About section are interesting enough to make people want to read more and contain a call to action. For example, my profile encourages people to email me or book a call.
Your About section should highlight what excites you about your work, the great results you have achieved for candidates, and some personality and passion. 
Remember that sales is a transference of feelings. If you are excited and passionate about your work, others will be too! 
Then we have the featured section.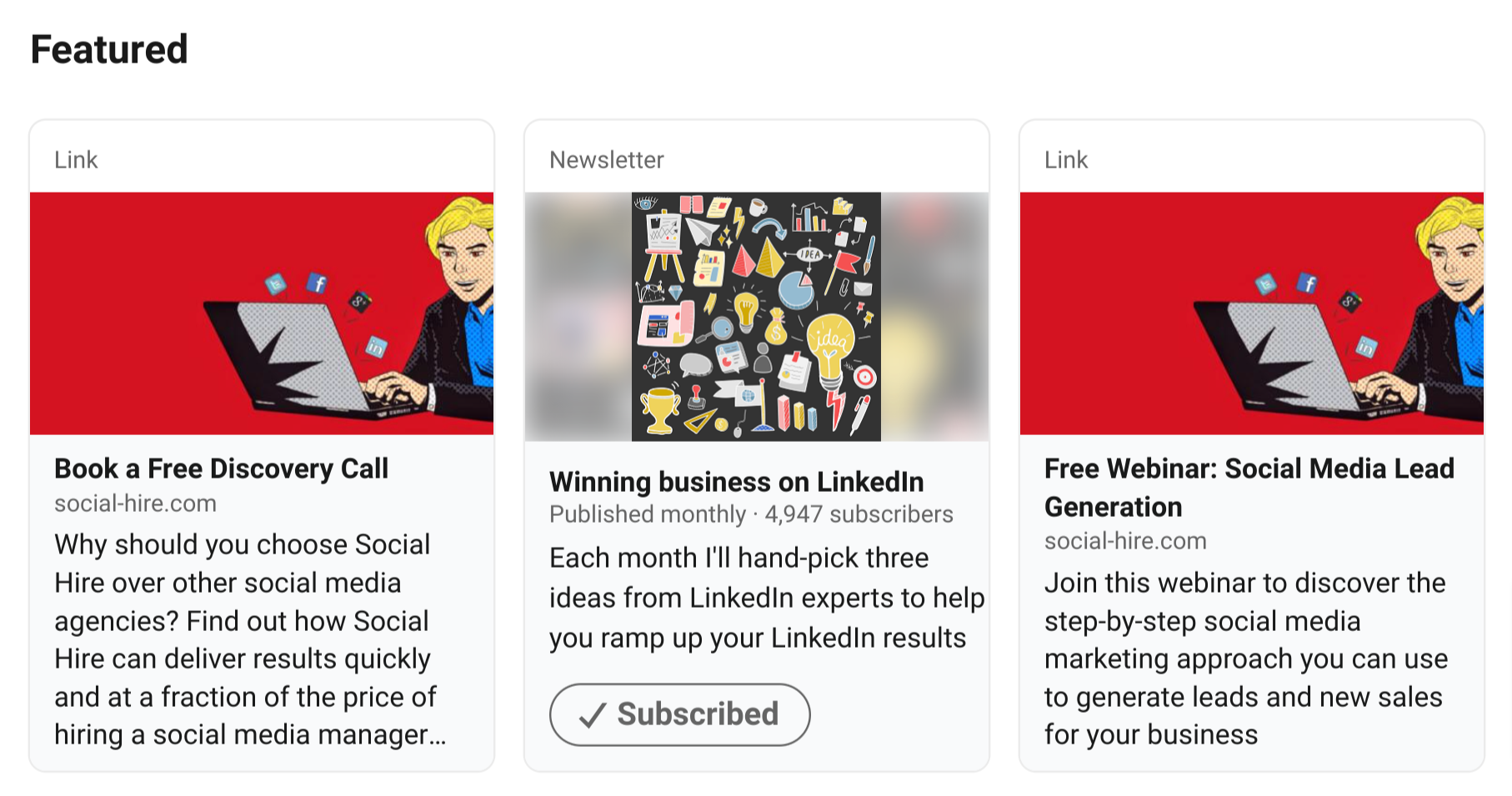 The Featured section is located just below the About section on your profile page. You can turn this feature on and upload videos, images, and links to other web pages. 
This section can help you stand out by encouraging people to take steps, such as registering their resumes, booking a call, subscribing to a newsletter, or joining a webinar.
This is where I advocate that less is more! So don't overdo it and limit yourself to 2-3 featured items. 
5. Turn Off "People Also Viewed"
When candidates or potential clients visit your profile page, by default, they will see a "People Also Viewed" box in the right-hand pane of your profile page. 
It's like Amazon displaying other products you might be interested in when looking at a page of something you might buy. Now think of what that does on Amazon. It diverts your attention from the product you're looking at to check out alternatives on the site.
So do you want potential prospects enticed away from your profile like this? 
This is why I suggest hiding the People Also Viewed box on your profile.
To do this, go to

Settings & Privacy > Account preferences > Viewers of this profile also viewed
Switch the toggle to "No" to hide your profile's People Also Viewed box. That's all you need to ensure people focus on your profile rather than being enticed by competitors.
With these five actionable ideas, I'm sure recruiters are bound to see an increase in conversion rates on LinkedIn!
Have any questions? Feel free to message me on LinkedIn if you'd like to discuss this further.
Happy recruiting 🙂