A quick turnaround and a tight budget – a combination of every recruiter's wildest dreams. Yet, this can become a reality when freelancers come into play. 
They're the perfect solution for one-off projects, bringing in specialized skills and productivity into the workplace (without making a hole in your pocket). 
This guide is your exclusive ticket to mastering the art of hiring freelancers. Read on to learn more!
Understanding the market before you hire freelancers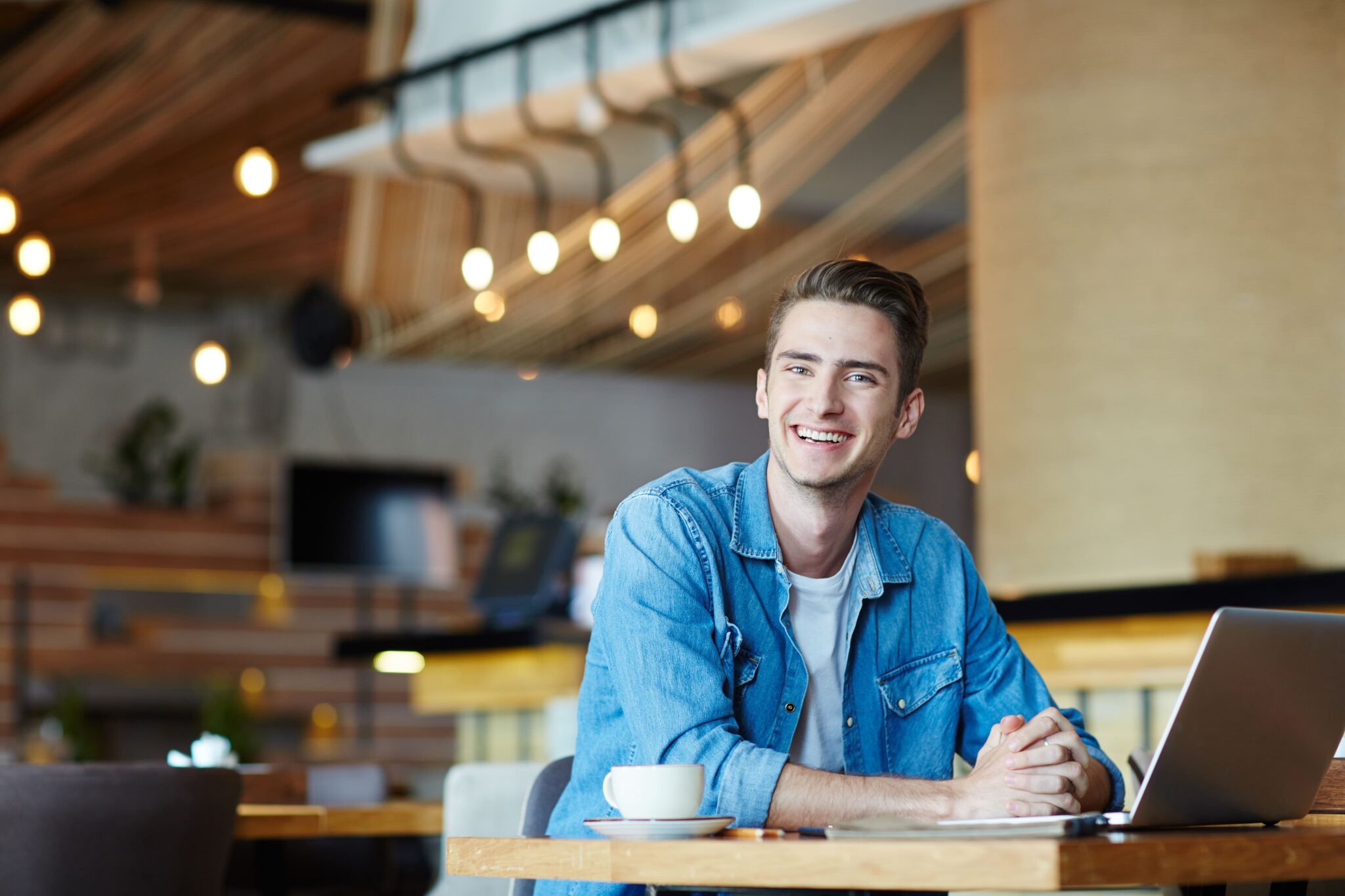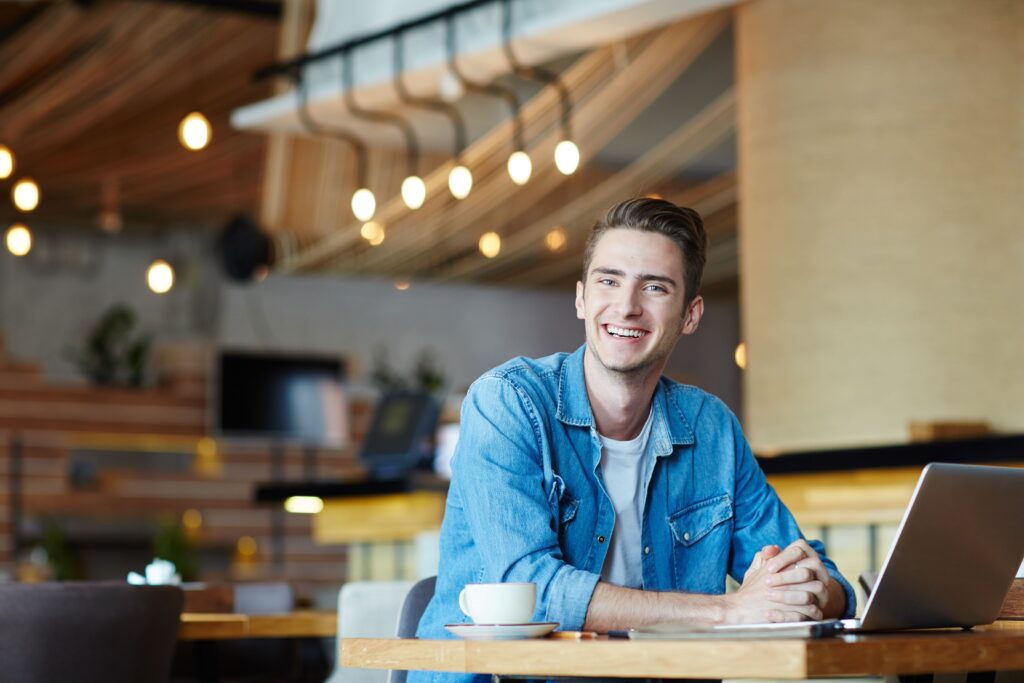 Freelancing has been steadily gaining popularity in recent years, and this trend is expected to continue beyond 2023. 
"The 2023 Freelancer Report" reveals that the number of freelancers in the United States has reached an impressive 75 million, marking a whopping 22% rise from the previous year. 
And here's the icing on the cake – this upward trend isn't confined to just one nation; freelancing is gaining momentum globally.
As the workforce becomes increasingly flexible and digital technology continues to advance, more professionals are likely to opt for the freedom and autonomy that freelancing offers.
This trend is also being driven by the increased acceptance of remote workers by companies and the desire of freelancers to work from anywhere across the world, irrespective of boundaries or time zones.
3 reasons why businesses should hire freelancers
1.  Access to a global talent pool
Hiring freelancers unlocks access to a diverse range of professionals with varied skills and experiences from around the globe.
This provides you with a wide range of exposure, allowing you to find the perfect fit for your project, regardless of their location.
2. Cost-effective solution
Hiring freelancers is a strategic approach to managing your budget, paying for the exact work in hand. 
This allows for precise resource allocation, ensuring that your spending directly contributes to your project's progress.
3. Flexibility and scalability
The nature of freelance work offers flexibility and scalability to suit your business needs. 
Whether you need support for a specific project, for a set period, or on an as-needed basis, freelancers can adapt to meet these requirements seamlessly.
Follow these 8 steps to hire freelancers effectively
1.  Identify your needs
Before you start hiring freelancers, it's crucial to identify your needs. What tasks do you need to be completed? What skills are required? 
Chalking out the exact requirements will help you find the right freelancer for the job.
2.  Set a budget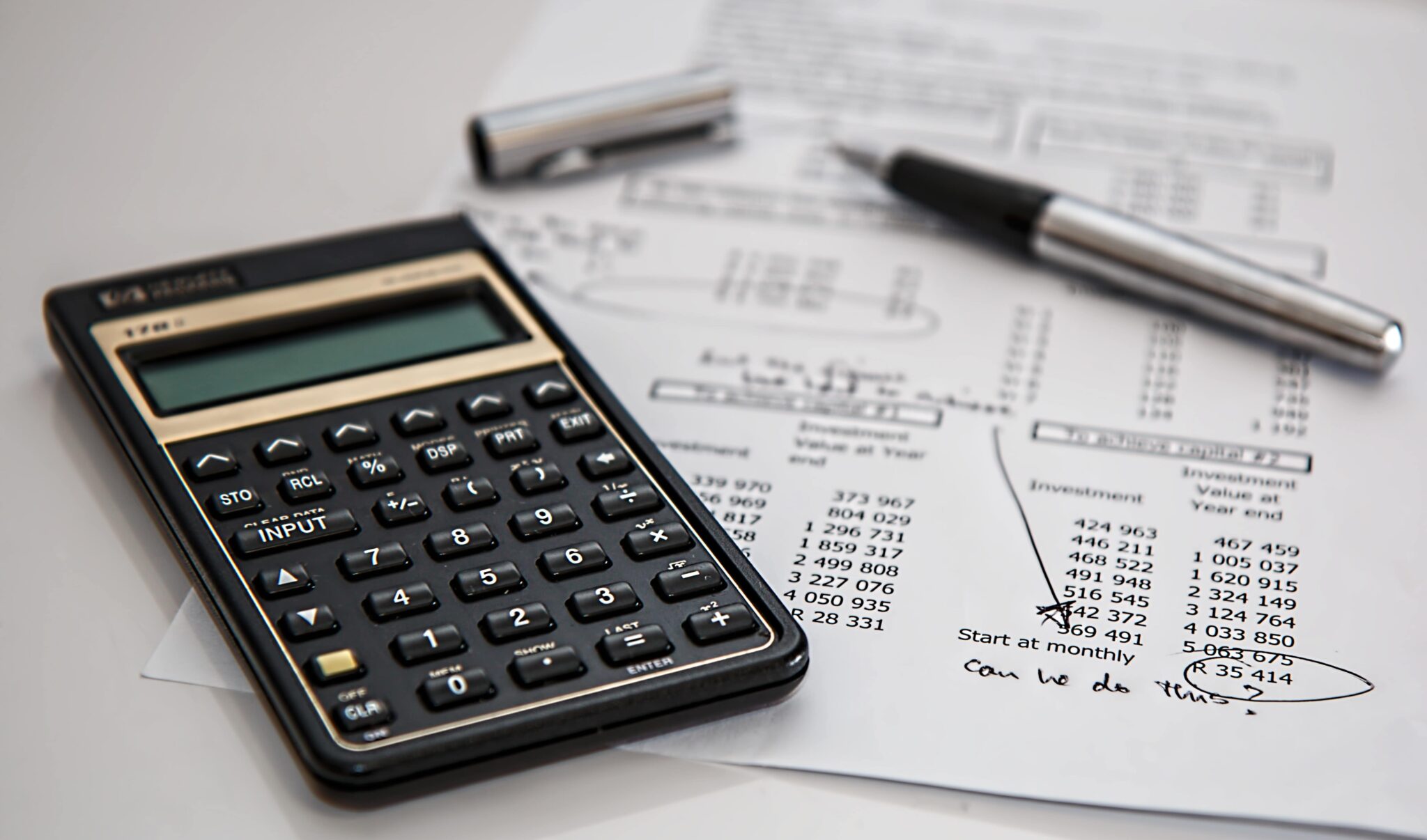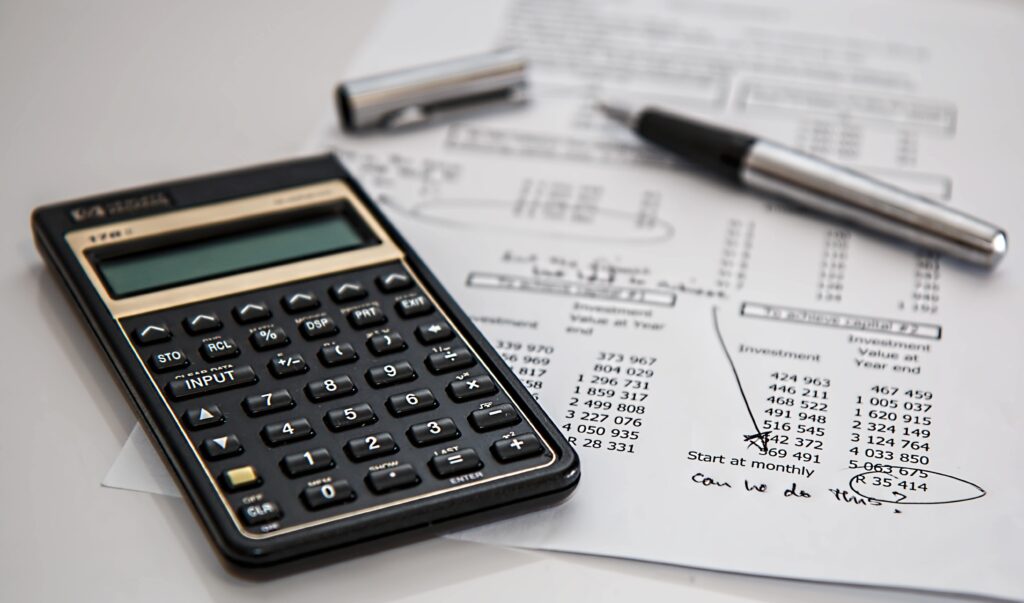 Determine how much you're willing to pay for freelance work. This could be an hourly or fixed price for the entire project. 
Remember, you get what you pay for, so be realistic with your budget.
3.  Write a clear job description
A clear and detailed job description can attract the best freelancers for your offer. 
Include information about the scope of work, deliverables, deadlines, and payment terms. Use SEO strategies to make your job post more visible on job boards.
4.  Search for freelancers
There are several platforms where you can find freelancers, such as Upwork, Fiverr, and LinkedIn. 
Social media is also a popular means of attracting the desired freelancing profile. And let's not forget about the significance of your own network in sourcing suitable freelancers.
5.  Evaluate proposals and portfolios
Once you receive proposals, evaluate them based on the freelancer's skills, experience, and portfolio. 
Look for freelancers who have done similar projects in the past and have a performance trend you can benefit from.
6.  Conduct interviews
Conduct interviews to better understand the freelancers' skills and see if they're a good fit for your project. 
Video conferencing tools can be a great option to take things forward in an interactive and enthusiastic setup.
7.  Set milestones 
Once you've chosen a freelancer, set milestones for the project regarding the deadlines you need them to cater to. 
A proper timeline helps clear any room for confusion or time-lapse, promoting better communication between the two parties.
Also, transparency sets the right tone of clarity and understanding, ultimately leading to a better output.
8.  Onboard the freelancer
Just like a full-time employee, a freelancer must be onboarded with a drum roll. 
Ensure that you provide them with all the information they need to complete the project successfully.
Also, try and give them free access to all the resources they may need to boost the quality of the work done.
How to search for the right freelancers?
1.  Utilize freelance platforms
Platforms such as Upwork and Fiverr are treasure troves of freelance talent. These websites host diverse professionals, each with unique skills and rates. 
You can browse their portfolios, read reviews from previous clients, and even conduct preliminary interviews. 
This can help you gauge their suitability for your project and ensure you hire the right freelancer.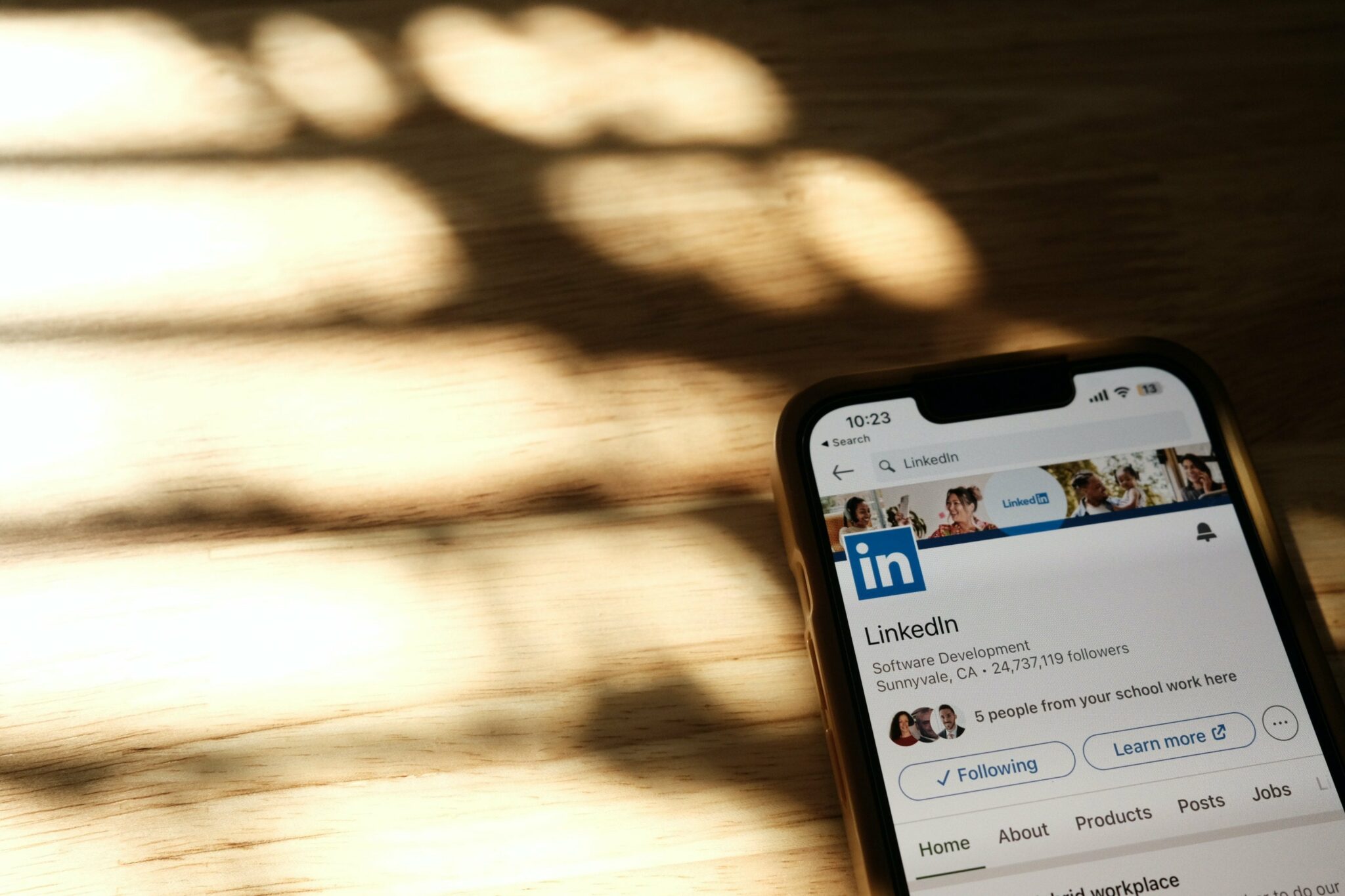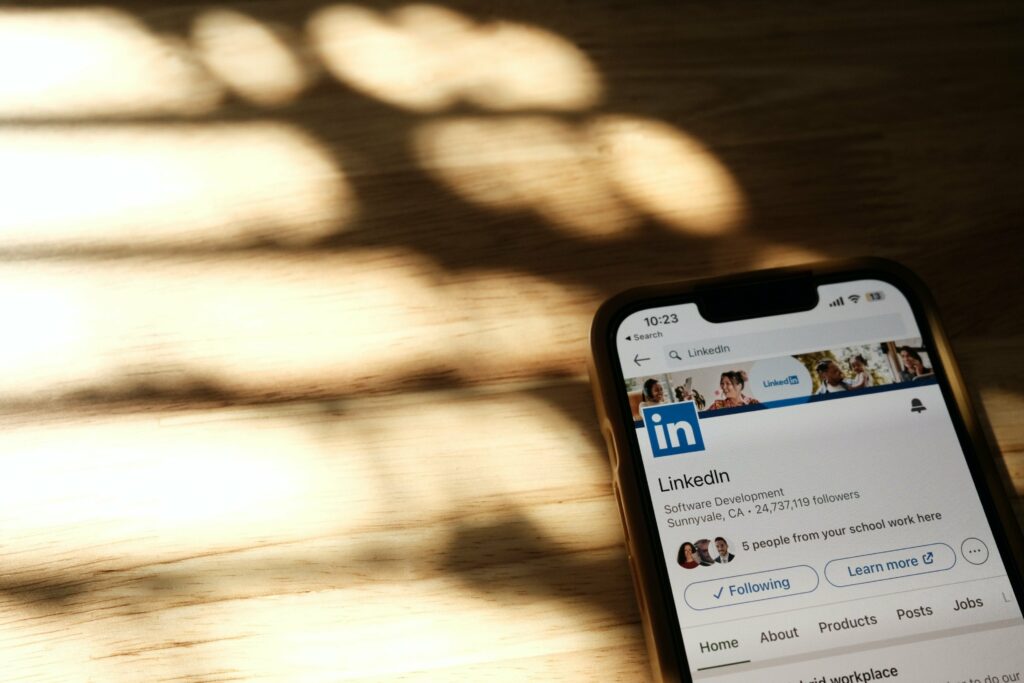 Social media platforms, particularly LinkedIn, are increasingly becoming a hotspot for freelance talent. 
Posting a detailed job ad on your company's LinkedIn page or in relevant groups can attract a wide array of freelancers. 
You can also use the platform's advanced search features to locate freelancers in your industry or with specific skills.
3.  Explore job boards
Job boards, especially those dedicated to freelance work, can be a valuable resource in your search. 
Websites like Indeed, Glassdoor, and even Craigslist can host many job posts from freelancers looking for work. 
By posting a detailed job description, you can attract freelancers who are specifically interested in your project and have the skills you need.
4.  Ask for referrals
Word-of-mouth is a powerful tool, even in the digital age. If you know other business owners or managers who have hired freelancers, ask them for recommendations. 
They can provide firsthand accounts of their experiences, helping you identify reliable and high-performing freelancers.
Remember to prefer recommendations from people of your niche for better alignment of your needs.
5.  Seek out specialized skills
If your project requires a specific skill set, make sure to seek out freelancers who specialize in that area. 
Whether you need a copywriter to craft compelling content, a graphic designer to create eye-catching visuals, or a web developer to build a user-friendly website, freelancers have honed these skills over time. 
How to manage and guide your hired freelancers?
1.  Set clear expectations
Define deliverables

: Clearly outline what you expect the freelancer to deliver and when. This sets a clear path for the project and helps avoid misunderstandings.

Communicate your vision

: Share your vision for the project with the freelancer. It helps them understand the bigger picture and align their work accordingly.

Provide constructive feedback

: Regular feedback helps the freelancer improve their work and meet your expectations. Remember to be constructive and respectful in your feedback.
2.  Establish communication channels
Choose a primary communication tool

: Whether it's

email

, a project management tool, or a messaging app, choose a primary communication tool and stick to it. This ensures all communication is in one place and easy to track.

Schedule regular check-ins

: Regular check-ins help you stay updated on the freelancer's progress and address any issues promptly.

Be responsive

: Respond to the freelancer's queries and concerns promptly. This simple gesture exhibits how you value their time and input.
3.  Ensure payment terms are clear
Agree on payment terms upfront

: Before the freelancer starts work, agree on the payment terms. This includes the total cost, payment schedule, and method of payment.

Pay on time

: Paying the freelancer on time shows that you respect their work and helps build a good working relationship.

Be clear about extras

: If the project scope changes, discuss any additional costs with the freelancer before they do the extra work.
Top 5 websites to hire freelancers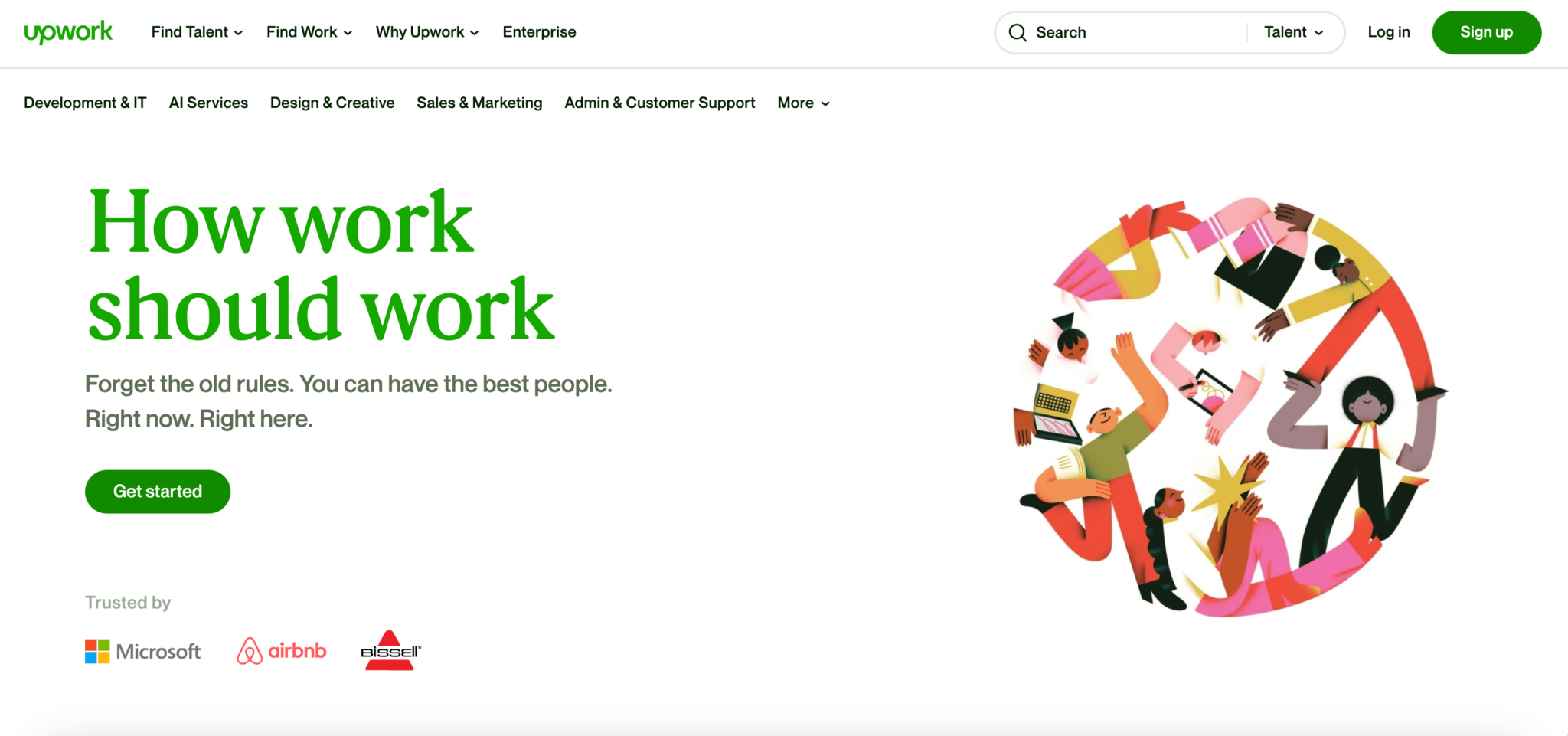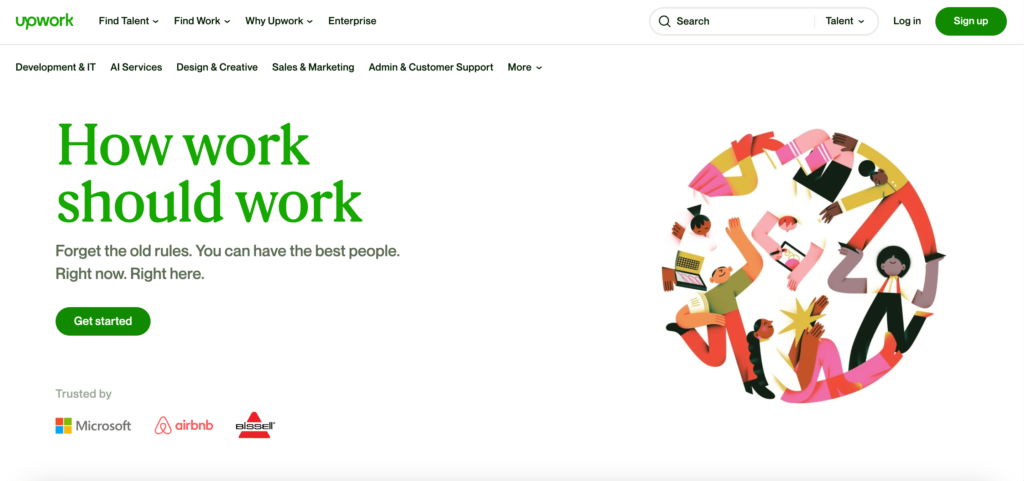 Upwork is a renowned platform that connects clients with skilled independent workers from around the world. 
Whether you're seeking an accounting expert, developer, web designer, writer, or customer service worker, Upwork has a diverse pool of professionals to meet your needs.
Clients can either post jobs and wait for freelancers to apply, or they can hire workers who specialize in particular tasks using the Project Catalog. 
On the other hand, freelancers can create a profile showcasing their skills, personality, and experience.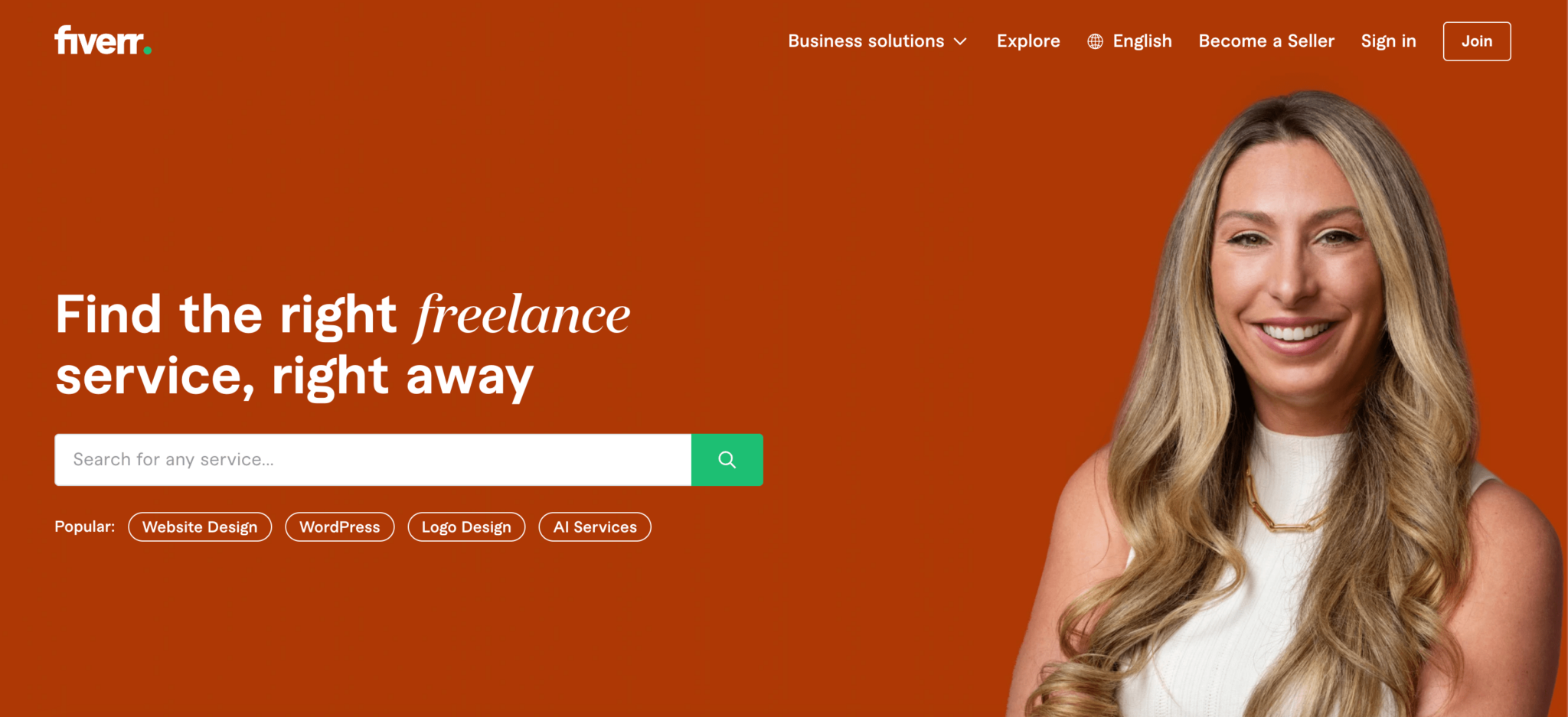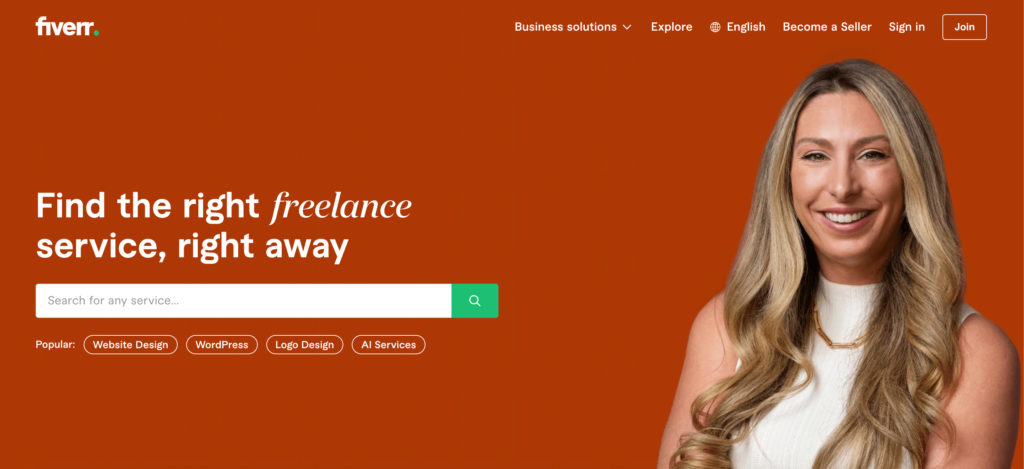 Fiverr simplifies the process of connecting digital freelancers with potential clients. 
This platform hosts a wide range of project listings from content creation and video production to app design.
Freelancers, referred to as sellers, create free profiles listing their services without the need to send bids or pitch to prospects. 
Buyers can then purchase the services that best suit their needs.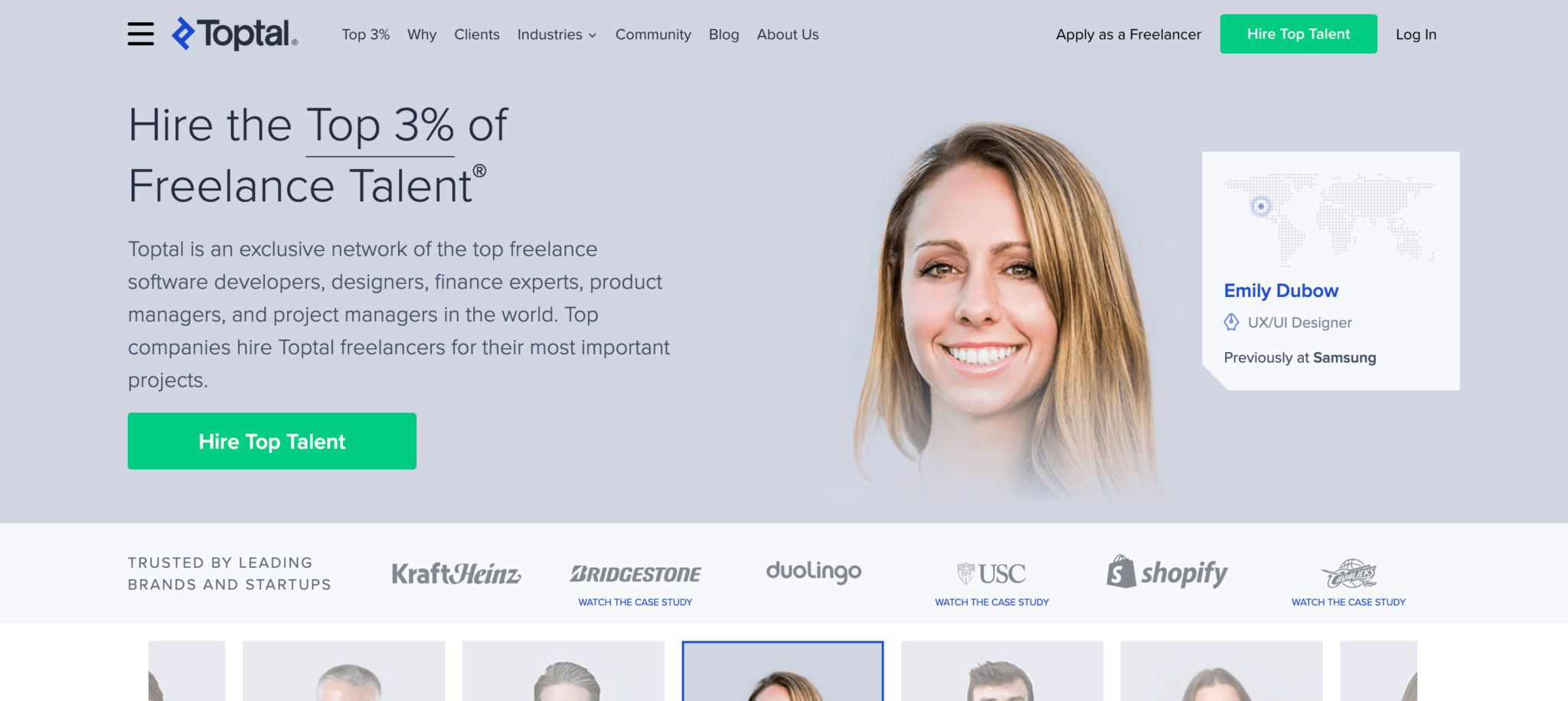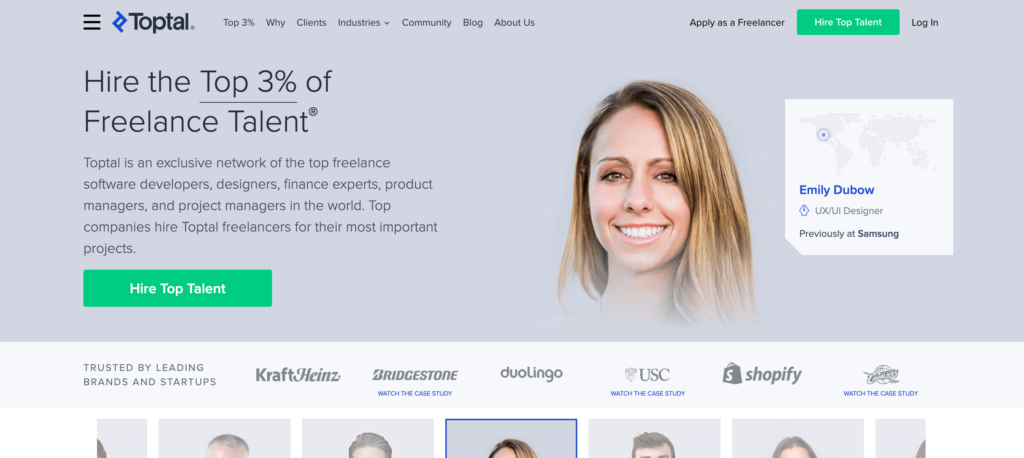 Toptal is a platform that caters to highly qualified freelancers, particularly those specializing in software development, project management, and business consulting. 
Toptal stands out for its rigorous five-step selection process, which ensures that only the top 3% of freelancers are accepted onto the platform.
While this exclusivity may seem daunting, it ensures that clients have access to a set of promising top-tier professionals who can deliver top-notch quality.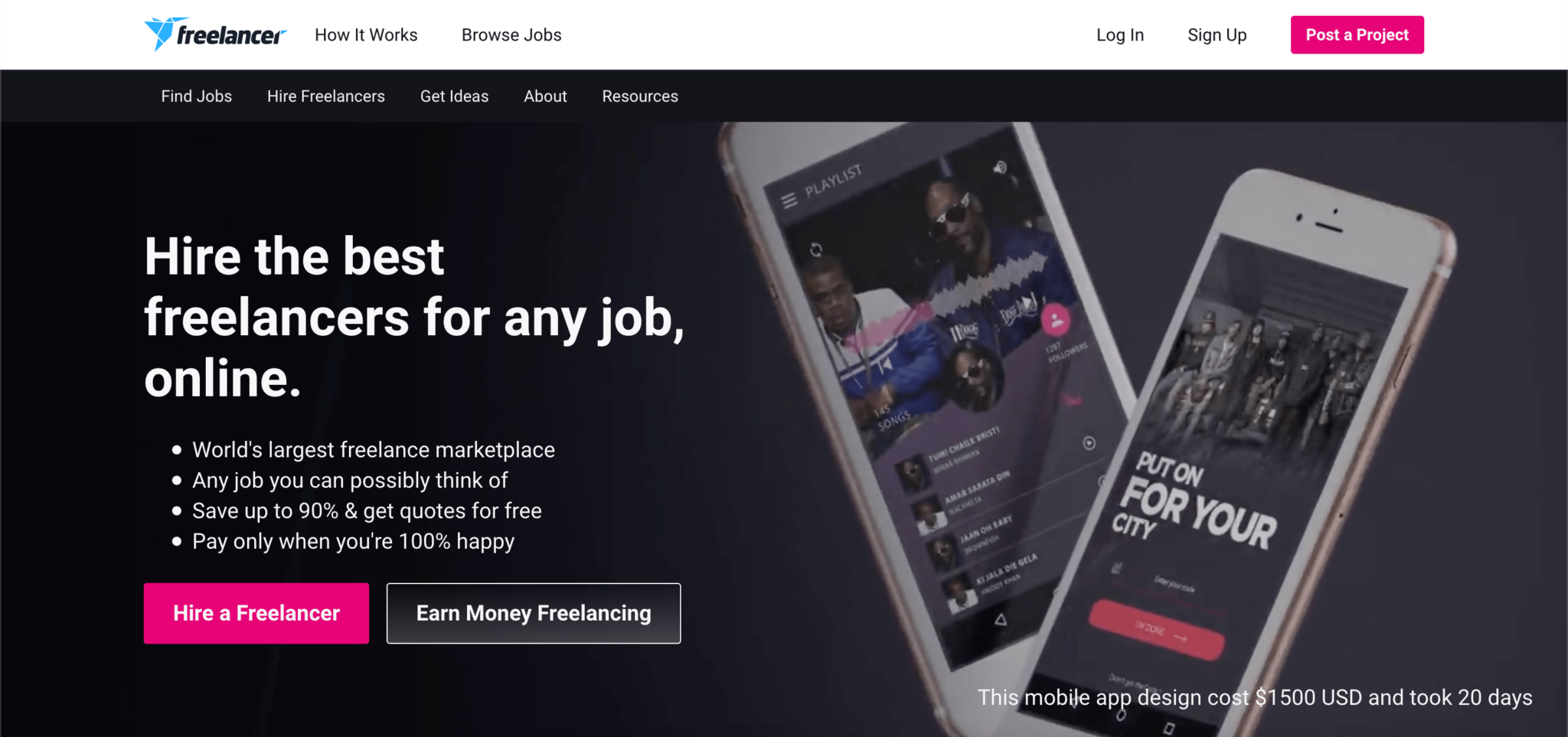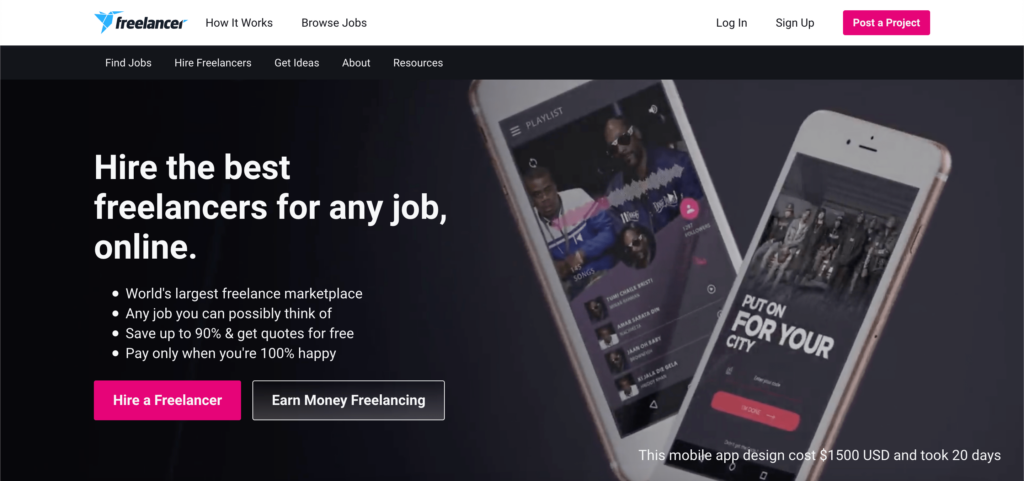 Freelancer is one of the largest freelancing and crowdsourcing platforms. 
It allows employers to post their offers and invite freelancers to bid on them. You can also choose to browse profiles of freelancers by yourself in order to find a good match.
Freelancer.com offers a wide range of categories and a user-friendly interface, making finding and hiring freelancers easy.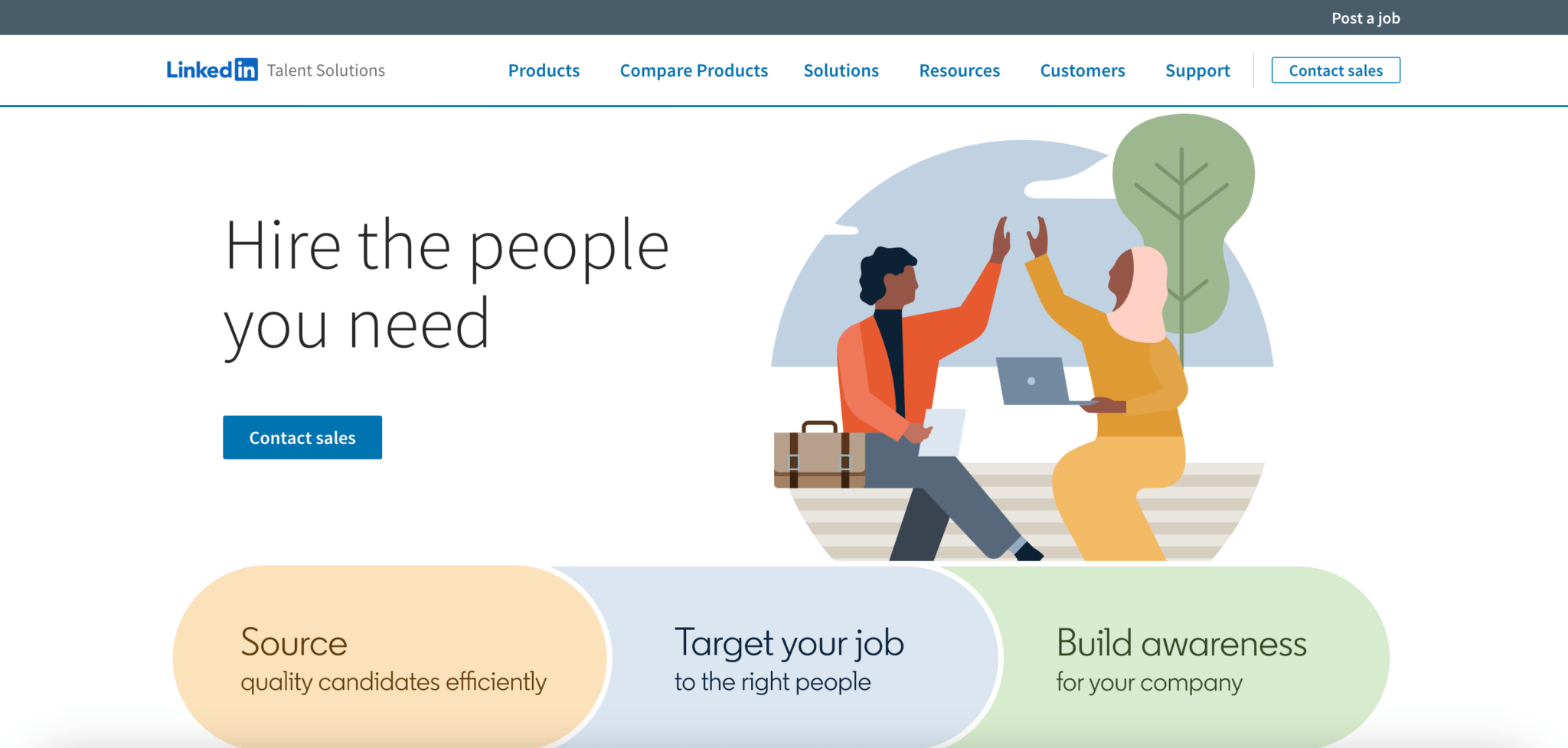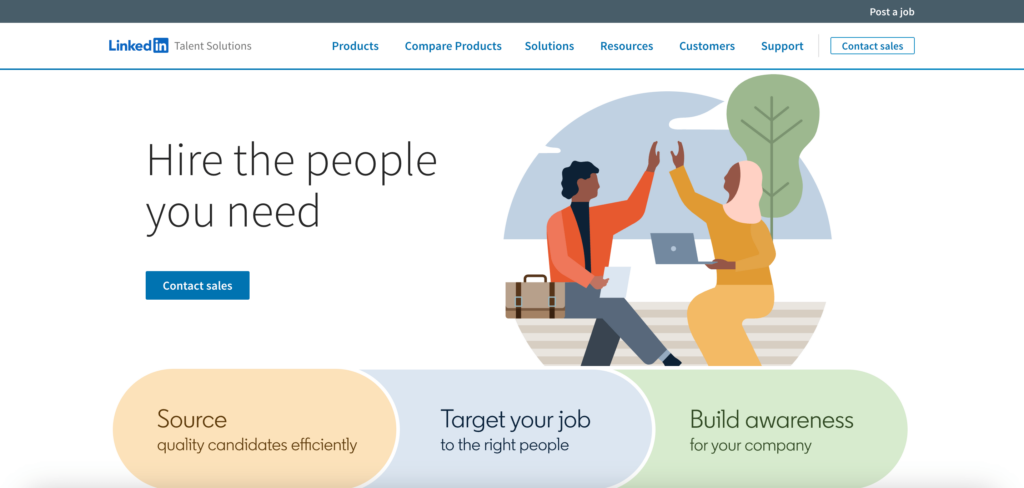 LinkedIn Talent Solutions is a professional networking site that also serves as a platform for job postings and freelance work. 
It's a great place to find freelancers who have a strong professional background and have been endorsed by their peers.
LinkedIn's robust search features allow you to filter by location, industry, and more, making finding the right freelancer for your project easier.
Legal and ethical considerations while recruiting gig workers
1.  Understand the legal difference between a freelancer and a full-time employee
Tax implications

: Freelancers are self-employed and responsible for their own taxes. 

Employment laws

: Employment laws that apply to full-time employees, such as minimum wage laws and overtime pay, do not apply to freelancers. Be aware of these differences to avoid legal issues.
2.  Have a written contract
Protects both parties

: A written contract protects both you and the freelancer. It outlines the scope of work, payment terms, and what happens if either party wants to end the contract.

Confidentiality and non-disclosure agreements

: If the freelancer will be working with sensitive information, consider including a confidentiality or non-disclosure agreement in the contract.
It's pretty clear that while the process of hiring freelancers can feel a bit complex, it can also do wonders for your business.
As you venture into the world of freelance hiring, let this guide be your compass, leading you to remarkable recruitment success!
Pro tip: Invest in a recruitment software that is both an ATS + CRM system. The best on the market is Recruit CRM. Book a demo with them to see their platform in action!
Frequently asked questions
1.  What to ask freelancers before you hire them?
Before hiring freelancers, it's crucial to ask about their experience, skills, and portfolio. 
Ask for references or samples of their previous work. Discuss their understanding of the project, their approach to work, and how they handle deadlines and feedback. 
It's also important to discuss rates, payment terms, and availability.
2.  How do you determine the hourly rate for a freelancer?
The hourly rate for a freelancer depends on their expertise, experience, and the market rate for the job. 
It's important to research industry standards and consider the complexity and scope of the project. 
Negotiating a fair rate ensures quality work and maintains a good relationship with the freelancer.
3.  What are the disadvantages of hiring freelancers?
Hiring freelancers, while beneficial, can also present certain challenges. 
These include potential communication gaps due to different time zones or work schedules, a lack of in-depth understanding of your business compared to full-time employees, and the risk of inconsistent availability as freelancers often work on multiple projects simultaneously.