The job market continues to boom as we soon enter 2023, showing no signs of slowing down. In the UK, job adverts have outnumbered the figures for unemployed people for the first time ever. And this isn't just a UK phenomenon; high levels of job vacancies are being reported in countries all over the world.
There's no denying that the talent competition will only get more fierce in the coming year. With more jobs available than suitable candidates to fill in, businesses will need all the help they can get to source the skills and talent they need to succeed.
That's where the recruiters come in – with their consultancy, creativity, and tenacity, they play a vital role in helping businesses find the people they need to keep up with demand.
LinkedIn's new data indicates a nearly three-fold increase in demand for recruiters in the UK since pre-pandemic levels. In April 2022, 2.9 times as many recruiter jobs were advertised on LinkedIn compared to January 2019.
This trend is also present in other countries in Europe, such as Germany (5.9x), France (4.3x), and Spain (4.2x). The research shows that the demand for recruiters in the US was almost 4 times higher in January 2019 compared to the pre-pandemic era.
With such competitive demands for the recruiter all across the globe, how can you land the most suitable recruiter for your recruitment agency? Read on to discover the industry's best practices for hiring the most suitable recruiter for your recruitment agency.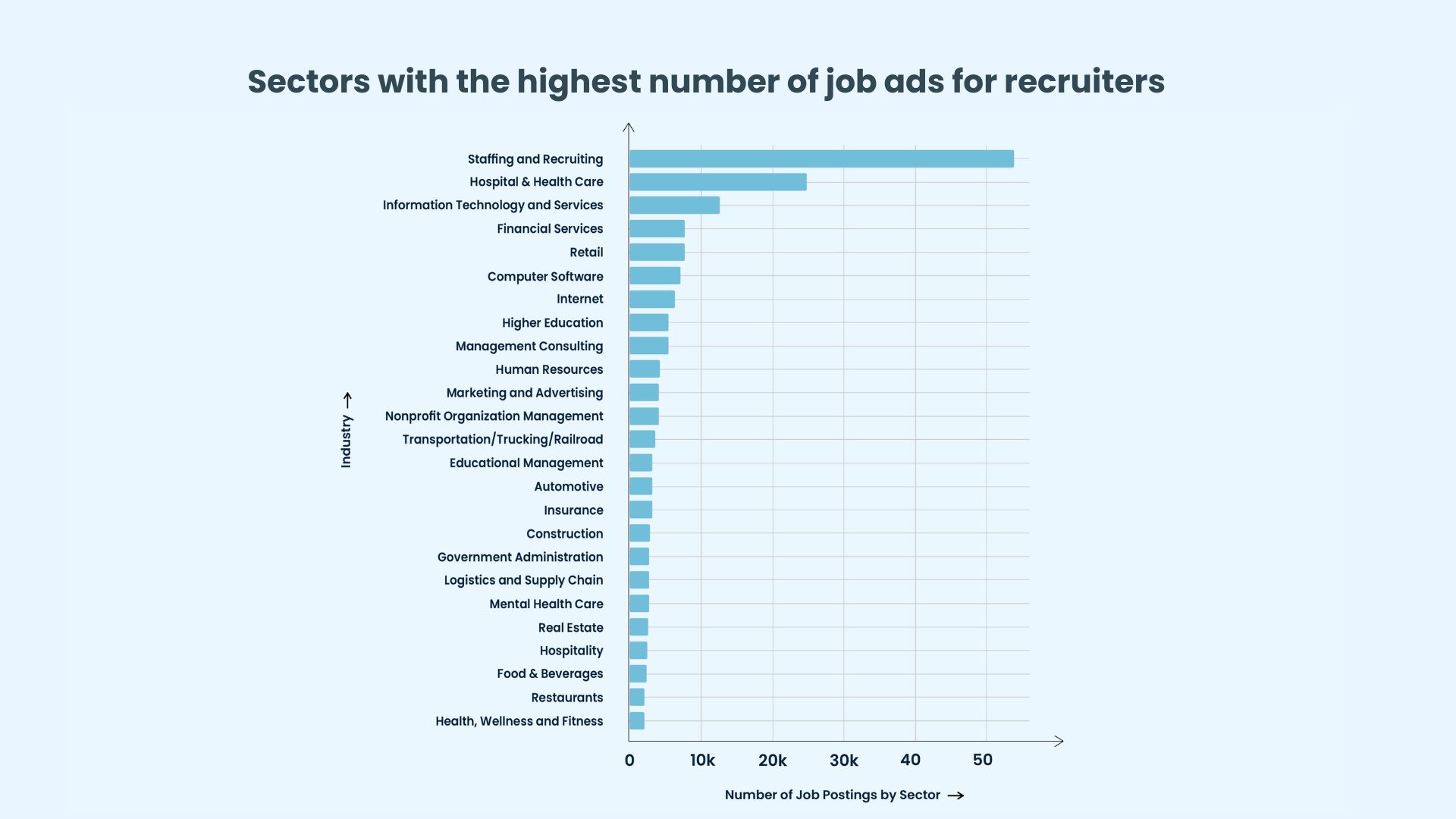 The Underrated Role Of A Recruiter
People outside the recruitment world often underestimate the amount of influence that recruiters have throughout the job application process.
Job recruiters make the job search process easier for employers and potential employees. They are experienced in finding qualified candidates by screening talent, reviewing job applications, and identifying key traits, skills, and experience required for the open position.
This means employers receive a pool of pre-screened candidates that fit their specific needs, saving them time and resources. And for job seekers, this provides an opportunity to have their skills and qualifications recognized by an expert in the field, which could lead to being hired for their dream job.
Job Recruiters typically work in human resources and may be part of an in-house team or work for a recruiting agency or staffing agency.
They play a critical role in the candidate experience. They are often the first point of contact, and as such, their interactions can heavily influence a person's opinion of the company. In many cases, recruiters are fulfilling the dual role of brand ambassadors and headhunters.
A recruiter is also responsible for conducting interviews, negotiating job offers, and letting the candidate know if they have been successful or not. In other words, job recruiters help connect qualified individuals with available positions that fit the candidate's skill set and the company's needs.
Here are the most common reasons why you need to work with a recruiter to attain your business goals.
Recruiters are experts in recognizing potential and spotting early red flags in the hiring process. They save you time and effort so that you can focus on other crucial areas of your business.
Recruiters work directly with candidates to set expectations and ensure a positive experience. They serve as an intermediary between candidates and hiring managers to help prevent any potential conflict or misunderstanding.
Recruiters have the knowledge of what an open position requires, meaning they can be laser-focused on finding the right candidate for the job. This is something that your company might not be able to accomplish without them.
How to Find the Right Recruiter?
a) Seek Expertise In Your Industry
While all recruiters have different levels of knowledge, some specialize in a specific industry. For example, insurance, executive, or medical recruiters.
Many industries have membership associations with online directories, such as the National Banking & Financial Services Network, where you can search for recruiters that fit your needs.
To ensure your candidate is qualified, use all resources available to you, including national associations, where applicable. This will help give you a well-rounded perspective of the candidate in question.
When working with a client company, choosing one familiar with your company's industry is crucial. It helps ensure that they know what they're doing and can help you keep any potential issues at bay.
b) Evaluate Their Feedback About You
When talking to an experienced recruiter in the job market, you may want to get their feedback on how to improve the recruitment and eventual onboarding process.
Whether it be a need to streamline your job listings or conducting interviews in general, you are in a peculiar position to take notes, and it would serve your company well to take their feedback.
This feedback could help improve your job search, even if the applicant that provided the feedback does not get the job.
It also gives you the unique perspective of someone who is experiencing the job-hunting process from both sides.
c) Ask Questions
Asking the right and most suitable questions during the recruitment process can help you save time, especially when interviewing a large pool of job candidates.
By identifying key qualities and skills essential for the role you're looking to fill, you can more quickly weed out those who are not a good fit and zero in on those with the caliber to be great employees.
You can scan through their cover letter or CV to ask them relevant queries about their qualifications, experience, or other relevant information.
In addition, you may ask about their biggest recent accomplishment, what resources they would need to do their new job, and if they are handy with using recruiting software, applicant tracking systems, or candidate relationship management software (CRMs).
d) Make Your Expectations Clear
Potential hires should understand company culture and policy before they join full-time, as it helps set expectations for the role they are applying for. This way, job seekers can decide if the company is a good fit for them before making a long-term commitment.
It becomes more critical when hiring a recruiter, as they will be responsible for preparing job listings that reflect the position and confidently representing your company to future potential hires.
Where To Look For A Suitable Recruiter?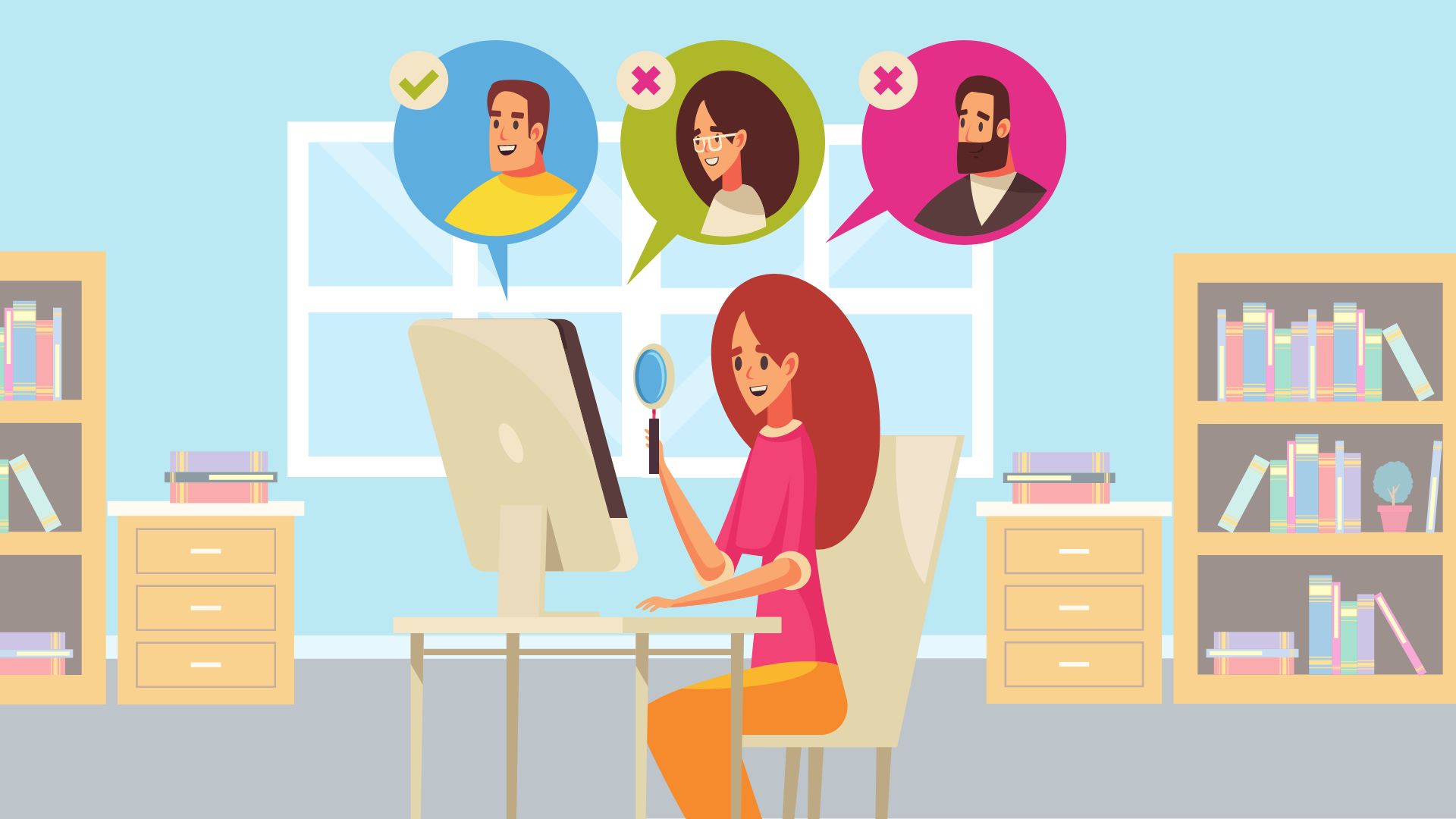 A competent recruiter can significantly impact your business. They can help you learn about growth opportunities within the company that you might not have been aware of otherwise. In addition, having a good relationship with a recruiter can help you attract top talent to your company.
Here are some tried and tested sources to look for the most suitable recruiter for your business.
a) Online Directories
Directories are a vital resource for companies looking to hire employees, as they are an easy way to connect with qualified candidates.
Some directories cater to specific fields, such as medical or insurance recruiters in the job recruiting market.
Recruiter directories are a precious resource for companies, regardless of whether or not the industry your company is categorized to has one.
b) Social Media
A significant point about looking for a job recruiter is that the nature of their job means their presence on professional social media channels is probably essential.
Social media platforms like LinkedIn or Facebook are great places to find qualified candidates without needing referrals.
Update your LinkedIn profile with the newest opportunities, and add details about the types of available jobs to engage candidates.
c) Use Search Engines
Google, Yahoo, and Bing are typically the first place to look for any query online and are excellent resources for finding job posting sites for employers.
Google searches have most of the search engine market and dedicated job listings. Therefore, it can be helpful when contacting headhunters looking for job openings.
d) Tap Your Professional Network
Your company's internal human resources team is an excellent place to start looking for potential candidates. Professionals tend to be part of a network of people with similar skill sets, so you're likely to find some good candidates through your colleagues.
Reach out to your employees first, as they may already have someone in mind that would be perfect for the job. Incentivize them for suggesting qualified candidates, and offer a reward for any suggestions that you end up hiring.
e) Browse Job Boards
Although many postings on Indeed and other search sites are created by hiring managers themselves, companies often assign this duty to recruiters. Be heedful of the names and titles of people posting job listings in your industry.
Recruiters will often identify themselves with the following job titles:
Staffing agent
Senior recruiter
Employment agent
Search professional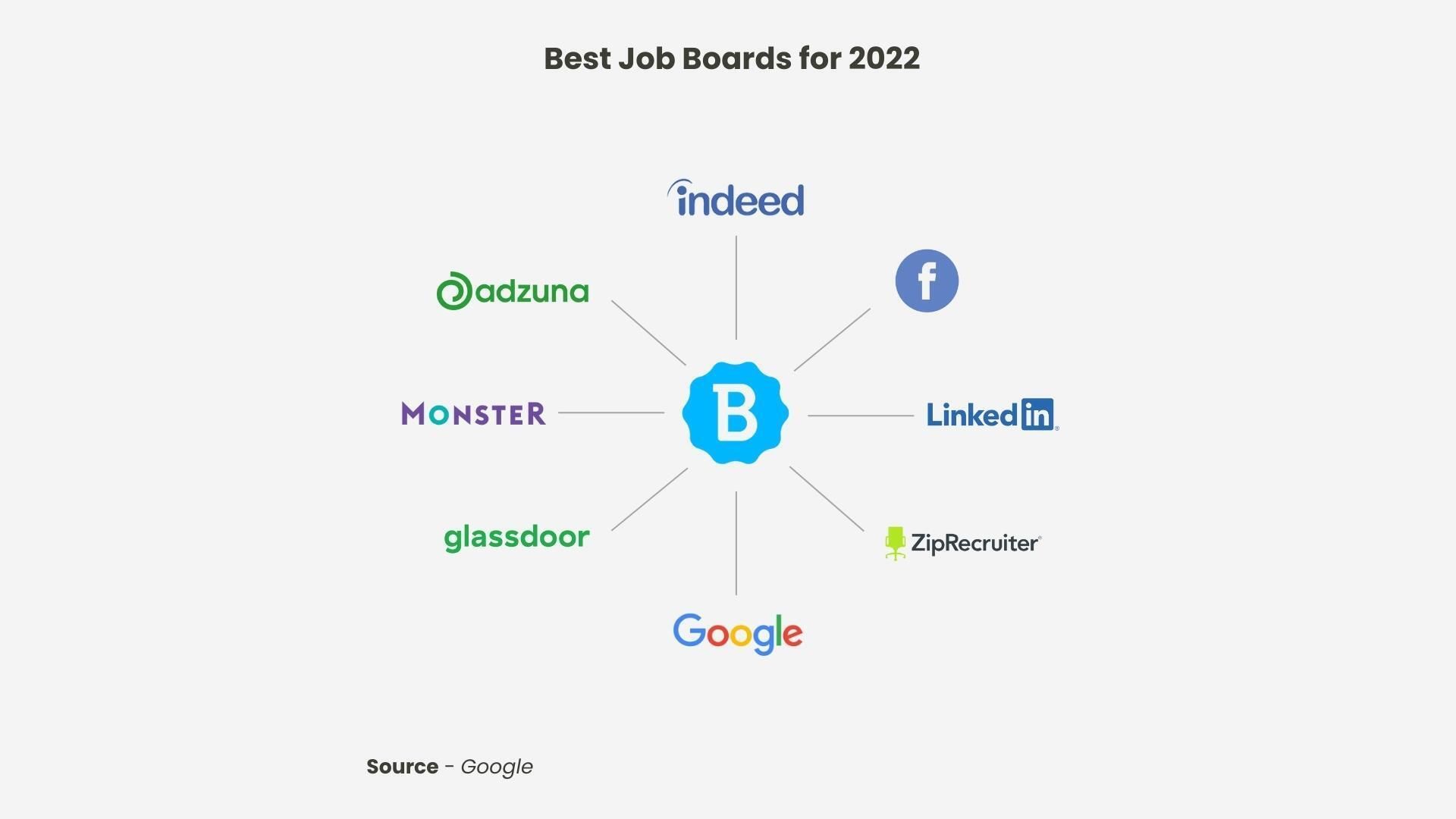 f) Consult with Industry Groups
Recruiters often join professional associations and attend conferences related to their specialty in order to network with potential employers and clients.
If you are searching for a recruiter in a particular industry, pay attention to such events in your field.
For example, if you are looking for a recruiter in the healthcare industry, look for events that focus on healthcare recruiting.
If you are a member of a professional organization, searching the membership directory for recruiters can be a great way to find potential employers.
g) Post your Job Vacancy
Job boards aren't just for job seekers; recruiters use them, too! In fact, job sites are one of the most common ways that recruiters find new gigs.
Create a powerful job description and post it on your job board profile so that recruiters can easily find you.
How to assess a recruiter?
When you have a pipeline of potential recruiters ready at your end, the next step is to assess and reach out to the one's best suit your business needs.
Here's how to assess a recruiter before committing to a professional relationship.
a) Research The Recruiter's Network
Scan your potential recruiter's network using social media to know what connections they hold.
When interviewing, ask what clients they have worked with in the past. It will give you a good idea of what experience they hold and how you can best utilize it for your business growth.
b) Seek Out Testimonials
Reach out to their past employer and client to know about their skills, behavior, and attitude about work or ask them if they can provide you with any proof of work.
A recruiter with a long history of successful placements is more likely to be an asset to your staffing agency than someone who has moved from agency to agency.
c) Consider Yours And Their Specialty
Although some recruiters work in various industries, you may want to choose a recruiter specializing in your field.
A recruiter within a specialty is more likely to be educated on job recruitment and the type of applicant who would excel in that position.
d) Narrow Your Options
When looking for a recruiter, it's important to first understand what you expect from them. What roles, responsibilities, and goals do you want them to take care of?
This way, you can filter out your options accordingly and find the best match for your needs.
It also helps to build a strong bond with a recruiter so that you can be confident in their commitment to your organization.
Help Recruiters Find You!
One of the most effective ways to let recruiters find you is to build a strong LinkedIn profile that demonstrates your company culture and accomplishments.
To make your company profile stand out, write a well-summarized 'About' section, display clients on the cover page, add achievements, add recommendations from your existing and previous clients, a brief of the services you offer, and more.
Recruiters also search databases of companies seeking recruiters on job boards. Putting a clear and concise job description on job sites like Indeed, Monster, and other niche sites can make it more likely that a recruiter will notice and reach out to you.
Moreover, Maintaining a high profile in professional organizations will get you noticed by recruiters.
Presenting at conferences, holding offices, and publishing relevant content can also increase your visibility to recruiters.
Find Your Perfect Recruitment Match!
The recruitment industry is constantly changing, and we have seen some massive changes over the last few years. It's been really splendid seeing how well recruitment professionals have been able to adapt during this time.
Skilled recruiters will continue to be increasingly vital in the months and years ahead, providing advice and guidance to companies on sourcing candidates and attracting the talent they'll need to thrive.
Try out these best industry practices to find the ideal recruiter for the growth of your business.
Happy recruiting!
FAQ?
What makes a good recruiter?
A good recruiter is like a good hunter. They need to scope out the competition to find the best candidates that would be the perfect fit for the company. As the company's representative, a recruiter needs to be familiar with the company culture and policy and have constant communication with upper management to achieve company hiring goals.
What to ask a recruiter?
Besides the typical questions that concern job experience and education, a job interview with a recruiter is also a good opportunity for the employer to ask what the candidate would inquire in an interview were they in the interviewer's shoes. This allows you to improve the interview process and better understand how this potential employee would fit into the company culture you have worked hard to establish.
How to reach out to a recruiter?
Any company looking to fill a position has two choices when it comes to recruiting: 1)Bring in a recruiter to work as an internal team or 2) Outsource to recruiting or search firms.
Whichever route a company decides to take, it's important that when contacting a recruiter for a potential job offer, the language used is clear and professional and that the job posting includes all the information that helps a recruiter reach out to you. Studies have shown that job postings that include clear salary, level, and skill set requirements tend to get more responses from qualified candidates, so making this information a priority is essential.