Did you know collaborating with a macro-influencer (with a follower count between 500,000 to 1,000,000) costs somewhere between $1,000 to $10,000 per post? 
And if you just thought you could easily settle for a micro HR influencer (with a follower count between 10,000 to 50,000) instead, you must know the estimated cost of collaboration with them on LinkedIn can range from $100 to $500 per post. 
With this rate, you might even become penniless if you wish to collaborate with multiple influencers at once! And we aren't even talking about boutique recruitment agencies who are somehow keeping up with their small budgets yet. 
Then, are we suggesting you give up on influencer marketing entirely? No, we aren't!
After all, the global influencer marketing industry is projected to grow from USD 6,015 million in 2020 to USD 24,076 million by 2025, at a CAGR of 32% during the forecast period. 
So, what's the alternative? Cultivating your own team of brand advocates!
Yes, you heard that- Motivate your hiring team into micro-influencing for LinkedIn recruiting success.
It's not even a new concept! For example, look at this post by DriveTime's Head of People, Culture, & Engagement, sharing a healthy mix of employer brand content with a job vacancy announcement.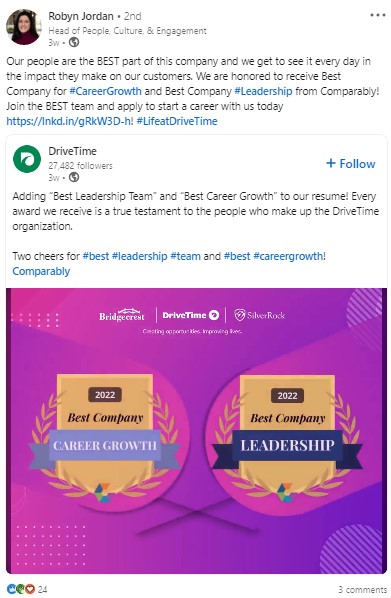 Can you guess what did DriveTime reap off of this simple post?
Solid online reputation 

More job applications

More networking opportunities

Tag of "employer of choice."

Low-investment but high-yielding recruitment process
Isn't it amazing? You can achieve it too. By leveraging the personal branding of your hiring team on LinkedIn, you can enhance your recruitment efforts and establish your agency as a go-to source for clients seeking exceptional talents and candidates hunting new roles.
But as always, the question is how to get started. Read on to find out!
How can you turn your HR team into micro-influencers?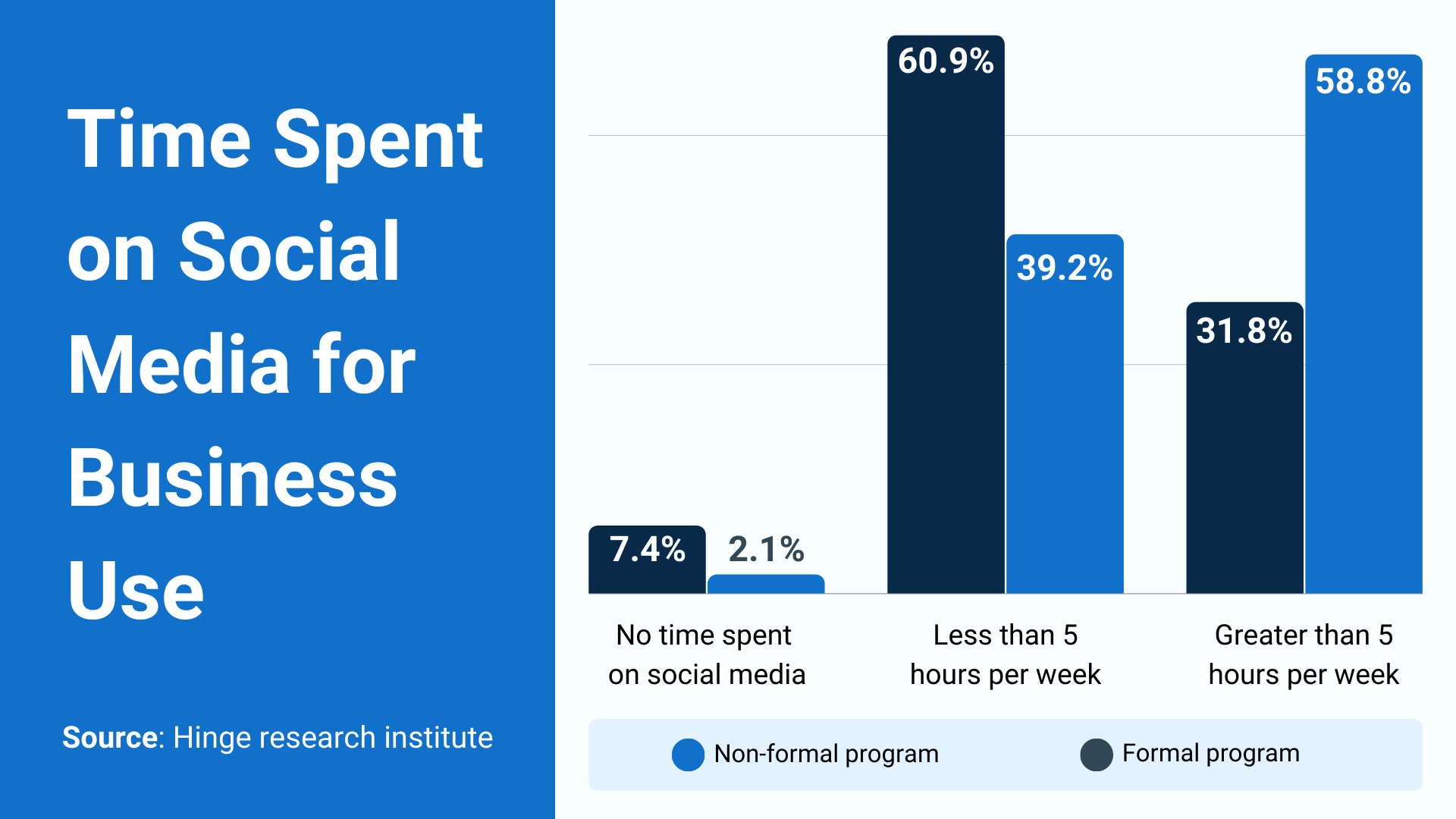 1. Identify potential advocates within your team.
The first step in creating your own team of micro-influencers is identifying individuals who have the potential to be one. 
Look for team members who are passionate about their work, exhibit strong communication skills, and already have a solid presence on LinkedIn. 
These individuals can serve as the foundation for your micro-influencer program.
💡Tips:
Encourage self-nominations

: Invite team members to express their interest in becoming brand advocates, allowing them to take ownership of the process.

Analyze LinkedIn profiles

: Assess the activity levels, engagement, and content quality on their existing LinkedIn profiles to identify those with the most potential.

Foster a culture of sharing

: Encourage your team to share relevant industry news, insights, and successes to identify natural advocates.
A common challenge you may encounter at this stage:
Resistance to change: Some team members may be hesitant to embrace a more public-facing role or may lack confidence in their personal branding skills. 
Address these concerns through open communication and by highlighting the benefits of becoming a micro-influencer.
2. Motivate them to improve their personal brand on LinkedIn.

Once you have identified potential advocates, the next step is to motivate and support them in improving their personal brand on LinkedIn. 
A strong personal brand will help them gain credibility and attract the attention of top talent.
💡Tips:
Define the purpose

: Clearly communicate the benefits of personal branding, such as increased visibility, industry recognition, and professional growth.

Share success stories

: Showcase examples of professionals who have successfully built their personal brand on LinkedIn and how it has positively impacted their careers.

Provide resources

: Offer tools and guidelines on

optimizing LinkedIn profiles

, creating compelling content, and engaging with the LinkedIn community effectively.
A common challenge you may encounter at this stage:
Time constraints: HR professionals often have demanding workloads, which makes it difficult to focus on any task other than recruiting. 
The only solution is to encourage advocates to prioritize personal branding activities by highlighting the long-term benefits and allocating dedicated time for these activities.
3. Nurture thought leadership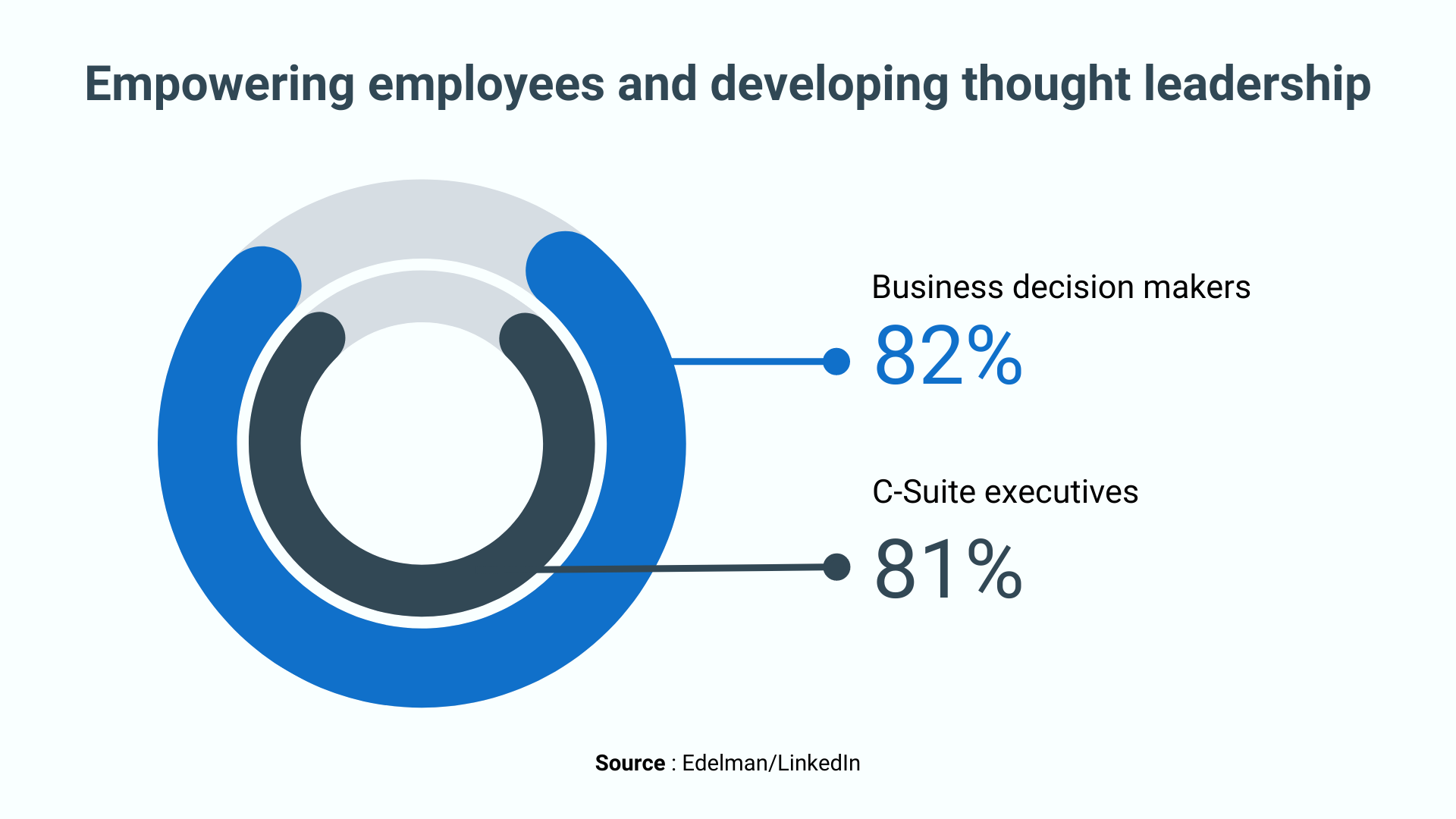 Thought leadership involves sharing valuable insights, knowledge, and unique perspectives with the LinkedIn community, positioning your team members as trusted industry experts. (It's the most crucial step!)
💡Tips:
Encourage content creation

: Help your team develop a content strategy, brainstorming topics relevant to their expertise, target audience, and the client's brand.

Collaborate on content

: Foster a culture of knowledge sharing within your team by encouraging collaboration on articles, blog posts, and other forms of content.

Engage with the community

: Encourage your advocates to actively participate in LinkedIn groups, comment on industry discussions, and respond to relevant posts to build connections and establish credibility.
A common challenge you may encounter at this stage:
Content creation consistency: Maintaining a regular cadence of content creation can be challenging, especially during the peak-hiring seasons.
Encourage your micro-influencers to plan and schedule their content in advance while also providing ongoing support and feedback.
4. Provide relevant training and support.
Your team may already know how to use social media platforms like LinkedIn, but they must have never done micro-influencing before. 
So, no matter what, provide them with training and ongoing support. (Yes, they need it even if they don't realize it yet!)
💡Tips:
Personal branding workshops

: Conduct workshops on personal branding strategies, LinkedIn best practices, content creation, and community engagement.

Mentorship programs

: Pair experienced advocates with those who are new to personal branding, fostering knowledge sharing and providing guidance throughout the process.

Monitor progress and provide feedback

: Regularly review the teams' LinkedIn activities, provide constructive feedback, and recognize their achievements.
A common challenge you may encounter at this stage:
Measuring impact: Determining the success of your micro-influencer program is challenging. 
The best solution is to establish clear metrics, such as increased profile views, engagement, and candidate quality, to measure the impact of your advocacy' efforts.
How can you make the most of your recruitment brand advocates?
Your hiring team, or newly turned micro-influencers, are your most valuable assets in promoting your agency's brand and attracting top talents for your clients. 
Ensure you are making the most of them! (Of course, this should be a two-way process. So, if you benefit from your team, won't it be better to give them something in return? Ponder upon it! Till then, maybe this FREE eBook will help you.)
That said, let's see how you can leverage your hiring team's branding and network for hiring exceptional talents!
Content shared by employees receives 8X more engagement than content shared by brand channels. Source- Social Media Today
Encourage your team to create and share compelling content related to your agency's values, culture, and industry insights. This can be in various formats like articles, videos, infographics, etc.
The primary goal is to cater to diverse audiences and increase engagement.
So, by providing your team with the autonomy to express their unique perspectives, you can tap into their passion and creativity, attracting the attention of potential candidates and clients. 
💡Tips:
Share clear content creation guidelines and resources with your team.

Offer them a content strategy template or provide examples of successful posts to inspire them.

Encourage them to share stories about their own experiences, career growth within the company, or projects they're proud to have worked on.

Foster a supportive environment where they feel comfortable experimenting with different content formats and styles.

Regularly recognize and celebrate their contributions to boost their confidence and motivation.
Here is a quick tip Dell shared with its employee advocates (It will help you too!):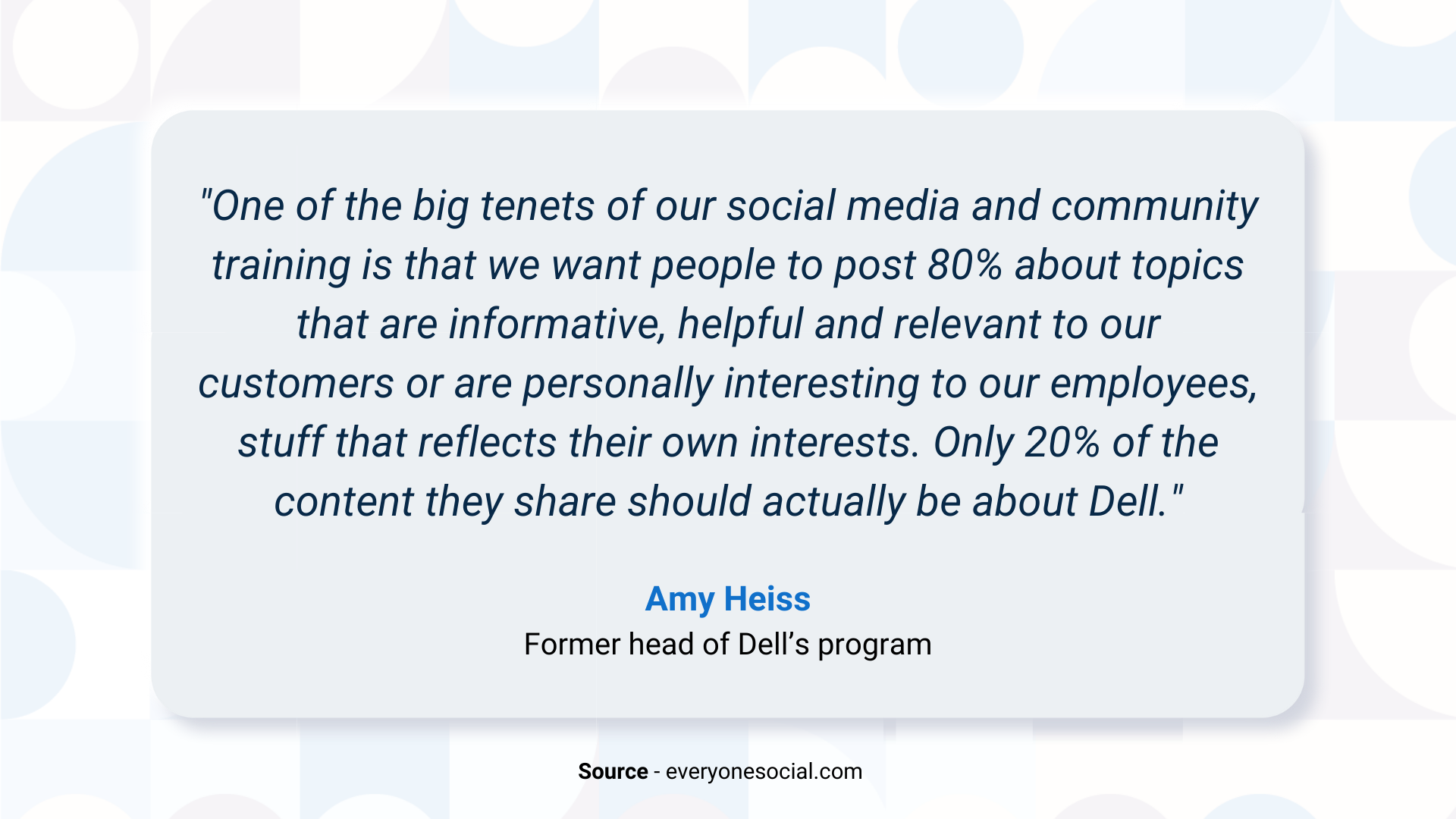 2. Ask them to connect with ten clients or candidates every day
87.2% of employees participating in employee advocacy believe it expands their professional network- Hinge Marketing
It should go without saying that networking is the key to successful LinkedIn recruiting. 
So, it's your responsibility to encourage your hiring team to proactively reach out to potential clients and candidates on LinkedIn. 
These consistently-built meaningful connections and engagements will help expand their network and, thus, gain more visibility in the HR space. (That's what micro-influencers are needed for, right?)
💡Tips: 
Set a goal for your advocates to connect with ten individuals daily, ensuring consistent outreach efforts leading to fruitful relationships.

Provide them with a list of target clients or potential candidates to connect with, ensuring they have a steady stream of contacts. 

Encourage personalized messages that demonstrate genuine interest and value. 

Advise them to research their connections beforehand to find common interests or mutual connections, making the outreach more meaningful. 

Allocate a separate time (At least twice a week) for each member during working hours to focus on networking and building relationships.
And yeah, keep track of their progress. You can just randomly check their LinkedIn profiles sometimes. 
3. Leverage employee stories and testimonials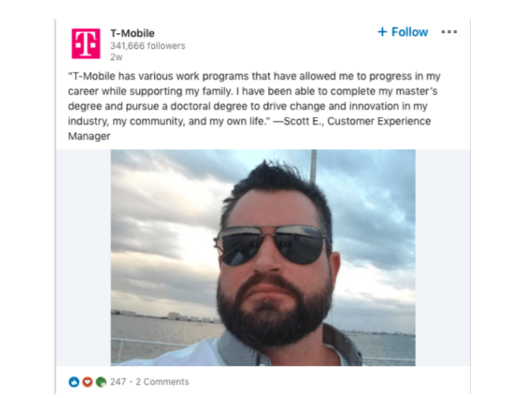 One of the most powerful ways to showcase your company's culture and values is through employee stories and testimonials. 
Encourage your brand advocates to share their experiences, highlighting the positive aspects of working with your agency. 
These authentic narratives can resonate with potential candidates, providing insights into the company's work environment and creating an emotional connection.
💡Tip:
Host storytelling sessions where your team can share their experiences and insights with other team members. Capture these stories in written or video formats to be shared on your company's website, blog, or social media channels. 
Also, consider creating a dedicated web page or section on your website to showcase employee stories and testimonials.
4. Motivate them not to be vanilla when engaging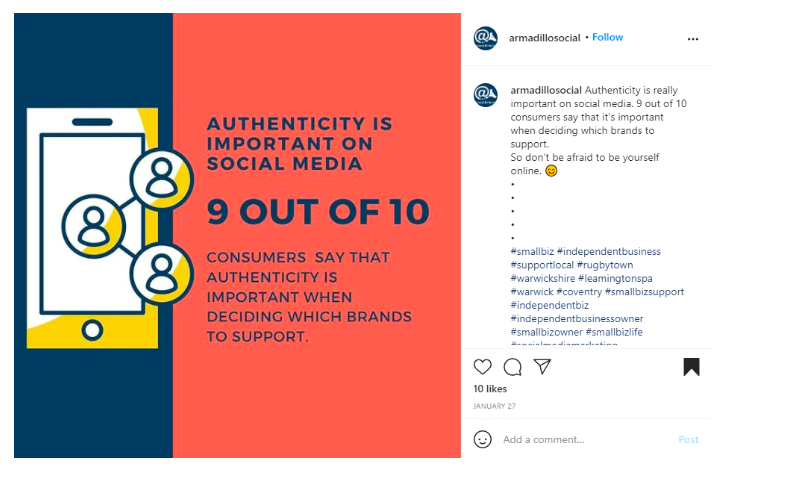 Encourage your brand advocates to be authentic, bold, and stand out from the crowd when engaging with potential candidates and clients. (The goal is to make their presence known!)
They can do so by sharing personal anecdotes, lessons learned, and insights that inspire and educate others.
This will help them capture audiences' attention quickly and make a lasting impact. (Again, that's what micro-influencers are responsible for!)
💡Tip:
Advise your team to actively listen and respond to comments, fostering conversations that demonstrate their expertise and passion. 
Also, motivate them to take calculated risks and explore creative ways to engage their audience, such as hosting live Q&A sessions, sharing behind-the-scenes content, or conducting interviews with industry experts.
How can you track and improve your micro-influencing tactics?
Finally, you are at the stage where you have a dedicated team of brand advocates and are making the most out of them. 
Now, it's time to step back and start tracking and improving your micro-influencing strategies for even better results in the future. 
And no, only a follower count won't be enough!
60.2% of firms measure their success of social media engagement by the growth in the number of social followers -InfluencerMarketingHub
Here are all the necessary steps you should follow:
Identify the metrics that align with your micro-influencing goals. These may include engagement metrics (likes, comments, shares), reach (impressions, followers gained), website traffic, lead generation, and conversions. 
The goal is to determine what success looks like for your micro-influencing campaign and select KPIs that will help you measure progress and effectiveness.
2. Utilize analytics tools
Leverage analytics tools available on social media platforms, such as LinkedIn Analytics, to track the performance of your micro-influencing content. 
These tools are great for gaining real-time insights into engagement, reach, and audience demographics. 
All you need to do is monitor the performance of individual posts, track the growth of your brand advocates' networks, and identify trends and patterns that can inform your future strategies. And you are good to go!
3. Track referral sources and conversion paths
Implement tracking mechanisms, such as UTM parameters or tracking pixels, to monitor the referral sources of website traffic and conversions. 
It will help you understand which micro-influencing activities drive the most valuable traffic and conversions. 
Use tools like Google Analytics to analyze the conversion paths and attribute them to specific LinkedIn recruiting efforts.
4. Regularly review and analyze data
Set aside dedicated time to review and analyze the data collected from your micro-influencing campaigns. 
Look for patterns, identify high-performing content, and assess the alignment between your KPIs and actual results. 
Evaluate individual team members' engagement levels, reach, and conversion rates to identify top performers and areas for improvement.
5. Seek feedback from your brand advocates
Engage in open and ongoing communication with your team and encourage them to share their experiences, challenges, and suggestions for improvement. 
Gather their feedback on the content they are sharing, the engagement they receive, and any insights they have gained through their micro-influencing efforts. 
This feedback can help you refine your strategies and provide targeted support to your hiring team.
6. Test and iterate
Continuously experiment with different approaches and content formats to optimize your micro-influencing tactics. 
A/B tests different types of content, posting schedules, and messaging styles to identify what resonates best with your target audience. 
Monitor the results and make data-driven decisions to refine your strategies and tactics accordingly.
7. Provide ongoing training and support
Yes, we already discussed targeted training, but did we mention it has to be ever-going?
The more you invest in upskilling your brand advocates, the better the results of your LinkedIn recruiting will be. 
So, ensure you offer your team continuous guidance on content creation, social media best practices, and effective networking techniques. 
Regularly communicate updates and share insights to keep them informed and motivated.
That was it! Wasn't it quite simple? Apply these tactics and see your recruitment business grow 10X on LinkedIn. 
Frequently asked questions
Q1- How long does it typically take to see results from micro-influencing efforts on LinkedIn?
It generally takes several weeks or even months to start noticing the impact of your micro-influencing efforts on LinkedIn. However, the timing may vary depending on factors such as engagement level, consistency of efforts, and the quality of content shared. 
Q2- How can my micro-influencing activities align with my company's brand and values?
First and foremost, ensure that the content you and your team share on LinkedIn conveys a consistent value, tone, and style. Through this content, focus on showcasing your company's initiatives, social responsibility efforts, and unique selling points. And finally, collaborate with your marketing team to ensure consistency between your micro-influencing efforts and the overall marketing strategy.
Q3- How can I ensure transparency and authenticity in my micro-influencing efforts on LinkedIn?
As an agency recruiter, it is natural for you to promote your client's culture on your LinkedIn account. However, be genuine with your experience, insights, and perspectives about the company. Disclose your relationship with the company and avoid purchasing followers, using bots, or engaging in dishonest tactics. Building your influence organically and ethically is critical to maintaining transparency and authenticity.
Q4- What guidelines to follow for respecting personal and professional boundaries while engaging as brand advocates on LinkedIn?
It's simple! Avoid sharing personal or sensitive information unrelated to your professional brand on LinkedIn. Refrain from delving into controversial or sensitive subjects that may not align with your audience's interests. Seek consent before tagging or mentioning individuals or companies in your posts, and adhere strictly to confidentiality agreements if you have signed any. Be considerate of your client's preferences and privacy settings.
Q5- How can I promote diversity and inclusion in my advocacy efforts on LinkedIn to ensure a more inclusive and representative recruitment process?
Amplify and promote content, stories, and perspectives from team members representing diverse backgrounds, including underrepresented groups. Use inclusive language that embraces diversity and avoids biases or stereotypes in your content and messaging. Actively participate in groups, forums, and LinkedIn communities dedicated to diversity and inclusion. Additionally, highlight any diversity programs available within the company you are recruiting for to demonstrate your commitment to an inclusive and representative recruitment process.