Finding the ideal candidate for a job has always been like finding a needle in a haystack. It's become so complex, and you can't even tell what the haystack looks like because your vision is all blurry from looking at so many applications!
Before the 2000s, companies would post job ads in newspapers, and interested people would hand in their resumes! It was an endless cycle of screening candidates by matching their skills to the requirements of each opening, interviewing one person after another until finally settling on whoever could work within the budget offered.
But things have changed now.
Today, every sector is touched by technological innovation and advancements, including recruitment. The recruitment process has been streamlined by automating where human efforts are poured.
According to LinkedIn, Sixty percent of companies worldwide use AI-driven technologies to screen resumes.
New tools and technologies are changing the recruitment landscape by replacing conventional and ineffective practices and strengthening the recruitment industry. Thus, it becomes crucial to understand how technology enhancement shapes everyday recruitment operations.
Technology as a Differentiator in Recruitment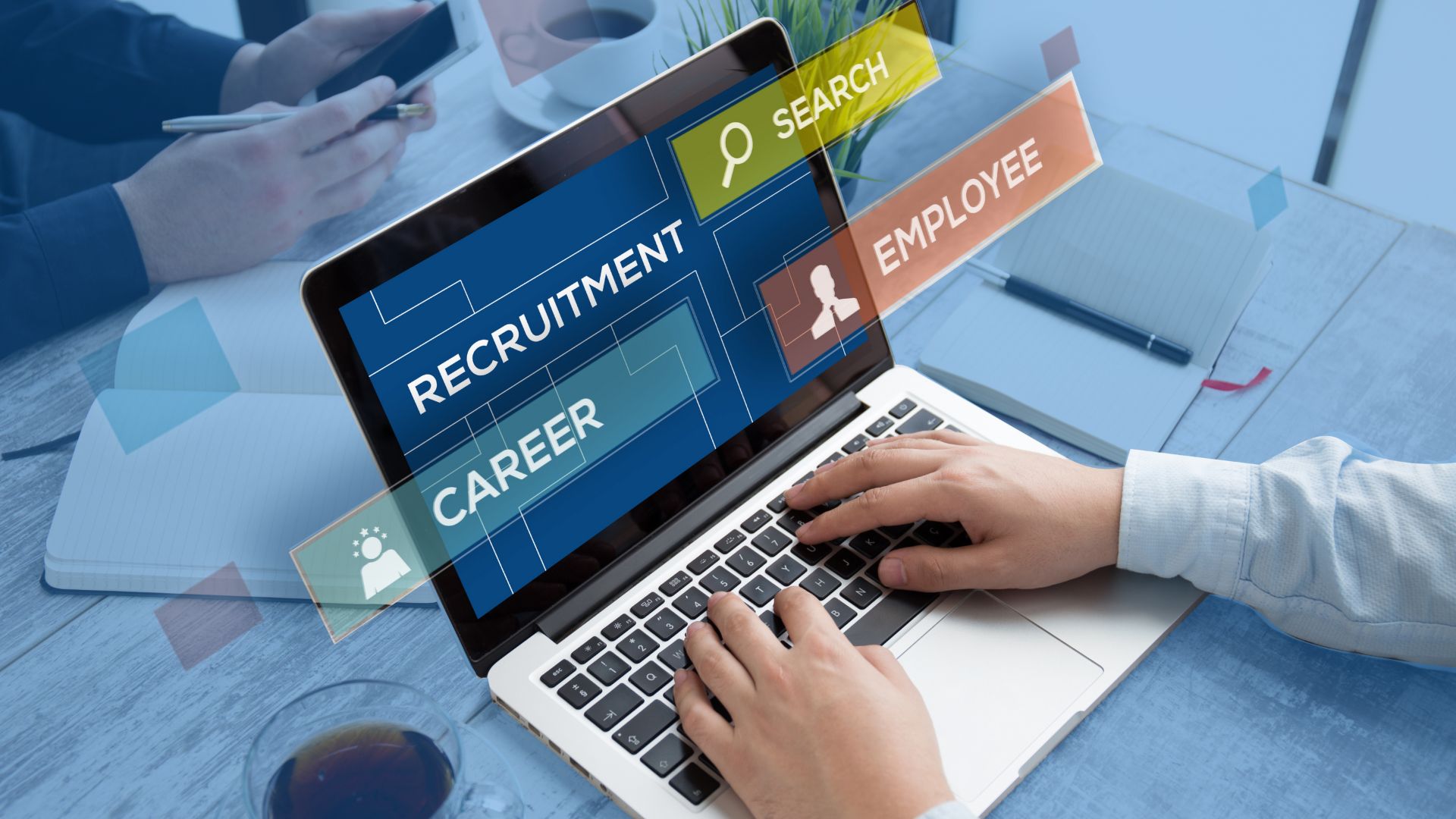 As a recruiter, your experience can be significantly impacted by efficient workflows so that you focus on building relationships with candidates rather than being bogged down with administrative tasks that could be performed more quickly by artificial intelligence tools.
"Technology can be a great asset for recruiters," according to Elaine Orler,   Managing Director, Consulting at Cielo Talent, Brookfield, Wisconsin, "It can help predict outcomes and make better decisions. However, if it's not used efficiently, it can just be a transactional tool or a bunch of disconnected systems that need duplicative data entry."
Josh Secrest, Vice President of Client Advocacy & Marketing at Paradox and the former global talent leader at McDonald's, said, "Technology's purpose is to fuel efficiency and simplify lives." He further added, "When it comes to recruiters, technology should automate tasks like screening, scheduling, and responding to frequently asked questions so that the recruiter can give more value back to the business."
Experts across the recruitment industry agree that technology significantly affects a recruiter's overall job satisfaction.
According to Laurano, Founder & Chief Analyst at Aptitude Research, a recruiting technology advisory firm based in Boston, "Automation tools have been growing in popularity. Whether in job advertising, interview scheduling, or candidate communications, automation has been life-changing for recruiters."
A study by Aptitude Research found that 50% of recruiters prefer to join an organization with better talent acquisition technology.
Secrest said, "With better tech that helps them do the mundane parts of their job, recruiters are more likely to continue and grow at the company. Recruiting technology plays a vital part in why the best recruiters stay in their role and why they also might look elsewhere." He further explained, "an AI recruiting assistant can free recruiters up to 16 hours a week in screening and scheduling tasks, giving them more time to create a high-touch, intentional candidate experience."
Today, technology has become an inherent part of successful operations in the recruitment world. By automating processes and using AI to identify and place top talent, recruitment teams are experiencing significant growth.
How Technology Enhances Modern Recruitment?
Technology is constantly advancing, bringing new ways for people in different professions to do their job more swiftly and efficiently.
Technology has also enhanced the recruiting process for staffing agencies. More and more recruiters are now relying on ATS (Applicant Tracking System), CRM (Client Relationship Management), or other recruitment software to improve their hiring process.
Thus, it has become crucial for recruitment professionals to stay informed about new methods to help them identify the ideal candidate for a role, build relationships, and grow their business.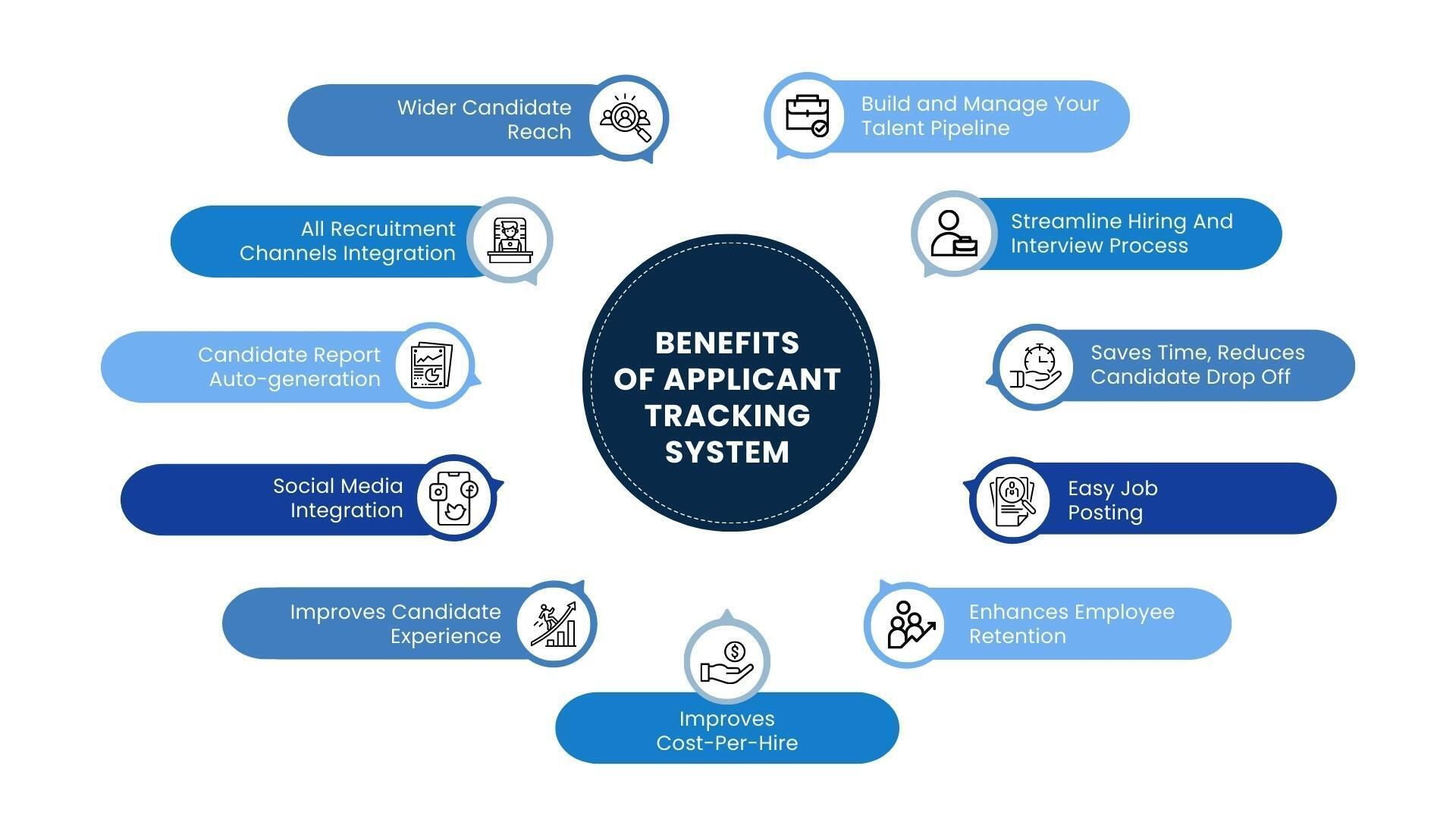 a) Tech Reducing Efforts for Both Applicants and Recruiters
In the outsourcing world, chatbots are mostly known for using AI to provide the first layer of customer support. They're significant at answering basic questions and providing information, following scripts to divert otherwise dreary human interactions.
That same rationale holds true for the recruiting industry: Automation can now take on many of recruiters' manual tasks like sourcing candidates, administering assessments, scheduling interviews, and providing candidate updates. It's an effective way to use AI to make recruiting more accessible for everyone involved- recruiters, candidates, and clients.
b) Tech Backs Employer Branding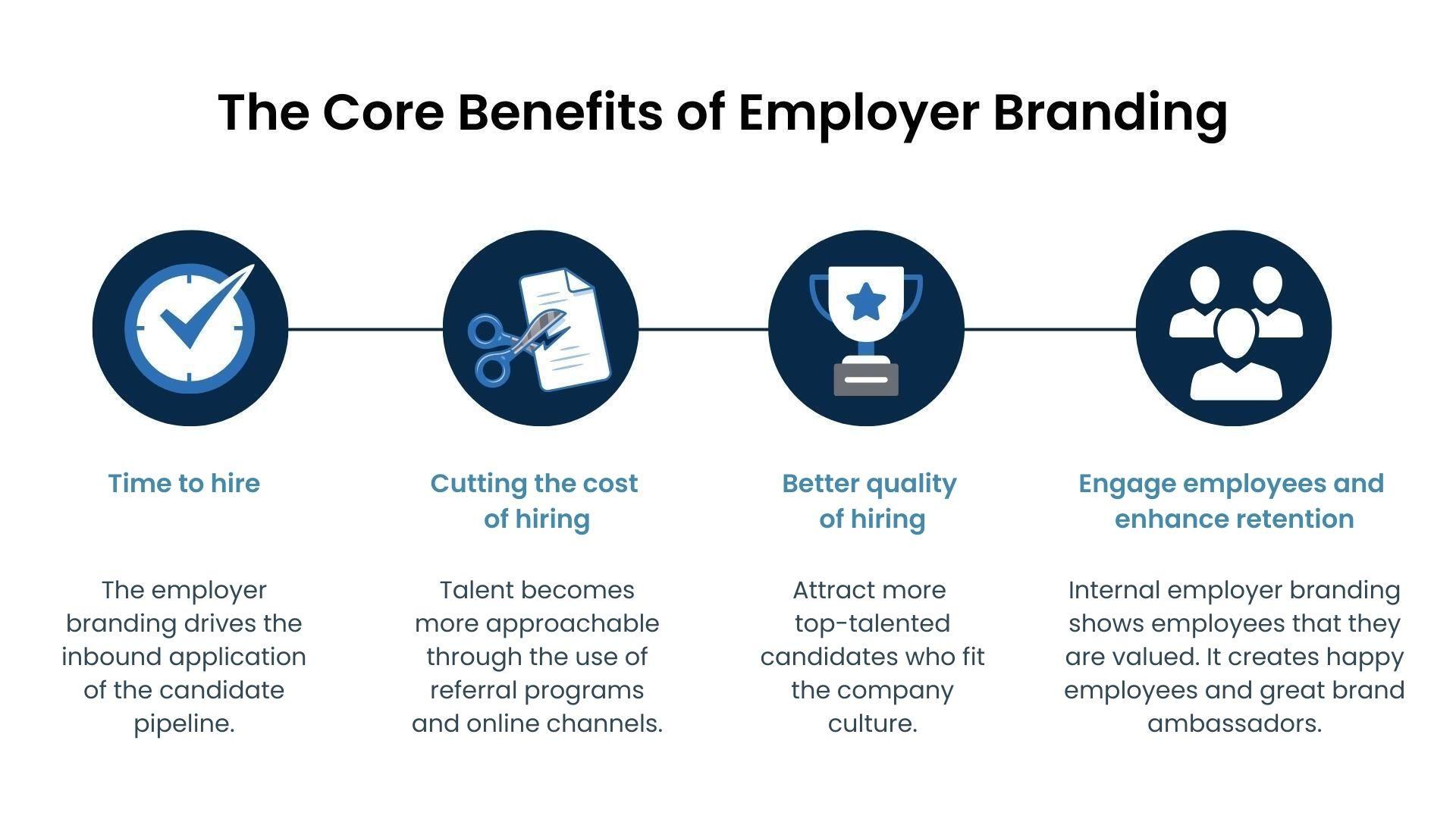 Technology can help support employer branding by providing the tools to connect with candidates and clients and collect their feedback. It can also automate recruitment operations and make it easier for recruiters to build relationships for business growth.
Moreover, social media has become one of the most potent tools in recruiting today. If your business is hiring via a social channel, it's essential to know that your desired applicant pool is filled with active users of the platform. Moreover, if you're a tech-driven company that relies on innovation, you must attract candidates who live and breathe tech.
Even if only a fraction of your applicants are users of a specific network, intelligent, fresh recruitment expertise can build buzz that ends with a higher volume of candidates.
If that volume of candidates covers a large cross-section of the most-fitting candidates who aspire to work for your brand, then chances are high that they will keep engaging for more extended periods, building your top line.
When they don't, the costs can be huge.
c) Tech Partners in RPO (Recruitment Process Outsourcing)
When your company's long-term success depends on sourcing top talent, sometimes it pays to get help from an RPO partner.
The right RPO partner can instigate new technologies and expertise, like hosting and implementing bots and other AI-driven solutions. They can also assist you in accessing new talent markets inland, internationally, and everywhere.
Perhaps the primary ground to partner is strategic. The right RPO partner brings ample experience and competence to act as a strategic consultant to assemble better recruitment and talent-driven strategies to help you meet KPIs through big data and advanced analytical techniques.
Ultimately, it's all about minimizing costs by cutting down the average time to fill while escalating candidate quality and cultural fit, which results in soaring engagement and lower attrition. These results won't ever come from technology alone. Tech tools must always hold up and enhance humans to positively impact the candidate experience or risk harming the employer brand you've worked hard to create.
When you enlist the right partner and implement the most-beneficial tech-driven strategy, you can reap a triple reward: build your employer brand, reduce costs and improve the long-term quality of your workforce. This trifecta can help you take your business to the next level and give you a competitive edge.
Is Tech Helping you Recruit the Right Candidate?
The success of any organization largely hinges on the recruitment team's ability to find the right people for a specific job. However, it's no small feat, with hundreds of applications for each vacancy.
It makes it challenging to find and narrow down the most qualified candidates from the large pool of potential. And with the added obstacles brought by Covid-19, such as personal meetings being off the table except at the offer stage, the recruiting process has become even more daunting.
So, what can be done?
Tech has the answer!
Internet-based recruiting tools have made it easier and more affordable for companies to reach a larger pool of job seekers. It has been a boon for businesses of all sizes, which can now cast a wider net when looking for candidates.
a) Tech to Source Relevant Candidates
Analyzing data to understand which websites and mediums target candidates use is key to ensuring that job postings reach the right people.
By posting in the right places and at the right price, recruiters can save time and resources by fishing in the right pool. It also leads to higher chances of interviewing the right candidates.
b) Unleashing the Power of the Video Interview Platform
An online browser-based platform gives recruiters the ability to create & upload questions targeted at candidates, creating a test link attached to the job vacancy ad.
Interested candidates can access the job ad link on any device to respond to questions in video format. It enables a more efficient recruitment process by allowing recruiters to assess candidates quickly without scheduling in-person interviews.
The video responses to recruitment ads are not only received and stored automatically in real-time on the cloud but they can be accessed and evaluated by recruiters at any time. It allows for a faster recruitment process that is lower in cost while also creating a more convenient hiring experience that meets modern applicants' expectations.
c) Using AI to Assess Competencies
Some online canny tools allow recruiters to create assessment tests without needing to be tech-savvy. They can capture candidate responses and data points and generate real-time analytical reports. It helps to make data-based hiring decisions and brings a bit of science into the art of recruiting.
Around 60 percent of companies across the globe depend on AI-driven technologies to screen resumes.

Source- FreePress Journal
Furthermore, when candidates apply, the platform quickly identifies those with a higher chance of being selected based on past selections by the recruiter. This way, the recruiter can focus on meeting only those candidates who are most likely to be a good fit for the position.
At a later stage, the AI will check within the platform's candidate database for the best-fit candidates for a new job and provide them to the recruiter. It will help speed up the hiring process and allow recruiters to focus on meeting with candidates and closing offers.
Bringing Virtual Reality to Life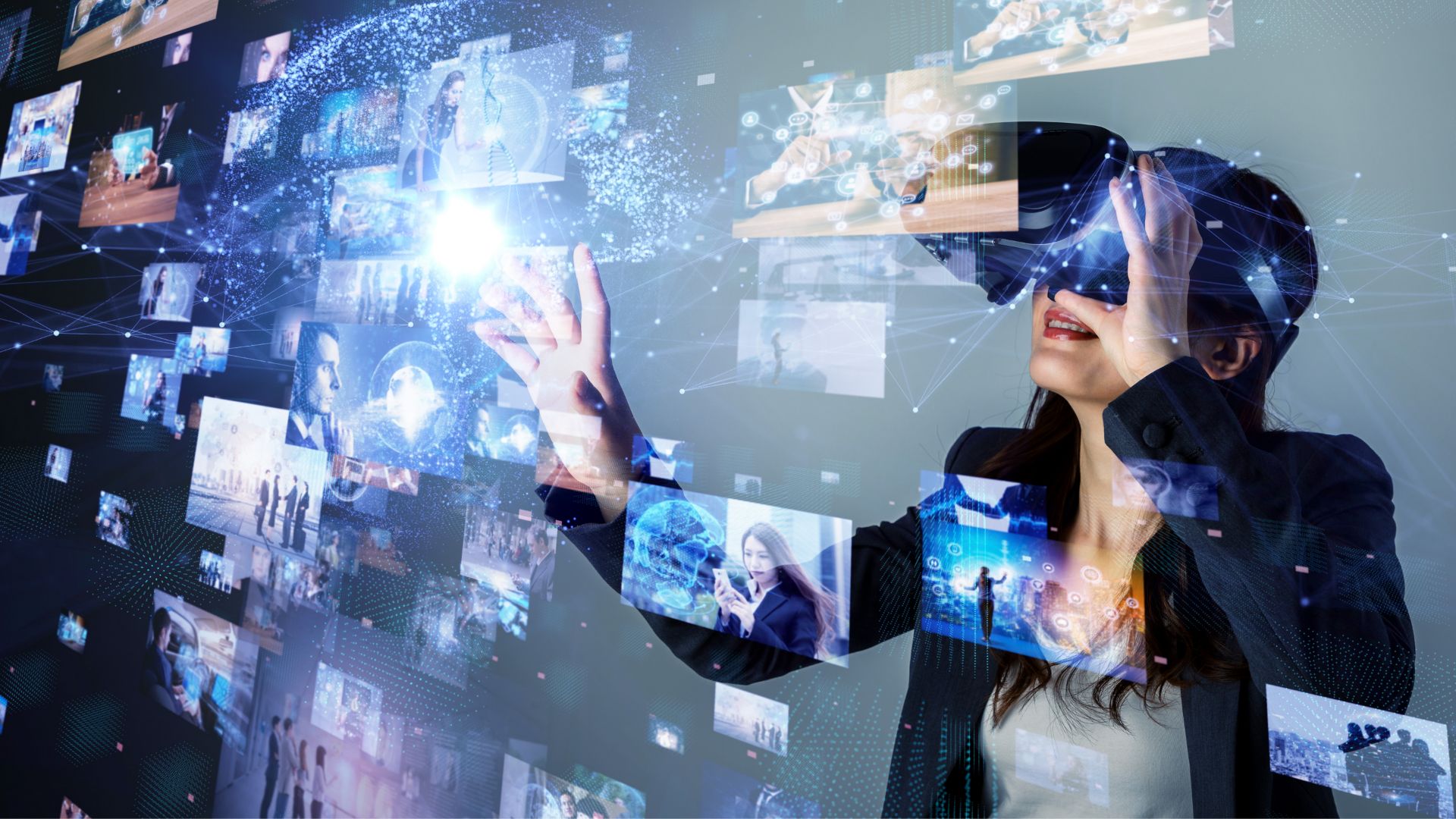 It's no secret that Virtual Reality (VR) is taking over various aspects of recruitment. From sourcing to employee development, VR has the potential to not only improve the candidate experience but also build the employer's brand.
For instance, In recruitment, candidates can put on a headset and get a feel for the company culture before they even step in for an interview. This immersive experience will give them a better idea of whether or not they would be a good fit for the company and leave a lasting impression on the employer's brand.
It's more cost-effective for companies to assess candidates virtually rather than flying them in. While the expense of implementing VR may be relatively high now, it is expected to be used much more frequently. Utilizing VR can help reduce the cost and time for multiple stakeholders.
Analytics Shaping Recruitment
Recruiting and recruitment analytics are vital pieces of the hiring puzzle. Collecting and analyzing data can effortlessly identify suitable candidates for a role. Not only does this save you time and frustration, but it also prevents the costly mistakes bad hires can make.
Recruitment analytics helps organizations locate areas for improvement in the recruitment process by studying past data and patterns and making decisions accordingly.
Organizations that do not have expert analysts often hire data analytics recruitment agencies to handle this task.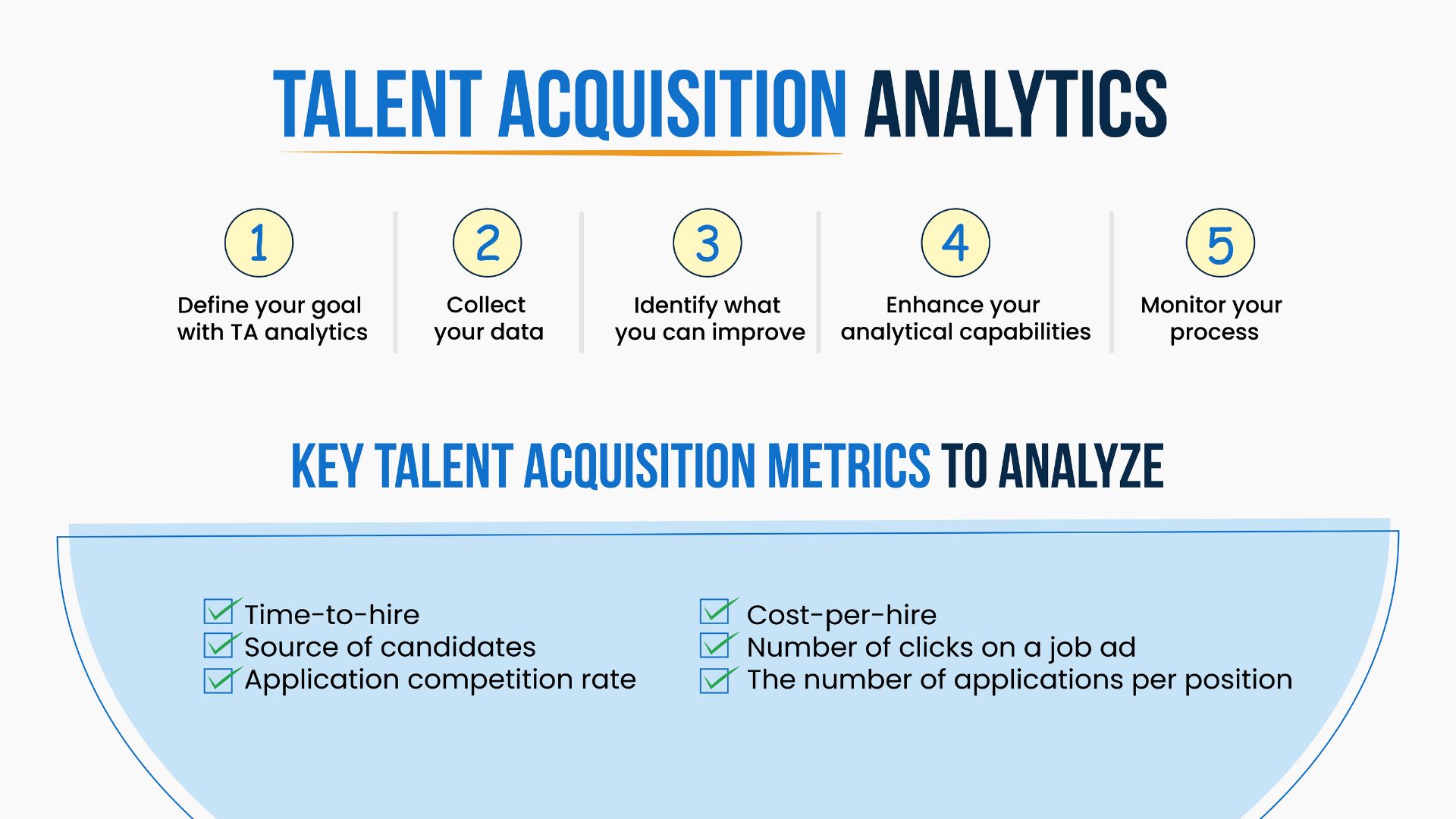 So, what are the recruitment data and their roots?
Data are the numbers and statistics that come from recruiting activities.
It can include everything from the methods used to find candidates and which channels worked best to onboarding practices.
Recruitment data helps organizations understand where their candidates are coming from, what sources and channels are the most effective, and how well onboarding practices work. Data can also be helpful in understanding which types of candidates are most likely to be successful in specific roles.
Such data can mainly be obtained from sources like-
Applicant Tracking Systems (ATS)
Human Resource Information Systems (HRIS)
Satisfaction Survey Forms
Customer Relationship Management Software (CRMS)
Advertising websites to study click-through and conversion rates.
Key Metrics in Recruitment Analytics
These recruitment metrics form the predictive analytics that helps direct recruitment actions.
a) Time-to-Hire
The clock starts ticking when you know an employee is about to leave. Time-to-hire data (how long it takes to hire employees) is a metric that tells you how effective your talent acquisition process is.
According to LinkedIn, the time to hire ranges from a few days to four months, depending on different industries.
b) Cost-Per-Hire
This data helps you understand how much each candidate costs your company. No employee is hired without spending money on recruiting software, advertisements, travel costs, and interviewee accommodations. By looking at this data, you can budget better and take action to keep your employees longer.
c) Source of Candidates
You receive CVs from multiple sources, such as your website, social media, and walk-ins. But how can you figure out which is the best source of hire?
You can know it by learning the source of the candidate's data. It tells you about the most valuable platforms for candidate origin so you can utilize them better and drop the rest.
As per Socialmeep, 89% of recruiters found potential candidates via LinkedIn, surpassing Facebook and Twitter.
d) The Number of Applications Per Position
The number of applications you receive for each job position varies. You might get more applications for one vacancy and fewer for another. This metric can help you improve your job descriptions to get more applicants who are a good fit for the position.
Corporates, on average, receive 250 resumes per job opening.- Glassdoor
e) Number of Clicks on a Job Advertisement
A reasonable click-through rate indicates that your job ad effectively attracts candidates. Therefore, you can create more effective job ads and reach out to more qualified applicants by improving your click-through rate.
f) Application Completion Rate
It shows the completion rate of job applications. If the completion rate is high, that's generally good news. Conversely, a low completion rate means some applicants didn't finish the process, which isn't ideal.
The average application completion rate is 10.6% -Recruiter.com
The application competition rate may drop due to several potential factors, including technical issues, ethical questions, slow loading times, and mobile-unfriendly browsing. By analyzing the metrics, you can identify and fix the problem.
Levels of Recruitment Analytics
The three stages of recruitment analytics allow you to make sense of all the data you've gathered. Operational Reporting creates a basic understanding, Advanced Reporting builds on that to give more insights, and Predictive Analysis allows you to make predictions about future events.
Stage 1: Operational Reporting
The recruitment matrix, such as time-to-hire, cost-per-hire, source of candidates, etc., comes in handy here. The data for these matrices comes from recruitment analytics software like Applicant Tracking System(ATS).
ATS is an excellent tool for hiring, interviewing, managing candidates, and fetching and analyzing recruitment data.

Try Recruit CRM's ATS for FREE!
Book a Demo
(Trusted by Recruiters in 80+ countries)
Operational reporting helps you get a basic understanding and the grounds where your business stands in the recruitment world.
Stage 2: Advanced Reporting
At this level, you dig to get the data you need. It may involve looking at multiple sources, such as cost-per-hire and expensive hiring.
Studying different data sources, you can better understand the situation and make more informed decisions. In addition, it will help reduce the risk of making errors.
Stage 3: Predictive Analytics
Predictive analysis is a bit like a crystal ball for recruiters. By understanding past candidate behavior and data trends, hiring managers can better understand what might be required in the future and plan their hiring and onboarding roadmap accordingly.
Advantages of Technology in Recruitment
Compared with traditional recruitment, "94% of recruiters and hiring professionals say that using a recruitment software has positively impacted their hiring process". 
Technology has been a total game-changer. With the advent of ATS, social media, and remote proctoring solutions, employers can get back to job seekers much faster. In addition, it helps to create a better overall experience for everyone involved in the hiring process.
Here's how technology helps recruiters stand out.
a) Better Relations with Candidates and Clients
With technology automating day-to-day recruitment operations like sourcing, scheduling, filtering, messaging, emailing, and more, recruiters can now focus on what technology can not deliver to the fullest, building stronger relationships and delivering an unparalleled experience to clients and customers.
b) Better and Strategic Hiring Decisions
When you create a concise job description, you automatically eliminate those random applicants who apply to any job they find little relevance, minimizing the risk of underqualified hiring.
Moreover, with tech assisting you with filtering and categorizing CVs as per their fundamental skills & experience and AI suggesting candidates on a recruitment analytics basis, it becomes easier for a recruiter to locate the most suitable talent, saving them from weak candidate interactions.
c) Improves Talent Perception of the Organization
Technology can make organizations appear innovative and at the forefront – often attractive to top talents. In addition, a recruitment process that is speedy, merit-based, and inclusive of candidates at every stage is more likely to result in these individuals wanting to go through with the process.
Moreover, technology improved the ability to diversity hiring and made the process more efficient as a whole.
Technology Trends Shaping Recruitment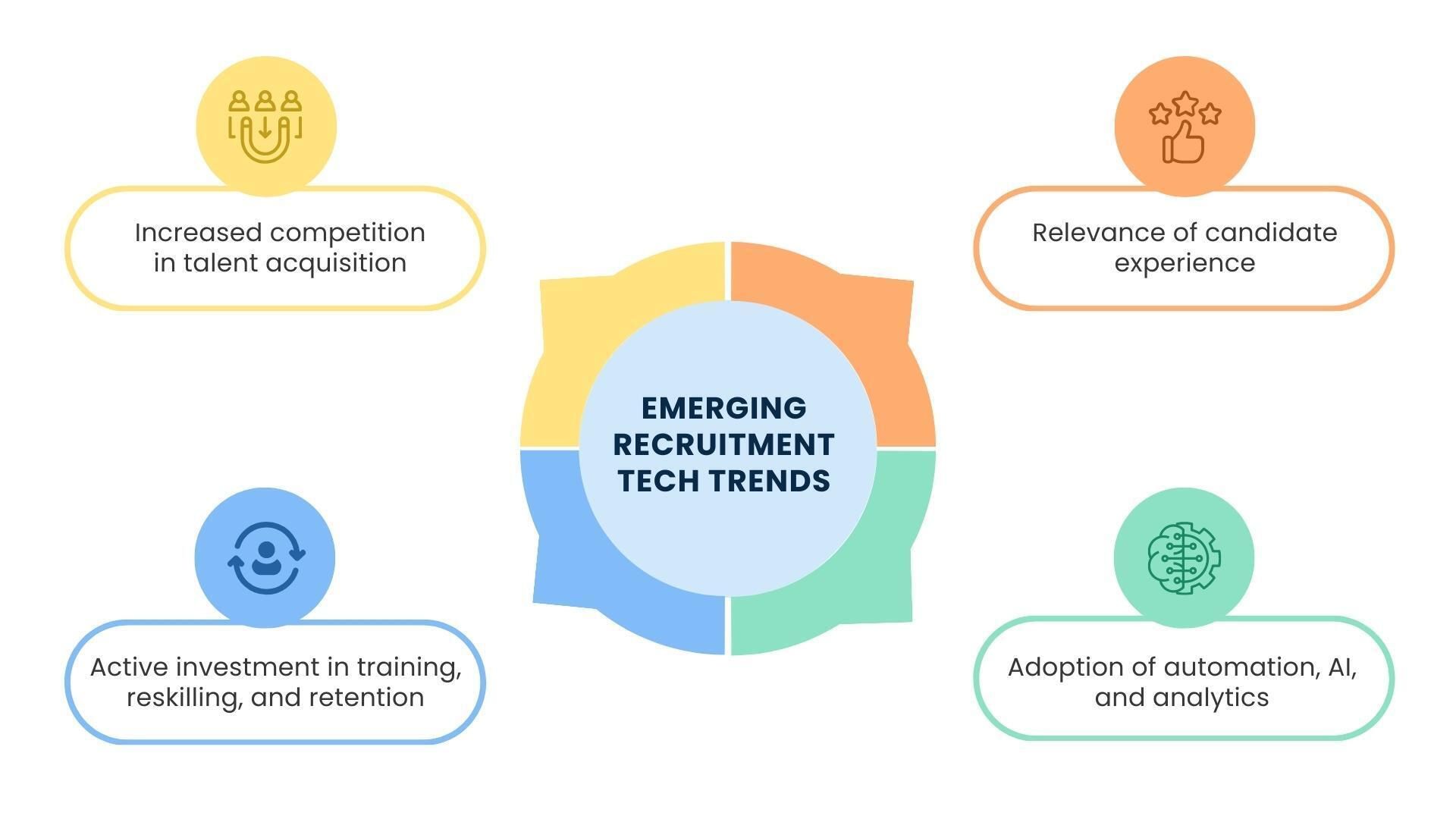 Here are the top technological trends (apart from the ones discussed above, like- Recruitment Analytics) you should know to stay forward in the recruitment game.
a) Job Aggregators 
Acting as a search engine for job hunters, job-boarding sites like Indeed.com, ZipRecruiter, and Glassdoor rely on AI and proprietary algorithms to connect applicants with jobs that suit their skills, experience, and needs.
Though they have been used for years, these sites are only becoming more popular as big data enables more relevant job matches for applicants.
b) 'Gig' Apps
Several recent surveys by the Freelancers' Union and MBO Partners show that the number of working professionals engaging in freelance or gig work falls between 25 to 30% of all workers. This number is notoriously difficult to calculate, as the gig economy encompasses many work arrangements.
However, the surveys suggest that gig work is increasingly essential in the U.S. economy as the on-demand jobs would likely grow from 3.6 million in 2016 to 9.21 million by 2022.
The surge in the number is due to the proliferation of mobile applications and marketplaces like Upwork, Fiverr, Uber, and Thumbtack, making it easier than ever for businesses to find on-demand workers.
If you own the right kind of business and are looking for the right kind of workers, these apps and services can be an affordable and practical way to find employees.
c) Recruitment Marketing Software
In today's job market, the applicant has more power and control, not the employer. It's because there are more candidates on the market than employers.
Based on the report by MRINetwork, more than 90% of the job market is candidate, not employer-driven. Because of this power shift, applicants now have the confidence to reject an offer if they deem it undesirable. They also can avoid applying to jobs not marketed well to them.
Therefore, employers are employing recruitment marketing software to enhance the probability of qualified candidates sourcing and applying for suitable jobs.
Automated recruitment software takes the burden off of recruiting teams by automating the process of posting and distributing job openings. The software is also equipped with modern tools to help optimize postings for how job seekers are most likely to find them. It saves time for the recruitment team and improves the chances that the right candidates see the opening.
d) Applicant Tracking Systems (ATS)
An Applicant tracking system (ATS) is indispensable for a business adopting digital recruiting.
An ATS is a recruiter's software that manages applications, replacing traditional pen-and-paper applications. It is a repository for all applications, allowing hiring professionals to go digital.
ATS software automates several steps in the application process, giving hiring professionals more time to focus on essential tasks like reviewing applicants.
Stephen Rando, lecturer & manager of TA at Northeastern, said, "By reducing friction at various stages of the application process, an ATS can make it easier for a potential candidate to apply to a job and accept an offer. It can also increase retention and streamline the onboarding process for new employees."
e) Recruitment CRMs
Recruitment Candidate Relationship Management Systems, called CRMs, are integral to modern recruitment. Many times, recruitment CRM systems are spoken about alongside Applicant Tracking Systems.
Though they may share some features, recruitment CRMs differ significantly from the typical ATS. While an ATS monitors and manages the application process, recruitment CRMs operate as an ecosystem where information about applicants (past and present, active and passive) resides.
When a job vacancy needs to be filled, a hiring professional can turn to the records within the recruitment CRM to proactively seek an individual who might be able to fit the role. The result enables the recruiter to become less reactive, more proactive, and better able to act as a strategic partner next to other departments within an organization.
Recruitment Technology Falling Short Here!
"What makes recruitment more exciting? Technology.
What doesn't? The lack of it."
As great as technology is, it isn't exempt from faltering! Although technology has revolutionized recruitment and selection processes, some gaps must be addressed to harness its benefits fully.
a) May Instigate Technical Difficulties
Some resumes may not be compatible with recruiting software based on formatting, which can disqualify quality candidates or change the recruiter's perception of them without the recruiter's awareness.
It's essential to have a way to double-check the software occasionally to ensure that technical issues don't interfere with hiring if they happen to pop up.
While recruiting software can be a valuable asset during the hiring process, it's important to remember that it shouldn't be used as a crutch or to make final decisions. Relying too heavily on recruitment technology can lead to negative consequences, so using it wisely and sparingly is crucial.
Keeping this in mind, you can utilize recruitment technology to your benefit without suffering any drawbacks.
b) May Perpetuate Unconscious Biases
Some companies have found that their recruiting software may be inadvertently biased against female applicants.
Amazon's recruitment software tool was found to filter to favor keywords predominantly used by male applicants, making it more difficult for female applicants to be selected. Since recruiting software tools are set by humans, the technology can exaggerate biases.
c) Could Filter Out Good Candidates
Since recruiting software relies on predetermined rules, unconventional thinkers may be screened out early in the hiring process for reasons unrelated to their skills or qualifications. You might be passing up on potential candidates that could excel in your company simply because they don't have the right certifications or enough experience compared to others.
In other words, you might be missing out on potential top talent because of an over-reliance on recruiting software that can't always pick up on the nuances of a person's qualifications.
By not investing in advanced recruiting software, you risk losing your competitive advantage to those who have. It is because your competitor's software works similarly and can perform the same tasks as yours.
d) Impersonal Communication
Technology is making it possible for both candidates and recruiters to go through the complete recruitment process without needing to meet in person. While it is convenient for both parties and does save time, it also makes candidates feel cut off from the process.
One way to make candidates feel more engaged is to schedule regular check-ins so they know that there is a real person on the other end who is interested in their journey through the recruitment process.
Moreover, recruiters can implement physical testing into the recruitment process, especially for final interviews.
Tech in the recruitment world is making all the difference!
Recruitment technology has largely impacted the recruitment day-to-day operations. Many businesses are incorporating technologies to do routine transactional tasks like hunting candidates, parsing resumes, scheduling interviews, communicating with candidates and clients, and more, leaving skilled and experienced recruiters to do more important and creative things like building relationships and creating an employer brand.
It is obvious that the benefits of technology in recruitment and selection outweigh the cost. Therefore, organizations must incorporate recruitment software in their hiring to ensure a better recruiting experience for both organizations and candidates while still minding the gaps.