In the dynamic world of recruitment, having the right software at your disposal can be a game-changer. 
It's like having a seasoned team member who never sleeps, continuously works to make your processes more efficient, and ultimately, helps you secure top-tier talent. 
But with a multitude of options available, how do you pick the one that perfectly aligns with your needs? 
To help you out, we've put together an in-depth review of the 10 best CRM software for recruitment companies. Keep reading.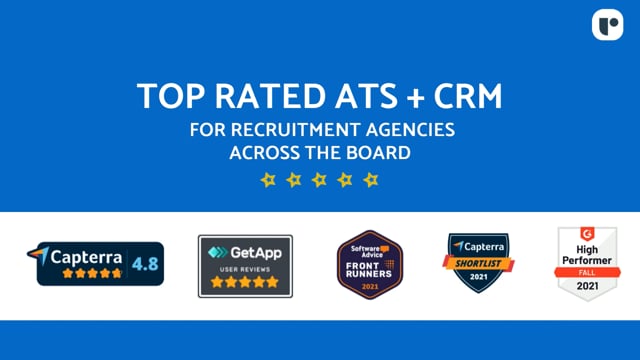 Recruit CRM is the top ATS + CRM choice for recruitment agencies across 100+ countries because of its intuitiveness. 
Being one of the highest-rated applicant tracking systems in the market, Recruit CRM is easy to use and provides stellar customer service. 
Its strength lies in its simplicity and user-friendly interface, making it one of the best hiring platforms that don't compromise on comprehensive functionality.
Top features:
Chrome sourcing extension

AI resume parser

Bulk emailing capabilities

Reporting and analytics

100% customizable

5000+ integrations

Advanced search

Kanban view

Executive search report

Job board posting
Pricing:
Recruit CRM provides a simple and transparent pricing plan. The best part is that you can opt for an unlimited free trial period by signing up here.
Here are the plans- Pro, Business, and Enterprise.
To learn more about the pricing, hit this link. And if you wish to learn more about this recruiting software, you can book a demo using this link. 
Capterra rating: 4.9/5
Zoho Recruit offers a robust suite of tools that streamline the hiring process for agencies in numerous countries.
With high ratings for its comprehensive suite of features and customizable options, Zoho Recruit is appreciated for its user-friendly interface and dedicated customer support.
Top features:
Automated job board posting

Resume parsing

Advanced applicant tracking system

Extensive customization options

Integrated communication tools

Advanced analytics and reporting

Workflow automation
Pricing:
Zoho Recruit offers several pricing plans to accommodate businesses of all sizes: standard, professional, and enterprise.
Capterra rating: 4.4/5
Salesforce, a renowned name in the CRM industry, has extended its advanced solutions to recruitment, providing powerful tools to manage and streamline recruitment workflows.
While the platform is known for its integrations and scalability, yet it is more suitable for large and growing businesses, given its higher cost.
Top features:
Job posting and management

Candidate tracking and management

Advanced analytics

Customizable recruitment workflows

Extensive third-party integrations

Robust cloud platform
Pricing:
Salesforce offers various pricing plans, typically essentials, professional, enterprise, and unlimited.
Capterra rating: 4.4/5
Hubspot CRM, while not strictly a hiring software, offers a range of features that can significantly aid recruitment agencies in managing their workflows.
Hubspot CRM is a cost-effective solution for recruitment companies looking to streamline their processes.The CRM is easy to use and has multiple integrations available with other apps. 
Top features:
Email tracking

Meeting scheduling

Live chat

Deal and task tracking

Contact management

Free to use
Pricing:
Hubspot CRM offers a free plan with optional paid add-ons and features. They also have starter, professional, and enterprise plans.
Capterra rating: 4.5/5
Tracker RMS offers a versatile platform designed specifically for recruitment, staffing, and sourcing professionals worldwide.
Its seamless user interface and feature-rich platform are what users like the most. In addition, Tracker RMS provides great customer support and regular software updates.
Top features:
Candidate tracking

Job order management

Resume parsing

Interview scheduling

Advanced search

Customizable reports
Pricing:
Tracker RMS offers various pricing plans based on the size and needs of your business.
Capterra rating: 4.6/5
JobDiva is a leader in talent acquisition and applicant tracking technology, delivering AI-powered SaaS solutions to the staffing and recruitment industry.
With a substantial user base in the United States, JobDiva serves a diverse range of clients, including small to large-sized agencies and enterprises.
Top features:
Applicant tracking

Onboarding tools

Vendor Management System (VMS) integration

Robust search capabilities

Customizable workflows

Comprehensive reporting and analytics
Pricing:
JobDiva offers custom pricing based on the specific needs and size of your business.
Capterra rating: 4.4/5
PCRecruiter serves as a comprehensive solution for recruitment, HR sourcing, RPO, and staffing software needs and is used by thousands of recruiters worldwide.
Its CRM system is valued for its powerful search capabilities and customization options.
Top features:
Robust search capabilities

Flexible workflow design

Strong integration options

Customizable fields and forms

Comprehensive recruitment analytics

Mobile app for on-the-go access
Pricing:
PCRecruiter offers flexible pricing plans based on the needs of your business.
Capterra rating: 4.3/5
Crelate is a modern, fast, full-featured applicant tracking and talent relationship management solution built specifically for retained search, executive search, and professional corporate recruiters.
Top features:
Sales and recruitment tools

Relationship tracking

Email integration

Task automation

Mobile recruiting

Customizable recruiting workflows
Pricing:
Crelate offers several pricing plans that cater to businesses of various sizes. To know more, you will have to get in touch with their team by booking a call. 
Capterra rating: 4.5/5
iSmartRecruit is a highly scalable and customizable ATS platform, designed with the goal of creating an organized recruitment process.
Its automation features are loved the most by customers. iSmartRecruit is also known for its multilingual support.
Top features:
Intuitive dashboard

Comprehensive Applicant Tracking System (ATS)

Multilingual support

Automation capabilities

Social media integration

Customizable workflows
Pricing:
iSmartRecruit doesn't offer a standard pricing plan but a range of flexible ones to suit different business needs.
Capterra rating: 4.6/5
Vincere is a comprehensive platform catering to recruitment and staffing agencies on a global scale. 
It provides a wide range of features specifically crafted to optimize recruitment processes and boost productivity.
Top features:
Comprehensive recruitment tools

Applicant Tracking System (ATS)

Job posting capabilities

Advanced analytics

Easy integrations

Customizable workflows
Pricing:
Vincere offers several pricing plans to cater to different business sizes and needs.
Capterra rating: 4.8/5
Frequently asked questions
1. What are the main features to look for in while choosing the best CRM software for recruitment companies?
When evaluating CRM software for recruitment companies, consider the following main features:
Applicant tracking system (ATS):

A comprehensive

ATS system

helps manage candidates, job postings, and applications efficiently.

Resume parsing:

This feature extracts relevant information from

resumes

, reducing manual efforts and increasing accuracy.

Customization:

A customizable platform allows you to tailor the software to your recruitment workflow and needs.

Integrations:

Seamless integration with your existing tools, such as email clients, social media platforms, and job boards, enhances the overall efficiency of the software.

Advanced search:

Powerful search capabilities enable you to quickly find relevant candidates and information.

Reporting and analytics:

Data-driven insights into your recruitment process help you make informed decisions and improve your strategies.

Bulk emailing:

This feature saves time by enabling mass communication with candidates and clients.

Security and privacy:

Ensure the CRM software complies with relevant data protection regulations and maintains high standards of data security.
2. How can a CRM software improve the efficiency of my recruitment process?
CRM software can enhance your recruitment process in several ways:
Streamlining workflows:

It organizes and automates various stages of the recruitment process, reducing manual efforts and saving time.

Centralized database:

CRM software consolidates all candidate, client, and job information in one place, making it easily accessible and manageable.

Improved communication:

Integrated communication tools help maintain consistent, timely interactions with candidates and clients.

Data-driven decision-making:

Advanced

reporting and analytics

provide insights into your recruitment process, enabling you to make informed decisions and optimize your strategies.

Enhanced candidate experience:

By automating and organizing tasks, CRM software ensures a smooth and professional experience for candidates throughout the hiring process.
3. Are there free trials available for these recruitment CRM software?
Many CRM software providers offer free trials, giving you the opportunity to test the platform and its features before making a commitment. 
For example, Recruit CRM provides an unlimited free trial period, allowing you to fully explore its capabilities. 
Other software on the list may also offer trial periods, so it's advisable to visit their respective websites for details.
4. How do these CRM software software for recruitment companies handle data security and privacy?
Data security and privacy are critical concerns for recruitment companies. 
CRM software providers typically implement various measures to ensure compliance with data protection regulations, such as GDPR, and maintain high standards of data security. 
These measures may include:
Encryption of data both in transit and at rest

Regular security audits and vulnerability assessments

Compliance with relevant data protection standards and certifications

Access controls and user authentication

Backup and disaster recovery plans
To gain a better understanding of a specific CRM software's data security practices, review their privacy policy or consult their customer support team.