Sourcing and recruiting the perfect talent can easily burn a hole in your pocket, thanks to the increasing cost-per-hire at every step of the process. 
Costs associated with advertising, onboarding, and staffing, besides investing in a good software, can sum up way beyond your anticipated budget.
So today, we're looking at some proven ways to not only reduce your recruitment costs but also make it more efficient and boost hire quality.
5 practical approaches to minimizing recruitment costs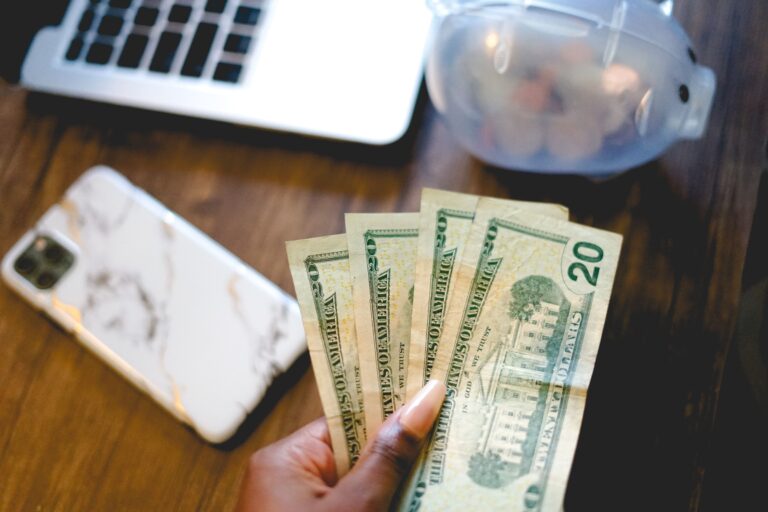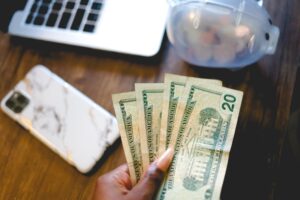 One prudent way to control recruitment costs is by auditing your hiring process in order to identify opportunities you might be overlooking all this time. Some of the potential cracks could be the lack of judicious use of internal referrals or social media platforms. 
That said, let's take a deep dive into five practical ways to minimize recruitment costs in no time.
1. Encourage employee referral programs
One of the most cost-effective cheat codes for finding qualified candidates is through the involvement of a company's existing workforce. It also pays off in the long run, as referred hires are more likely to last longer in an organization.
Implementing employee referral programs can incentivize your current employees to refer top talent from their networks. This not only saves time but also ensures a higher chance of finding candidates who align with the company culture. 
When running referral programs, be sure to provide information about the types of positions eligible for referrals. This helps employees know what to prioritize when recommending potential hires.
You should also enlighten your employees about the referral process and any incentives or rewards offered for the successful placement of their contacts. Meaningful incentives like cash bonuses, gift cards, and extra vacation days are more likely to encourage participation.
Social media and online job boards offer vast exposure to a wide pool of potential candidates. By utilizing these platforms backed by conscious recruitment marketing efforts, your open position can easily reach your target audience and kindle conversions.
These platforms allow you to connect with the ideal prospect without incurring the expenses associated with traditional advertising methods. 
Even when you run ads, you can easily configure your job ad to reach your ideal candidates only. Typically, this happens when you highlight key attributes like age, gender, location, and so on when setting up your ad.
Post your job openings on popular job boards like Indeed, ZipRecruiter, or Monster. Be sure to use well-detailed job descriptions and communicate the must-have qualifications clearly, including the skill sets and tools they must be proficient with. 
Also, leverage social media channels like Instagram, Twitter, or LinkedIn to promote the company's culture, values, and job opportunities. It helps attract passive candidates who may not be actively searching for jobs but could be enticed by the organization's compelling employer brand.
Here's an example of Slack using Twitter to inform potential candidates that they were hiring: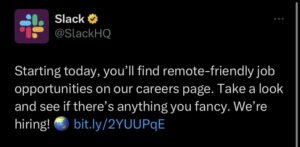 With social media, you want to ensure that you're using platforms that are relevant to your industry and target audience. In order to find out where your ideal candidates hang out, consider conducting detailed research on platforms used by professionals in your field. 
For instance, you're more likely to find professionals like graphic designers or UI/UX designers on visual platforms like Instagram because it allows them to share their work with ease. 
Of course, LinkedIn still remains the go-to platform for a broad pool of candidates because it tends to attract job seekers across multiple industries.
3. Use an applicant tracking system (ATS)
94% of hiring professionals using ATS vouch for its efficiency in enhancing and streamlining the recruitment process, hence reducing the overall cost incurred. 
A power-packed applicant tracking system like Recruit CRM can be your go-to solution for automating administrative tasks, such as resume screening, candidate communication, etc. Leveraging this tool at its best allows your hiring team to focus more on building meaningful relationships.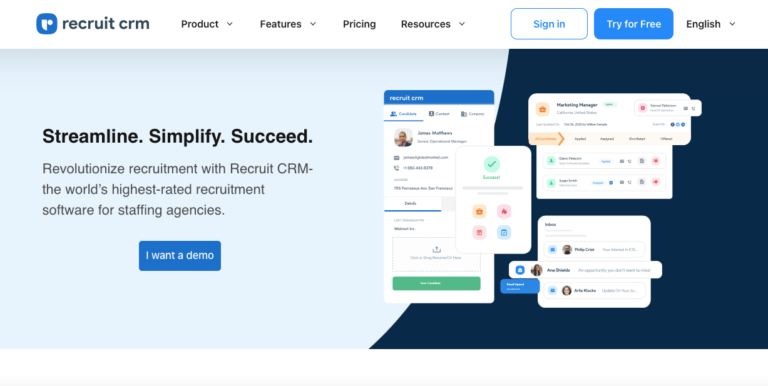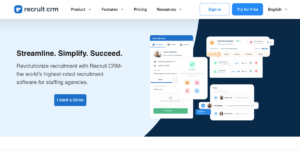 Also, by pre-qualifying applicants using an ATS, you can sift through hundreds of resumes with ease and handpick the most qualified candidates from the crowd to proceed with. 
4. Develop internship programs
Internship programs are not only an excellent way to nurture future talent but also an effective cost-saving strategy. 
Offering internship opportunities allows you to tap into a pipeline of enthusiastic individuals seeking professional development opportunities. 
One crucial thing to take note of is that interns are also subject to the Fair Labor Standards Act (FLSA) and should not be paid below minimum wage. [Refer to this FLSA fact sheet from the U.S. Department of Labor for more details.]
The most essential feature of internship programs is the scope to evaluate candidates' performance and potentially convert them into long-term hires, reducing the hiring cost by a significant extent.
5. Conduct video interviews and remote assessments
Traditional in-person interviews can be extremely time-consuming and costly, especially if candidates need to travel for the interview process. 
Opting for video interviews and remote candidate assessments, on the other hand, can help you save some hours and resources alike. This creates room for you to break down distance barriers and accommodate individuals from anywhere across the world. 
Social platforms like LinkedIn allow you to collect pre-recorded video interviews with applicants. All you need to do is set up questions that the interviewee will answer. 
For group interview sessions, tools like Zoom and Google Meet are the best available choices. Needless to mention, you'll still need to inform candidates about your expectations prior to the interview.
Survey Monkey and JotForm are some industry-prevalent platforms for remote assessments that are definitely worth a shot for an elevated candidate experience. The process is also quite flexible and can further showcase your organization's commitment to innovation.
Here's a pro tip: You can use generative AI tools like Writer to come up with well-optimized assessment questions that'll help you get important information about your candidate's proficiency. Have a look at this example: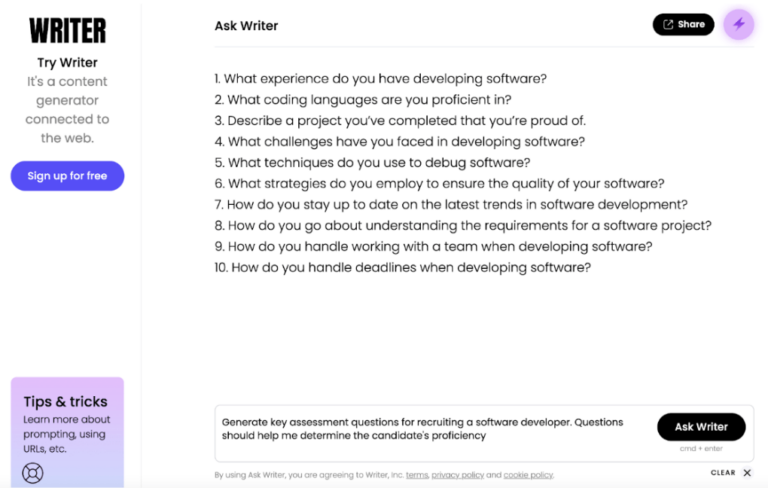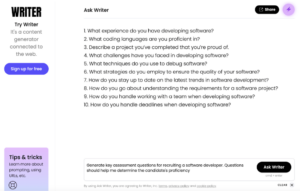 Of course, when prompting these tools, you should be very specific so you can get more relevant results. Generative AI tools can also help with other aspects of your recruitment cycle, like crafting job vacancies or documenting your hiring requirements.
Reducing recruitment costs not only positively impacts your bottom line but also contributes to a streamlined hiring process and an improved candidate experience. 
By implementing these cost-cutting strategies, you can create a streamlined and efficient recruitment process that attracts and retains top talent while maximizing your budget. Good luck!
Frequently asked questions
1. Can I save money by using online job boards?
Yes, online job boards are an efficient way to reach a broad audience. By posting vacancies on these platforms, you can attract a diverse pool of candidates without the high costs associated with traditional advertising methods.
2. How can employee referrals help in cutting costs?
Employee referrals can significantly reduce recruitment costs by encouraging employees to refer qualified candidates from their professional networks. This often leads to faster hiring of candidates who are a good fit for the company culture, all at a reduced cost.
3. Is investing in an applicant tracking system (ATS) worth it?
Investing in an ATS can be a valuable investment for many businesses. It automates many recruitment tasks, allowing for a more streamlined and efficient process. It can help reduce manual work besides saving both time and money. 
4. How does focusing on retention reduce recruitment costs?
Focusing on employee retention can have a direct impact on recruitment costs. Emphasizing factors like employee satisfaction, development, and engagement can significantly reduce turnover rates. This leads to fewer resources spent recruiting new staff, as well as the added benefit of maintaining a cohesive and experienced team.
Author bio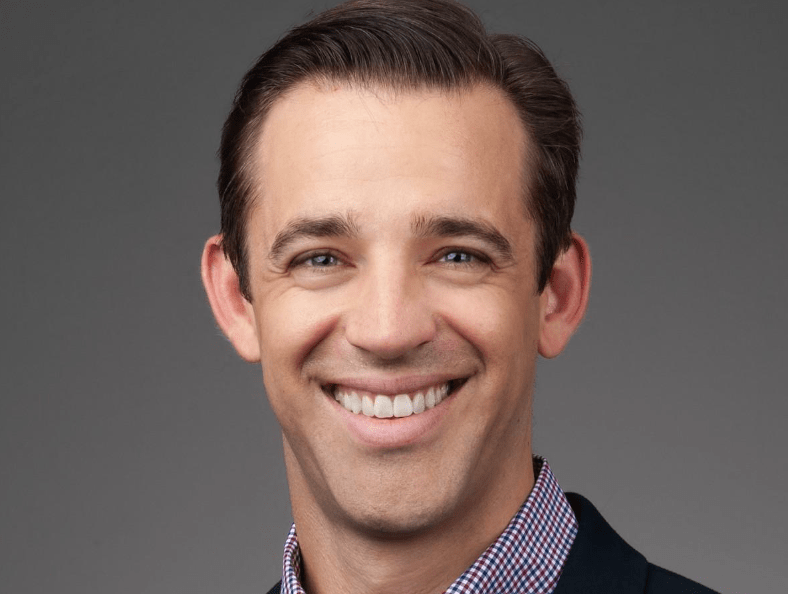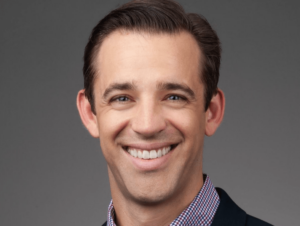 Austin Andrukaitis is the CEO of ChamberofCommerce.com. He's an experienced digital marketing strategist with many years of experience in creating successful online campaigns. Austin's approach to developing, optimizing, and delivering web-based technologies has helped businesses achieve higher profit, enhance productivity, and position organizations for accelerated sustained growth.