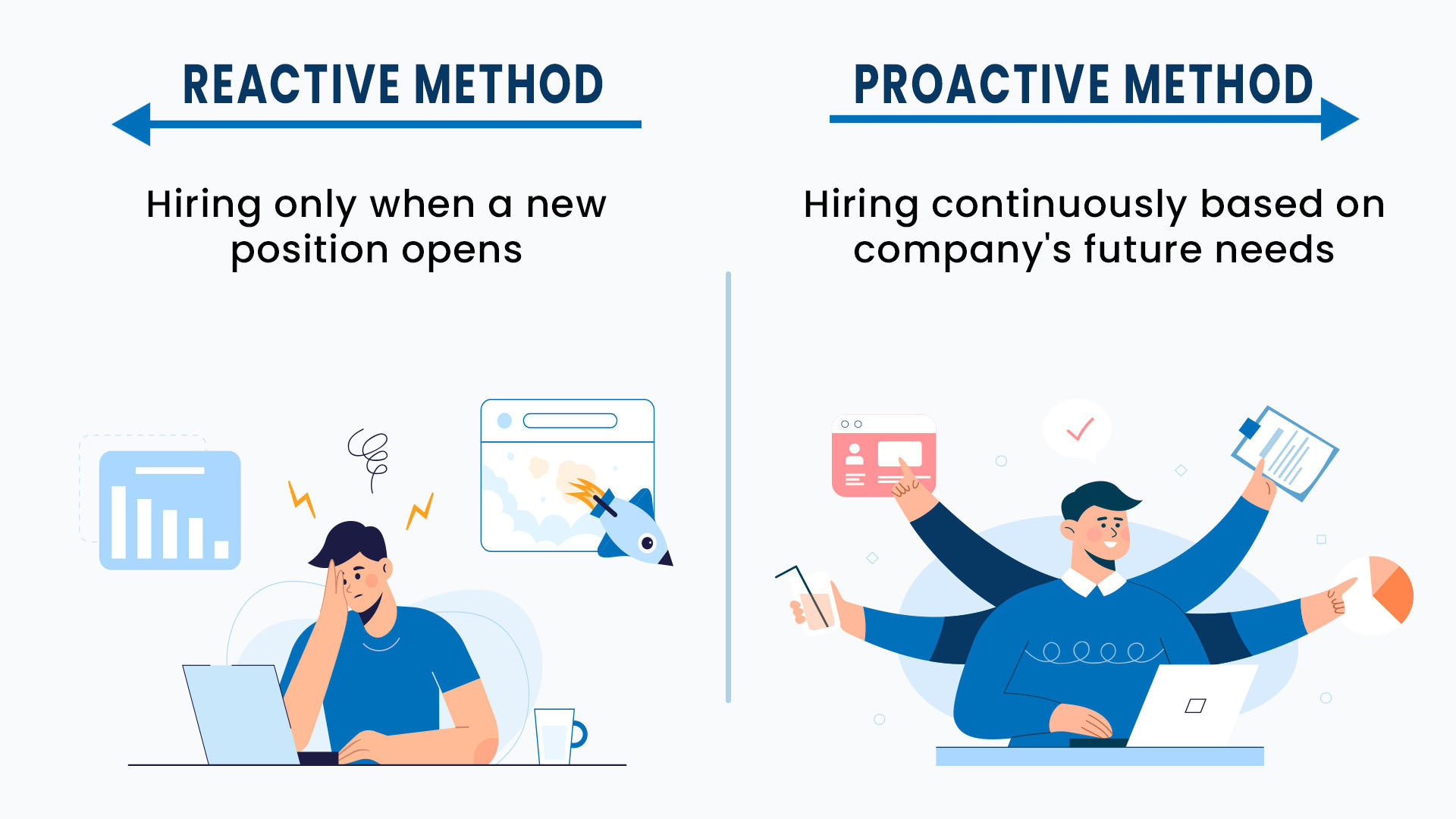 Did you know that by 2030, the global talent shortage will likely be more than 85 million people, resulting in about $8.5 trillion in unrealized annual revenue? 
With this raging talent war ensuing, affecting almost every industry, we won't be surprised if these statistics come true way before it was predicted, causing recruiters to continue scrambling to acquire the best talents for their clients. 
Mind that publishing a job advertisement on random hiring platforms and sitting with your fingers crossed isn't a good strategy anymore. The same goes for filling the company's skills gap after the situation becomes critical. 
Recruiters must be prepared in advance rather than at the job market's mercy. 
And how can they do so? By employing proactive recruiting strategies. 
Let's take a closer look at this term and understand how it can be a perfect doorway for your staffing agency to efficiently attract and retain top talent. 
What is Proactive Recruiting?
"Proactive Recruiting= Staying a Step Ahead of the Hiring Demands"
It is a talent acquisition strategy that involves identifying and engaging with potential candidates before an immediate job opening or a pressing need for a new hire.
Or in better words, proactive recruiting means "always hiring," so whenever a vacancy arises, you already have a high-quality candidate ready to fill in. 
"91% of talent professionals believe that people always keep an eye on the job market." 

Source- Indeed
HR professionals believe that people will always seek new and better job opportunities despite the low employment rate. Employing proactive recruiting strategies is the best way to attract these people. 
Much like any form of marketing, proactive recruitment follows a funnel-style design:
Phase 1: Find
The first step is to build an ideal "candidate persona" to identify the specific skills, experience, and characteristics to look for in potential candidates. Recruiters may use various methods to do so, such as online research, referrals, networking, data analysis, etc.
Phase 2: Engage
The next step is to reach out to potential candidates and introduce them to the company's culture, values, and career opportunities. This stage may involve sending personalized emails, calls, or messages on social media platforms.
Phase 3: Nurture
Recruiters aim to build long-term relationships with potential candidates, even if there are no immediate job openings. This involves regular communication, offering career advice, and providing opportunities to attend events, webinars, or other initiatives.
Phase 4: Track 
Hiring teams typically use applicant tracking systems (ATS) or candidate relationship management (CRM) software to keep track of potential candidates and their interests, so they can be easily accessed when relevant job openings arise.
Phase 5: Convert
If the candidates' profiles match current job requirements, they are automatically informed about the vacant position. With good recruiting software at their disposal, recruiters ensure that each candidate is active in their communication loop throughout their hiring journey.
Why Shift from Reactive to Proactive Recruiting?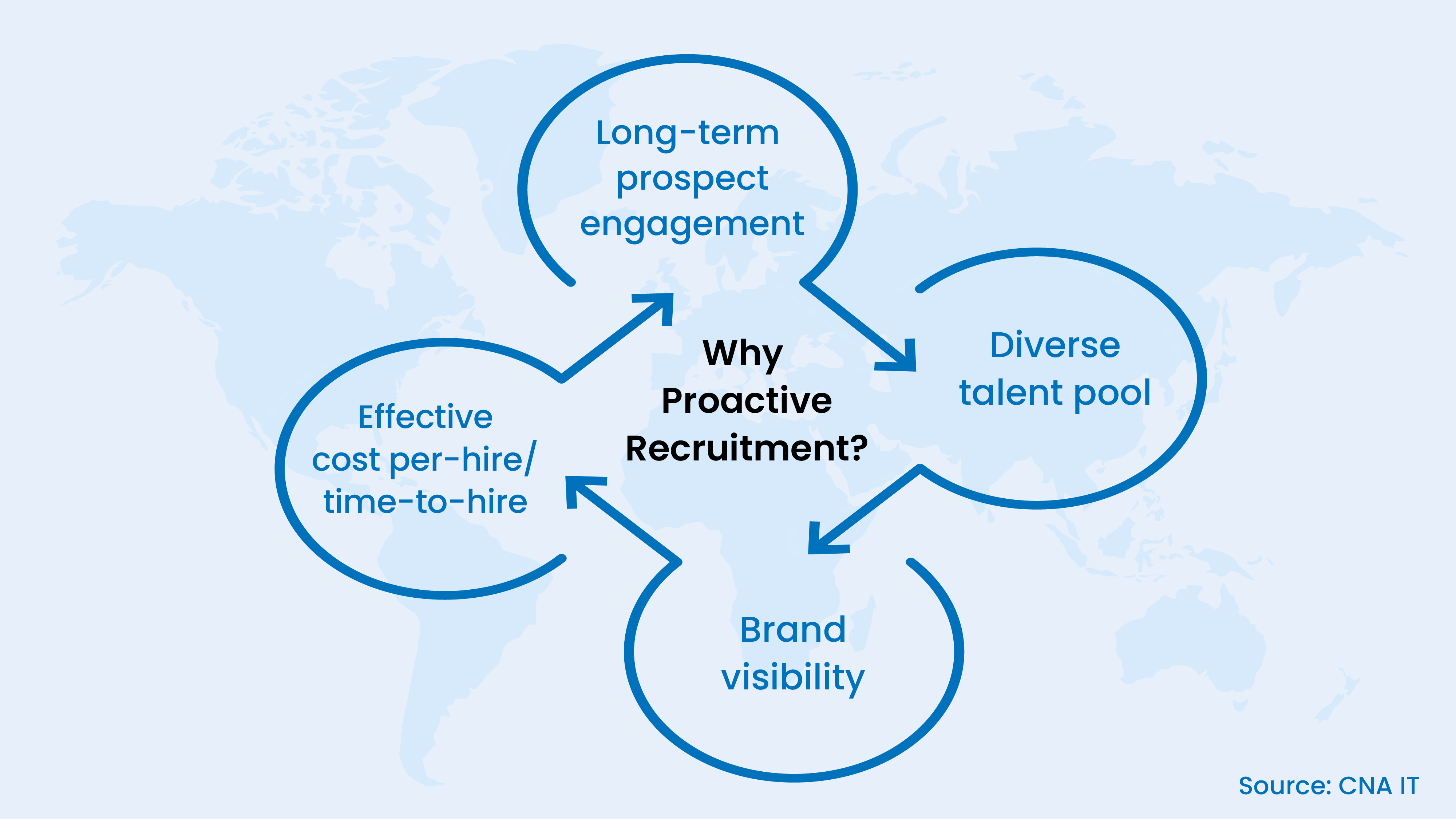 Not convinced to make a shift from reactive to proactive recruiting? Maybe these pointers will change your mind!
1. For Effective Recruiting ROI
Every recruiter strives towards a time and cost-effective hiring workflow, and it's easy to understand why. After all, cost-per-hire and time-to-hire are crucial metrics to determine the overall productivity of the hiring process.
 "The lesser the businesses spend to acquire the best talents, the more their ROI is." 
When it comes to proactive recruiting, these metrics can be made even more efficient. Here is how:
The proactive approach contributes to forecasting about a company's needs and the changing labor market. This means recruiters have the entire market mapped out, so in case new opportunities arise, there is already a shorthand to the solution.

When recruiters already have an established framework to meet the hiring demands in advance, they just need to do a little tweaking to match the current trends, saving a lot of time for more value-added tasks.

As recruiters keep track of the candidates' availability, they can fill the open positions more quickly and efficiently.
2. For the Best Possible Candidate Engagement
Establishing constant engagement and genuine connection is one of the significant aspects of proactive recruiting. It enables recruiters to:
Iron out the "ideal" candidates based on a definitive set of features.

Explore the market's needs and build a plan to match the requirements.

Use AI to shortlist and reach out to relevant candidates automatically.

Get involved in niche communities to embrace

diversity hiring

.

Successfully convert prospective applicants to hires via

connected recruiting

strategies.
3. For Access to Diverse Talent Pool
The other benefit of implementing proactive recruiting strategies is that it provides a chance to build and manage a diversified talent pool.
In practice, this approach follows an "INK" structure:
Identifying

the talents with the required skills and qualifications

Nurturing

a healthy relationship with them

Keeping an eye

on their current and future employment statuses.
In a way, a proactive recruiting approach veers to the "just in case" notion and serves multiple purposes, like:
It introduces recruiters to future "possibilities" of the hiring demands, so even if they don't know what candidates they might need, they know who to ask.

It allows you to track the candidate's availability and interests for a particular position, so you don't have to knock on every door when a new role opens.
4. For Better Brand Visibility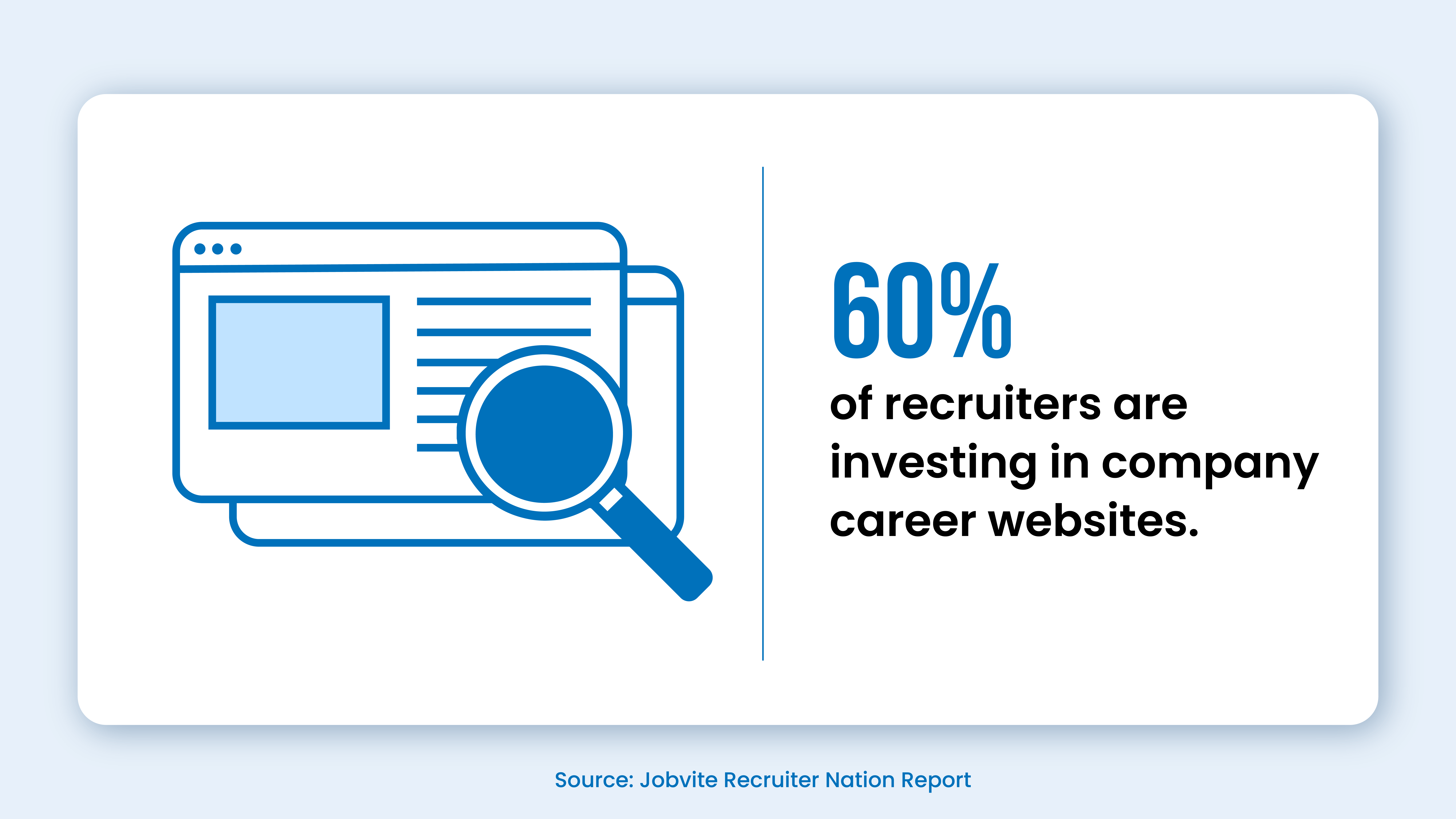 Proactive recruiting demands a lot of external activity, like creating valuable content, building a user-oriented career site, etc., that contributes to improved brand visibility.
The main goal is to-
Communicate the central brand message (particularly favoring employee value proposition)

Introduce prospective candidates to the company's culture, goals, and investments that align with its current employee's interests and development.
Content like job postings, testimonials, discussions, polls, etc., reinforces the agency brand's credibility and trustworthiness among its target audience.
10+ Proactive Recruiting Strategies You Must Implement ASAP!
1. Master Your Hiring Workflow
Most recruiters only focus on the evaluation aspect of the hiring process. They already know their target success ratio from the interview to the offer stage but rarely zoom out to see the entire workflow.
Since proactivity applies to each hiring stage, it demands recruiters to know the basics first, which involves-
Applicant Categorization

: Not every candidate fits the positions they have applied for. A quick review of their profiles can help you categorize them into a queue with automated job alerts.

Pre-Screening

: Any applicant that fails to pass this stage likely lacks specific skills. You can either consider them for alternate roles or put them in a tracking queue for the next 6-12 months to see if they grow their skills.

Phone Screening

: Some candidates appear to be a cultural fit even if they don't fit the particular role. Place such candidates for an immediate review pipeline of your team members. If the candidates are unfit, be upfront with them while notating this in your database.

Personal Interviewing

: Rejecting candidates at this stage means they are likely not the right fit. But if they are, but the timing wasn't quite right, put them in your queue for scheduled follow-up every 6-12 months. They may upskill themselves during this time.

Team Mentoring

: Candidates that reach this stage require extra attention from your end. While interviewing such candidates, ask them about their past work experiences, employers, interests, etc. Also, this stage is perfect for asking for potential referrals.

Offer Stage

– Believe it or not, you may get turned down by the candidate even at this stage. If it happens, try to understand why. Ponder what you could have improved to enhance your candidate's experience.

Onboarding

: This phase is all about candidates. Ask them to join your social networks, stage them into your posts, introduce them to their colleagues, and, most importantly, keep your communication channel open for them.
2. Source Candidates By Channel
Naturally, every recruiter starts looking for candidates on job boards and various popular hiring platforms. However, to be proactive, you must move your sourcing channels from a checklist for posting job ads to a strategy.
You must examine the success rate of your job ads on each platform as a part of your proactive recruiting strategy. While doing so, you will be able to segregate each site for sourcing different kinds of talents, like-
For

previous applicants

– the ones who applied for any job roles in the past- your ATS database can be the perfect place to start.

For

sourced candidates

, sit with your hiring manager and identify the companies they expect to drive candidates from. Then, list down the target candidates and look for ways to approach them.

Most candidates come from platforms like LinkedIn, indeed, Monster, etc., but the majority of them aren't hired. These are called

inbound candidates

. Ensure that you follow up and add them to your ATS database asap.

Nothing beats sitting down with your team members and employees and making a list of the

referred candidates

. If your employees are satisfied working with you, there are high chances to make the most out of their network.

Social candidates

include all your followers on social media accounts who regularly follow, like, and comment on your posts. If nurtured properly, they can be turned into potential hires.
3. Build an "Evergreen" Talent Pipeline
The very definition of proactive recruitment is building a talent pool stocked with high-quality candidates who can fill open roles whenever available. 
But how can you create such an incredible human stockpile?
Simple- whenever you come across any potential candidate, add them to your database. Collect their details, annotate them based on their skills and demography, and reach out to them to build a healthy connection. 
Also, you can use your career site to attract your target audience and invite interested people to leave details about future opportunities, guest articles, press releases, etc. This way, you can create a community of prospective clients and candidates. 
Here are some more tips to consider:
Most companies have specific roles they hire for on a daily basis. Ensure that your pipeline has at least enough candidates for those roles. 

Celebrate a "pipeline day" at your agency. Allot some of your team members the task of doing nothing but proactively recruiting the whole day, at least once every two weeks. This will ensure that you never run out of human resources. 

Show your target audience how it is to work with you through events, online workshops, mini-vlog videos, etc.
4. Utilize Big Data's Big Capabilities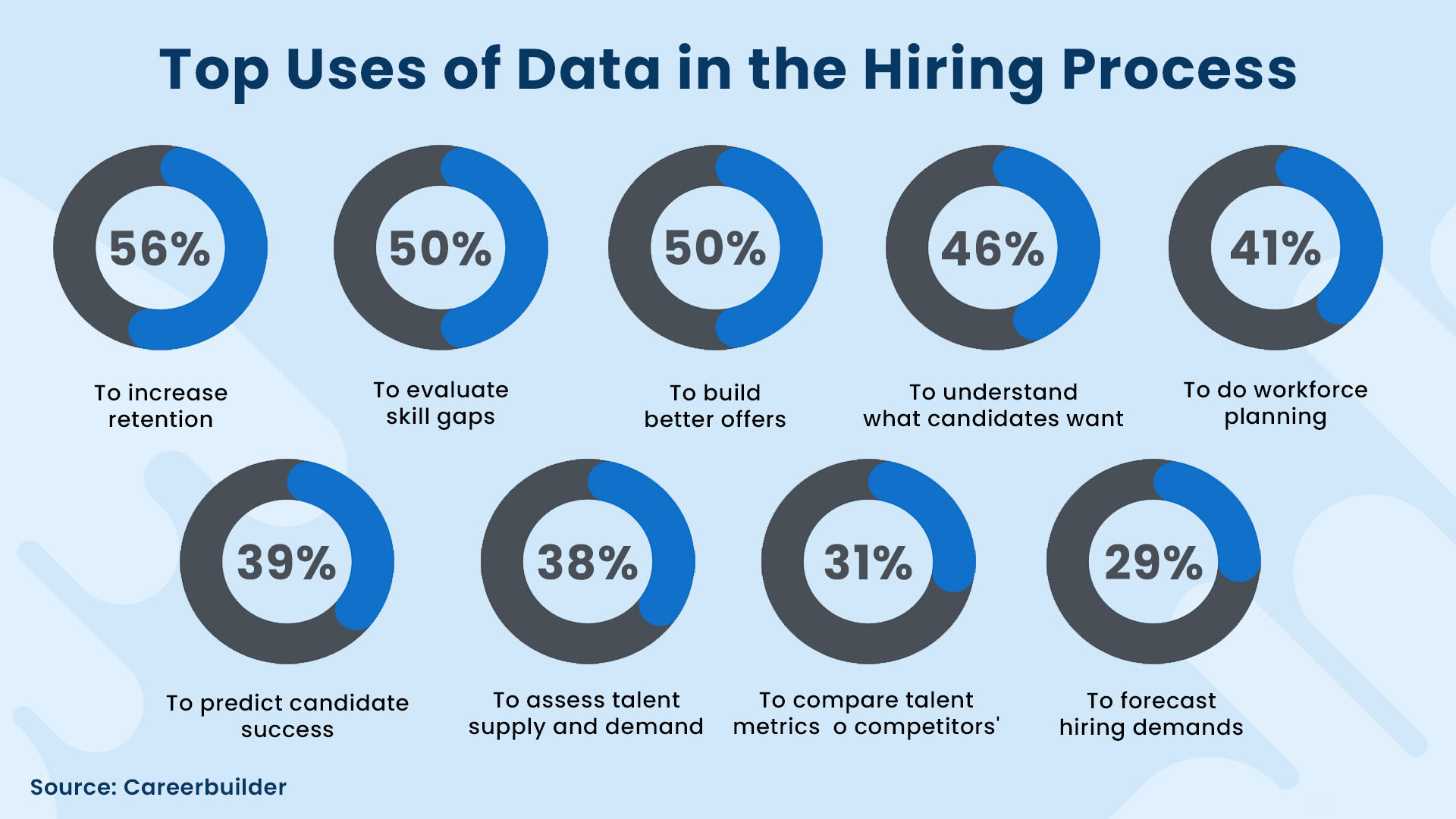 The luxury of modern recruitment is the availability of data that can highlight market trends and identify the areas where new hires will be needed in the future, allowing for accurate planning and forecasting. 
Utilizing big data is like having a map to determine the accuracy of candidates that should be interviewed and hired for vital roles, the cost that should be spent on each stage, the time required to close the seats, etc. 
By analyzing these KPIs, recruiters in charge of acquiring, managing, and developing talents can predict their need before it even arises- making a strategic shift from reactive to proactive recruiting. 
5. Turn Employees into Advocates
While recruitment is all about bringing new hires on board, it would be wise to uphold the significance of existing employees, as they can contribute significantly to boosting your employer's brand. 
For most candidates, employees are like advocates who share their stories online and are far more trustworthy than the brand itself. 
If you plan to implement proactive recruiting strategies- you must first turn your employees into advocates. But remember-
Don't miss out on initial training sessions for employees to ensure the consistent and reliable delivery of messages across platforms. 

Encourage your employees' participation but never micromanage their engagement. 

Allow your employees to be free and creative when posting content online.
6. Build the Best Possible Candidate Experience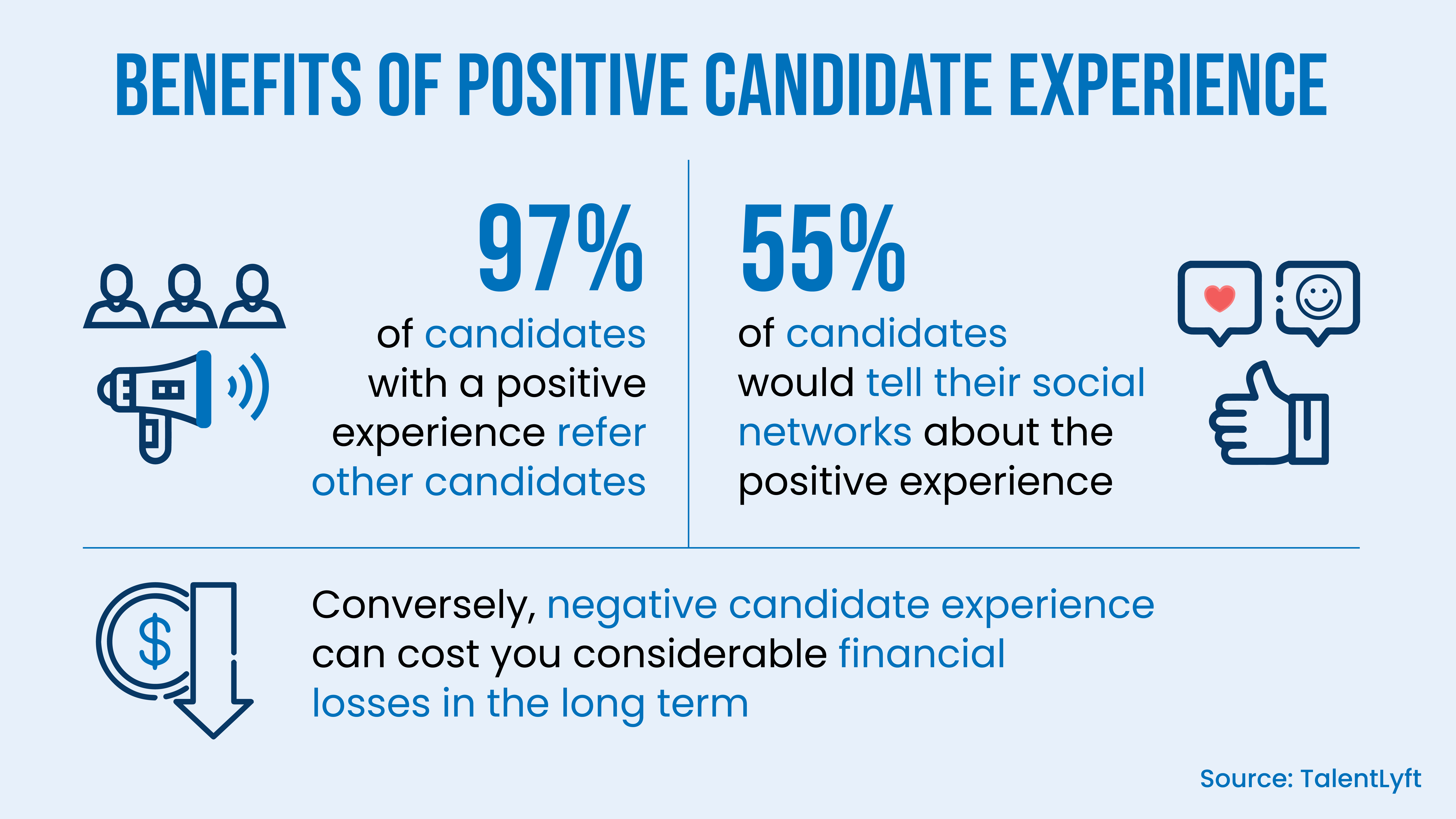 Providing the best possible candidate experience should be the focal point of your proactive hiring process. 
And a good candidate relationship management system can help you with it by:
Creating engaging emails and message templates and sending them to the candidates at the right time. 

Automating communication with each candidate in your database.

Segmenting each candidate based on certain characteristics for quick search.

Making your application process fun and easy for applicants.
Mind that your candidates are real people who want to be recognized that way. Creating a positive connection with them can make your proactive recruiting strategies work out.
7. Network, Network, Network!
When it comes to proactive recruiting, networking works a bit differently than usual. 
Sure, attending job fairs and conferences will introduce you to many great candidates, but your current networks, like those on slack, Twitter, Reddit, Instagram, etc., can work in your favor.
Also, niche communities, being less competitive than big sites like LinkedIn, can help you find more qualified talents in less time. 
8. Get "Hunters" in Your Team
There are two types of recruiters- farmers and hunters. For proactive recruiting, it is best to have a lot of "hunters" in your team.
These are the types who have expertise in identifying hard-to-find candidates, getting their attention, and closing them on an opportunity. These recruiters are always on the cutting edge and work closely with hiring managers to deliver top-notch talents.
Unlike the farming recruiters who are best at weeding out candidates for "evergreen" jobs, you must look for team members that are quick to hustle, take direction and make the most out of any hiring demands. 
9. Know What Your "Tech Stack" Is
For efficient hiring, you and your hiring team need at least the basic #Rectech stack, like-
ATS

for tracking candidates

Recruitment marketing tools to attract the right talents

Operational tools like

talent management software

, interviewing, analytical tools, etc., for streamlined hiring. 

Sourcing tools for managing CV databases,

resume parsing

, etc. 
💡 Tip: Jot down your hiring goals and lead measures to decide what's missing in your stack. 
10. Improve Your Content Marketing Strategies
Creating and promoting targeted content to attract talent is one of the significant contributors to proactive recruiting strategies. 
Career advice, industry news, online events, employee testimonials, etc., are a few examples of content you can use to engage with your talents.
💡 Expert Tip: Open AI tools like ChatGPT are becoming very popular these days. You can use them to create user-friendly content quickly. 
11. Keep Track of Your Hiring Analytics
You can implement hundreds of proactive recruiting strategies, but they won't work if you aren't measuring and analyzing your hiring process, they won't work.
Companies that utilize data and analytics can gain insight into what's working and what needs improvement, allowing them to predict future trends and plan tactics effectively. 
💡 Remember:: Hiring teams with mature analytics are two times more likely to improve their recruitment efforts. Make sure you are one of them.   
Let Recruit CRM Handle What's Difficult!
Recruit CRM is a leading talent acquisition software that helps HR professionals-
SOURCE– Find the best talents with minimum efforts
ENGAGE– Build a genuine relationship with candidates and clients
CONVERT– Encourage job seekers to apply
TRACK– Manage the selection process
ANALYZE– Improve the overall ROI
Remember, proactive recruiting is fast but can be even faster with the right HR software. 
And Recruit CRM can be "that" software for you. 
Don't believe us? Check out what others are saying!
Wrapping Up
Proactive recruiting strategies indeed pay off; however, you will need to adjust your hiring workflow to make it work.
Sometimes, this requires improving your online presence or leveraging your employee's network (or everything we discussed above)- whatever works for your company, make sure you make the most of it.