Santa Claus has a loyal herd of reindeer to pull his sleigh through the night sky, so he can deliver gifts to kids on Christmas Eve. 
Without this little team, he'd have to go door to door, or more like chimney to chimney, dropping off each gift! Now that's a lot of work.
But when you have a solid team to support you, work becomes easier. That's the role you play in your recruitment team as well. Each recruiter in your group is important for the functioning of your staffing agency. 
But imagine Santa running your recruitment agency, and you're one of the reindeer helping him deliver great candidates to the right jobs and clients. 
Which reindeer would you be? Sit tight to find out!
Which of Santa's reindeer are you?
1. Dasher – Quick like a flash
Dasher is one of Santa's fastest reindeer. She's quick like a cheetah and always ready to dash out the door. 
Her name means "purse-maker" in German, so along with being a master flier for Mr. Claus, she can also sew, making her multi-talented! She also loves to socialize and has a big and caring heart.
If you're a Dasher, speed is your recruitment superpower. You close all open positions on time with rarely ever any delays. 
You are a master of time management and can handle a variety of different projects handed to you at once like a true pro! 
Candidates love you, and clients feel lucky to have you. And you're definitely one of Santa's favorites too 😉
2. Prancer – Charming as ever
Prancer is super loyal to her little reindeer herd. She loves them all very much and would do absolutely anything for them. 
She's often found in the elves' factory, gracefully prancing around with all the other reindeer and elves cheering her on.
She also carries a mirror everywhere she goes because she needs to look her best all the time. You never know who you're going to meet, right? So best be dashing and prepared!
If you're a Prancer, you're the best, most professionally dressed in your office, looking like a total recruitment boss! You're full of energy, always interview and meeting ready and prepared to meet new clients.
You're also super loyal to your recruitment team, lending a helping hand when someone needs it, and have always got your squad's back. They love you as you're a great sport and motivator, always lifting others around you.
3. Cupid – Loves spreading love
Cupid is the affectionate reindeer, and she loves love. She carries mistletoe around and secretly drops them at different places, so people don't forget to hug and kiss at Christmastime. 
She's a total ray of sunshine, always rooting for love and spreading it as she goes. One way she does this is by singing love tunes all around.
If you're a Cupid, you're full of love, and it shows. You deeply care about your candidates and clients, as well as your recruitment team. 
Candidate and client experience is your strong suit. You never fail to make people feel special and truly wanted. 
You're as bubbly as they come, and just a chat with you makes everyone's day better. Never change!
4. Donner – Life of the party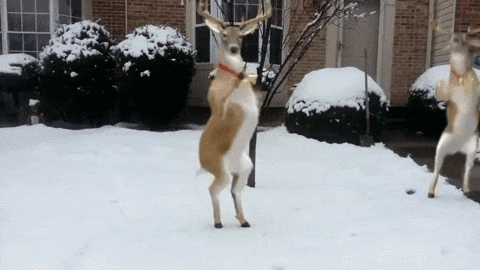 Donner means "thunder" in Dutch. True to his name, he has a deep, baritone voice that is impossible to go unnoticed when he enters a room.
Just like you can't ignore thunder, you can't ignore Donner when he starts to sing. It's always a party when he's around. His deep, soulful voice is often intimidating, and the grace with which he speaks leaves people in awe.
If you're a Donner, you're a great speaker. Your powerful voice is one of your greatest qualities. It's super convincing and helps you sell a job like an expert. When you're not recruiting, you're often invited to recruitment events as a guest speaker. 
You should probably be giving industry TED talks (something to consider?). Candidates love listening to you, and your team respects you like a boss.
5. Rudolph – The beacon of light
Rudolph, the famous reindeer, was the last to join Santa's herd. He used to be very self-conscious about his bright red nose, which made him different from all the other reindeer. 
But he didn't know that his unique little rosy bulb was his greatest gift. 
When Santa recognized his nose as a guiding light, he recruited Rudolph as the herd's leader. Rudolph helped them safely cut through the darkness and snow.
If you're a Rudolph, you're a brilliant recruiter, full of potential to be a true leader, but you have yet to realize it. You might be different from the rest of your team and think that this difference is a bane.
When you or someone else realizes that you're truly a blessing to the team, you'll thrive at work like never before. 
Each one of Santa Claus's reindeer has a unique personality, just like everyone on your recruitment team, and that's something to embrace. If you're a part of his herd, he's lucky to have you on his team!
Which reindeer did you resonate with the most? Let us know in the comments!