Recruiters have had enough head-hammering dealing with recruitment software that are clunky and do not deliver what it promises.
But that changes with Recruit CRM.
Read on to uncover why recruiters are making the switch to the highest-rated ATS + CRM without a hint of regret.
1. Super Easy to Use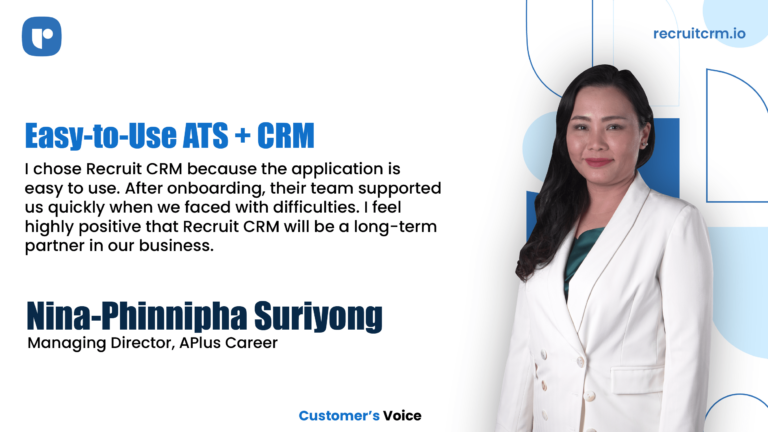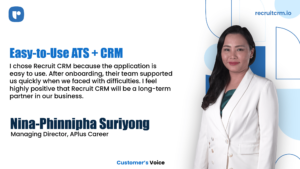 Recruit CRM is simple, fast, and intuitive, which makes hiring a cakewalk for recruiters.
Unlike its competitors, which are old and bulky, it has a friendly user interface that makes it easier for you to navigate through the system.
The team constantly works to get rid of in-app bugs for a smooth and rich experience.
2. Exceptional Customer Support
We don't leave our customers in the dark and believe in providing all the aid they need to become successful recruiters.
Recruit CRM users are provided with 24/7 live customer support, and teams on the business plan have a dedicated account manager to help resolve any issues.
The best part is that you can set up the Applicant Tracking System in just five minutes and will have access to a free onboarding session too.
3. 100% Customizable
Every business has specific needs, and to cater to those, we've ensured that the ATS is COMPLETELY customizable.
Yes, starting from the career pages and job boards to the hiring pipeline, users can tweak it all as per their business needs.
Here are all the operations you can alter:

4. 5000+ App Integrations
Recruit CRM's powerful Zapier and Integrately integrations allow you to integrate more than 5000+ applications within the talent management software.
Try finding these many integrations in any other recruiting software!
Recruiters can use the pre-built automations from within the system or even create custom ones for a hassle-free experience.
5. Better Reporting and Analytics
It's crucial for every recruiting team to measure KPIs and performance metrics, and Recruit CRM makes reporting more detailed than ever.
You can generate the following reports using the ATS + CRM:
Team performance

Candidate lifecycle

Client lifecycle

Job statistcs

Time to hire

Deals by teammates/ team

Deals won/ lost

Executive search report
6. Accurate Search Capabilities
Recruit CRM's accurate search filters help you search seamlessly within your database.
Combined with boolean search (filtering data using "AND, NOT & OR" conditioning) and radius search (filtering based on location), our powerful advanced search filters help you sort through data in no time.
You can also find relevant information within a candidate's resume using the filters.
7. Powerful Features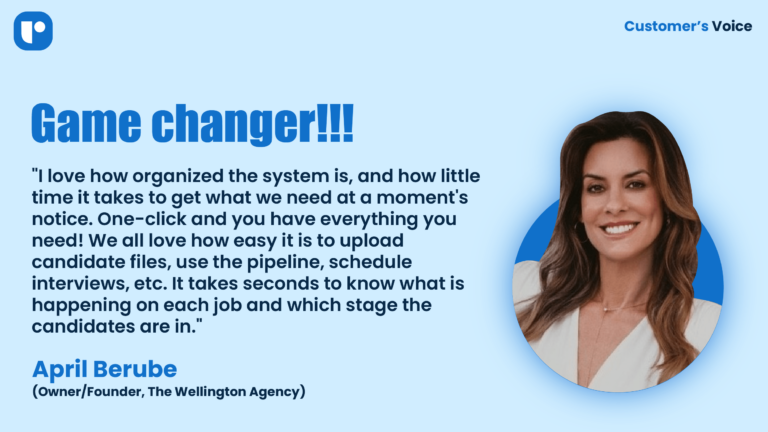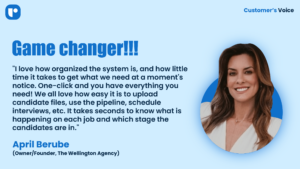 Be it sourcing, kanban viewing, candidate pitching, bulk emailing, invoice management, or interview scheduling, you name the feature, and we have it in our recruiting software.
Not to miss out that our team takes customer feedback seriously and keeps rolling out newer features based on user requests.
8. Transparent Pricing and Unlimited Free Trial
Recruit CRM offers simple and scalable pricing plans that cater to small businesses as well as larger firms.
We offer three plans- Pro, Business, and Enterprise.
Users can also go for the free trial period that is not time-bounded and also doesn't require credit card details. You can hit this link to sign up for free.
Ready to make recruitment a breeze with Recruit CRM? 
Hit the link below to hop on a call with our product specialists who'd love to uncover more details on how our ATS + CRM can benefit your search firm.