If you are looking to maximize the success of your recruitment business in 2023, high time you add Recruit CRM to your tech stack.
From finding candidates in a single click to customizing the platform as per your business needs, our highest-rated ATS + CRM software lets you automate and streamline your hiring process much more efficiently. 
How Recruit CRM Can be Super Beneficial for Your Agency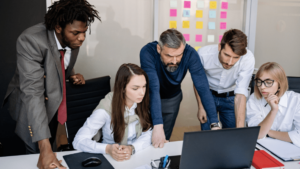 1. Easy to Use
Keeping in mind that every recruiter may not be a techie, we prioritized making the talent management software simple to use.
The CRM system has a friendly user interface, and the team is constantly working on improving the user experience by eliminating in-app bugs and introducing features demanded by customers.
Overall the applicant tracking system is super intuitive, fast, feature-rich, and easy to work with.
2. Exceptional Customer Support
To us, the customer is God, and our continuous obsession with them drives us to ensure their success.
We help solve user queries in less than a minute and deliver live 24/7 customer support.
Users on business plans are provided with a dedicated account manager to help resolve any issues.
You will also have access to a library of help articles containing details of all the handy features to use the app smoothly.
3. Warm Onboarding
Our team always ensures that our customers are never in the dark, which is why we schedule onboarding calls to help them navigate through the software.
Not just that, but you can also set up the system and start using it in just less than 5 minutes!
And if, at any point in time, you face issues, you can chat with our customer support team to have your doubts cleared. 
4. Simple Pricing Plan
If you are looking for an ATS that has a transparent and scalable pricing plan, then your search ends here.
Recruit CRM offers great plans- Pro, Business, and Enterprise, that'll help your recruitment agency place more talent with less expenditure.
We also provide unlimited free trial bounded by no time period.


11 Killer Features That Our Users Totally Love and Why You Must Try Them Too!
1. Chrome Sourcing Extension
In a competitive job market, most recruiters may struggle to build a diverse candidate pool. 
But Recruit CRM's chrome sourcing extension allows you to tap into the pool of unexplored talent with absolute ease. 
It helps you scan and source high-quality candidates from multiple job boards and platforms like LinkedIn, ZoomInfo, Xing, etc.
In a few clicks, you can find and add great candidates, clients, and contacts to your database. 
2. Advanced Search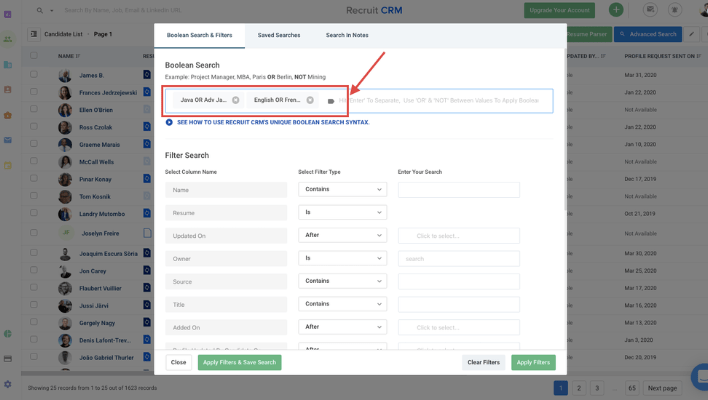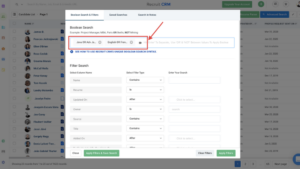 Searching high-volume data is no fun, and it eats up a lot of the recruiter's time. 
Using Recruit CRM's advanced search filters, you can accurately find and sort the candidates, clients, or job entries in no time.
This feature allows you to conduct a boolean search (filtering according to "AND, NOT & OR" conditioning) and radius search, i.e., searching entities based on the location. 
You can also scan through the CVs of candidates and the notes you create using the filters.
3. Email Integrations and Bulk Emailing
It's obvious that most communication occurs through emails, and a large part of your workday goes into it.

To save time and energy while communicating with prospective clients and candidates, you can use the emailing feature to send personalized emails to them.

Be it cold emails or follow-up ones, you can do it all. 
Integrate your mailbox into the CRM software and boom! You're free to use the customizable, ready-to-use email templates to send to your contacts.

You can also track the email open rate and send out automated email triggers.
4. Interview Scheduling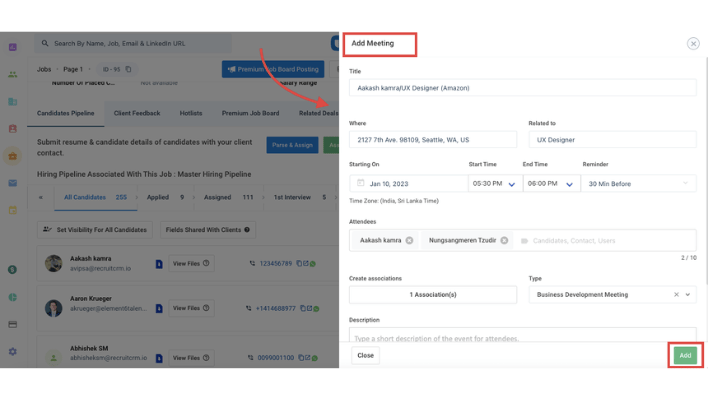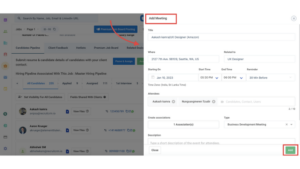 Scheduling interviews to talk to job applicants and your clientele might be a monotonous task, but not if you automate this bit.
Using our recruitment agency software, you can easily set up meetings right in your Recruit CRM database.
This feature allows you to schedule meets, add attendees, describe the meeting type, and automatically trigger the invite and reminder to all the participants.
5. Creating Notes, Reminders, and Hotlists
With all the piled-up tasks, sometimes, things may slip off your mind.
But, by setting up reminders and creating notes, you will be able to recall and complete tasks on time. 
The notes feature also allows you to add feedback about an applicant so that you don't miss out on critical details about them. 
You can also create and add candidates to specific folders called hotlists for better organization of your talent pipeline. 
6. Integrations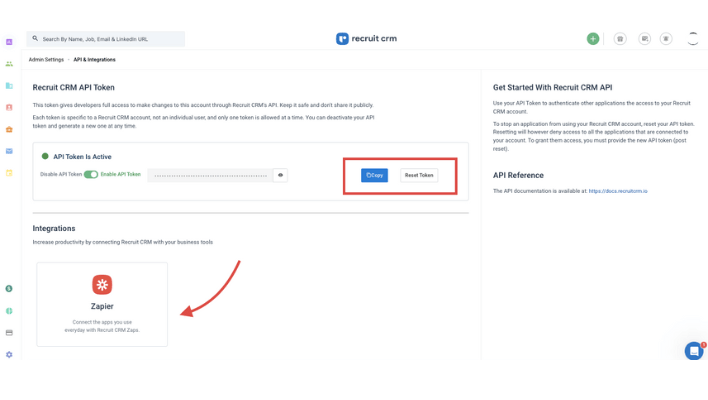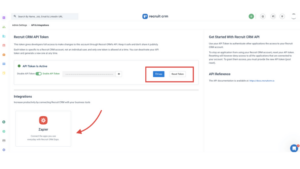 Recruitment involves working with a lot of tools simultaneously, and that is precisely why integrating your favorite apps within an Applicant Tracking System is essential. 
Recruit CRM provides powerful Zapier and Integrately integrations to help you connect 5000+ applications to the CRM software and do away with repetitive tasks. (You won't find so many integrations in any other recruiting tool in the market!) 
You can use dozens of pre-built automations or even create custom ones to smoothen the recruiting procedure, that too without any CODING!
7. Executive Search Report
Most headhunting firms usually need to present a report to their clients mentioning the details of the process.
This is when the executive search report feature comes into play.
It allows headhunters to generate a detailed executive search report, and the best part is that you can use and customize the pre-built templates.
8. Customizations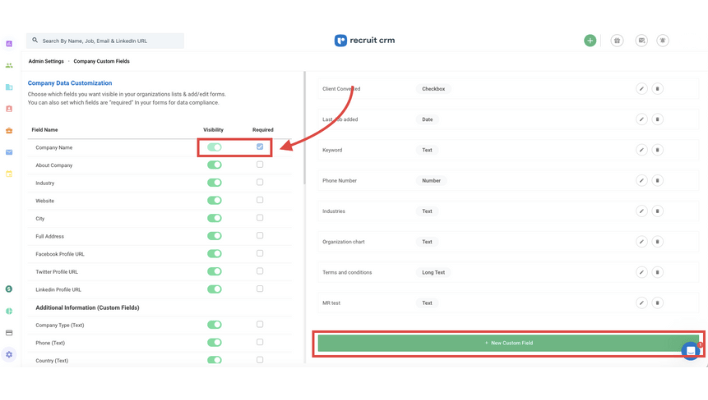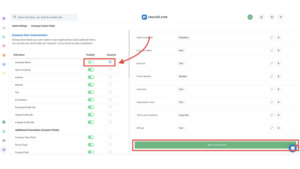 Customizing the user experience is super important, and that is why, right from your workflow to the job boards, our system allows you to tailor it all!
Guess what? We are 100% customizable, and this most-loved feature will help you take care of your business' specific needs.
Here's a list of all the processes you can customize:
Email triggers

Contact stages

Hiring, candidates, and deals pipeline

Job status and career pages

Invoices

Fields shared with clients

Call and note type

Resume formatting setting

Kanban boards and view
9. Resume Parsing and Formatting
Going through all your candidate resumes can be really intensive, but you can overcome this problem by using the resume parsing feature that parses CVs and automatically adds applicant data to the system.
Another interesting thing you can do is format the resumes and even send automated emails to candidates in case there is a need for their profiles to be updated.
10. Reports and Dashboards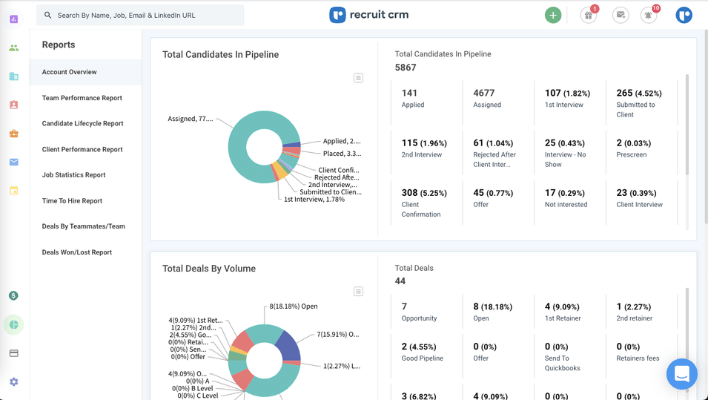 Tracking key metrics and your recruiting team's KPIs is an essential step in the process.
Recruit CRM helps you produce detailed reports highlighting candidate and client lifecycle, deals won, job statistics, and more to help you measure your recruiting team's performance.
This feature makes number crunching not just simple but also interesting, as you get to measure every aspect of your business.
11. Invoice Management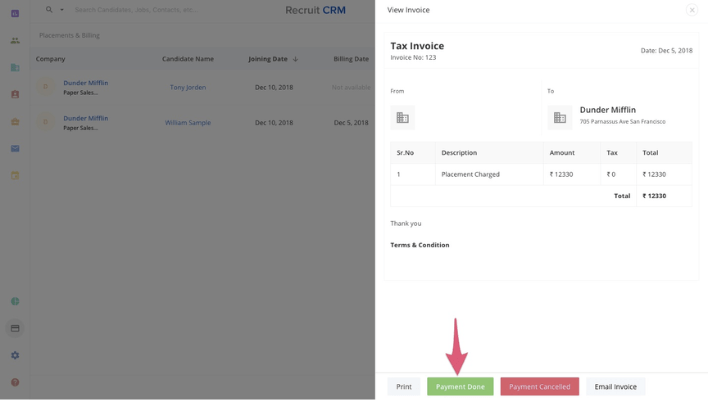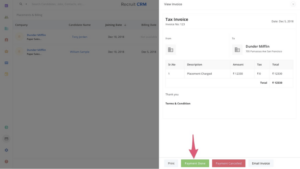 Managing finances and deals can become a headache if not done right, but what better than automating this part too?
The ATS + CRM software allows you to seamlessly manage billings by generating invoices and sending them to your clients once a job prospect is placed.
You can keep track of this quickly and make invoice management more transparent.
It's time for you to streamline your hiring process and hire the top talent efficiently.
Want to become recruitment besties? Hop on a call with our sales executive, who'd love to show you around the recruiting software.