Retail is an integral part of the U.S. economy, employing roughly 15.4 million people, or one out of ten workers.
Despite several unprecedented global events, the demand for retail workers has remained strong.
In 2021, there was a 2% growth in employment in retail, while total employment in the U.S. only grew by 0.7%.
Given the size of the retail industry, one of the biggest in the United States, it is more critical than ever to understand the ins and outs of retail recruiting to attract and maintain the best talent.
In this beginner's guide, we'll walk you through some of the basic terminologies of retail recruiting, explain how the process works, and provide a few tips to help get you started.
What is Retail Recruiting?
Retail recruiting involves finding, attracting, and hiring qualified candidates for positions within a retail organization.
Retail recruiting is much more than just finding candidates. It's about finding the right people for your team.
This means doing your homework to ensure you're not wasting resources on hiring decisions that won't work out.
The U.S. Department of Labor estimates the average cost of a bad hire is 30% of the employee's first-year earnings (and that's without counting the lost productivity from an employee who isn't a good fit).
The best way to avoid this situation is by leveraging technology-assisted recruiting tools like Applicant Tracking Systems (ATS).
These systems automate many of the manual processes involved in recruiting new employees so you can focus on making sure candidates are a good fit before moving forward with interviews or job offers.
Why is it Challenging to Hire & Retain Retail Employees?
Retail recruiting is notoriously tricky.
According to the National Retail Federation, the average turnover rate in the retail industry is slightly above 60%.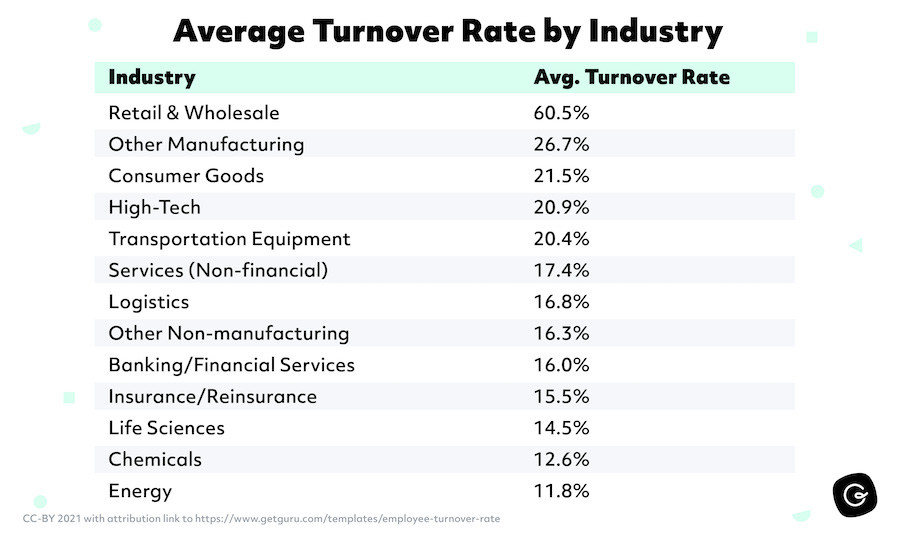 Image via Get Guru
The turnover rate refers to the percentage of employees who leave a company in a given period.
It's a metric that can apply to both new hires and existing employees, and it helps to provide valuable insight into what's happening in your business.
Retail is a robust industry, but it's not always the best fit for everyone.
This can lead to high turnover rates as people move on to other industries or jobs more suited to their skills or interests.
There's also a seasonal component to the retail hiring process that adds another layer of complexity.
You might need 50 people one month and 500 people six months later—and you need those people fast!
Sometimes, remote jobs also best suit these situations.
7 Best Practices in Retail Recruiting
With a few simple tips, you can get up to speed on retail recruiting, hire quality candidates, and reduce turnover rates in no time.
Let's take a closer look.
1. Define Your Hiring Needs
Before you begin, it's essential to define your hiring needs.
For instance, are you trying to fill a new position?
Do you need to replace an employee who has recently quit?
Does the job role demand experience? How many open positions do you need to fill?
Answering these questions will help determine what kind of candidate(s) you should be looking for, how many prospects to interview, and their qualifications.
This is especially important if a specific skill set is required for each position.
2. Write Compelling Job Descriptions
Job descriptions are the first thing potential candidates see when they're considering applying to your company.
If you want to attract a robust talent pool, it's important to write compelling job descriptions that sell people on the role and entice them to apply.
Your description should be clear and concise and include the following information–
Job title: What is the job?
Experience: Is it an entry-level job, or does the candidate need expertise?
Responsibilities: What will this person do day-to-day?
Pay and benefits: What is the salary range? Are there any benefits like paid time off, medical insurance, or a relocation package?
Read more: Download 50+ ready-to-use job description templates for everyday use.
3. Leverage Job Boards
One of the best ways to find retail candidates is through job boards. They are free, easy to set up, and can be updated in minutes.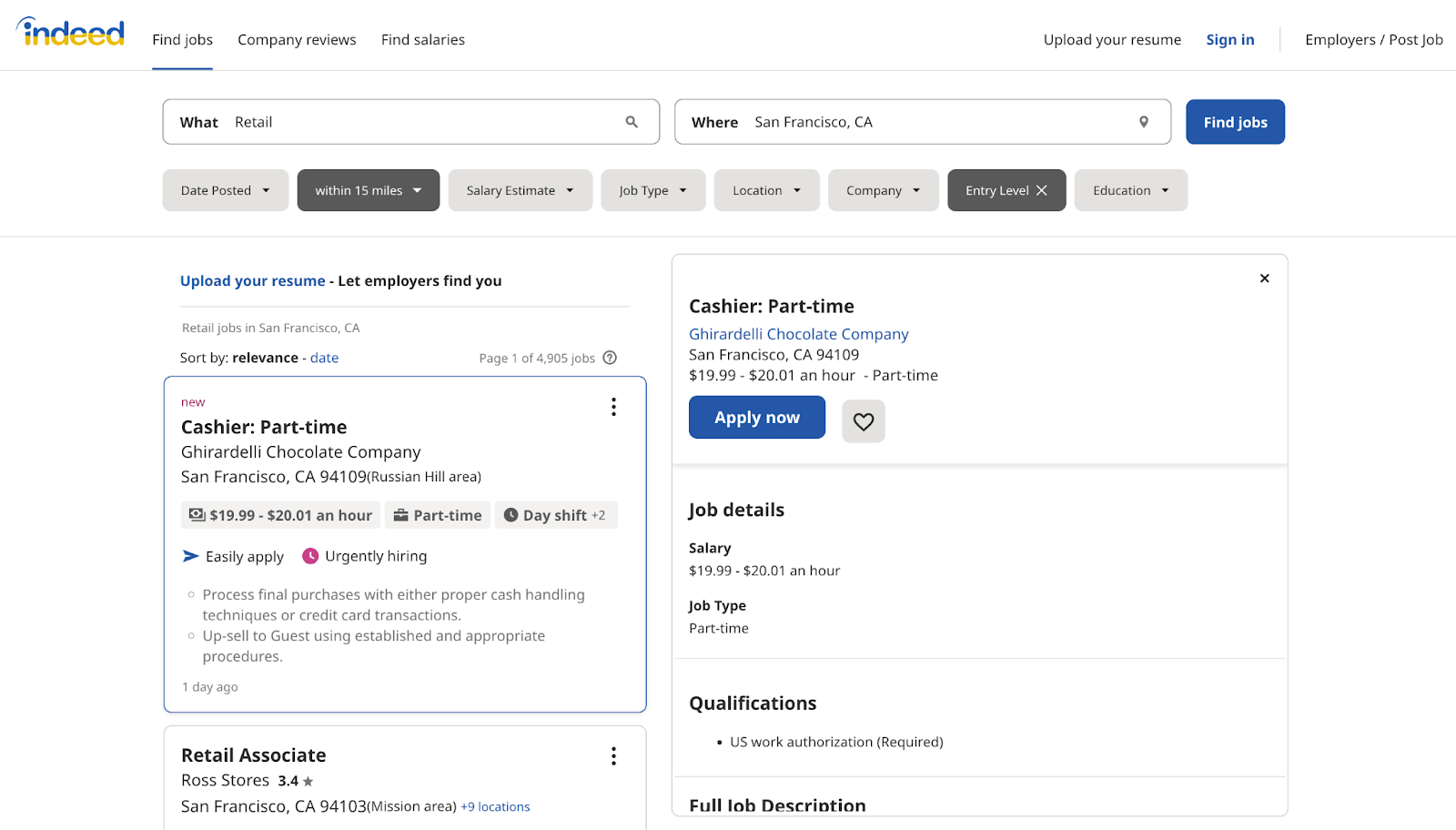 Image via Indeed
There are three main types of job boards– generalist, niche, and localized.
The generalist boards include Monster or Indeed—they have tons of listings and cover all kinds of industries.
Niche boards tend to focus on one industry or position type (like maybe a data analyst).
Localized boards concentrate on one geographical area (like Chicago or New York City).
When you're uploading information to a job board, you'll want to make sure you're posting your jobs in the correct category—this ensures they'll be found by people looking for that specific type of position.
Read more: Top 10 places where recruiters can get CVs for free.
Also, instead of having your existing staff try to learn Spanish, open your recruitment up to Spanish speakers.
With a simple click of a button, you can target your job posting to candidates that are native or proficient Spanish speakers.
Job boards are effective because they make finding the right person to fill your open position easier.
4. Use a Reliable Applicant Tracking System
An essential tool in your recruiting arsenal is an Applicant Tracking System. An ATS helps you manage and track all applications as they come in.
It should be easy to use and seamlessly integrate with other hiring tools.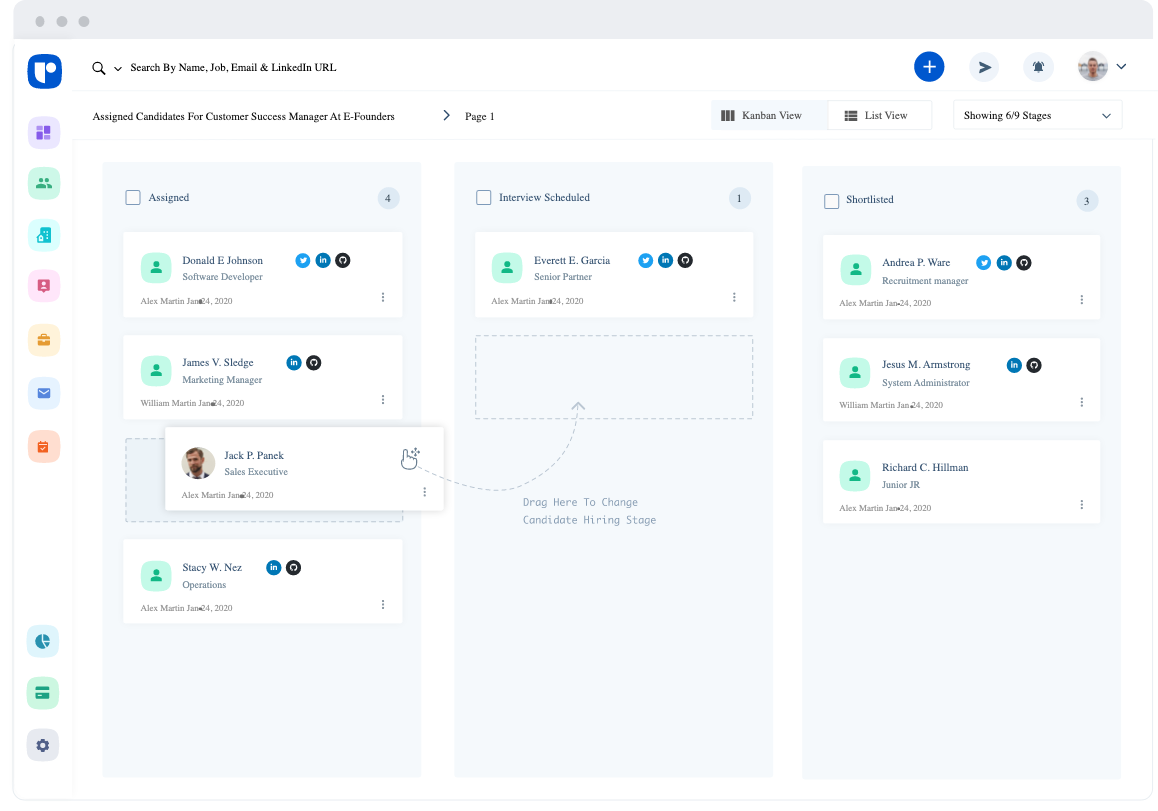 Don't settle for an ATS that doesn't have these three essential features–
The ability to see which stage each candidate is in on an interactive digital board instantly updates as people move through the recruiting process.
An intuitive interface makes it easy for recruiters and hiring managers to quickly sort through resumes and extract the most helpful information using artificial intelligence.
The ability to create "hotlists," or a list of potential future candidates, and export data to share with internal stakeholders.
Read more: Predict dips in revenue before they actually happen with Recruit CRM.
5. Simplify the Interview Process
Don't let the job interview process consume all of your time and resources.
To help simplify the process, consider starting with a phone interview.
Phone interviews allow you to get an excellent preliminary read on the candidate and understand if they are worthy of an in-person interview.
You can also use video here if you prefer a more personal screening process.
Once the candidate has made it through the initial screen, bring them into the store for an in-person interview where you can observe how the candidate conducts themselves and how they interact with other team members and customers.
Create a list of behavioral questions to ask each candidate that comes for an in-person interview.
Building a preset list of questions can help streamline discussions and is a great way to understand how your candidates will perform in the role.
Behavioral questions give you a chance to see how they respond under pressure and handle different situations.
Here are some common behavioral interview questions–
Tell me about a time when you had to deal with an angry customer.
What would you do if you were working on a project with someone who wasn't pulling their weight?
Describe a time when you had to demonstrate leadership skills.
6. Don't Get Hung up on Experience
You are likely to see resumes from candidates who might lack the level of experience you expect during the recruiting process.
But, that is less of a problem than you might think.
While a few things can be taught (such as product knowledge), there are many more things that you cannot learn in college or through training programs—specifically, attitude and work ethic.
Don't underestimate the younger talent pool.
Retail giants like Gap allow 16-year-olds to work for their retail stores, so why shouldn't you?
If you aren't sure what qualities to look for in potential candidates, here are some basic guidelines–
Versatility: Retailers need employees who can handle multiple tasks and roles simultaneously. Ask your applicants about previous work or school experience. Do they seem like someone who enjoys being part of a team? Are they willing to take on new challenges? Can they adapt to new situations?
Consider diversity: Studies have shown that it is advantageous nowadays to have a diverse workplace.
A desire for growth: Every company should seek to hire employees who want to improve themselves personally and professionally. Ask candidates about their long-term professional goals and career aspirations.
7. Make Timely Decisions
To keep up with the evolving industry and stay competitive, retailers need to act fast when hiring.
If you take too long to fill open roles or wait until you're desperate for headcount, you're letting competitors get ahead and holding back the company's growth.
When you come across a candidate that has potential, give them a chance and hire them right then and there. The longer you wait, the harder it is to hire and the fewer applicants you have to choose from.
Wrapping Up
Finding and hiring top talent in the retail industry can be a full-time job, and if you don't have the proper process in place, it's nearly impossible to stay competitive.
Alongside these practices, you may even consider an employee referral program to encourage like-minded candidates to apply for the job.
If you're looking for new talent in your retail business, don't hesitate to use online job boards and application tracking systems as part of your recruiting strategy.
Retailers who implement a thorough recruiting strategy are more likely to attract high-quality employees and spend less time and money doing it. So get out there and start recruiting for your open roles today.