A well-designed recruiting team structure is a crucial step toward achieving successful talent acquisition. It facilitates efficient workflows, clear communication, and defined roles and responsibilities, which all contribute to a more streamlined hiring process.
A crucial best practice is to have a diverse team with a variety of skills and experiences. But what roles should you consider, and how big should be your team? All this and more unraveled in this guide for you. 
Let's redefine recruitment, one team at a time!
How to structure a recruiting team: The 6 key roles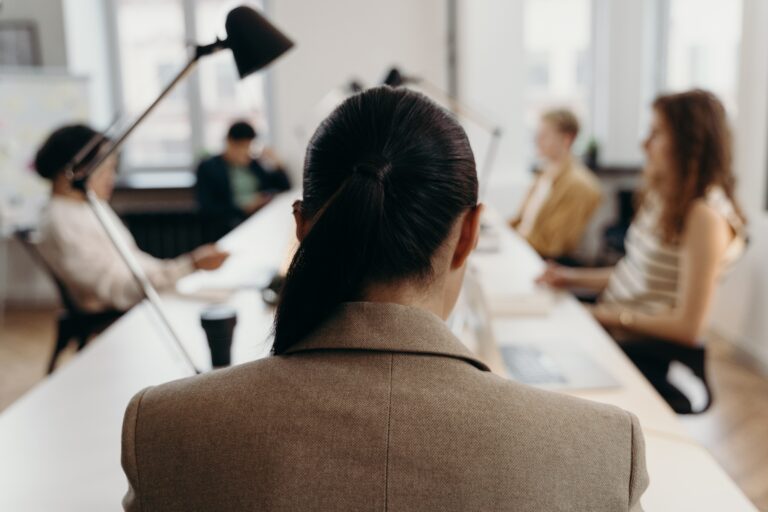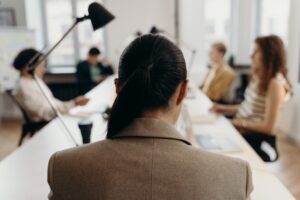 A recruitment team comprises various individuals, each responsible for a distinct role. Though the number of positions can vary based on the size of your recruitment agency and your client's hiring requirements, there are six crucial roles that every recruitment team should include.
Let's take a look.
1. The recruiter
An agency recruiter oversees the entire hiring process from start to finish and is critical to finding the right talent for your company.
This person fills the core role of sourcing candidates, screening, and interviewing, right down to feedback and negotiation.
Their responsibilities include:
Meeting and communicating with the hiring manager

Writing

job descriptions

and conducting interviews

Attracting and sourcing the desired applicants, pre-screening them, and presenting the qualified ones to the hiring manager

Serving as the company's brand ambassador

Conducting background and

reference checks

Strategizing for a recruitment plan

Ensuring the candidate meets the requirements

Preparing

interview questions

for the candidates

Facilitating the new hire onboarding process
A recruiter will ensure the recruitment process runs smoothly and that every candidate leaves with a positive impression of your company, regardless of whether they get selected.
Remember that typical recruiting team structures consist of types of recruiters with different specializations. For example, your team can include a tech recruiter, executive search recruiter or headhunter, corporate recruiters, contingency and retainer-based recruiters–depending on your requirements. 
Ultimately, recruiters are the ones who lay the foundation for a strong relationship between the candidate and the hiring manager.
2. The hiring manager
The hiring manager is the person initiating the recruitment process. They request an open position filled in the organization and get the deciding vote on the top candidate(s) for the final selection process. 
That's why a hiring manager is commonly referred to as the head of the hiring team and is often responsible for overseeing the team of recruiters and talent sourcers.
They work in close contact with the recruiter, helping them understand more about the job role that needs to be filled by giving information, like:
What makes a particular role interesting for the ideal candidate?

What are the expected skill sets of the ideal candidate?

How will the new hire positively impact their colleagues?

What will be the negative impact if they do a poor job?

Whether you require a full-time, part-time, or contract-based role

What personality, knowledge, or skills are required for this role?

Details of working hours, salary, and other benefits
When the new hire is being onboarded, the hiring manager's close contact shifts from the recruiter to the employee.
They focus on ensuring the new employee understands their role and embraces the company culture.
3. The sourcer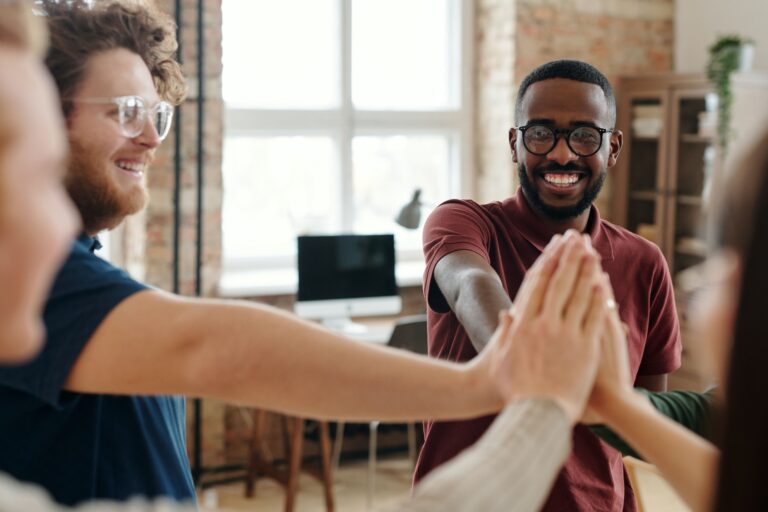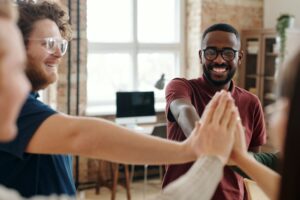 The main job of the sourcer is to find or source suitable candidates from a talent pool. They are responsible for looking into appropriate places and identifying potential candidates that meet the job requirements.
Sourcers scour through resume databases, social media platforms, and job boards like LinkedIn or niche industry sites to find the exact match for an open position.
Sourcers can even rely on their current employees to source new talent through employee referral programs.
They also use recruiting technology like applicant tracking systems to screen candidates effectively. It is also a sourcer's responsibility o stay up-to-date on all the latest sourcing strategies and recruitment tools.
A sourcer is also responsible for building and maintaining a talent pool to meet the company's future hiring needs.
4. The recruitment coordinator
Recruitment coordinators manage the logistics of the recruitment process in your recruiting team structure. They play a supporting role to the recruiter and help move the applicant through the hiring funnel.
Their responsibilities include:
Think of the recruiter coordinator as the middleman assisting your company's recruiting and talent acquisition strategies. This includes finding, attracting, and hiring new employees that meet the company's needs and goals to fill open positions.
5. The employer brand marketer
Similar to how recruiters research top applicants, applicants also research the best companies—and often turn to social media to get the inside scoop on potential employers.
The employer brand marketer, or the recruitment marketer, ensures the candidates like what they see.
Employer branding is considered a major priority by 86% of organizations, a 15% increase from 2021, and 91% of job seekers research an employer's brand before applying for a job. These statistics show the importance of an employer branding marketer for modern recruiting teams. 
The key responsibilities of the employer brand marketer include:
Ensuring the company's

career site

content is optimized and resonates with the candidates

Running events attract target hires

Ensuring overall employee satisfaction

Sending press releases to local media about the company's accomplishments

Drafting brand material

Maintaining social media platforms
In short, the job of the employer brand marketer is to present the company to the public in a good light. They share positive impressions about the organization in a way that potential candidates develop an active interest in working there.
Think of them as brand ambassadors for your company who ensures the right message lands in front of the right people.
6. The owner or company CEO
Hiring decisions aren't only based on the data-driven company culture but also on instinct, which is why having the owner or CEO on board to make executive decisions about new hires is a great idea.
While their presence in the recruitment process helps show the candidate the company's expertise and values, the owner or CEO of the company may not always be physically present during the recruitment process, especially if it's a medium- to large-sized company.
If so, they can still be part of the recruitment process virtually.
They are also responsible for making new employees feel welcomed in your search firm, involved, and important, serving as the friendly face of the company.
A company CEO is also responsible for setting an example of what top talent should look like and sharing a common vision with the human resources team. 
What's the right size for your recruiting team?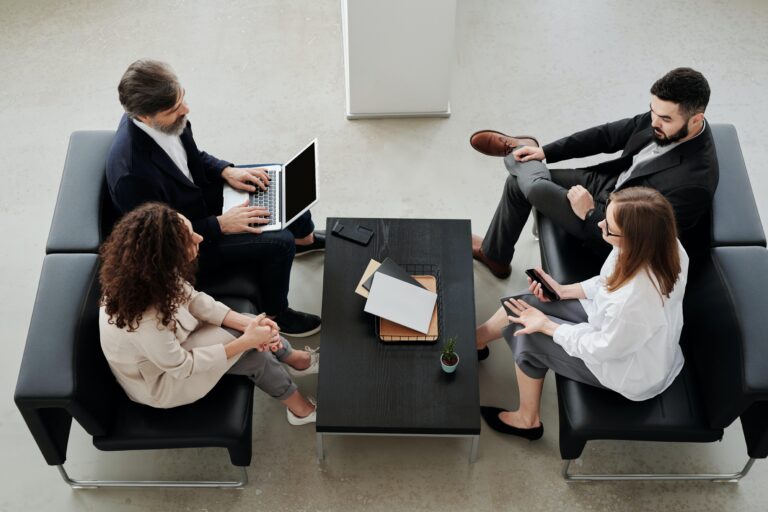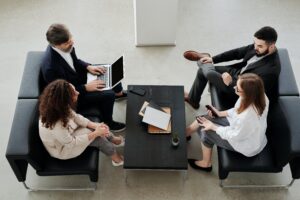 You need a balanced recruitment team if you want a smooth recruitment process. And sometimes, a small but mighty team of recruiters is enough.
When deciding the right size for your recruiting team structure, you need to consider your clients' average company sizes, how many job orders you're receiving monthly, how much of your hiring process is automated, and the level of sourcing needed.
1. Startups & small recruitment agencies
In smaller or start-up firms, the founder (or CEO) is actively involved in the hiring process. In most cases, this individual will be the sole person who fills and recommend new job orders.
2. Mid-sized search firms
Usually, a three to four-person team of recruiters is responsible for the entire recruitment process, from sourcing and screening to negotiating offers and onboarding.
3. Fast-growing recruitment agencies
If your search firm has scaled past the size of a startup or SME, you'll need a bunch of recruiters depending on the number of vacancies you want to fill.
A fast-growing recruitment agency typically has 80-100 vacancies per year (and sometimes even more), so you may need more people to handle some specific tasks in the recruitment process.
4. Large recruitment agencies
A large recruitment agency may need to fill 80-1,000 vacancies annually. At this stage, you need a full-fledged, well-oiled recruitment team for the job. We recommend having a team of people for each of the six key roles we discussed before as a starting point.
Suppose you plan to scale globally and hire talent for your offices located in different parts of the world. In that case, you can also employ the services of a language service provider and a diversity/inclusion expert to your team to smoothen the process further.
Defining KPIs to measure success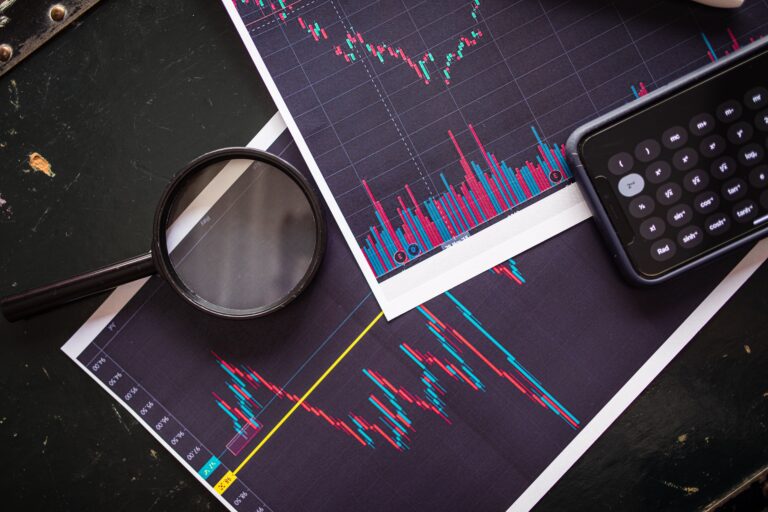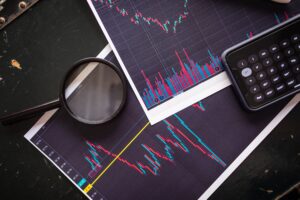 Quantifying your idea of success is essential to every strategy, and recruitment is no different.
Measure your recruiting team structure's strength and the effectiveness of your hiring process using certain recruitment metrics and KPIs to make better-informed decisions. These will help you quantify the specific efforts during the recruitment process to know what's working and what's not—and step up team performance.
Below are a few KPIs to help you get started:
a. Time-to-hire
Time-to-hire is tracking the time it takes to shortlist an applicant, interview, and extend an offer of employment.
b. Quality of hire
Quality of hire indicates how well a newly onboarded employee fits in with your client company.
Measuring this KPI will tell you just how successful you are in getting the right candidate for the open role. Plus, you can use the results to determine what kind of candidate typically turns out to be your client's strongest performer and which screening method brought them.
c. Source quality
Source quality is the overall effectiveness of a specific sourcing channel. This will show you which channel brings in the best hires—something that's handy to avoid wasting time on a source that doesn't bring in high-quality candidates.
Tracking this KPI also gives insight into what type of postings attract the best candidates. 
d. Cost-per-hire
Cost-per-hire refers to keeping track of the exact or estimated cost of hiring a new employee. It allows you to budget for your next recruitment campaign effectively, helping you decide whether to cut costs or bring in more money to get the best candidate.
e. Candidate satisfaction
Measuring candidate satisfaction involves sending out a survey asking the candidates to share feedback throughout the hiring process. This enables you to find out if they had a positive or negative experience at your company. You also understand where to improve to enhance the candidate experience and team building.
For any successful business, it's clear: your company is only as dynamic as the talent it recruits. A strong and carefully structured recruitment team is the compass guiding you to the best and brightest talent. 
Remember, the size of your team isn't a one-size-fits-all scenario—it depends on your company's unique needs. So, construct your recruitment team wisely and watch as it navigates you toward exponential growth and success fueled by a powerhouse of talent. Because in the end, it's not just about filling seats; it's about building a legacy!
Want to enhance your recruitment process? 
Try Recruit CRM's ATS + CRM to create a customizable hiring pipeline that helps you manage and visualize candidates to make the right hiring decisions!
FAQs
1. How do you structure a recruiting team?
First, to structure a recruiting team, comprehend your company's hiring needs and establish clear roles such as recruiting manager, employer branding marketer, and recruitment coordinator. The size of the team should align with your hiring volume and business needs. 
Equip your team with the necessary resources and tools, and establish efficient recruitment processes. Foster a collaborative environment and regularly adapt the structure to evolving hiring needs.
2. What is a recruiting team structure, and why is it important?
A recruiting team structure is the organizational layout of the professionals involved in the recruitment process within a company. It defines roles, responsibilities, and relationships among team members, ensuring a smooth and efficient hiring process. 
A well-structured recruiting team can improve communication, reduce redundancies, and ultimately lead to better hiring decisions, saving time and resources.
3. How can I simplify my recruiting team structure?
To simplify your recruiting team structure, consider the following steps:
Assess your current team structure and identify areas of improvement or bottlenecks.

Clearly define roles and responsibilities to avoid overlap and confusion.

Foster collaboration and open communication among team members.

Streamline your recruitment process by implementing automation tools and technology.

Review and evaluate your team structure to ensure it remains efficient and adaptive to the changing talent landscape.
4. What tools and technologies can help improve my recruiting team structure?
Several hiring tools and technologies can enhance your recruiting team structure, such as:
Recruiting software:

Streamlines candidate management and communication.

Candidate relationship management (CRM) software:

Builds and maintains relationships with potential candidates.

Artificial intelligence tools:

Automates candidate sourcing, screening, and interview scheduling tasks.

Video interviewing platforms:

Facilitates remote interviews and accelerates the hiring process.

Recruitment analytics tools:

Analyzes data to optimize recruitment strategies and processes.