Agency recruiters have a tough job!
Keeping up with hundreds of resumes, applications, and an immense volume of data can be overwhelming and extremely time-consuming. 
Luckily, with automation and artificial intelligence revolutionizing our workplaces, recruiters can expect no less for the recruitment and staffing industry. 
Whether you're a recruiter for a small firm or a large enterprise, a top-notch software for staffing agencies will be your best friend! 
From different types of solutions to must-have features, here's everything you need to know about finding the perfect recruiting software for your staffing agency. 
What is a Staffing Agency Software?
Staffing software is a type of program that is used to streamline and manage the entire recruitment process. 
Most recruitment software includes features designed for resume management, job posting, interview scheduling, candidate sourcing, and more. 
The right staffing software can significantly accelerate the hiring process for recruiters, allowing agencies to easily shortlist and hire the right candidate without a heavy workload. 
Depending on your industry requirements, different types of staffing software are available, with varying features and capabilities. For example, you can find staffing software designed for specific industries, such as healthcare or education, while others are more general-purpose.
The most common functions of a staffing software include the ability to post job openings, search and filter resumes, schedule interviews, and track clients and candidates throughout the hiring process. 
It's safe to say–a recruitment software is truly the backbone of any staffing firm! With the right recruitment solution, recruiters can wave goodbye to all the manual and tedious tasks associated with recruiting. 
Why Do Staffing Agencies Need a Software Solution?
A high-quality software solution is key to seamlessly managing complex and time-consuming parts of the recruitment process. 
If you still don't have your hands on a recruiting software, here are four reasons why you need to invest in one now!
1. Automating the Hiring Process 
Staffing firms often have to manage many job applicants and resumes, which can be time-consuming and prone to human error when done manually. 
Staffing software can automate many tasks, such as posting job listings, filtering resumes, scheduling interviews, communicating with candidates, emailing, and more.
With the help of automation, talent acquisition teams can breeze through their tasks at the click of a button! You will save hours from your day and reduce the likelihood of human errors like scheduling conflicts or missing out on a great candidate resume. 
2. More Efficient Workflow 
Staffing agencies often have to juggle multiple clients, job requirements, and tons of candidates, which can be challenging without a systematic and organized database. 
Fortunately, with a staffing software, agencies can rely on their system to automatically organize and store their candidate and client data. 
Instead of manually managing spreadsheets and files, let your recruitment software do all the heavy lifting! This way, you can easily match the most suitable candidates to your open positions without screening endless amounts of data. 
3. Data-Driven Hiring 
One of the most beneficial aspects of any staffing software is the ability to track key insights and recruitment metrics. 
With recruitment metrics, your software can track the success rates of your recruitment strategy or provide data on the most in-demand job skills and qualifications. This information can help recruitment agencies make more informed and data-driven hiring decisions to improve their recruitment process. 
By improving your recruitment strategy through data-driven hiring, recruiters can increase the visibility of their job listings and attract more suitable candidates.  
4. Saving Resources 
By automating manual tasks and increasing efficiency, staffing software can help agencies save time and reduce the likelihood of human errors or interview scheduling conflicts. Ultimately, staffing agencies can save money by reducing the need for additional staff or other resources.
Instead of manually posting job listings on various job boards, businesses can use staffing software to automatically distribute their job postings to multiple websites and job boards. 
Types of Software for Staffing Agencies
Depending on your business needs and hiring functions, these are the most common software used by staffing agencies: 
Applicant Tracking Systems (ATS): 
An applicant tracking system is designed to help staffing agencies manage, and track candidate resumes, applications, and client data. An ATS automates hiring stages, including resume management, job postings, candidate tracking, and interview scheduling.
Human Resources Information Systems (HRIS)
HRIS software is designed to manage all aspects of human resources, including staffing, payroll, benefits, and employee performance. Some HRIS software solutions include specific features for staffing agencies, such as applicant tracking and job postings.
Candidate Relationship Management System (CRM)
CRM software is used to manage client and candidate relationships allowing staffing companies to build and nurture their relationships for a robust network. 
A CRM typically includes customer relationship management, invoicing, lead tracking, and sales forecasting.
A recruitment CRM allows recruiters to build and maintain a candidate database without relying on countless files and sheets. Today, most applicant tracking systems or recruiting software have a built-in CRM system.  
10 Must-Have Staffing Agency Software Features 
Depending on your business requirements, your must-haves and wants will vary. But these are the top ten recommended features to make the most of your staffing software for your recruitment needs. 
1. Automated Candidate & Client Management 
Applicant tracking is the backbone of any recruiting software. With easy applicant tracking, recruiters can manage and track the entire hiring process, from posting job listings to scheduling interviews to sending job offers. 
With applicant tracking, time spent on each hiring stage is significantly reduced, making a much more streamlined and accelerated recruitment process.  
2. Candidate Sourcing
Candidate sourcing is highly strenuous and time-consuming, yet it's the most crucial part of making a successful placement.  
A staffing software with intelligent candidate sourcing will allow you to easily create a talent pipeline to source the best candidates for hard-to-fill roles. 
With a candidate sourcing feature, you can quickly connect with potential candidates in seconds by automating candidate screening to find the most relevant resumes. 
Boolean search in recruiting software is a great way to perform high-quality searches for passive candidates and large platforms like LinkedIn and Indeed. 
3. Automation & Customizable Software
A staffing software with automation and customization can significantly ease the workload of recruiters. 
Recruitment automation allows recruiters to schedule interviews, post job ads, collect feedback, screen candidate data, and resumes, and manage communication in seconds!
HR departments and staffing agencies can automatically send job offers and follow-up emails thanks to an automated recruiting software.
With custom HR software, hiring teams can add multiple users and client profiles, change candidate requirements, and personalize their viewing options, making the software more user-friendly. 
4. Recruitment Analytics Dashboard 
The best staffing software in the market provides intelligent reports and analytics to help recruiters leverage a data-driven recruiting strategy.
These reports are based on recruitment metrics, allowing recruiters to understand bottlenecks in their recruiter workflows and what works for them. 
With KPI reports and metrics, staffing agencies can fine-tune their recruitment strategies and effectively plan their staffing operations for higher business intelligence and output.  
Detailed reports and analytics on your staffing operations make it easier to evaluate your agency's overall competence and performance. 
5. Interview Scheduling
Automated interview scheduling can help prevent interview conflicts and overbooking with hiring managers. 
Recruiters can easily view and manage their team schedules, including shift changes, so no more messing up time slots!
With automatic reminders and notifications for interviews and meetings, staffing agencies can stay on top of busy schedules and keep candidates informed to avoid miscommunication. 
Ultimately, an interview scheduling feature is the best way to provide a positive candidate experience and keep clients in check! 
6. Automated Communication
To maintain timely communication with candidate pools and clients, staffing agencies can use their recruiting software to automate repetitive messages such as interview reminders, rejection notifications, contact referrals, and even client invoicing. 
You can choose from a list of email templates within your staffing software, so you don't have to waste time drafting new messages.  
Automating your communication process is the best way to stay updated with your recruiting team and talent pools. A team that stays on the same page yields the best results!
7. Mobile Recruiting
With remote recruiting taking over conventional hiring practices, mobile-friendly tools have become necessary for all recruitment tech stacks. 
More than 77% of job seekers use their mobile devices for job searching, so it's crucial to invest in a staffing software that offers mobile accessibility for candidates, clients, and hiring teams. 
If you want to attract top talent who prefer to apply through mobile job applications, a mobile-friendly staffing software will ensure a seamless experience for job seekers. 
The best staffing agency software should come equipped with a cloud-based mobile app for on-the-go recruiting!  
8. Automated Job Postings
An automated job posting feature allows you to share job ads on your website, job boards, and social media simultaneously at the click of a button. With a staffing software, you no longer have to worry about logging in to multiple platforms to post job ads. 
All you need to do is enter the job boards you want to advertise on through your recruiting software, and from a single platform, you can edit and share your job postings, saving time and labor for your staffing business.
9. Intelligent Resume Parsing
Instead of relying on manual resume screening, staffing agencies can leave the heavy lifting to a resume parser that can automatically parse through hundreds of resumes.
Resume parsers automatically gather, store, and organize resume data without manual sorting. A resume parser automatically scans for the most qualified candidates and eliminates unqualified resumes so staffing companies can quickly move on to the next hiring stage.
Besides automated resume screening, HR professionals can efficiently conduct background checks for new hires to ensure they are qualified and trustworthy. A double-check of credibility goes a long way; this feature will make background checking easier! 
10. Data Compliance
Staffing companies deal with highly sensitive data, making data compliance and security a must for any recruitment software.
Make sure the staffing software of your choice includes end-to-end data encryption, SSL sessions, and password protection. 
If your hiring data is not safe and secure, you're risking your recruitment agency's integrity and authority. 
Data compliance and security also ensure that you meet all the legal requirements for your staffing agency. A casual manual error can cost you heavily, so check for data security measures when investing in a staffing software. 
How to Evaluate a Software for Staffing Agencies?
Choosing a staffing software for your recruitment needs is a challenging task. All staffing agencies will have different needs with different business requirements and processes. 
To make the decision easier, here are five things agency recruiters must consider when evaluating a staffing software. 
1. Functional Features
Does the software sport all the features you need to manage your staffing operations effectively to bear the desired results? These functionalities include applicant tracking, candidate sourcing, interview scheduling, and data reporting.
Every organization has needs that a staffing software must cater to, but there are some features you can't afford to miss, such as automation, customization, and functionality. 
Bear in mind that in today's software market, it's easy to get carried away by all the flashy features, wherein these additional features might not provide the most functionality to your business needs. 
2. User Experience
Is the software easy to use and navigate? Can your team members quickly find the necessary information and perform their tasks without difficulty?
The software's functionality can differ from one user to another, but the ease of use and a functional user interface isn't something you should compromise on. 
If you don't settle for user-friendliness and a functional interface, you'll end up with a clunky and complicated staffing software that will only complicate your hiring process. 
3. API & Software Integrations
Does your staffing software of choice integrate with your recruitment tools and system? 
The availability of third-party integrations and API will ensure a seamless workflow between all your tools and communication processes, making the hiring process much more streamlined and manageable.
Third-party software integrations keep everything centralized under one platform, eliminating the need for multiple tools and open tabs. 
Without integrations, you'll have a fragmented recruitment system that complicates your hiring process.
Make sure your staffing software integrates seamlessly with–
Job boards

and career pages

Social media platforms and career sites 

Email and other communication apps
4. Reliable Customer Support
Customer support is often overlooked among staffing agencies and businesses, but a top-notch support team will make your investment worthwhile! 
Always invest in a staffing software with real-time and on-demand customer support to address any technical issues you may face. 
Don't forget that reliable customer support will affect your set-up and onboarding process too. 
5. Cost & Pricing 
Is the software within your budget? Consider the cost of investing in a staffing software, including any additional training, support, or integration fees.
When evaluating a staffing software for your needs, it's important to carefully consider a few different options to see which works best for your organization. 
Understand their trial period and different pricing models to avoid unnecessary costs. 
Pricing models can usually depend on your team size, but the most widely used pricing models are–
Charging by feature  

Per user through a

monthly or annual subscription base
Why Recruiters Love Recruit CRM's Software for Staffing Agencies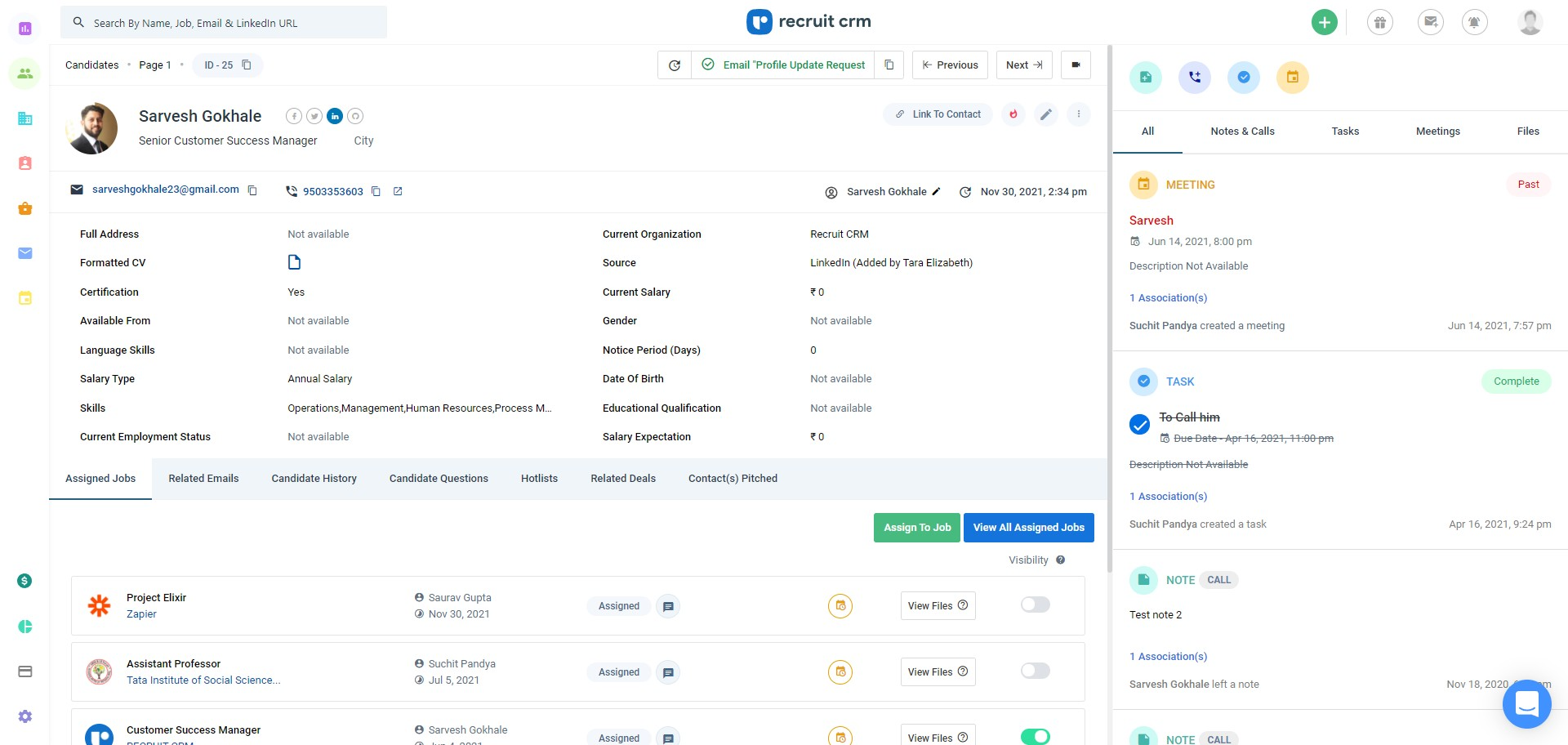 Trusted by staffing agencies across 100+ countries, Recruit CRM's ATS + CRM is loved for its intuitive features and supportive customer success team.
From parsing resumes to nurturing client and candidate relationships, Recruit CRM is a software that recruitment teams can rely on to streamline their hiring processes. 
With the love and support of over 10,000 recruiters worldwide, we've been recognized as the highest-rated software in the recruitment software category on Capterra and the #1 recruiting software for staffing agencies on Software Advice! 
Don't just take it from us. Recruitment firms worldwide have skyrocketed their recruitment businesses by saving 10+ hours weekly and have witnessed a 100% increase in their revenue using Recruit CRM. 
The best part is we've even simplified candidate sourcing for recruiters through our easy-to-use Chrome extension.
Have a chat with our experts and learn how you can power up your recruitment business using Recruit CRM!
Frequently Asked Questions (FAQs)
1. What Software Do Staffing Agencies Use?
Different types of staffing software are available for recruitment agencies, depending on their needs and business operations. 
The most commonly used software by staffing agencies include Applicant Tracking Systems and Candidate Relationship Management systems. 
Other software commonly used by HR teams can range from candidate assessment tools to video interviewing platforms, but an ATS is a primary system that centralizes all recruiting functions and tools. It provides an all-in-one platform for candidate and client management, resume screening, handling communication processes, data handling, and more. 
2. What is the Best Software for Staffing Agencies?
Depending on your recruitment needs, staffing agencies can rely on top review sites like Capterra, G2, and Software Advice for the best software recommendations. 
If you're looking for the best software for your staffing agency, Recruit CRM is worth checking out! It is the highest-rated recruitment software on Capterra and the #1 recruiting software for recruitment agencies on Software Advice!