Recruitment agencies worldwide are experiencing a revolution, and at the heart of this transformation lies Recruit CRM which has helped firms streamline their recruiting process. 
But we're not here to brag; we want you to hear it directly from the users themselves.
Here is a compilation of the incredible journeys of some of our favorite customers. 
Find out how our ATS + CRM helped them win the talent war.
10 recruitment agencies that benefitted from Recruit CRM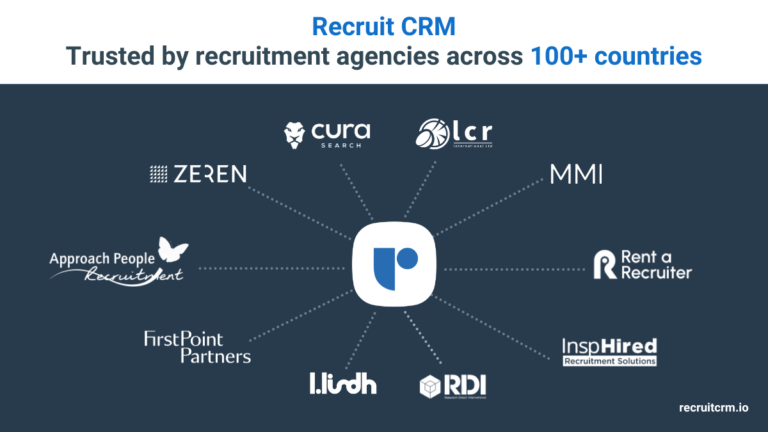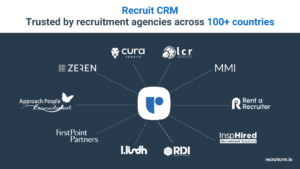 Zeren, a London-based executive search firm, was on a mission to find a recruiting software that could support their rapidly scaling business and enhance both client and candidate experiences. 
After a thorough hunt, they stumbled upon the perfect tool to track potential hires. 
And it was love at first sight for Zeren.
💡We chose Recruit CRM not only for its ability to perform as a CRM but also on how we would be treated as a customer. Recruit CRM definitely took time to understand our business, how we operate, and our growth objectives.
But what caught Zeren's eye? 
The 'submit candidates to clients' feature. It lets them share a link of shortlisted candidates directly with clients, saving a ton of their time and gives them visibility of project progress, bridging any communication gaps.  
Since teaming up with Recruit CRM, Zeren has grown by leaps and bounds, expanding their team by a staggering 1100%! 
But that's not all. 
They also saw a significant uptick in revenue and job placements, managing their team effectively across the U.K., Europe, and the U.S. 
Watch the growth study here. 
Now, let's take a moment to talk about a real game-changer in the recruitment scene– Cura Recruiting. 
They aimed to revolutionize the recruiter-to-recruiter landscape in America.
And guess what? They found us.
Initially, Recruit CRM wasn't even on the radar for Cam Green, the mastermind behind Cura Recruiting. 
But a live demo with the CEO turned out to be the turning point and the results speak for themselves. 
In just one year, Cura Recruiting experienced a staggering growth of 451% (that's huge)!
A combination of intuitive email capabilities, streamlined data reporting, and the freedom of 100% customization led to their massive success. 
Watch Cura's success story here. 
Approach People's journey with Recruit CRM is an interesting one.
Their existing recruitment tech stack couldn't keep up with their growth, necessitating a significant shift.
This is where they stumbled upon Recruit CRM.
Emilie Narcy, the HR and Operations Director, was pleasantly surprised by the straightforward yet comprehensive offerings.
The transition to Recruit CRM was smooth, with the team quickly adapting to the new system. 
The standout feature was the automation capabilities particularly on platforms like LinkedIn and Outlook, centralizing data management and saving a staggering 250 hours weekly. 
To know more, watch the complete growth study here.

After a six-month-long search for the ideal staffing agency software, First Point Partners found their perfect match in Recruit CRM. 
Anna Bebel, the co-founder, was instantly drawn to its intuitive layout and high customizability. 
The software stood out, offering a personal touch in candidate interactions steering clear of a robotic vibe, which was a big win for Anna and her team. 
Also, the Chrome sourcing extension is what caught her attention.
The collaboration with Recruit CRM helped them increase their placements by over 7%. 
💡Anna says, "Recruit CRM went beyond my expectations because it is a solution that is made by recruiters for recruiters. The mindset behind it comes from recruiters, not just I.T engineers."
LCR International is a fresh force in the global recruitment sector. Launched in 2019 by Lucy Robinson, it swiftly grew from a one-person venture to a dynamic growing team, making waves in the recruitment scene globally.
As the business flourished, the team faced a growing problem. Their existing processes couldn't keep up with the increasing demands. 
They needed a robust ATS + CRM tool to streamline their operations and simplify their workflow without compromising on efficiency.
Recruit CRM turned heads with its visually appealing interface and user-friendly features. 
The platform offered top-notch training functions and lightning-fast customer support. 
What really caught their attention was the seamless 5000+ integrations, which promised to automate their workflow, making the recruitment process smoother than ever.
The partnership with Recruit CRM transformed LCR International's recruitment process. 
Now, they can easily share shortlisted candidates with clients and quickly import LinkedIn profiles, saving them a considerable amount of time. 
"We've seen some great results from Recruit CRM. It's helped us to smoothen and define the recruitment process, and it helps speed up the overall recruitment process, reducing the amount of manual input from teams."

— Lucy Robinson, Founder and Director of LCR International
Rent a Recruiter, an award-winning recruitment firm faced a hiccup– their previous ATS provider couldn't offer the customer service they needed. 
But for them, Recruit CRM turned out to be a platform that not only resonated with their business model but also offered great value for money.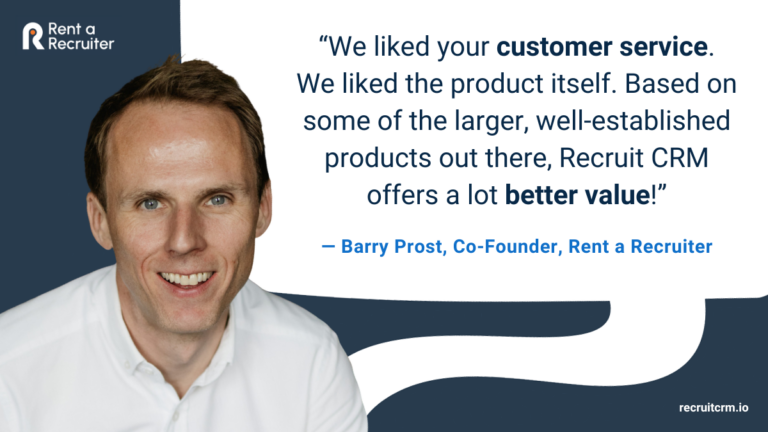 Since partnering with Recruit CRM in October 2018, they've successfully filled over 1450 roles and enabled effective performance tracking. 
The platform became their "one-stop shop" for recruiting, offering necessary integrations and a handy Chrome extension for sourcing candidates from platforms like LinkedIn, Xing, ZoomInfo, etc., with just a single click.
Meet L-Lindh: A firm with a keen eye for spotting top-notch C-level talents but struggling with a cluttered recruitment process.
What was their challenge? 
Their existing software was a maze, making candidate sourcing and tracking a nightmare. 
The team needed a tool that was both intuitive and efficient.
Enter Recruit CRM. 
Our tool promised not just an organized workflow but also a positive client experience. 
With features like a customizable hiring pipeline and a user-friendly interface, it was exactly what L-Lindh needed.
Our team also ensured a seamless data migration, safeguarding L-Lindh's extensive talent pipeline data.
Lauren's verdict– "Thrilled with the continuous evolution of features and the proactive support from Recruit CRM. I highly recommend it for agencies looking to upgrade their recruitment process."
Watch the interview here.
Brennen Jackson, the visionary at MMI industries, was on a mission to find a recruiting software that truly understood the needs of recruiters. 
After some trial and error, they found their match in Recruit CRM.
What intrigued them? 
The user-friendly interface and the rapid response time to customer queries are often sorted in less than 2 minutes. 
But the real magic happened when they started using features like the Kanban boards and the candidate pitch tool.
The result? 
A staggering 100% increase in revenue, streamlined candidate and client interactions, and a significant dip in administrative tasks. 
💡"I've used Bullhorn, I've used Pipedrive, I've used Zoho Recruit, and they are all kind of lackluster. They don't deliver a product that solves our problems and the solutions we need. Recruit CRM is the first product that I've seen that's actually built by recruiters for recruiters."
Landry Mutombo, the Chief Executive of InspHired, stumbled upon Recruit CRM during its early days. 
Though they moved away, the exclusive features of Recruit CRM brought them back three years later, and oh, it was a match made in recruitment heaven!
InspHired was eager to scale its recruitment business. Their old ATS was just not cutting it anymore, lacking the functionalities to manage a seamless hiring process and centralize the recruitment workflow. 
They were looking for an all-encompassing platform that could foster collaborative hiring and scale their team.
After several demos, Landry had high hopes for Recruit CRM. 
The proactive customer support team, continuous feature updates, AI candidate matching, and easy training modules for new consultants were just what InspHired needed.
Recruit CRM wooed InspHired with its intelligent features, including the Chrome sourcing extension for effortless candidate sourcing, a deals pipeline feature for financial meetings, and easy-to-navigate dashboards.
It became their go-to platform for growing and managing their team, making scaling the business a breeze.
Since partnering with Recruit CRM, InspHired has been on a roll, scaling their business by a whopping 130% since 2020! 
With enhanced team collaboration and workflow management, it's only upwards and onwards from here. Landry couldn't be happier, rating Recruit CRM a 9.5/10!
In 2016, RDI Worldwide embarked on a journey to support global companies and have a greater business impact in South Korea in identifying the best-fit talent. 
Initially, they managed their recruitment processes the old-fashioned way, but as their client base grew, they realized the need for a more modern approach.
After evaluating various CRM tools, they chose Recruit CRM for its simplicity and its ability to handle the Korean alphabet seamlessly, especially through features like the Boolean search. 
The quick 5-minute setup process was a significant advantage, allowing the team to get started without any delays.
RDI Worldwide appreciates several features of Recruit CRM, including the Chrome extension for candidate sourcing and the integrations with over 5000 apps through platforms like Zapier and Integrately. 
The tool has facilitated more effective talent pipeline management and enabled the company to expand its business by focusing on specialized recruiting functions.
CEO Gordon Dudley praises Recruit CRM, stating that it perfectly suits their needs and has significantly contributed to their business expansion. 
Now we know you think you're missing out on stuff. 
Well, not yet. 
Recruit CRM provides an unlimited free trial (no, we won't ask for your credit card details). Try it now.
Frequently asked questions
1. What are the pricing options available for Recruit CRM?
Recruit CRM provides a range of pricing plans like Pro, Business, and Enterprise to suit different needs and budgets. You can explore detailed pricing options, with both monthly and annual billing choices available.
2. Can I integrate Recruit CRM with my existing HR software?
Yes, Recruit CRM can easily integrate with your current HR software, enhancing your workflow by centralizing various tools and platforms. 
It's designed to work seamlessly with popular platforms, including LinkedIn and several job boards.
3. Can I track the performance of my recruitment campaigns within Recruit CRM?
Absolutely, Recruit CRM offers robust analytics and reporting features. You can effectively track and analyze the performance of your recruitment campaigns, helping you optimize strategies and achieve better results.